With NASA in the background, I arrived before sunrise in Port Canaveral on Friday, June 4th. Leaning on the sixth-floor wall of the parking garage, I watched more than 1,500 Floridians cheering and waving flags on the shores of Jetty Park nearby.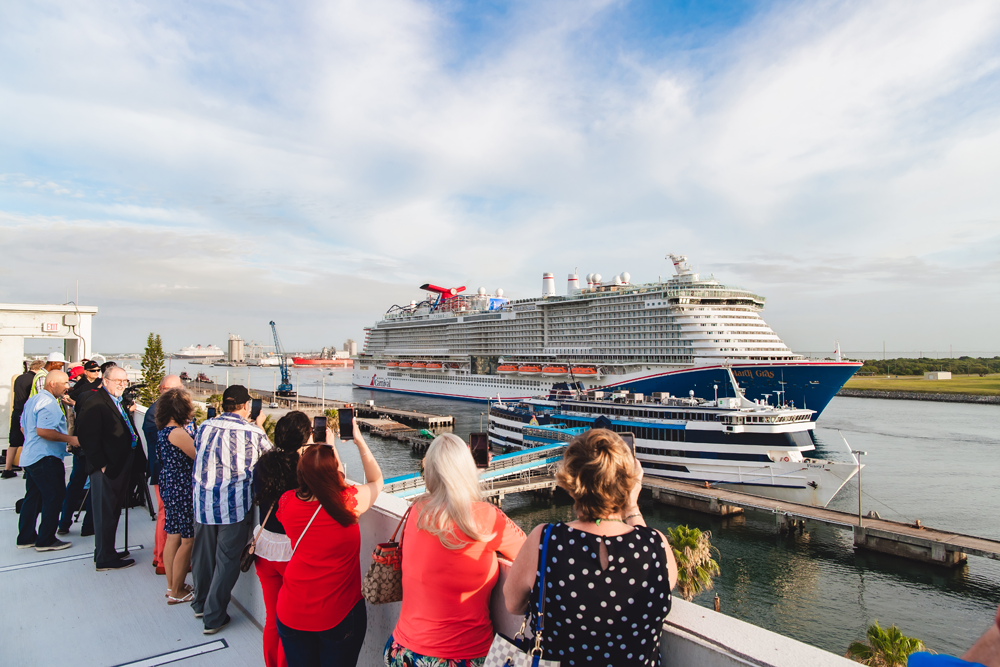 The water stirred and bubbled. Making her arrival in the channel was the new Carnival Mardi Gras. The crowd laughed as several wild dolphins seemingly escorted the vessel for her grand introduction.
Port Canaveral-based Carnival Freedom and Carnival Liberty joined Mardi Gras as she made her way into the terminal, creating a memorable debut befitting the occasion. The pandemic delayed her arrival for 15 months. Like King Arthur's Lady of the Lake, it was only a matter of time until she'd rise again for her proper place in the harbor.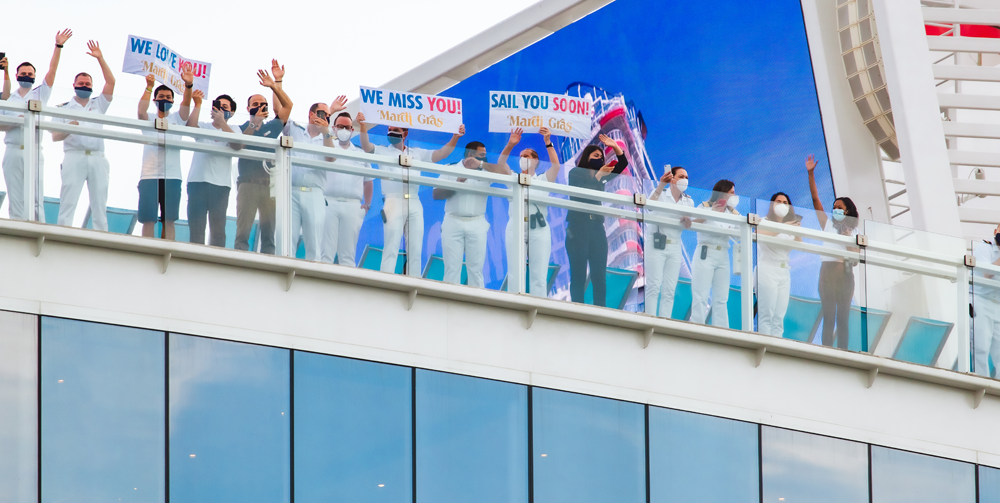 Safely bedecking the park on nesting platforms, young osprey looked on. This moment was bigger than a gargantuan boat. Grown adults wept throughout the parking lot.
Catching my breath, this was the sign I'd been anticipating for more than a year. America is back.
Unveiling Terminal 3
Carnival President Christine Duffy, United States Coast Guard officials, and Canaveral Port Authority CEO Captain John Murray, along with 300 travel advisors and dignitaries, participated in a breakfast reception highlighting the excitement for Mardi Gras' arrival and its impact on the state.
The gathering was hosted in Port Canaveral's new Terminal 3, which was built specifically for the vessel. The cruise facility is the first in the Americas powered by Liquified Natural Gas.
"Mardi Gras has been five years in the making and today's arrival is a historic milestone for our company not to mention a truly emotional moment for everyone here at Carnival Cruise Line," said Duffy.  "This ship offers so many innovations and ways for our guests to choose fun that we are certain that she will quickly become a guest favorite."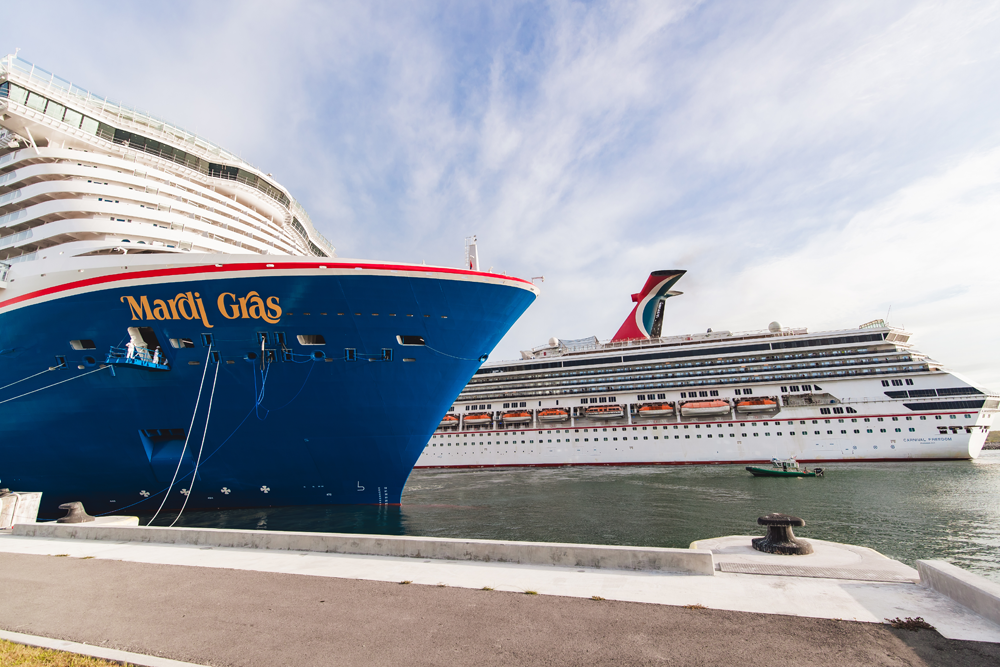 The company will now begin the process of ramping up the ship's crew of 1,750 to greet its passengers who can experience the first roller coaster at sea. Other onboard offerings are a nautical version of the TV show Family Feud, and more than two dozen restaurants with venues from Guy Fieri, Emeril Lagasse, Rudi Sodiman and the line's "Chief Fun Officer" Shaquille O'Neal. The ship offers entertainment venues throughout 19 decks and six themed zones, as well as a wide range of outdoor attractions, such as the longest ropes course and largest water park in the fleet.
Green New Deal
Peter Cranis, Executive Director at Space Coast Office of Tourism, believes that the return of several ships to the area will revitalize the local economy. He noted that facilities powered by alternative energy are a good fit for Brevard County, which is home to numerous large ecotourism sites such as Canaveral National Seashore.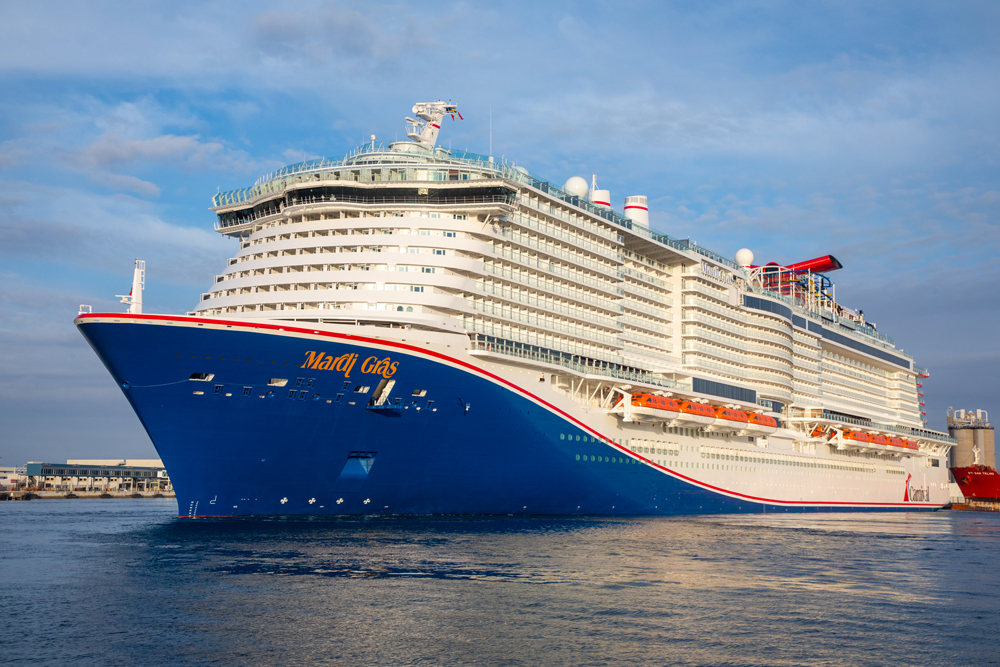 "The arrival of Carnival's Mardi Gras last week felt like a turning point, and the excitement surrounding it shows people are ready to get back to sea," Cranis said. "This will be the first Liquified Natural Gas-powered cruise ship in North America, and we can't think of a better place for it to call home."
Mardi Gras will sail year-round from Port Canaveral, offering seven-day itineraries to the eastern and western Caribbean. For additional information, visit Carnival Cruise Line.