How New York Made Frank Lloyd Wright a Starchitect
The Wisconsin-born architect's buildings helped turn the city he once called an 'inglorious mantrap' into the center of the world
Courtesy Anthony Alofsin, Zócalo Public Square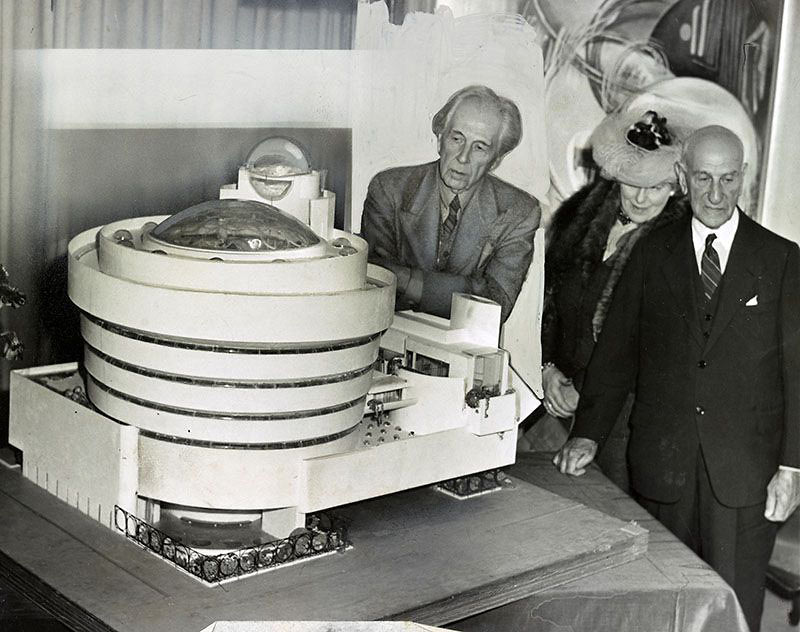 The Guggenheim Museum in New York City is architecture as sculpture — a smooth, creamy-colored, curved form that deliberately defies its square, gray urban context, and succeeds by harnessing the pure abstraction of modernism to the archaic form of the spiral. It proclaims the authority of the architect. It says to the public: It's my art. Learn to live with it. It stands alone as the built confirmation of the architect's supremacy as artist.
The Guggenheim is also the defining symbol of the legacy of its designer, the legendary American architect Frank Lloyd Wright. Through his work and the force of his personality, Wright transformed the architect into artist — a feat he never could have accomplished without a long, complex and rich relationship with New York City.
Today, Wright is best known as a pop icon, a flamboyant individualist with a chaotic love life who routinely bullied clients and collaborators — all in the service of his powerful personality and homegrown American aesthetic. But there was more to him than that. Wright was the first true star of his field, and his vision and success liberated generations of architects in his wake, from Frank Gehry to Zaha Hadid to Santiago Calatrava, inviting them to move beyond utilitarian function packed in square boxes to explore sculptural forms with autonomy.
Less known is the role New York City played in his vast influence as an artist. Wright complained shrilly about the city, calling it a prison, a crime of crimes, a pig pile, an incongruous mantrap and more, but this was the bluster of someone who protested too much. New York forged Wright's celebrity as an American genius, resurrected his career in the late 1920s, and ultimately set him up for the glory of his final decades and beyond.
Wright got his start far from New York. Born into a dysfunctional Wisconsin family in 1867, he weathered his parents' divorce but dropped out of college. He became the righthand assistant of the architect Louis Sullivan, a pioneer in Chicago's efforts to create a distinctive American architecture, and in the 1890s started his own practice in Chicago, and Oak Park, Illinois.
By 1909 Wright had revolutionized domestic architecture, opening up the interior spaces of houses and harmonizing them with the landscape. He spent much of the 1910s in Japan designing the Imperial Hotel. Upon his return to America in the early 1920s, he found his career in shambles and his personal life in disarray, and spent much of the decade trying to reestablish his practice and his personal equilibrium. His brilliant projects went mostly unbuilt, and the yellow press covered his messy divorce and daily exploits. In the early 1930s Wright began to reemerge to acclaim in the public eye. In the last two decades of his life, his built work proliferated, and he rocketed to international fame.
Wright lived almost 92 years, so he had a long time to establish this fame — and he is experiencing one of his periodic resurgences of popularity today. Wright's houses are once again in vogue (after decades of going in and out of fashion) and two chairs from the early Prairie period recently sold at auction for hundreds of thousands of dollars. What's more, the architect is enjoying renewed status as a cult figure, revered by his followers for his independence and individualism—the inspiration, at least indirectly, for Howard Roark in Ayn Rand's The Fountainhead. Wright's latest generation of fans are rushing out to buy a recent biography that revisits the tragic and notorious fires at the architect's compound at Taliesin, his home and studio near Spring Green, Wisconsin. They gather enthusiastically on the Internet, posting snippets of Wright's writings on Twitter. Some still refer to him reverently as "Mr. Wright." He's a cash cow for the eponymous foundation which, having just announced closing his unprofitable school, licenses his name on everything from tea cups to ties.
Wright's detractors have a lot to talk about these days, too. Wright was the sort of old white male who makes easy target practice, a famously arrogant figure who often alienated the very clients he relied upon to bring his architecture to life. A recent exhibition at the Museum of Modern Art reminded visitors of strands of racism and misogyny in his work. Wright and his last wife, Olgivanna, exerted domineering control over apprentices, even dictating who married whom.
But all the focus on Wright's sensational biography — whether it elevates him to pop icon status or hoists him overboard as a monstrous egomaniac — avoids the serious question: beyond the hype, what is Wright's legacy? That brings us back to New York.
Although Wright wanted to portray himself as unique and self-created, he was part of a long tradition of seekers that continues today, artists of every stripe, in all media, who recoil at the terrors of New York while seeking to know it, to celebrate it, and to use it to find out who they are. A series of prominent American writers saw New York as a "terrible town" (Washington Irving) with skyscrapers that erupted in a "frenzied dance" (Henry James). For Henry Adams, New York had an "air and movement of hysteria." Hart Crane, the poet, wrote Alfred Stieglitz in 1923 that "the city is a place of 'brokenness,' of drama."
Interwoven into these complaints was an acknowledgment that New York spurred creativity and transformed artists. Herman Melville badmouthed New York at length. But during his first stay there, from 1847 to 1851, the city's vibrancy and burgeoning publishing industry turned him from an unknown into a great popular success. Not only was Melville's career transformed but, according to his biographer, the "pulse" of his energy increased. Melville remained tethered to the city and its publishers for the rest of his life, and he died there.
Wright had a similar response to New York: repulsion and irresistible attraction. He first visited the city in 1909 anonymously but his most transformative experience there began in the mid 1920s when, fleeing his estranged wife, Miriam, he took refuge with his lover, Olgivanna Hinzenberg, and their infant in Hollis, Queens, in 1925. A year later he returned. This time he went to Greenwich Village, home of his sister Maginel, a successful illustrator.
Chagall, Modigliani, Soutine… Paris as a School, 1905-1940
Starting April 2nd, the mahJ in Paris will launch an exhibition of 130 works by artists such as Chagall, Soutine and Modigliani, who were part of the "School of Paris" artistic period in the early 1900s.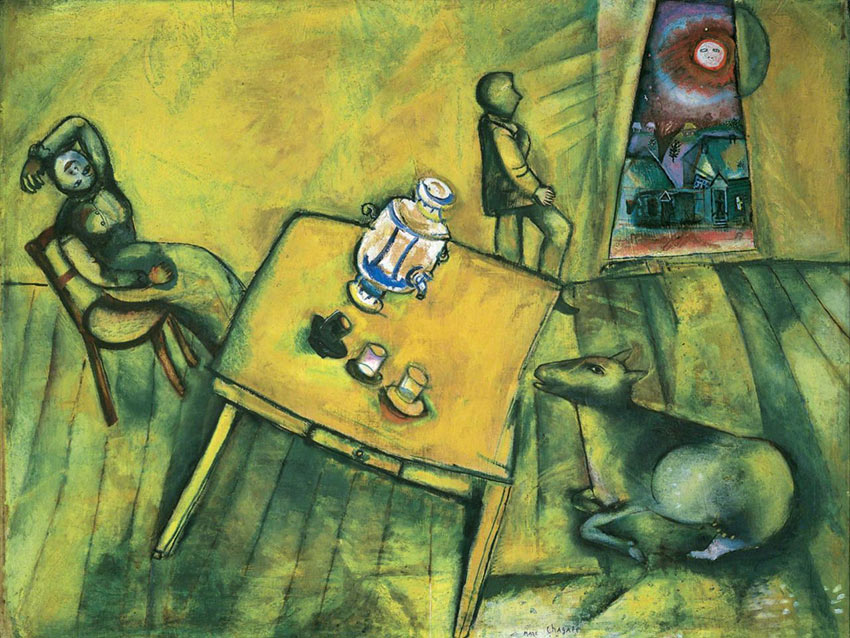 Many of these men and women were Jewish artists who came from the major European cities and the Russian Empire in search of artistic, social and religious emancipation. They were not a "school" in the traditional sense since they had no common style but instead shared a history, an ideal and, for some, the same destiny.
Fleeing the pogroms or seeking a free, modern context, these young artists who converged on Paris included Marc Chagall, Chaim Soutine, Amedeo Modigliani, Jules Pascin, Jacques Lipchitz, Chana Orloff, Moïse Kisling, Louis Marcoussis and Ossip Zadkine, and also lesser known artists such as Walter Bondy, Henri Epstein, Adolphe Feder, Alice Halicka, Henri Hayden, Georges Kars, Léon Indenbaum, Simon Mondzain, Mela Muter and many others.
The musée d'art et d'histoire du Judaïsme is devoting an exhibition to this generation of artists who arrived in Paris between 1904 and 1914 and their destinies. It will explore the reasons for their installation there, the particular ties uniting them, the historical and political context of their work and, of course, their participation in the artistic scene in what was then the capital of modern art.
Johnny Cash's 11 Coolest Cover Songs
From Soundgarden howlers to U2 ballads, Rolling Stone Country counts down 11 of the Man in Black's most badass covers
Courtesy Joseph Hudak, Senior Editor, Rolling Stone Country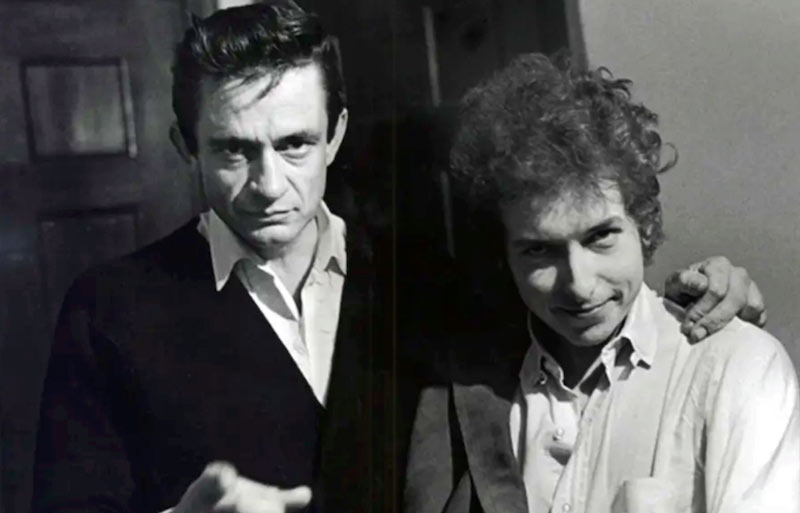 Johnny Cash is arguably country music's most cited influence by younger artists, but Cash wasn't above being influenced himself. He was forever a student of music, always listening for songs that moved him, be they country or otherwise. Cash would even record his own versions of the songs, from the country-rock of the Stones' "No Expectations" to the poignant coda of Nine Inch Nails' "Hurt."
Here are the Man in Black's 11 coolest covers.
'One' (U2)
Cash added signature gravitas to U2's mega ballad when he cut the song for 2000's American III: Solitary Man. A spare, acoustic arrangement, Cash's version finds him speak-singing the lyrics, infusing them with a vitriol Bono could never muster. The line "did I disappoint you, or leave a bad taste in your mouth?" is downright indignant.
'Johnny 99' (Bruce Springsteen)
Cash didn't just record this Bruce Springsteen Nebraska lament, he titled an entire album after the song in 1983 — just a year after Springsteen released it himself. In Cash's hands, it's more of a rockabilly saloon anthem, but the message of a man-turned-inmate is no less tragic.
'No Expectations' (The Rolling Stones)
The Stones country-tinged ballad was ironically made less so by Cash, who sped it up and added a touch of bluegrass and Spanish flair. Released 10 years after Mick and Keith put it out on Beggars Banquet, Cash made the song a centerpiece of his 1978 Gone Girl album.
'Redemption Song' (Bob Marley)
Marley summoned Jah with this acoustic prayer, but Cash called upon Joe — Joe Strummer of the Clash. Together, the two icons of their respective genres joined voices in one of the most unexpected — and until the release of 2003's Unearthed box set, unheard — duets of Cash's career.
'I Won't Back Down' (Tom Petty)
Tom Petty and the Heartbreakers served as Cash's band for his 1996 Unchained album, but this take on Petty's Full Moon Fever track appeared not on that LP, but 2000's American III: Solitary Man. Still, Petty appears here to harmonize with Cash, who after battling illness, imbues the song with added defiance.
'Rusty Cage' (Soundgarden)
Of all the covers in Cash's catalog, this one stands as the biggest head-scratcher. That doesn't mean it's a misfire, however. Rather, Cash's interpretation of this Soundgarden howler is a brilliant bit of Southern gothic. The moodiness is palpable, like a muggy night on the Delta.
'I'm on Fire' (Bruce Springsteen)
Cash cut this Born in the U.S.A. single for a 2000 Springsteen tribute album, humming and growling through the ballad like a restless troubadour, hankering for his journey to end for the night. Springsteen's music clearly resonated with Cash, who used "Highway Patrolman" to open his Johnny 99 album.
'Have You Ever Seen the Rain' (Creedence Clearwater Revival)
Full of Eighties production touches — call and response vocals, metallic-sounding keyboards — this CCR cover, and the album on which it appears, 1985's Rainbow, stand as testament to Cash's fallow period. But that's not to say it's not one heckuva listen — if only for the deliciously out-of-place echo effect on Cash's voice.
'Redemption Day' (Sheryl Crow)
Cash and Sheryl Crow had a close relationship in his later years, and Crow often recalls a phone call from the ailing artist about him cutting this song. Released on the posthumous American VI: Ain't No Grave, "Redemption Day," recorded in the months leading up to his death, is the sound of a man coming to terms with his impending exit.
'The Night They Drove Old Dixie Down' (The Band)
In 1975, the Man in Black released John R. Cash, which featured one of Robbie Robertson and the Band's most evocative compositions. Cash's version is more uptempo, almost upbeat, with hints of Dixieland Jazz. It's a strange experience, but representative of what Cash could do with a lyric.
'Hurt' (Nine Inch Nails)
Cash's most famous cover, recognized by MTV for its haunting music video, "Hurt" has become synonymous with the Country Music Hall of Famer's final days. Frail, hollow-eyed and shaking in the video, those same tremors are felt in his vocal delivery. It is the sound of resignation.
Paul Krugman: 'Bloomberg is Not Evil, But He Shouldn't Be in this Race'
New York Times columnist Paul Krugman told Democracy Now on Monday that he doesn't believe billionaire businessmen Michael Bloomberg and Tom Steyer should be in the 2020 presidential race.
His remarks come as Bloomberg and Steyer have spent hundreds of millions of dollars on their respective campaigns, with Bloomberg, the former New York City mayor, recently eclipsing $450 million in spending while drawing the ire of some pundits who argue that his rise in the polls is only due to massive ad buys.
I don't think that billionaires are inherently evil," Krugman, a winner of the Nobel Prize for Economics, said in a conversation with Richard Wolff, who recently authored "Understanding Socialism" and is a supporter of Sen. Bernie Sanders (I-Vt.). "But there is something when two guys that really don't have any kind of national political base are only in this race because of their money."
"Bloomberg is not evil," Krugman added. "But he shouldn't be in this race."
Bloomberg and Steyer have spent more than five times as much as all of the other Democratic candidates still in the race combined, according to numbers released by political ad tracker Kantar/CMAG on Feb. 16.
Here's a look at ad spending through today (including future reservations:
Bloomberg: $417.7 million
Steyer: $193.6 million
Sanders: $41.8 million
Buttigieg: $40 millon
Warren: $21.4 million
Biden: $12.3 million
Klobuchar: $10.6 million
Gabbard $5.4 million
Flight Attendants Reveal Their Secrets for a Better Flight
Courtesy Avital Andrews, SmarterTravel:  @avitalb, avital.andrews@gmail.com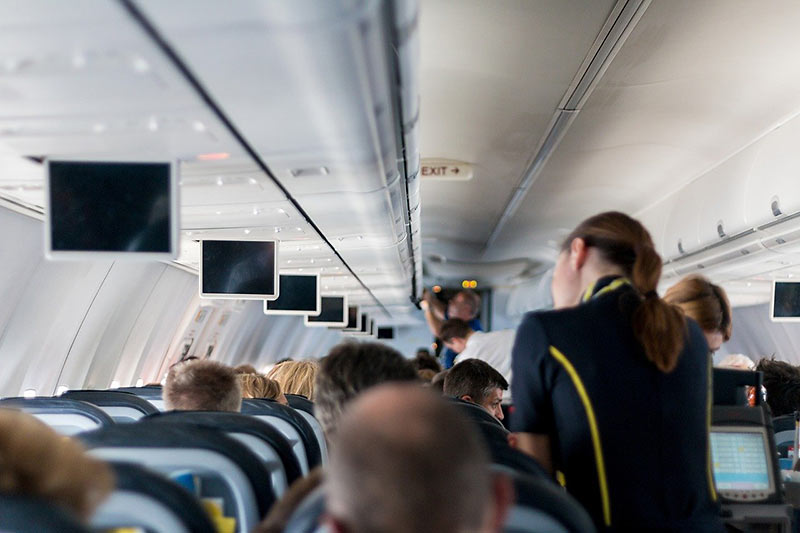 No one who knows how to be a great airplane passenger better than — you guessed it — flight attendants. Which is why we decided to pick their brains for their hard-earned wisdom about how to be a better, smarter traveler. Our panel of experts graciously spilled their flight attendant secrets, revealing insider advice that can help you get upgraded, combat jet lag, and fly smoothly with kids.
They also clued us in as to what it's really like to be a flight attendant, what to wear on a flight, how to avoid germs on a plane, how to deal with fear of flying, and which food and drinks you should order—and which to avoid. Perhaps most importantly, they spoke about how to fly with a degree of civility that's sorely lacking in society these days.
Flight Attendants' Best Tips for Better Flights
Simply put, manners matter. "People who actually speak to me when I ask them what they'd like to drink is beginning to become a thing of the past," says Heather Poole, who has worked for a major U.S. carrier for 20 years and who wrote a bestseller called Cruising Attitude: Tales of Crashpads, Crew Drama, Crazy Passengers at 35,000 Feet. So when a passenger says please and thank you to me, I want to give them more water and extra snacks. If I see a passenger helping another passenger with luggage, I instantly think, 'What a catch!' and want to set them up with single friends because nice people are hard to find. Honestly, it's the little things that make a difference."
Jennifer "Jaki" Johnson has been a flight attendant for six years and is the founder of Jetsetter Chic, a travel-lifestyle subscription box company. Her preboarding advice to set the tone for a better flight? Check in early, watch to make sure your gate doesn't change, eat a healthy snack or meal at the gate, use the restroom at the airport rather than waiting until you're on the plane, and smile at your flight attendants when boarding.
How Passengers Can Boost Their Chances of an Upgrade
Many airlines prohibit arbitrarily upgrading passengers who are already on the plane. "This is a firm rule," says Coral Lee, who has been a flight attendant and cabin manager for more than a decade and runs a blog for flight attendants called These Gold Wings, "although you can always try. Ask politely if there are any available seats in business class or premium. You've got better chances if you're dressed nicely, if the flight isn't full, if you're traveling solo, and if you board last."
"Upgrades are a big deal, and people who fly a lot earn frequent flyer miles," explains Poole. "Those people know exactly where their name is on the upgrade list. If someone cuts in front of them, they'll flip out. On one of my flights, we were delayed 20 minutes because one frequent flyer was upgraded to business class before another frequent flyer whose name should have been called first. Delays are a big deal in the airline world, so it's crazy when we take a delay for something like an upgrade. But it happens because nobody cuts the line. You can dress nicely to increase your odds of getting upgraded if there's nobody on the list. But that list is usually long."
Keep in mind that this should be a conversation with a gate agent, not a flight attendant. "Once you step onto the aircraft, it's our responsibility to get you where you're going safely and comfortably," says Nichole Dunst, a flight attendant and travel blogger who created Conscious City Guides, "but we're not responsible for awarding upgrades. The gate agents have their own system for working upgrades, and gone are the days of getting an upgrade just because you're cute and you brought us Starbucks. If you haven't been awarded an upgrade before scanning onboard, I'm sorry to say it, but you probably didn't make the cut."
Of course, the most straightforward way to get an upgrade on your flight is to buy one. "Traveling is expensive, so you pay for service and quality," Johnson points out. "You get what you pay for, so pay for what you want."
Tipping Flight Attendants: Yes or No?
Flight attendants don't expect cash tips, in part because they earn above-average wages and because their role of assuring safety is considered more important than their role of providing service.
In fact, most American and European airlines don't even allow flight attendants to accept tips—except for Frontier, which has recently changed its tipping policy to allow flight attendants to keep gratuities; Frontier passengers are now prompted to add 15, 20, or 25 percent to their credit card charge after ordering a drink or snack. "But far from helping," Lee says, "this has created a big controversy between the flight attendants who are happy with this new policy and the ones who think that this is a strategy to keep wages low and be treated like servants and not like someone who might save you in an emergency."
"However," Dunst advises, "we do love getting tipped in snacks, and that happens pretty frequently. If you're headed to duty-free before your flight, picking up a bag of candy for your flight crew is a great way to make friends with us." Another way to thank a flight attendant for a job well done? Write a letter to the airline that mentions the flight attendant's name and outstanding service.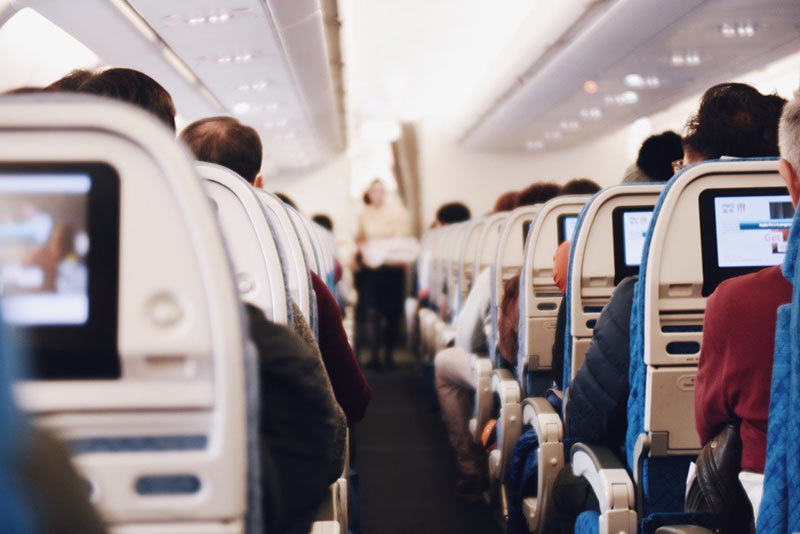 How Do Flight Attendants Deal with Jet Lag?
Flight attendants know better than almost anyone how to deal with jet lag: They drink plenty of water before and during the flight. They nap before and after long, time-zone-crossing flights. They avoid alcohol; many rely on melatonin instead if they need help falling asleep. And they try to adapt to their new time zone as quickly as possible. "Don't even think about what time it is back home," advises Dunst.
The Craziest Things Flight Attendants See on the Job
Flight attendants see some truly wacky — and disturbing — behaviors. "The list is never-ending," says Poole. "Just when I think I've seen it all, something else bizarre will happen.
"People who don't work for an airline seem to be most amused by naked passenger stories," she goes on. "For me, the weirdest stories involve passengers stealing a coworker's uniform blazer or chicken strips off a flight attendant's salad. My coworker found his blazer standing in line at security, and the chicken strips were found clutched in the fist of a passenger sitting in the exit row."
"My tolerance for crazy has certainly elevated over the years," Dunst agrees, "and I have to remind myself that we see people in their most stressed-out state." Dunst once had a passenger get so enraged with the flight crew for refusing to serve her alcohol during the airplane's initial ascent — when the seat belt sign was still on — that she spent the next five hours harassing the flight attendants, taking pictures of and tweeting about them. "I don't think this particular woman was in her right mind," Dunst recalls, "and that can be a little scary when you're at 30,000 feet."
As for Lee, she cites medical emergencies — people fainting or having seizures — as well as people clipping their toenails in their seats or getting furious when they get caught smoking in the lavatory instead of being sorry. Also: an adult woman urinating on the floor after being told she couldn't use the restroom.
How to Keep from Getting Sick on a Plane
Getting sick on airplanes can be par for the course when you're a frequent flyer. This is partly because of all that circulated air, and also because being on a flight means being in close proximity to dozens of people — and their germs — for an extended period.
But getting sick on your next flight doesn't have to be a foregone conclusion. To protect yourself from getting sick on a plane, follow flight attendants' advice: Bring sanitizing wipes and use them to wipe down your seat, tray table (Poole sees parents change babies' diapers on them), entertainment screen, and remote control. Also: Drink water. Take immune-boosting vitamins. Don't touch your face, and don't request drinks while the crew is picking up trash — their hands are now germy. Shower as soon as you get where you're going, or at least change your clothes.
"Something I wish was more mainstream in the U.S.," Dunst says, "are mouth masks like you typically see in Asian cultures. If you're sick, it's just a basic courtesy to prevent everyone around you from getting sick as well."
As for airplane lavatories, they're practically petri dishes and, like the tray tables, they don't always get thoroughly cleaned. So don't touch much in there — use a paper towel to open and shut the lid, to flush, and to use the door handle. Never sit directly on the toilet seat, never go in there barefoot or with just socks on, and always wash your hands well with soap.
What Passengers Should Bring Onboard
The flight attendants we interviewed recommend a light blanket, a neck pillow, an eye mask (if you're hoping to sleep), earplugs, socks — and a good book, since it's not uncommon for the in-flight screens or Wi-Fi to be out of order.
What Flight Attendants Want Passengers to Know
It irks flight attendants when passengers assume that they don't have college degrees and that their previous careers were as bartenders. "My background is in radio and I hold a master's degree from an Ivy League institution," Johnson says. "Other flight attendants have been lawyers, medical students, real estate agents, and so much more. We want passengers to know that we are more than our uniform."
Flight attendants also want passengers to know that the flight crew doesn't get paid on the ground. "So that flight attendant greeting you at the boarding door? Not being paid," says Poole. "Delays? Not being paid. We aren't paid until the boarding door is closed and the brakes are released."
This means that delays and cancellations can affect flight attendants dearly — not only are they not paid when flights are canceled or when they're waiting for a delay to lift, but, as Poole puts it, "When flight schedules get screwed up, we have to make arrangements for children or family and we miss things we were excited to do. I've had passengers yell at me, 'I haven't seen my baby in three days!' A lot of flight crew have babies too."
Travelers should keep in mind that flight attendants aren't getting paid during the boarding process, which is a flight's most hectic time. During boarding, Poole says, "We have a lot to do with very little help, so we might seem a little snippy or rude but really, we're stressing out to get things done so that a delay can't get pinned on us. The problem is that boarding sets the tone, so then when we have time to relax and smile and be nice, the perfect flight attendant, passengers don't notice because they're mad that we took their bag to check it or that we didn't answer their question or we didn't allow them to use the bathroom or that they weren't catered to. Nobody wonders why. They just think we're rude and then they go and tweet about it."
Dunst raises another point that airplane passengers don't always seem to realize: "There's a reason we ask you to keep your seat belts fastened whenever you're in your seats. Turbulence can come out of nowhere, and you can never be too safe. That being said, the same goes for us. If the captain has asked us to take our jump seats for our safety, then no, we cannot get up to pour you a ginger ale. Unfortunately, getting injured on the job is almost inevitable. All it takes is one air pocket to jolt us around. We of course want to take care of you as best we can, but safety truly does come first — not your third gin and tonic."
Trump Rips Coronavirus Coverage
President Trump said in an early morning tweet,  that he blamed the media and Democrats for overstating the danger of the Caronavirus, even as health experts have warned of its spread.
Trump accused MSNBC and CNN of "doing everything possible to make the Caronavirus look as bad as possible, including panicking markets."
He insisted the U.S. is "in great shape" in its handling of the disease. The president's tweets  mainly underscore on how the deadly disease is affecting financial markets. The Dow Jones Industrial Average lost nearly 2,000 points over the last two days. Trump is facing mounting pressure over his handling of the coronavirus from lawmakers and health officials, who warned on Tuesday that the country should prepare for an outbreak of cases in the U.S. "It's not a question of if this will happen but when this will happen and how many people in this country will have severe illnesses," Nancy Messonnier, the director of the Centers for Disease Control and Prevention's National Center for Immunization and Respiratory Diseases, told reporters. "Disruption to everyday life might be severe."
There are 57 confirmed cases of the coronavirus in the U.S., including in 40 Americans who were repatriated from the Diamond Princess cruise ship.Republicans and Democrats alike have signaled the government response has thus far been insufficient to prepare for the spread of the coronavirus in the U.S. The Trump administration requested $2.5 billion in additional funding to combat the disease, a figure some lawmakers viewed as inadequate.But Trump and other administration officials have sought to downplay the severity of the disease within U.S. borders. The president has repeatedly attacked the media and Democrats, claiming they refuse to give him credit for his handling of the coronavirus, while top economic adviser Larry Kudlow on Tuesday asserted that the virus was "contained."
Europe Passport Requirements: What You Need to Know Before Travel
Courtesy Kate H. Knapp, SmarterTravel: katehknapp@gmail.com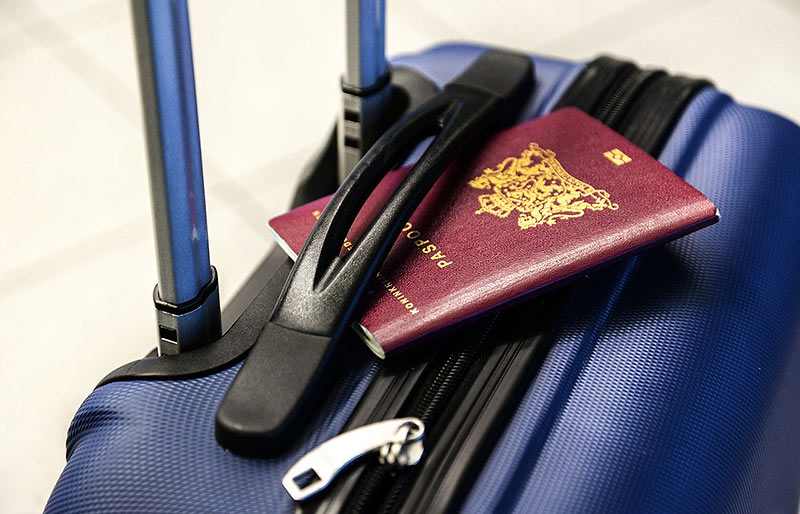 Europe is a prime travel destination with 50 incredible countries to visit. It's important to know what travel documents may be required before you go, however. Each country in Europe has different passport requirements to enter, but all require a valid U.S. passport when arriving from an international destination. Europe passport requirements allow that once you arrive, you can travel between certain countries without a passport, according to the Schengen Agreement, but you will need a passport to cross borders into those that are not part of the Schengen area and when you return home.
How to Get a Passport Book for Travel to Europe
A good rule of thumb when visiting most European destinations is to carry a U.S. passport that has at least one blank page for an entry stamp and is valid for at least six months beyond your departure date. Be sure to check for any other requirements in the country you are visiting as soon as you book your tickets.
Europe's passport requirements vary for each of its 50 countries. Each country enforces its own mandatory rules for entering. All of them, however, require a passport for those traveling from an international destination, so it's wise to make sure you obtain a passport as far in advance as possible before you travel. Most European passport requirements dictate at least one blank page for an entry stamp and a passport that is valid for at least six months beyond your departure date.
As for traveling within Europe, some countries require a passport to cross borders, but 26 countries are a party to the Schengen Agreement, which means you do not need a passport to travel between these countries: Austria, Belgium, Czech Republic, Denmark, Estonia, Finland, France, Germany, Greece, Hungary, Iceland, Italy, Latvia, Liechtenstein, Lithuania, Luxembourg, Malta, Netherlands, Norway, Poland, Portugal, Slovak Republic, Slovenia, Spain, Sweden, and Switzerland. There are three islands that are also part of the Schengen Zone, even though their borders are outside of the continent: The Azores, Madeira, and the Canary Islands.
Apply for a passport as soon as your travel to Europe is confirmed. The cost will be greater if you apply for a passport within three weeks of travel time and need an expedited application. You can learn more about the requirements and documents needed to obtain a U.S. passport here.
If you already have a valid passport book, make sure it is valid for at least six months after your departure date and has at least one blank page for an entry stamp. If not, apply for a renewal passport at least three weeks before travel or pay a higher fee for an expedited passport.
So, Do I Need a Passport to Visit Europe?
In summary: Yes. Europe passport requirements state that a valid U.S. passport is necessary to enter any of its 50 countries. Once you arrive in Europe, you can travel between certain countries without a passport, but you will need a passport when departing. Most European passport requirements dictate a passport that is valid for at least six months after departure date and has at least one blank page for an entry stamp.
More Information When Visiting Europe
The U.S. Department of State provides detailed information, including travel advisories and passport validity requirements, to your destination country.
The European Travel Commission offers insightful tips on places to eat, play, and stay within Europe's diverse countries and regions.
Does the Hotel Maid Look Through Your Stuff?
Courtesy Caroline Costello, SmarterTravel: caroline.costello@smartertravel.com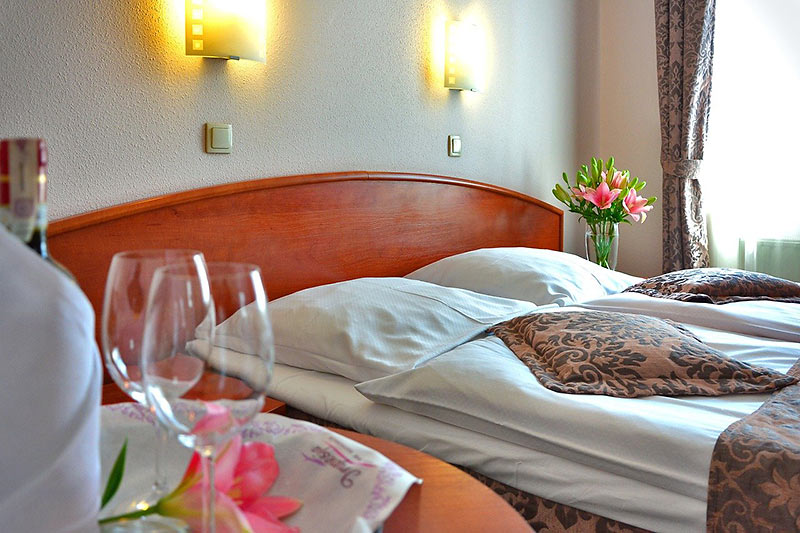 Sometimes people do inappropriate things when no one is looking. Sometimes those people are hotel housekeepers, as was indicated in a hidden-camera video that went viral a few years ago. A clip filmed at a "well-known American hotel brand" revealed a hotel maid messing with a guest's belongings. The housekeeper picked up the man's tablet and attempted to use his computer a few times. Nothing was stolen.
Although no crime was committed, the idea of a stranger examining one's personal possessions is unsettling. The video leads me to wonder if my suitcase was ever inspected, my toiletry bag peeked at, or my tablet tampered with. Ideally, no one should rifle through a guest's belongings. But maybe it happens. And if it does, should we really be worried? Is snooping a legitimate concern for travelers?
I asked Jacob Tomsky, author of Heads in Beds: A Reckless Memoir of Hotels, Hustles, and So-Called Hospitality, if nosy housekeepers are a thing. Tomsky told me, "Well, in any business it's possible to unwittingly hire criminal-minded employees. So that can happen anywhere at any job. However, in my 10 years of experience, I've found housekeepers to be family-oriented and dedicated to the job. And part of that job is respecting guests' belongings."
Even though housekeepers are likely to be alone in a room with your stuff, Tomsky suggested we shouldn't be so quick to point fingers. He said, "The housekeepers I know are proud to have a decent paying job with health care and wouldn't risk losing that for petty thievery. Plus they know they are first in line for accusations. That's why, when things go missing in a hotel, I always look outside of housekeeping. A lot of employees have keys to your room."
The blame game is pointless. And there's nothing you can do to prevent a housekeeper from opening the closet door and snickering at your poor taste in outerwear. But there are proactive steps you can take to protect your privacy and keep your stuff safe. First, operate under the assumption that your hotel room is not as private as you would like it to be. You are not at home. In any hotel, vacation rental, B&B, or what have you, there is always a chance that theft could take place.
According to Tomsky, "I can't recommend utilizing the in-room safe enough, obviously. If you put in a lock code and forget that code, it's none other than a manager of security who has the ability to reset the lock. So anything in there is touched by you alone. Use it."
Tomsky also recommended keeping your belongings well organized during your stay: "Cut down on the clutter. To make a room look clean, housekeepers have to move some items around, especially if your items are splayed out everywhere. And I'd say a great deal of suspected 'theft' is actually just loss. You leave important items all over the place and it's absolutely possible those items will get bunched up with the linens and tossed down the chute into the laundry. I've been in the pit, looking for lost items. Only once did I find what we were looking for. Use the safe. And keep it neat."
If you really want to calm your paranoid worries, leave the "Do Not Disturb" sign on your door for the duration of your stay; this way, your room won't get cleaned and you can feel confident that no one touched your unmentionables or flipped through your dream journal.
The Humongous Costs of Inaction
By Robert Reich, Former U.S Secretary of Labor
In last night's Democratic debate, former South Bend mayor Pete Buttigieg charged that Senator Bernie Sanders' policy proposals would cost $50 trillion. Holy Indiana. Larry Summers, formerly chief White House economic advisor for Barack Obama, puts the price tag at $60 trillion. "We are in a kind of new era of radical proposal," he told CNN. Putting aside the accuracy of these cost estimates, they omit the other side of the equation: what, by comparison, is the cost of doing nothing?
A Green New Deal might be expensive, but doing nothing about climate change will almost certainly cost far more. If we don't launch something as bold as a Green New Deal, we'll spend trillions coping with the consequences of our failure to be bold.
Medicare for All will cost a lot, but the price of doing nothing about America's increasingly dysfunctional healthcare system will soon be in the stratosphere. A new study in The Lancet estimates that Medicare for All would save $450 billion and prevent 68,000 unnecessary deaths each year.
Investing in universal childcare, public higher education and woefully outdated and dilapidated infrastructure will be expensive too, but the cost of not making these investments would be astronomical. American productivity is already suffering and millions of families can't afford decent childcare, college or housing – whose soaring costs are closely related to inadequate transportation and water systems.
Focusing only on the costs of doing something about these problems without mentioning the costs of doing nothing is misleading, but this asymmetry is widespread.
Journalists wanting to appear serious about public policy continue to rip into Sanders and Elizabeth Warren (whose policies are almost as ambitious) for the costs of their proposals but never ask self-styled moderates like Buttigieg how they plan to cope with the costs of doing nothing or too little.
A related criticism of Sanders and Warren is that they haven't come up with ways to pay for their proposals. Sanders "only explained $25 trillion worth of revenue, which means the hole in there is bigger than the size of the entire economy of the United States," charged Mayor Pete.
Sanders' and Warren's wealth tax would go a long way toward paying for their plans.
But even if their wealth tax paid a small fraction of the costs of their proposals, so what? As long as every additional dollar of spending reduces by more than a dollar the future costs of climate change, inadequate healthcare and insufficient public investment, it makes sense to spend more.
Republican administrations have doled out gigantic tax cuts to big corporations and the wealthy without announcing specific cuts in public spending or other tax increases because – despite decades of evidence to the contrary – they claim the cuts will generate economic growth that will more than make up for any lost revenue.
Yet when Warren and Sanders propose ambitious plans for reducing empirically verifiable costs of large and growing public problems, they are skewered by fellow Democrats and the press for not having ways to pay for them.
A third line of criticism is that Sanders' and Warren's proposals are just too big. It would be safer to move cautiously and incrementally.
This argument might be convincing if the problems Sanders and Warren address were growing slowly. But experts on the environment, health, education and infrastructure are nearly unanimous: these problems are worsening exponentially.
Young people understand this, perhaps because they will bear more of the costs of inaction. An Emerson poll of Iowa found that 44% of Democrats under 50 support Sanders and 10% favor Warren. In New Hampshire, Sanders won more voters under 30 than the other candidates combined, according to CNN exit polls. In Nevada, he captured an astonishing 65 percent of voters under 30.
The reason to support Sanders' and Warren's proposals isn't because they inspire and mobilize voters. It is because they are necessary.
We can no longer pretend that climate change, a wildly dysfunctional healthcare system and a yawning deficit in public investment pose insignificant challenges. Doing nothing or doing too little will make them far worse.
ABC News Suspends Correspondent David Wright After Comments About Trump Coverage, Socialism, in Project Veritas Sting
Courtesy paul.farhi@washpost.com
ABC News suspended one of its veteran correspondents late Tuesday for unguarded remarks he made in a video by operatives of Project Veritas, the conservative group that records "undercover" footage of mainstream journalists to bolster its accusations of media bias.
The network disciplined David Wright, who reports for ABC's signature news programs, including "World News Tonight," "Good Morning America" and "Nightline," several people confirmed late Tuesday. The choppy, poorly shot video, released Wednesday morning by Project Veritas, captured Wright on what appeared to be a hidden camera, seeming to complain in general terms about political coverage.
"I don't think we're terribly interested in voters," he said, echoing gripes about the superficiality of some aspects of White House and campaign coverage that have been raised by journalists for decades. Also: "Commercial imperative is incompatible with news." At one point he says, "We don't hold him to account. We also don't give him credit for what things he does do." In subtitles, Project Veritas indicated that "him" stood for President Trump. He refers to Trump at another point as "the f—— president."
But ABC likely was also alarmed at Wright's criticism of ABC News, which is owned by the Disney Co. At another point, he raises another longstanding critique of ABC News — that it blends news with promotion of Disney-owned movies and TV programs. "Like now you can't watch Good Morning America without there being a Disney princess or a Marvel Avenger appearing," he says. "It's all self-promotional."
In a statement Wednesday, ABC News said, "Any action that damages our reputation for fairness and impartiality or gives the appearance of compromising it harms ABC News and the individuals involved. David Wright has been suspended, and to avoid any possible appearance of bias, he will be reassigned away from political coverage when he returns."
In the video, which the group said was taken while Wright covered the New Hampshire primary, a voice asks the reporter if he considers himself "a Democratic socialist," and Wright seems to reply, "more than that, I consider myself a socialist."
Wright didn't respond to several requests for comment Tuesday.
Project Veritas's founder, James O'Keefe, teased the release of the video on Twitter on Tuesday with the hashtag #ExposeABC. He tweeted that his group "will expose ABC News' agenda to mislead voters and push their own narratives" and said in response to the upcoming release that ABC News had suspended "the correspondent involved." He didn't identify Wright or provide details.
Wright, 56, is one of ABC's most seasoned and versatile correspondents, having joined the network nearly 20 years ago. He has covered the White House and was "Nightline's" lead political reporter during the 2016 presidential campaign. He has also periodically reported from the Middle East and Europe, including covering the Notre Dame cathedral fire in Paris last year. He shared a 2004 Emmy Award for his reporting from Iraq and shared a Peabody Award for reporting in Afghanistan after the Sept. 11, 2001, terrorist attacks.
Project Veritas conducts undercover "stings" of journalists and others it considers allied with liberal causes or organizations. Its operatives often befriend the organization's targets using aliases and lull them into casual conversations in bars or restaurants that are then surreptitiously recorded. The videos are edited and released publicly in an effort to show what O'Keefe calls liberal bias or allegedly corrupt practices.
Although O'Keefe has defended the organization's methods as journalistically sound, mainstream news organizations have largely abandoned the practice of infiltrating businesses or organizations to record video without a subject's knowledge or consent. News organizations generally consider the practice deceptive, and doing so can subject them to criminal trespass penalties.
O'Keefe's group has targeted media organizations such as CNN, NPR and the New York Times, as well as Democratic political operatives.
The Washington Post was the target of a Project Veritas sting in 2017 when a woman, later identified as Jaime Phillips, approached a Post reporter with allegedly damaging information about Roy Moore, then a Senate candidate in Alabama. The Post discovered the woman's apparent affiliation with Project Veritas and that her story was a hoax. The Post recorded video as she attempted to plant the false story.
ABC, coincidentally, was involved in perhaps the most famous case involving undercover video. The Food Lion supermarket chain sued ABC in 1996 after it aired a segment about unsanitary practices at the stores on "PrimeTime Live." To get footage for the story, two ABC News producers obtained jobs at Food Lion stores using false references and altered work histories. An appeals court eventually rejected Food Lion's fraud claims but upheld a jury's $2 award for breach of loyalty and trespass.
This story, originally published early Wednesday, has been updated with details of the Project Veritas video and comment from ABC News.