Global Rescue's Holiday Gift Guide for Travelers
Courtesy Global Rescue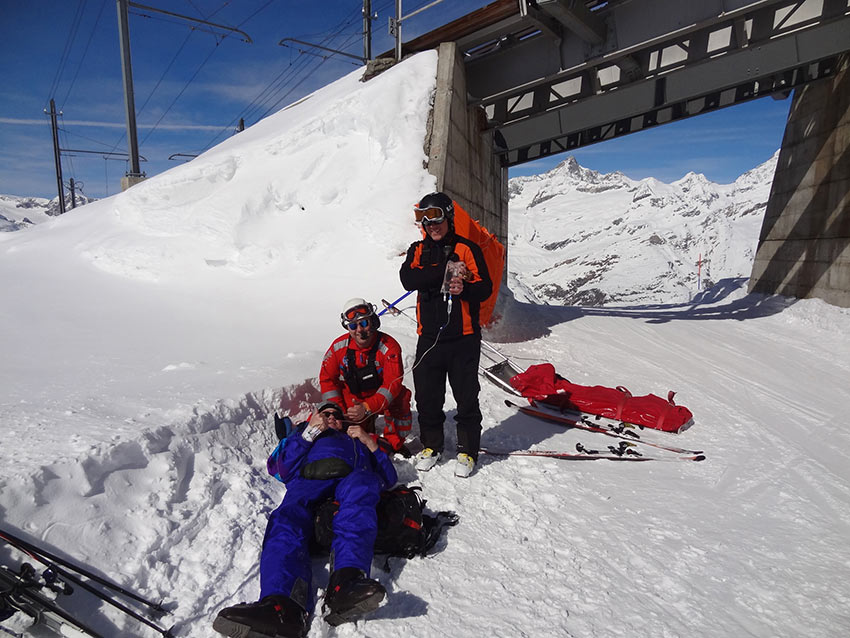 "Shoppers are flooded with holiday promotions," said Harding Bush, former Navy SEAL and associate manager of operations at Global Rescue. "But the Global Rescue Holiday Gift Guide for Travelers is the only one compiled through the recommendations of our members and staff of travel experts and military special forces veterans all of whom are among the most experienced when it comes to the excitement of travel and necessity for preparation."
1. American Alpine Club Membership. If you save on gear and clothes, you'll be able to spend more money actually doing what you love: climbing. Members can access national discounts on lodging, clothing brands, guide services and gym memberships. A regular AAC membership is $85. There are options for student, military and family memberships.
2. Outdoor Research Splitter Gloves. Global Rescue Safe Travel Partner Kel Rossiter of Adventure Spirit Rock+Ice+Alpine Experiences recommends these "crack climbing gloves" to his client-climbers. Eliminating the need for tape, the Splitter Gloves wrap suede and non-slip synthetic leather around the hand, holding in place with finger loops and a wrist attachment.
3. Iridium satellite phone. If you're going remote where cell phones aren't an option, a satellite phone is for you. Bush recommends an Iridium satellite phone. This is one of the best travel gifts you can purchase for adventure enthusiasts.
"There are a few different satellite systems but Iridium is the only one that truly has worldwide coverage," he said.
4. Environmental protection for cell phones. Extreme cold and shifts in temperature can damage and affect the functionality of your phone and its battery life. But a Pelican hard case and an OverBoard waterproof soft case will enhance the battery life and functionality of your phone in extreme cold weather.
5. Buff Multifunctional Headwear. It's a cap. It's a hair tie. It's a neck warmer. It's a headband. Buff Multifunctional Headwear can be worn 12 different ways so you can adapt its use to your environment. The fabric, made from recycled bottles, is a moisture-managing microfiber that is wind resistant and controls odor.
6. Luggage Forward. Send bags right to your stateroom on a cruise ship. Have your skis waiting for you on the slopes. With Luggage Forward, you can ship your luggage — or skis, snowboards, bikes, golf clubs and more — directly to your destination, even overseas. Pricing depends on weight and destination, but Luggage Forward offers a handy price estimator online.
7. The gift of travel & Beyond's Travel Vouchers for Africa, Asia or South America can be purchased and delivered via a PDF email attachment. WHOA Travel also offers gift cards for the adventurous woman in your life.
8. A wrist mounted GPS. If you need to know where you are at all times, the Garmin Fortrex 401 does the job. No need to plug in. It runs on AAA batteries. Another option is the Garmin Instinct Rugged GPS Watch, offered by L.L. Bean. It is built to military standards and has GPS, GLONASS and Galileo global navigation satellite systems to track your location.
9. Good Day Chocolate. It can be hard to get a good night's sleep while traveling. Doctor-founded company Good Day Chocolate offers a sleep chocolate supplement. Each piece has one milligram of melatonin. One to two pieces taken 30 minutes before bedtime helps a good night's sleep.
10. Toughshell Waterproof Upland Jacket. This is one of Orvis' toughest, most technical, waterproof jackets. It stands up to briars, brush, switch grass, thorns and withstands any weather Mother Nature offers: wet, windy and snowy conditions. Reviewers applauded the Upland jacket's design for hunting enthusiasts: spacious shoulder room, adjustable open wrist outlets and well-placed pockets.
11. Atlas Obscura: An Explorer's Guide to the World's Hidden Wonders. Updated in October 2019 with 97 new destinations and 12 new city guides, Atlas Obscura is chock full of breathtaking photographs, natural wonders, architectural marvels and curious events. Discover wonder without leaving your home — and possibly be inspired to plan an adventure.
12. Iceland Adventure. Ker & Downey offers an Iceland Adventure, where travelers can enjoy a once-in-a-lifetime experience in Mother Nature's playground. Soak in a geothermal spring, take a snowmobile ride on a glacier, descend into a dormant volcano, or drive a sledge with a team of huskies and a professional musher. Ker & Downey will create a luxury travel package customized to your personal travel tastes.
13. Nest Cam Indoor. Need a second eye on your home while you are away? Consider a Nest Cam Indoor security camera. It plugs into an outlet and, once you've downloaded the app, sends a phone or email alert when something happens at home. If you're in a remote area and miss an alert, you can see photos of activity from the last three hours. Nest Cam Indoor starts at $199.
14. Global Rescue Membership. Flu-like symptoms? Twisted ankle? For Global Rescue members, help is just a phone call away. Global Rescue's life-saving advisory and evacuation services deliver expert help to get you back home safely. Annual travel memberships start at $329.
About Global Rescue
Global Rescue is the world's leading provider of medical, security, evacuation and travel risk management services to enterprises, governments and individuals. Founded in 2004, Global Rescue has exclusive relationships with the Johns Hopkins Emergency Medicine Division of Special Operations and Elite Medical Group. Global Rescue provides best-in-class services that identify, monitor and respond to client medical and security crises. Global Rescue has provided medical and security support to its clients, including Fortune 500 companies, governments and academic institutions, during every globally significant crisis of the last decade. Visit the Global Recue site for more information.
New Year's Eve in Bologna
Courtesy Alice Brignani, Bologna Welcome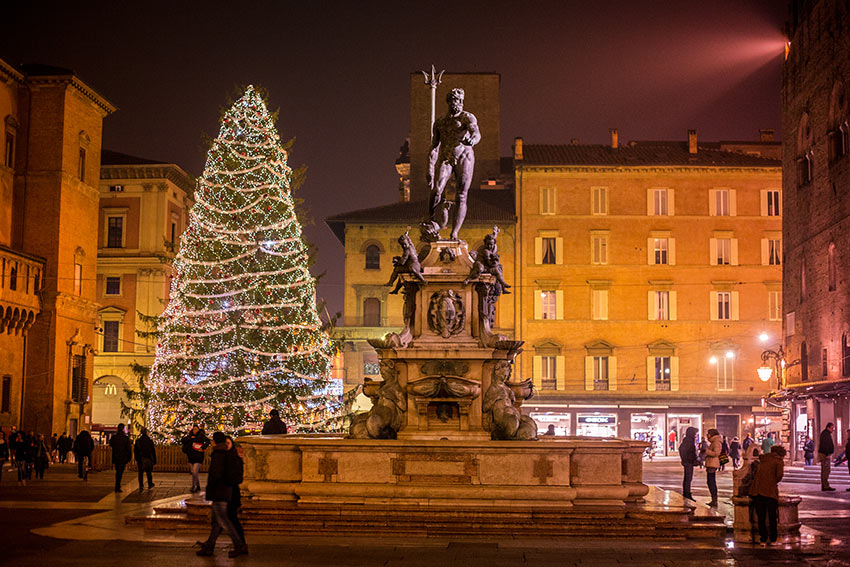 "Bologna dances for the festive season" (Bologna Balla per le feste) from dances in the streets to fine-art videomapping on historical buildings featuring the best dance scenes in the history of cinema.
"Bologna dances for the festive season" is the programme of initiatives promoted by the Bologna Municipal Authorities together with Bologna Welcome and Cineteca di Bologna that will take place all around the city from 27th December 2019 to 5th January 2020 boasting new additions this year as well as a few important returns.
Let's start with lights: The traditional Christmas lights along the streets of the centre and the Torre degli Asinelli light up on Saturday 30th November. In particular, after the success of last year's lights dedicated to Lucio Dalla's song "L'anno che verrà" (The coming year) along Via d'Azeglio, this year the street will once again feature special lights inspired by Cesare Cremonini's song "Nessuno vuole essere Robin" (Nobody wanna be Robin).
But not only the streets will be lit up. Lightin'Bo, the new videomappingprogramme organized by Bologna Welcome curated by Fondazione Cineteca di Bologna and with the contribution of the Bologna Chamber of Commerce, will light up some of the most beautiful historical buildingsin the city with the most famous dance scenesin the history of 20th-century cinema thanks to the cooperation of the Superintendency authorities.
A new itinerary that will take the public to the less popular locations in the centre to discover the magic of some of the city's most beautiful locations. Five historical buildings will be embellished with the projections that do not only include film sequences but also lighting effects that will highlight the lines and architectural elements of the façades.
For further information about Bolonga, visit bolognawelcome.com
Urban Safaris in Africa? Absolutely. Don't Skip over Africa's Best Cities With the Help of Timeless Africa Safaris
From Cape Town to Kigali, Nairobi to Arusha, transformative opportunities for travelers to discover culture and connect with locals.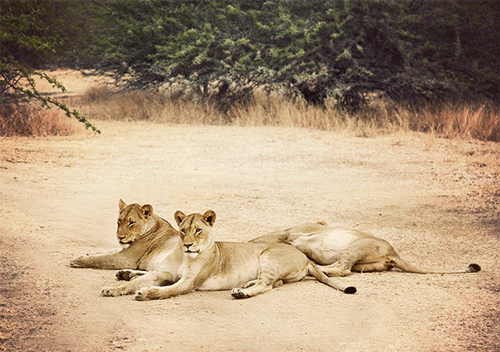 There is more to an African journey than watching wildlife in the wilderness – and much more to Africa as well. Timeless Africa Safaris, the boutique Cape Town, South Africa-based travel designer has made a specialty of curating Urban Safaris for travelers intrigued by the culture of the continent, with transformative opportunities.
Africa is prime territory for such interactions, with cities unfolding as thriving cultural centers of incredible diversity offering a vibrancy, creativity, great food, and warm welcome of their very own style. Far from mere stopovers en route to exploring the bush, Timeless Africa Safaris connects travelers with the most vibrant African urban centers through immersive travel.
"There is such a wealth of wonders for travelers to discover in Africa that people often don't think about the cities. But we do," said Marco van Embden, Founder and CEO of Timeless Africa Safaris. "Our Luxury Travel Managers really know their way around the centers of life and culture across the continent, and we have made a specialty of plugging our clients into authentic experiences and opportunities to meet and interact with Africans that they'll never forget."
Following is just the start of what travelers can look forward to where the wild things aren't on an Urban Safari with Timeless Africa Safaris:
Cape Town – Often noted as one of the best cities for travel, Cape Town has it all: natural splendor, textured culture and history, world-class galleries and entertainment, outdoor pursuits, and well-deserved renown as the culinary and wine capital of Africa. Start your Urban Safari with a vintage side car ride from the center of the city, traveling through coastal towns en route to Miller's Point where a local 'eco-warrior' will create a wildly delicious adventure tracking the edible landscape, with local flavors from wild mushrooms to seaweeds and shellfish. Back in the city, ride bikes through the Victoria & Alfred Waterfront to the Oranjezicht City Farm Market, where one can taste produce and products from local artisans and meet the vibrant duo who brought the market to life. A Sunday Jazz Brunch on the seaside promenade is a great plan, as is ending the day by watching or joining in a salsa dance class at the Sea Point Pavilion. Learn to Gum Boot Dance, as once practiced by mineworkers or picnic at world-famous Kirstenbosch Botanical Gardens with a private guided tour, or join a local on a walking tour of the history of South African cuisine, from African Soul Food to Rose Milkshakes, boerewors to bobotie pie.
Johannesburg – Founded during a gold rush and built by adventurers, the sense of pioneering is part of the rich tapestry of the people and experiences of 'Jozi,' as South Africa's largest city is known. Join two brothers – one an artist, the other a political analyst – as they weave together the city's art scene and political history on a tour of galleries and significant historical sites. Enjoy an insider's experience of Jozi's most beloved township, with a visit to an art studio/gallery that doubles as a music venue, with highlights such as sipping a 'gemmerbier' in a local home and playing basketball with kids in a youth social uplift program. See why Ponte City – the iconic, brutalist residential apartment building that dominates the skyline – has gone from symbol of urban decay to a high point of the renaissance sweeping South Africa, complete with a run up 900-plus stairs to the 54th floor – if you can make it.
Kigali – Previously tarnished by profound tragedy, Rwanda's elegant capital has been reinventing itself for a quarter century and now radiates African charm. Clean, safe, and wonderfully lush, the city is known for excellent coffee, basket weaving and a lively night life.  Kigali is also leading the tech revolution of East Africa, and as the gateway for gorilla trekking. The streets are filled with young students, well-dressed professionals, and a sense of purpose, with low crime, a vibrant dining scene, and friendly locals. Start at Nyamirambo Women's Center, which provides education and vocational training for women to gain better opportunities, where guests transform colorful kitenge fabric into dazzling souvenirs. Enjoy dinner at Heaven restaurant, whose owner, Josh Ruxin, wrote A Thousand Hills to Heaven: Love, Hope and a Restaurant in Rwanda. Visit a humble Rwandan home transformed into a colorful museum featuring works by local artists who share profits to aid and train local street children in traditional music, drumming, and dance. Shop at Go Kigali, offering the best 'Made-in-Rwanda' products from more than 50 designers.
Nairobi – Africa's fastest-changing urban landscape glimmers with ultra-modern business ventures and endless diversions. Discover a true mix of wilderness and modernity in Kenya's vast capital, which counts more than 400 species of birds offset by skyscrapers and passing airplanes. The hub of East Africa economically, socially, and influentially, Nairobi is full of life, with a people known for their entrepreneurship and fashion sense. Adopt an elephant at the local Sheldrick Wildlife Trust elephant orphanage, the first organization in the world to successfully raise milk-dependent orphaned elephants by hand and reintegrate them back into the wild. Visit Kunoa Trust, a cool workspace shared by artists and graphic designers where people buy art. Tour Brown's Cheese Factory, Kenya's biggest cheese maker, followed by a delicious lunch with wine pairings.
Dar Es Salaam – "Dar" is a thriving seaside metropolis and the commercial hub of Tanzania. Developed from a sleepy fishing village, today it's East Africa's second-busiest port along one of the world's most important oceanic routes. The urban fabric of the city is highly decorative, with Arabic, African, Indian, and European architecture lining the streets. The people are as eclectic as the urban fabric, with many styles of dress, varieties of culture, and corresponding eateries and experiences making it easy for travelers to lose themselves in abundant markets, colorful happenings, and noisy, jostling crowds. A short boat trip takes one to palm-fringed beaches of nearby islands, where nothing compares to relaxing and enjoying sundowners from gracious homes while looking back on the city lights twinkling at dusk. Take a street-food tour of the city's best fare, and visit the Mwenge Craft Market to watch artists make crafts to be sold throughout the country. Nafasi Art Space is aiming to become the country's leading contemporary art center, providing a platform for training and cross-cultural discourse. If you're visiting in September, don't miss Dar's famous Goat Race.
Arusha – Set exactly halfway between Cairo and Cape Town, Arusha, Tanzania represents the middle of the Old British Empire marked by a monumental clock tower. Lush and green throughout the year thanks to its high altitude, the city's population comprises more than 100 nationalities, creating a melting pot of Iraqe, Hazabe, Maasai, Swahili, and dozens of other indigenous and ethnic cultures. Expect to be spoiled by the wealth of no-frills street food at places such as Discovery Restaurant serving Nyama Choma (roasted meat and maize), and Khan's BBQ with 'Chicken on the Bonnet'. Arusha is also a great place for volunteering, with many opportunities for visitors to do charity work while traveling. Visit Meserani Snake Park to learn about some of the most dangerous snakes in the world, from Black and Green Mamba to Puff Adders, and check out crocodiles at feeding time with chance to touch a baby croc. Don't miss a meal at the eco-restaurant Eat Wild in the Themi Living Gardens, a leafy spot run by a women's community project.
For more information or to plan travel with Timeless Africa Safaris, please call +27-21-461-9001; email info@tasafaris.com or robin@tasafaris.com; or visit www.tasafaris.com.