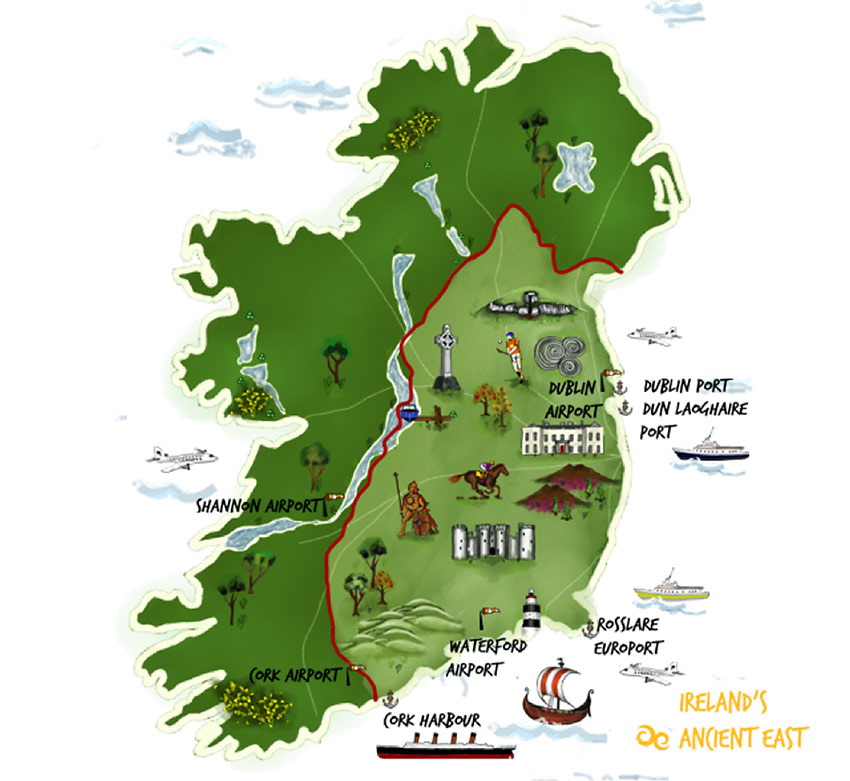 PART 2:
Before I share with you the next two days of this exciting trip, here's a brief recap of Part 1:
On arrival, we spent our first night at O'Callaghan Hotel, St. Stephens Green in Dublin.  The next day, we were regaled with stories about Hurling, Ireland's national sport, at The Marble Bar, followed by a visit to Kilkenny Castle and the Medieval Museum.  Next stop was a tour and beer tasting at Smithwick's Ale Experience Visitor Centre, with Day 1 ending with drumming and dinner at Kyteler's Inn, Kilkenny's oldest pub, followed by an overnight stay at The River Court Hotel.
DAY 2:  At the top of the morning, we were off to Jerpoint Park – Lost Town of St. Nicholas, located outside Thomastown, County Kilkenny – and thought to be the final resting place of St. Nicholas, known as the Patron Saint of Prostitutes.  Next stop was Woodstock Gardens and Arboretum in Kilkenny's Inistioge County, followed by a short drive to New Ross in County Wexford for our visit to the reconstructed Dunbrody Famine Ship or The Irish Emigrant Experience.   The day was topped off by a fabulous meal at the Dunbrody Country House Hotel & Restaurant located in Dunbrody Park, where we also spent the night.
PART 2:
DAY 3:  Well rested and raring to go on yet another exciting day, we were off to visit the Hook Lighthouse, a building located at the tip of the Hook Peninsula in Churchtown, Hook Head, County Wexford.  Along the way Tanya, our very knowledgeable, and most entertaining guide, (she even sings) gave us some insight into the proper manners accompanying being invited for tea.  When offered a cup of tea, you must first say, "No. No. No.  Ah.  Don't go through any trouble."   After about the third or fourth "no," you would relent and graciously accept that cup of tea.  She also told us that Halloween was originally the Celtic festival of Samhain (pronounced sow-in), a pagan festival going back 2,000 years.  On November 1, people would light bonfires and wear costumes and masks to chase out roaming ghosts.  Of course, over time Halloween morphed into how it is celebrated today – kids wearing costumes going door-to-door asking for a treat.  Last year, my friend and I gave out over 3,000 pieces of candy.  I tried asking a couple of kids to show me a trick, which totally threw them.  They just wanted the treat, and who could blame them.  Tanya also explained the symbolism of the 3-leaf Shamrock, which represents the Father, the Son and the Holy Ghost, which I believe is now the Holy Spirit.  She also told us words the Irish use such as runners for sneakers, or jumpers for sweaters.  I'm sure you wouldn't want to say a word that would offend our Irish friends, so please, please do not ever, ever say "fanny pack" as it's meaning is quite different from the American definition and it will be quite offensive.  Enough said.  You must trust me on this.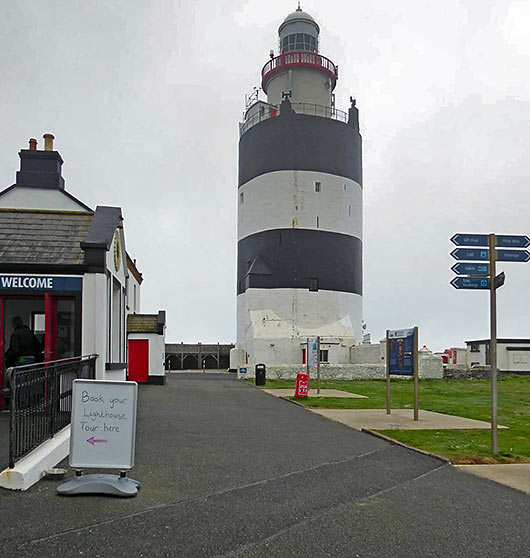 But I digress and so it's back to the Hook Lighthouse.  The day was slightly overcast as we arrived at the Lighthouse, said to be the oldest operating lighthouse in the world. An imposing sight to behold, it was built in the early 1200s by Knight William Marshal to safeguard the entrance to Waterford Harbour and provide assistance to ships heading for the newly established port of New Ross on the River Barrow.  This tour is a virtual step back in history as we heard tales about medieval times and life as a light keeper.  One interesting factoid about this region: "Saving Private Ryan" was filmed on the beaches of County Wexford.
Following a short introduction and a look at some of the apparatus, most of the group opted to climb the 115 winding, narrow, uneven steps to the top for a panorama view of the ocean.   I suppose I should confess that being claustrophobic, I respectfully declined the trek up those stairs and instead headed for the gift shop where I purchased a few souvenirs for friends.  My colleagues did share that at the top they were greeted by a life-size hologram of St. Dughan, who talked about the nights he spent with his fellow monks in the 5th century, warning sailors against dangers with a beacon they kept shining on the headland.  But don't let me stop you as the Hook Lighthouse was voted one of the top ten places to visit in Ireland, so definitely put this experience on your itinerary.   Families love the games on the lawns and fun activities offered year round, plus the annual calendar of special events and festivals.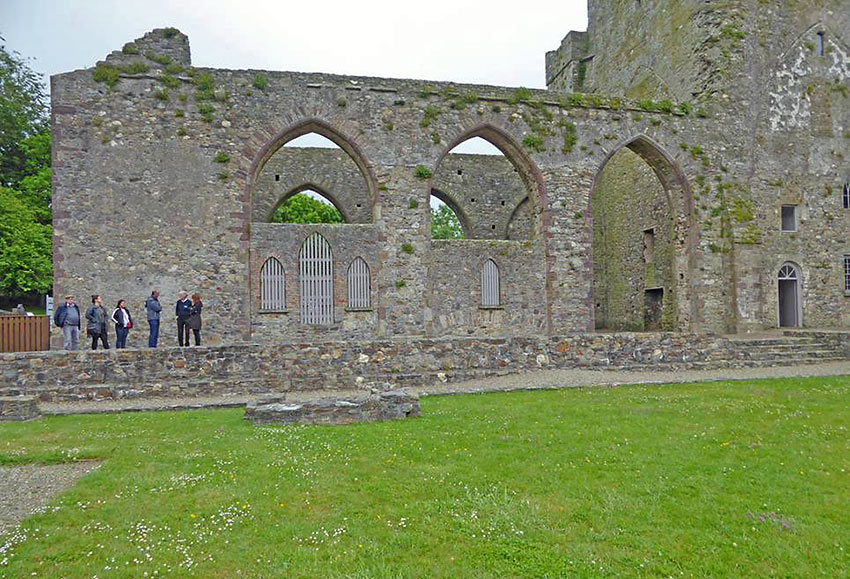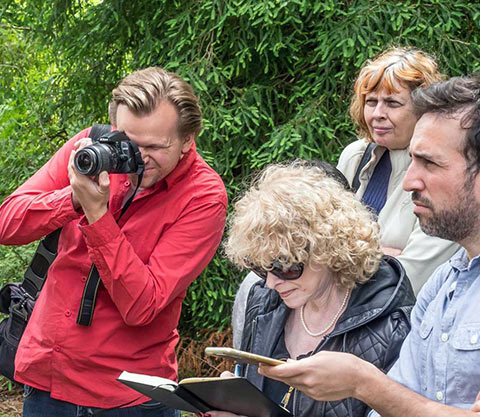 Once more, we climbed back into our van and headed to Tintern Abbey, a Cistercian Abbey until the Dissolution of the Monasteries by King Henry VIII. Our guide at was James Mahoney, who told us the story about the construction of the Abbey, which dates back to the 13th century.  William Marshall, Earl of Pembroke, was caught in a violent storm and vowed to God that if he made it ashore safely, he would build this monastery in his honor, and so he did. The Abbey was home to monks and sisters, who had a separate chapel.   Do check out the  famous 17th century restored Walled Garden.
Our next experience was the beautiful Colclough Gardens.  Restoration work began in July 2010 resulting in the recreation of the original layout of the garden back in 1838, when the walled garden was built by the Coclough family. One of the journalists, Angel Valera, volunteered to plant a seedling.  We all watched as he dug a small hole and carefully placed the seedling in it.  We applauded as he did a splendid job.   Do take a peaceful stroll through this bucolic setting and enjoy the gorgeous selection of plants, flowers, and trees.  Soon your worries and cares will slowly drift away.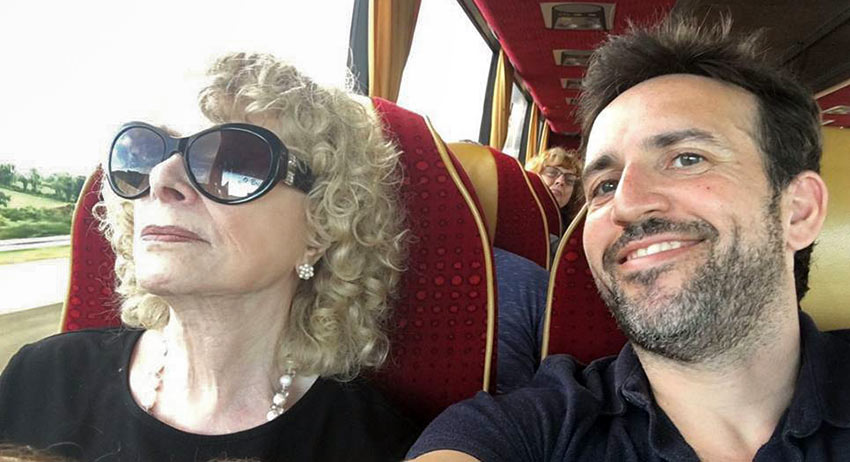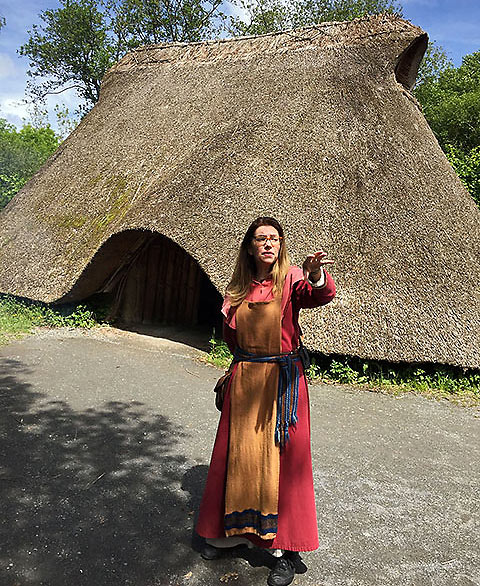 Being a travel writer is a privilege.  It is generally fun but do understand that you are introduced to myriad tourism destinations, offering wonderful travel opportunities to share with your readers.  The days are long and compacted and sometimes you just get tired, so with the next destination a little less than an hour way, it was a golden opportunity for a little shuteye, which my friend Angel so beautifully captured.  At least my mouth was not open.
We arrived at the Irish National Heritage Park in Newtown, Ferrycarrig, Wexford, often referred to as the "sunny south east."  Located on the banks of the River Slaney, the Park is an outdoor museum situated within natural forestry and wet woodlands and spans over 35 acres.   Depicting 9000 years of re-created Irish history, the museum is said to be the cornerstone of Ireland's Ancient East, covering the prehistoric through Norman periods, featuring buildings or structures germane to each period.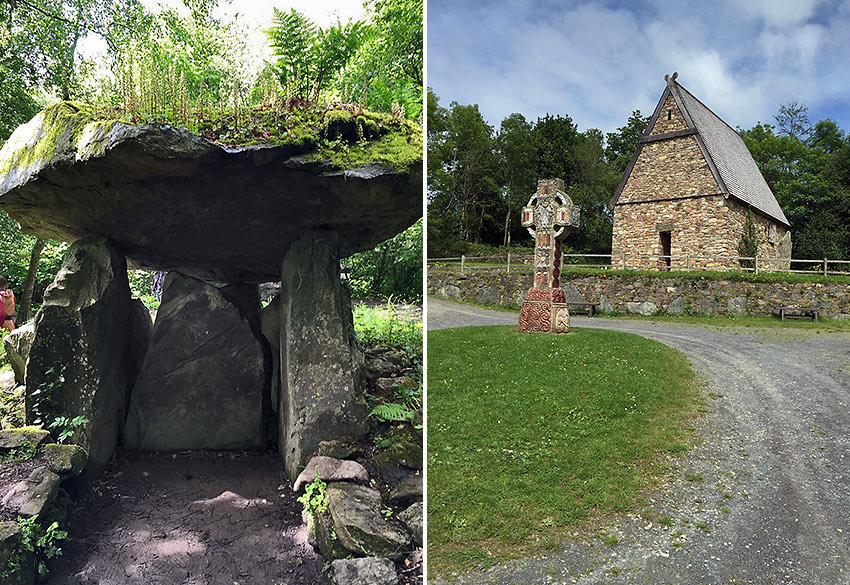 I suppose I should fess up to another potentially claustrophobic experience.  One of the small buildings was an old grain mill and the group was guided into that very tiny space.  I decided to sit this one out, as did my colleague from Denmark.  We chatted away about this and that waiting for our group to emerge.  After a while, we realized that too much time had passed and the group should have been out of the building by now.  So, we walked around to the back and lo and behold there was a rear exit and clearly our group had left quite a while ago.  Now the challenge was to reconnect with our colleagues and off we went in search of them.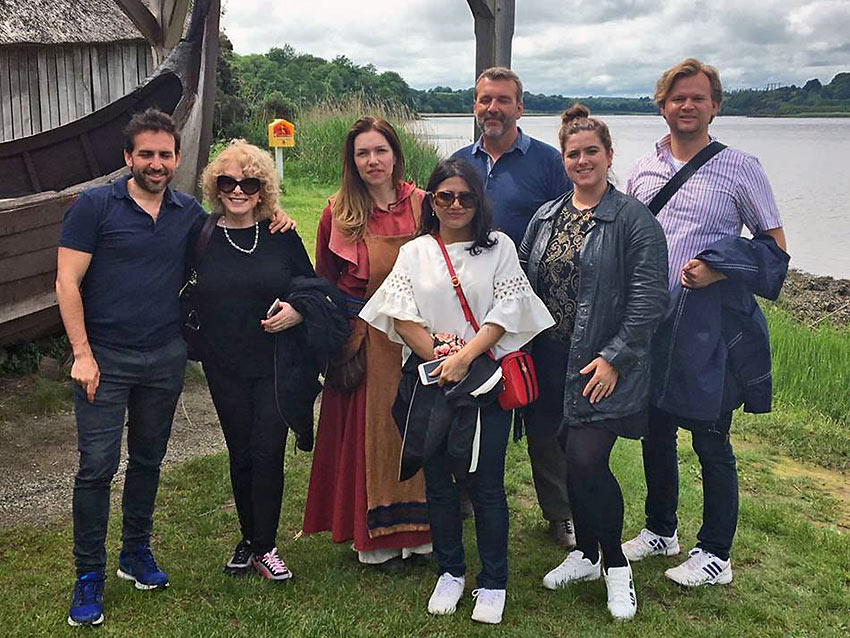 We walked through winding paths and up and down small hills with no sign of the other journalists anywhere.  We were quite certain they wouldn't leave us there although there was a replica of a 1,500- year-old Irish house with stonewalls and a thatched roof in the ringfort which offered sleepover services.*  No water.  No electricity.  No heat.  No thanks!  Cooking is done in an open fire outside the big house.  My idea of roughing it is sleeping with one pillow instead of two at a 5-star hotel.  Anyway, eventually our guide retrieved us and we finished the rest of the tour with our colleagues.
Happily, our day was not over yet as we were off to South County Wicklow where we checked into the BrookLodge & Macreddin Village, a beautiful luxurious country house which combines rustic charm with state-of-the-art facilities.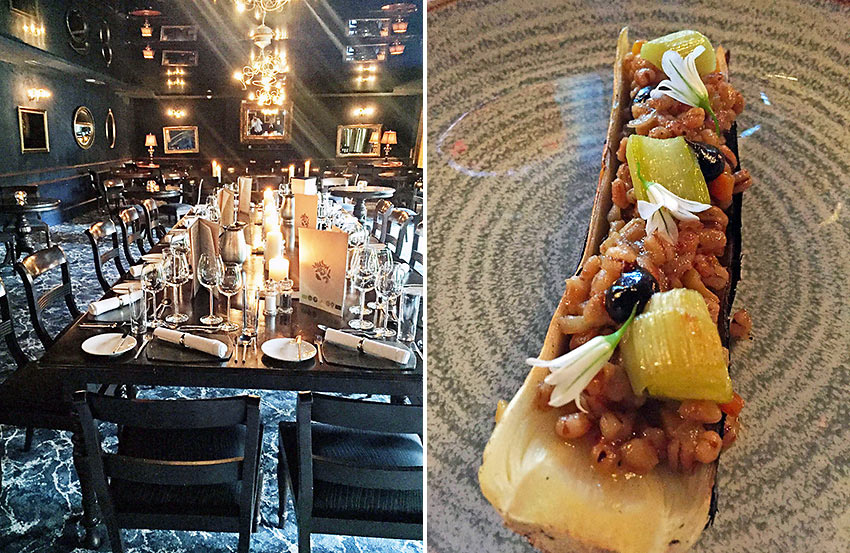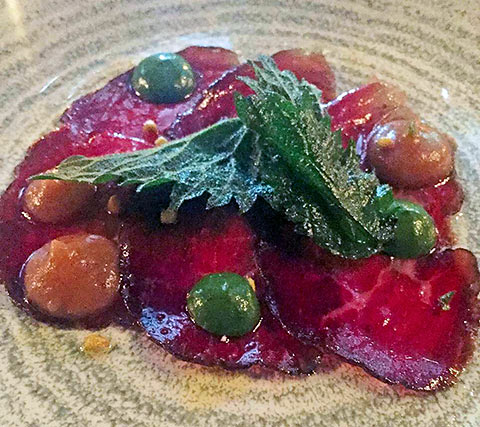 Just when you thought food could not get any better than previous meals, we were in for a major taste sensation at the famous, multi- awarding winning Strawberry Tree Restaurant located in the BrookLodge Hotel, where chef/owner Evan Doyle created an elegant dining room.   In our honor, he put together a 10–Course Tasting Menu using locally sourced, totally organic ingredients from the land or the sea.  As the wine began to flow, we said, "Let the eating games begin."  And so they did and out came an array of exquisitely prepared dishes.
DAY 4:  After the unbelievable meal last night at the Strawberry Tree Restaurant, luckily the first adventure this morning would be an early-morning 6km (3 ½ miles) walking tour of the village through charming winding paths and slight inclines, offering a breathtaking view of the countryside.  The exercise felt great.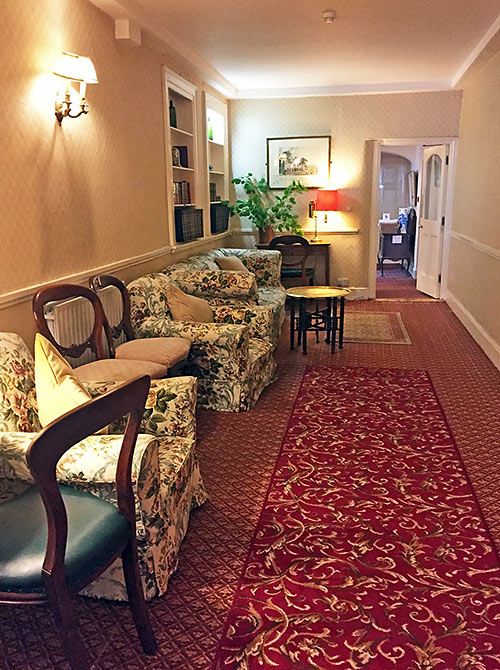 Filled with vim and vigor, we were ready for our next destination and departed for Rathnew for lunch at the Hunter's Hotel in County Wicklow.  Ireland's oldest coaching inn, it has been under the ownership of the Hunter/Gelletlie family since 1825.   Their Victorian kitchen garden and stable yard have been unchanged for centuries so they have retained their original charm.  With yet another delicious meal under our belts, we were treated to a pleasant stroll through its lovely award-winning gardens overlooking the River Vartry.
The final destination on our packed itinerary would be Powerscourt Gardens and House in Enniskerry, County Wicklow.  Voted the third most beautiful garden in the world by National Geographic magazine, the sprawling gardens cover 19 hectares, or almost 47 acres. It is a magnificent blend of formal gardens, terraces, statues, and beautiful lakes, all of which you can reach through the meandering walks.  The gardens are also home to Ireland's highest waterfall.  Having had the pleasure of experiencing many of Ireland's amazing gardens, and interviewing some of the head gardeners, it became crystal clear that gardening is truly part of the Irish DNA and touring these gardens a travel experience you absolutely must put on your itinerary.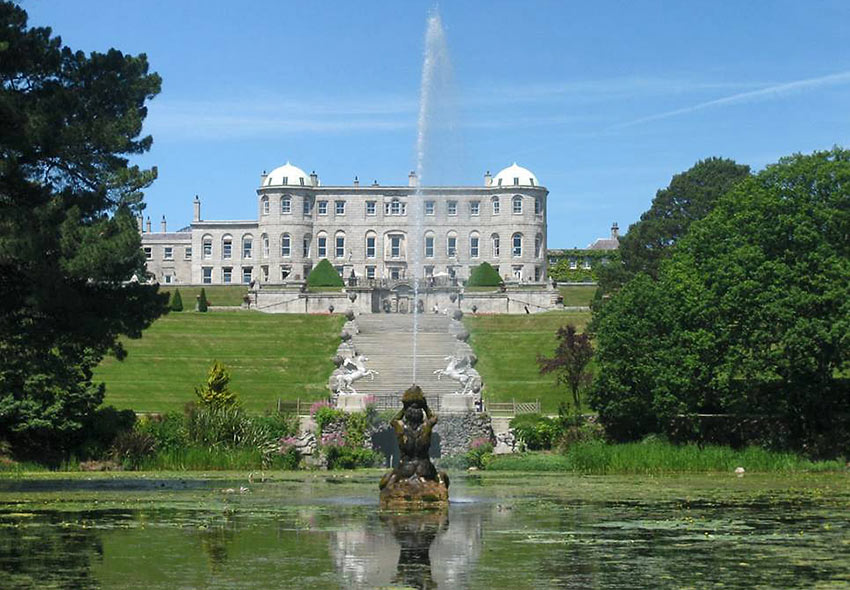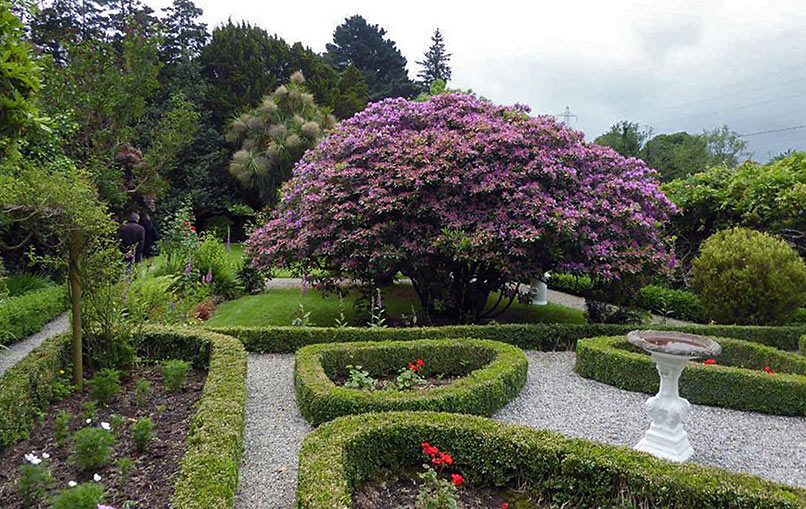 Our extraordinary official journey had concluded.  Our last night was spent at the Trinity City Hotel on Pearse Street in Dublin City, where we our group got together for one last time for a leisurely dinner.  Tomorrow we would all be traveling home to different parts of the world with hopes that someday we would re-connect on another press trip.
Before I close, here are a few more factoids given to us by Tanya.  No beeping of horns is allowed other than to greet each other, and vehicles containing a driver-in training have an "L" on the license plate signifying "learning."  In saying goodbye to us, our parting words from Tanya, was "Don't cry because it's over – celebrate that we met." And, indeed we will…
*Ringforts or ring fortresses, dating back to the Early Medieval Period, are circular fortified settlements built up to about the year 1000 by Gaelic nobility.  They are one of Ireland's most common field monuments with an estimated 30,000-40,000 scattered throughout the country.
For travel information visit Tourism Ireland's website: http://www.ireland.com/ or www.discoverireland.ie/
More places to stay and places to visit from Part 1:
Stephens Green Hotel
Marble City Bar and Tearooms, Kilkenny
Kilkenny Castle
Medieval Mile Museum, Kilkenny
Smithwick's Experience Kilkenny
Kytelers Inn, Kilkenny
River Court Hotel
Woodstock Gardens
Dunbrody Famine Ship Experience and Restaurant