As I window shopped along the pristine streets of Monaco's Golden Circle, where the chic clothing venues of Hermes, Christian Dior, Gucci and Prada hugged the hills, I decided I would save my Christmas shopping for later. But, when passing the legendary Casino de Monte-Carlo, it occurred to me that I could fatten my billfold at the palatial establishment. After all, it had worked for James Bond where three of the 007 franchise films were shot, before I realized I was no James Bond, despite my love of the martini, shaken not stirred. So I continued my stroll, simply enjoying the breathtaking views of warm pastel villas, grand Belle Époque buildings,  city palaces and luxurious ambiance of this fairytale land of the rich and famous. This was made possible by a passage on the Holland American vessel, ms Veendnam.  Ports of call also included Livorno, gateway to Lucca and Pisa; Barcelona; Malago and Gibraltar.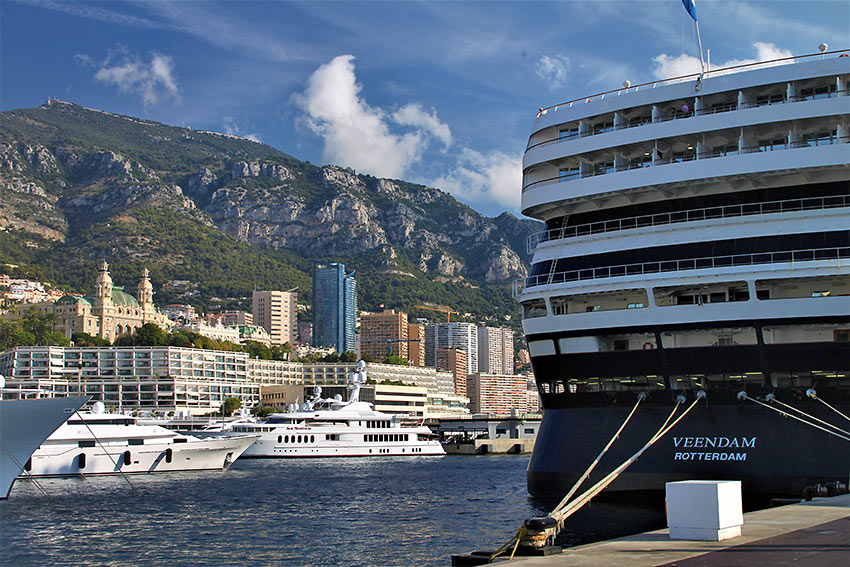 The Holland America ms Veendam
My connection with Holland America began in 1947 when my Dutch mother-in-law took a passage across the pond from Amsterdam to Ellis Island on the Holland America line. She recalled how enthralled she was by the comfort aboard the vessel and the tantalizing meals at the dinner table. Now, 63 years later, I found that her accolades still lived up to those expectations, and, shall we say, a bit more. The creature comforts were endless with five restaurants; venues dedicated to classical violin and piano performances, dance music, Flamenco dancing and flautist recitals at the Showroom At Sea theater; state-of-the-art fitness center, yoga and Pilates classes; two outdoor pools and seven Jacuzzis; shopping area and casino. My favorite was the Crow's Nest Lounge, situated at the front top of the vessel. As a beer connoisseur,  I should note that the lounge featured an end to my own personal quest for the Holy Grail: finally encountering the original Budweiser Budvar, first brewed in Bohemia circa 1245. Budweiser Budvar is a pale lager brewed with ice age lake water, Moravian barley and Saaz hops. By EU's standards,  Anheuser-Busch's Bud is not considered a beer, but a malt liquor with rice as one of its ingredients.
I was in an unsurpassed comfort zone of luxury.  Most importantly, the cruise was relaxing and mellow, with a sophisticated clientele, as opposed to a riotous in-your-face 'fun cruise' crowd. The ms Veendam chimes in at 719 ft. in length and 101 ft. wide with a passenger capacity of  1627 guests — but it still felt spacious. The service was outstanding, with a guest-to staff ratio of 3 to 1. I could have stayed on the vessel forever, but I was excited for more explorations of the ports-of-call to come.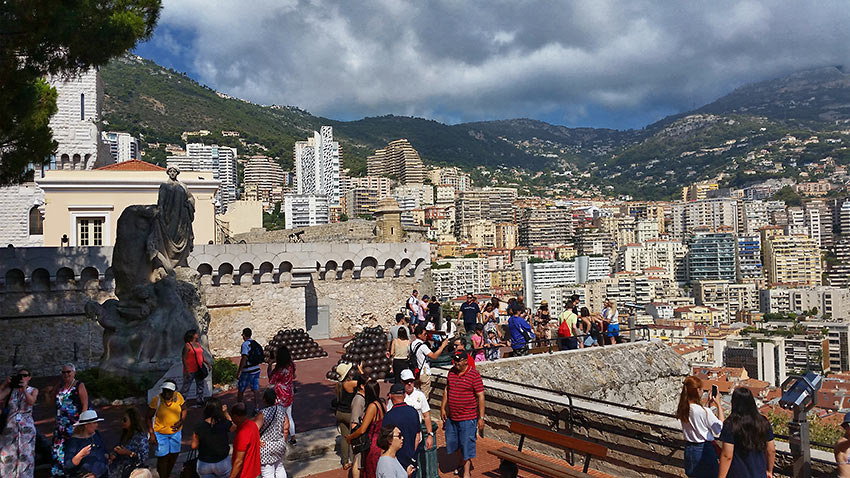 But First, More on Monaco
As late as 1869 the main export of the struggling Principality of Monaco was citrus. Despite its climate and location, which towers over the Mediterranean Sea, with France bordering on the other three sides, it was difficult to reach as a result of bad roads. This changed with the marriage of the enterprising French stage actress, Marie Caroline Gibert de Lametz, to Florestan I, Prince of Monaco. The Beaux Arts-style Casino de Monte-Carlo was established, and income tax was eliminated. Monaco was soon promoted as a resort for wealthy tourists and a tax haven for businesses. Curious enough, its citizens — Monégasques — are prohibited from gambling at the casino. I suspect the city fathers knew, like all casino owners, that the player always loses, despite Joseph Jagger's  "breaking the bank at Monte Carlo," due to finding imperfections in the balance of the roulette wheel, which only gained the casino even greater publicity.
The Ballad of Grace and Rainier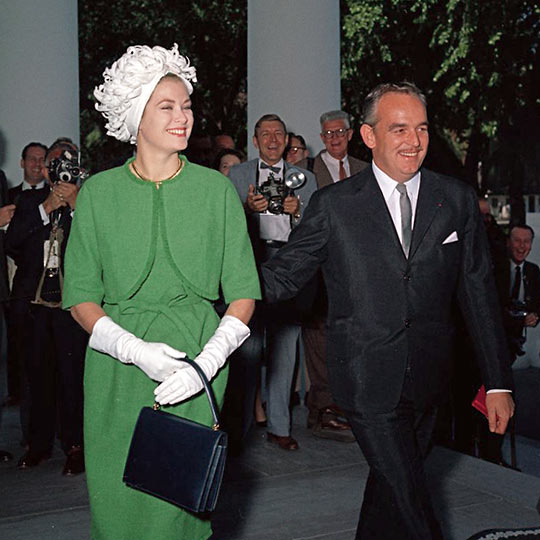 In 1956, the glamour campaign continued when Prince Rainier III married Hollywood Royalty and Philadelphia socialite in the name of 26-year-old Grace Kelly.  Her brief acting career and striking refined beauty had already made her an international household name. She had appeared in John Ford's Mogambo;  The Country Girl, for which her deglamorized performance earned her an Academy Award for Best Actress in the otherwise dismal film;  High Noon;  and three Alfred Hitchcock masterpieces, Dial M for Murder, Rear Window and To Catch a Thief. Prince Rainier, always desperate for money, met with billionaire shipping tycoon, Aristotle Onassis,  who suggested the prince find a Hollywood beauty to marry. Aristotle believed the added media publicity would attract more investment opportunities and make the principality a greater alluring destination for tourists. Rainier jumped at the idea. His first choice was Marilyn Monroe, who laughed at the thought, but did jokingly say, "Give me two-days alone with him and of course he'll want to marry me." A meeting was arranged with Kelly while she was in the Riviera filming the last stages of To Catch a Thief. Apparently it  wasn't love at first sight for Kelly, but the prince was relentless, initiating a long correspondence by mail, which eventually led to their marriage. Rainier insisted upon a two-million dowry for the union to proceed, made Kelly take a fertility test, give up acting and banned the screening of all her movies in Monaco. The marriage was described as the wedding of the century. Following a long honeymoon cruise, Her Serene Highness Princess Grace devoted her life to raising three-children, and then founding the World Association of Friends of Children, based on her vision that every child, whatever their social, religious or cultural origins are, would have the capacity to live in dignity and security;  and the Princess Grace Foundation, to support local artists and craftsmen. In 1982, tragedy struck when Princess Grace was driving a Range Rover down a steep road and suffered a minor stroke. She lost control of the vehicle which violently plunged 120 feet off a cliff.
Princess Grace passed away the next night. Her death was a shock to the entire world, and her funeral, like that of Princess Diana, was watched by millions of people around the globe. With the death of Rainier in 2005, Prince Albert II assured the succession of the now 700-year-old House of Grimaldi.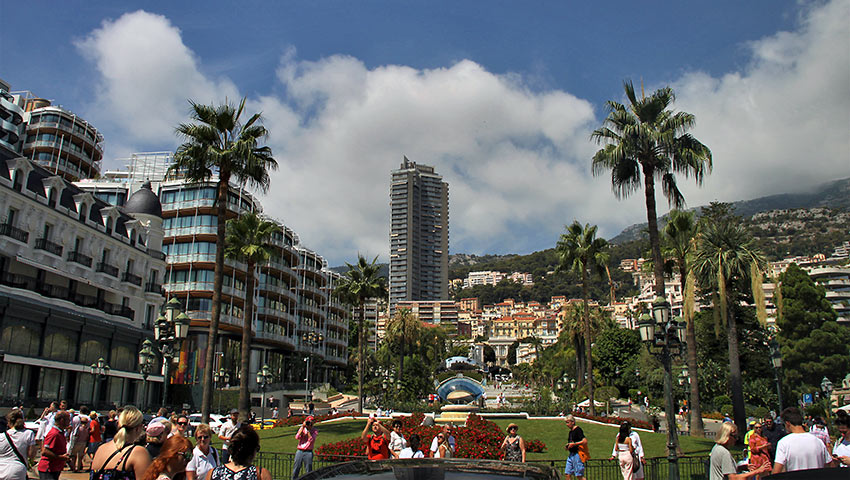 Monaco is walkable, but visitors face strenuous hills and steep stairs. I opted for the all-day hop-on, hop-off bus tour which follows a loop, stopping at points of interest every fifteen minutes. Highlights included Monaco-Ville, also known as "the rock," which is a picturesque medieval village with century-old villas; and the Oceanographic Museum and Aquarium, directed by Jacques Cousteau for 17-years, and considered the definitive authority on the Mediterranean's tropical marine ecosystem. Monaco showcases a number of stunning gardens and the Jardin Exotique (Exotic Gardens) was my favorite. Several thousand rare plants are on display as well as breathtaking views of the harbor and grandiose yachts courtesy of Saudi princes and Russian oligarchs. Also your map should include the ornate Opéra de Monte-Carlo, designed by architect Charles Garnier, known for Palais Garnier Opera House in Paris; and the white marbled-Byzantine-style Cathédrale de Monaco where Rainier and Princess Grace are buried side-by-side.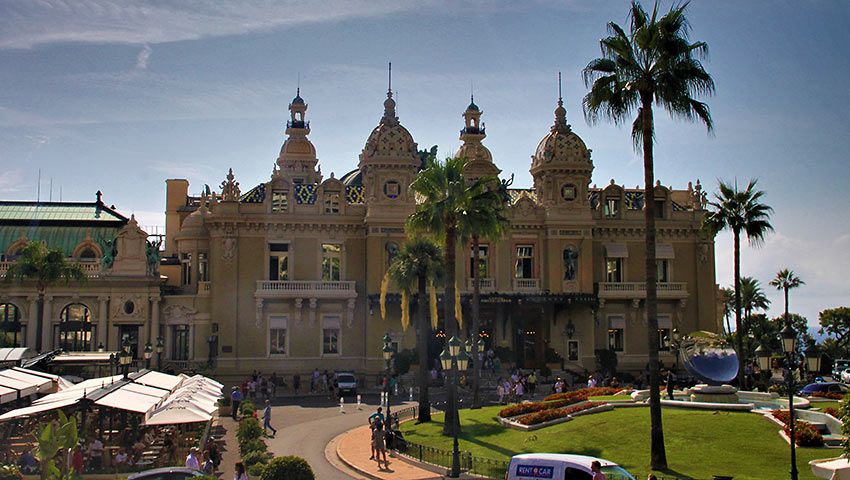 Sitting at a sidewalk café by the Casino de Monte-Carlo with Bugattis,  Lamborghinis and Rolls Royces parked in front,  I spoke to a young German man. He was there to walk the length of the two-mile lap of the Monaco Formula 1 Grand Prix, Monaco's event of the year. At the length of 161.734 miles with 78 laps, the race features white knuckle hairpin turns, taken at 160 mph through the Monaco's densely populated neighborhoods. Due to the tight and twisty nature of the harrowing circuit, the skill of the driver is more important than the power of the car. I wished my German friend luck as I relaxed over an Aperol Spritz cocktail, observing the ostentatious culture of this tiny nation, the second smallest in the world.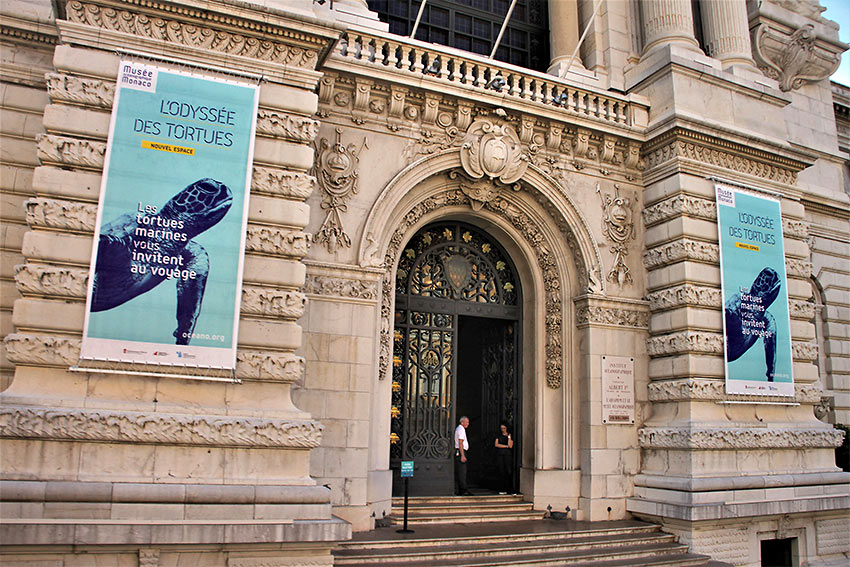 Despite the opulent, unsurpassed luxury, Monaco must be doing something right for it tops the list as the nation with the highest life expectancy in the world at an average of 89.5 years. Maybe it has something to do with walking those steep hills. Stand warned, though; the streets are chock-full of wide-eyed curious tourists, in which I was now one.
Stay tuned for Part II, where I address Livorno – gateway to Lucca and Pisa, Malago and Gibraltar. BTW, never get into a tug-of-war over a camera or food item with Gibraltar's Barbary monkeys; those cute little creatures always win.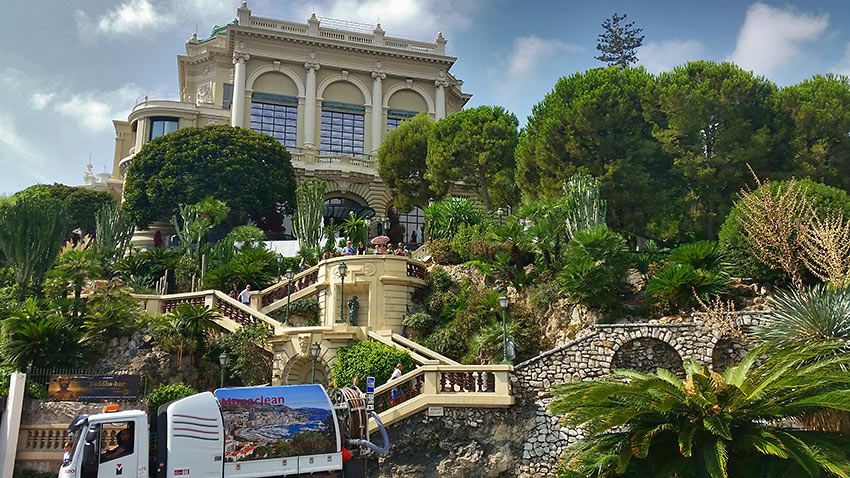 For further information, logon to www.HollandAmerica.com