Once again, I had it all wrong. A friend of a friend had informed me that Tucson, Arizona was still very much part of the Wild West, where people wore no masks, did not participate in social distancing and everything was wide open. I found the opposite to be true, despite my chagrin of all indoor museums closed.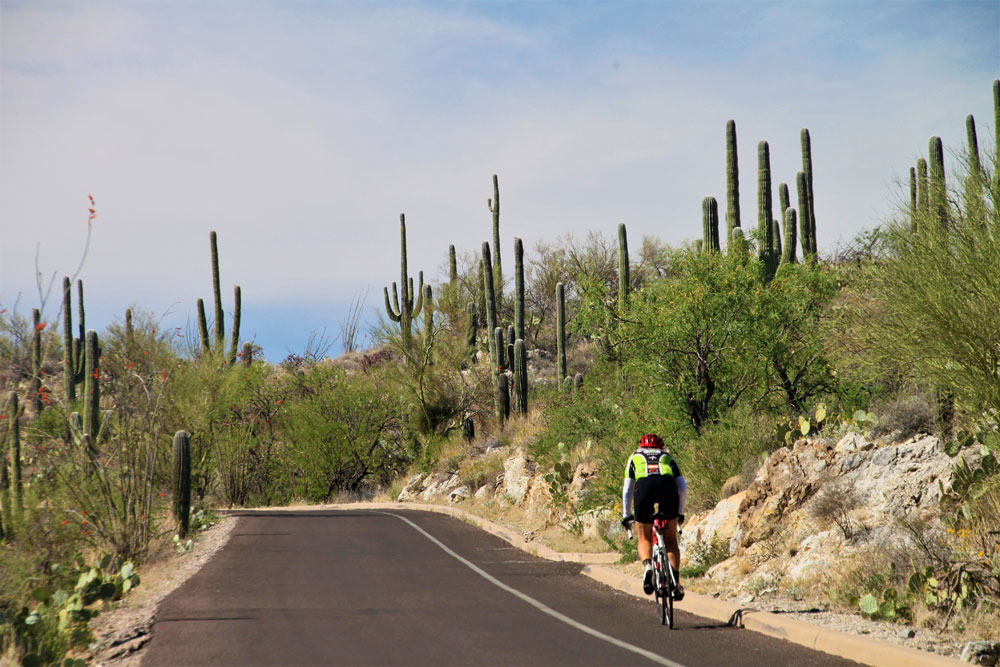 The Tucson highways led to experiences deep into the Sonoran Desert. Photo courtesy of Deb Roskamp.
In my week-long stay in Tucson, I found its citizens to be gracious, wearing masks and sensitive to social distancing. A day trip to Tombstone proved to be another experience, in which I'll address later. Towering saguaro cacti endowed Tucson's landscape as far as the eye can see; which led to three life reaffirming hikes in the Sabino Canyon Recreation area, located at the northeast corner of the city in the Santa Catalina Mountains. The whole town seemed to be out – over a million visitors annually – meandering through Sabino Canyon's many well-marked trails, some intense and others quite easy, making them ideal for any age and size. Rejuvenation was my theme, and Sabino Canyon was as mesmerizing as a carne seca taco at El Charro Café. But, more about that later, too.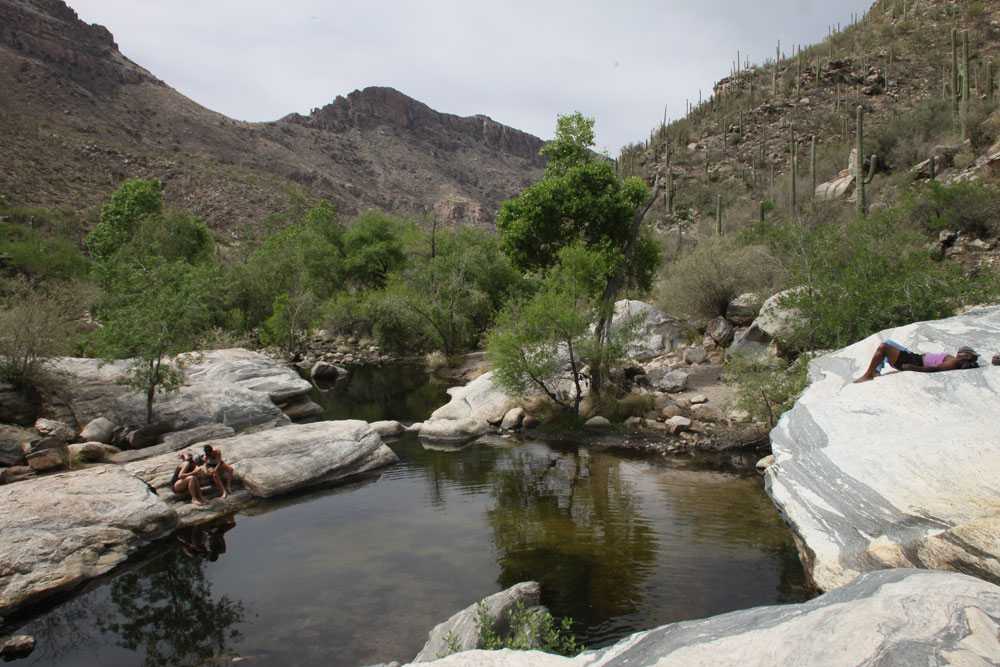 Sabino Canyon Stream was a refreshing reprieve after hiking the trails. Photo courtesy of Deb Roskamp.
A 45-minute narrated tram ride leads you up into the mountain foothills, where you can easily walk four miles downhill to the main visitor center, or take hikes on side trails, many leading to the rewards of unique rock formations and the pristine Sabino Canyon Stream, ideal for cooling your dusty hiking heals or even taking a swim. The trams make nine stops, allowing travelers to hop on and off where they wish.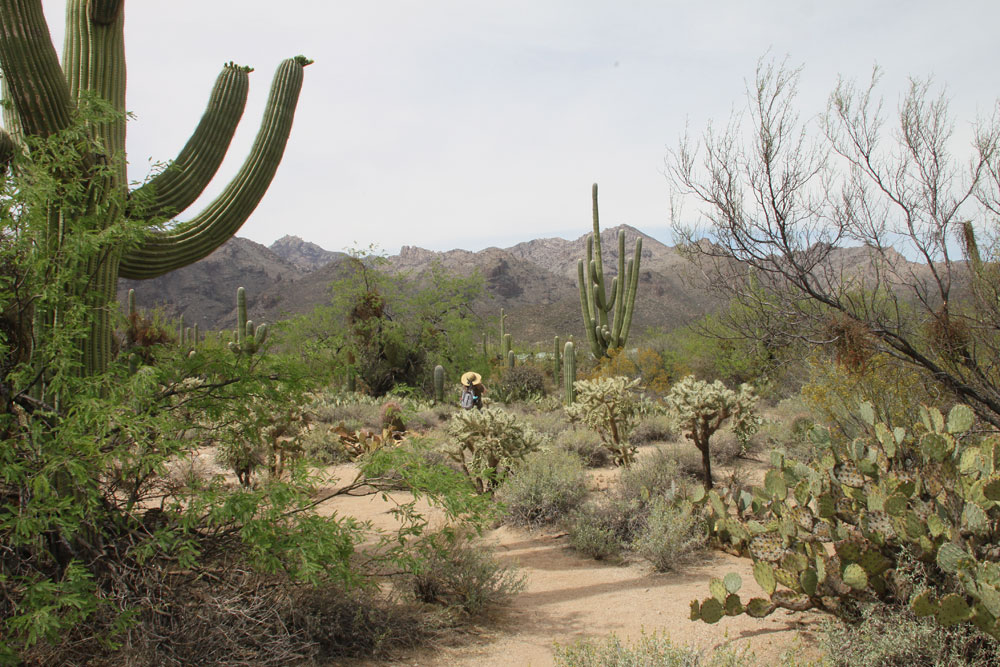 The Sabino Canyon offered an endless array of hiking opportunities. Photo courtesy of Deb Roskamp.
The saguaro cacti were tall and immense, with their arms reaching high up to the heavens. According to the Sabino Visitor Center, the saguaro cactus is one of the defining plants of the Sonoran Desert and has the distinction of being the largest cactus in the United States. Saguaro are slow growing cacti; a 10 year old plant might only be 1.5 inches tall, but can grow between 40-60 feet tall. The tree-like columnar develops branches (or arms) as they age, although some never grow arms. Saguaros are covered with protective spines, white flowers in the late spring, and red fruit in summer. Some have holes made by birds to nest in, often referred to as saguaro boots. Native-Americans perfected the boots as water containers long before the canteen was available. After the saguaro dies its woody ribs can also be used to build roofs, fences, and parts of furniture.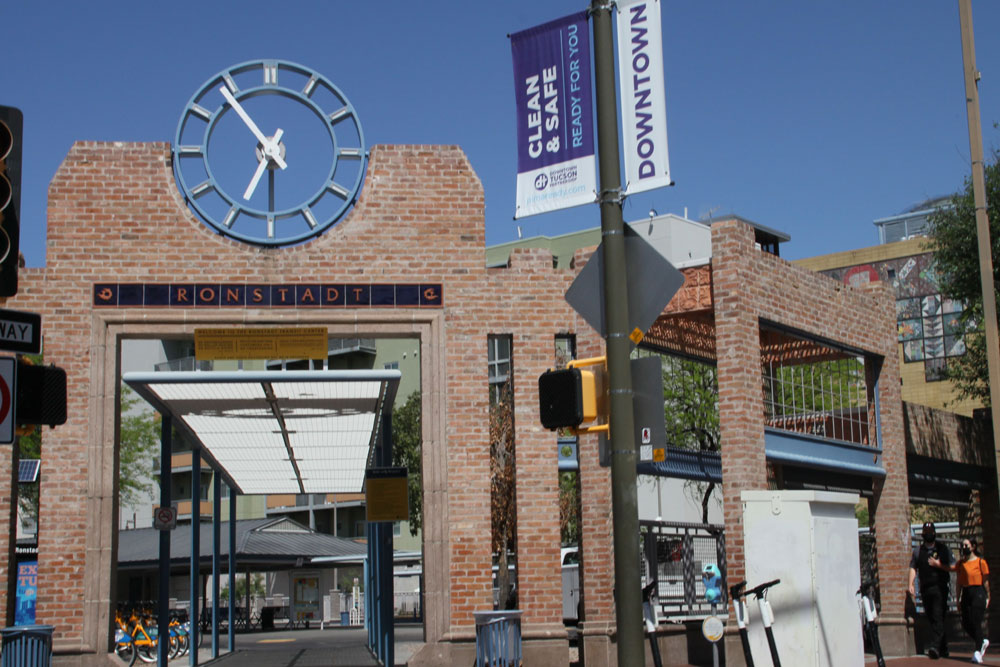 The Ronstadt Transit Center pays homage to the Ronstadt family. Photo courtesy of Deb Roskamp.
PRESIDIO DISTRICT: TUCSON'S OLDEST NEIGHBORHOOD
Before you begin your Presidio District walking tour, you'll notice the Ronstadt Transit Center, named for the Ronstadt family's prominence in the Old Pueblo. Singer Linda Ronstadt's Tucson roots stem from her great-grandfather, who had emigrated from Germany in the 1840s, leading to a long line of Ronstadt family members who affected the commerce and fabric of the city today.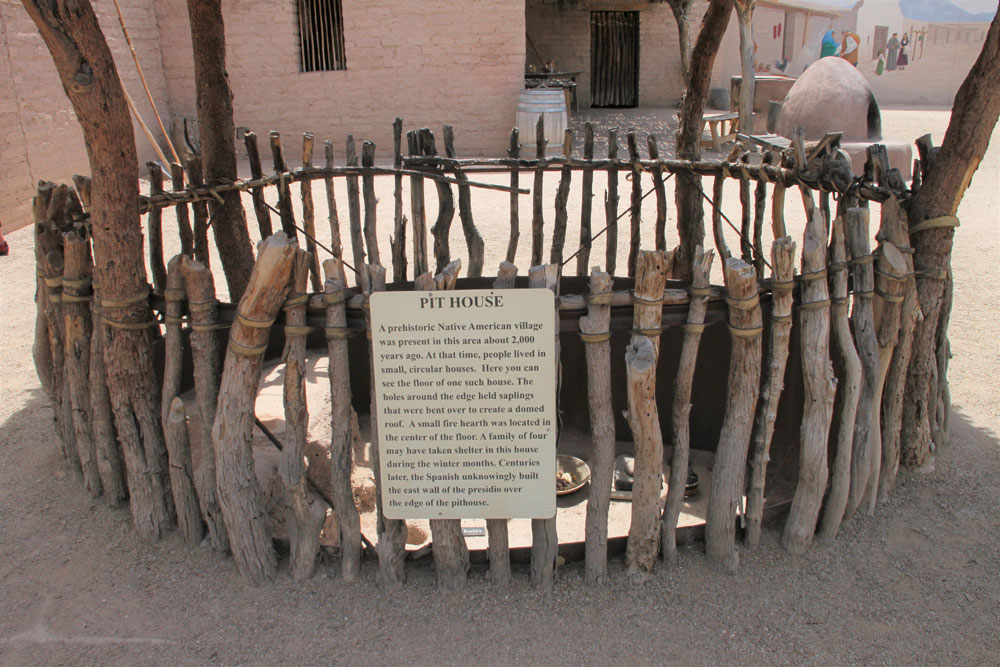 The 2,000-year-old prehistoric pit house at the Tucson Presidio. Photo courtesy of Deb Roskamp.
It should be noted that just after the Spanish arrival in 1775, approximately 90% of the native population died from infectious European diseases in which they had no immunity. The name, Tucson is derived from the Tohono O'odham People: Cuk-Ṣon; or Navajo: Tó Oosts'ą.
Once you park your car, it is essential, almost a mandate, to take a stroll through Tucson's history with a tour of Presidio San Agustín del Tucson (Tucson Presidio). Built on land once occupied by ancient Native-Americans, the Presidio marks the birthplace where Tucson was established as a Spanish military fort. A remarkably well-informed docent pointed out the thick adobe brick walls, 10-to-12 feet tall, that the Spanish used as fortifications after a large Apache attack. My personal highlight was easily a 2,000-year-old pit house, quite literally a hole in the ground, where people slept for protection against invaders and wildlife predators. An original 150-year-old Sonoran row house provided a glimpse of what life in the Presidio was like for soldiers and other residents.
Located across the street is Old Town Artisans, established in 1922, which spans an entire city block, housing art galleries and shops in the longest-inhabited set of buildings in all of Tucson (circa 1850s).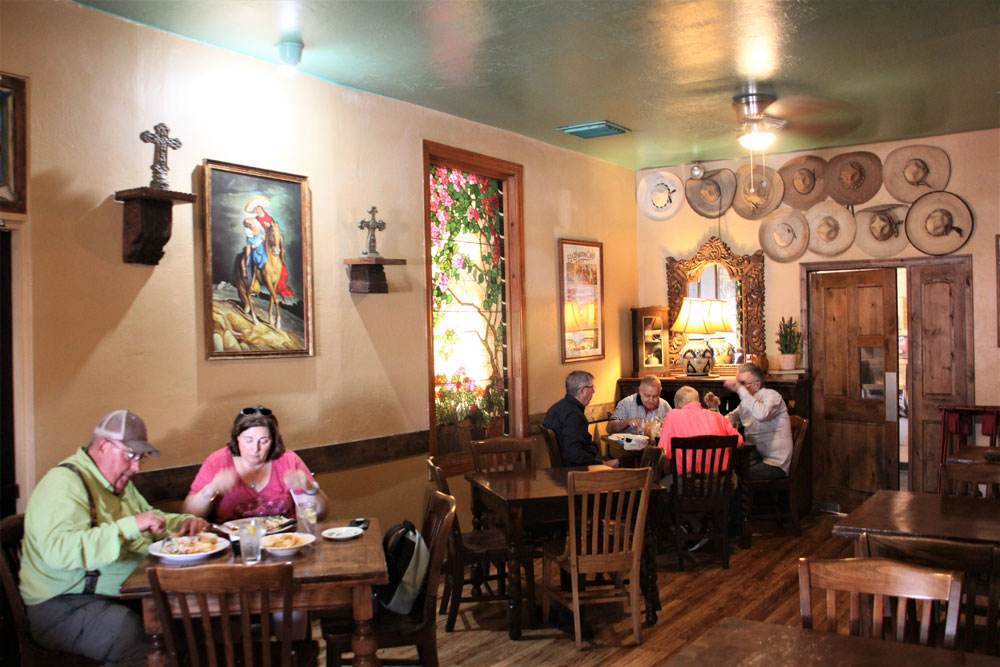 El Charro Cafe dining area. Photo courtesy of Deb Roskamp.
In the middle of the block rests the iconic El Charro Café, established in 1922, which constitutes the U.S.' oldest Mexican restaurant in continuous operation by the same family. The owner explained that the café actually serves Arizona-Sonoran Cuisine with a Tuscan interpretation. The tacos are made with carne seca grass-fed beef, akin to jerky, which has been pulverized back to life. El Charro is said to be the originator of the chimichanga (deep-fried burrito). Tucson itself was awarded the nation's first UNESCO City of Gastronomy Designation.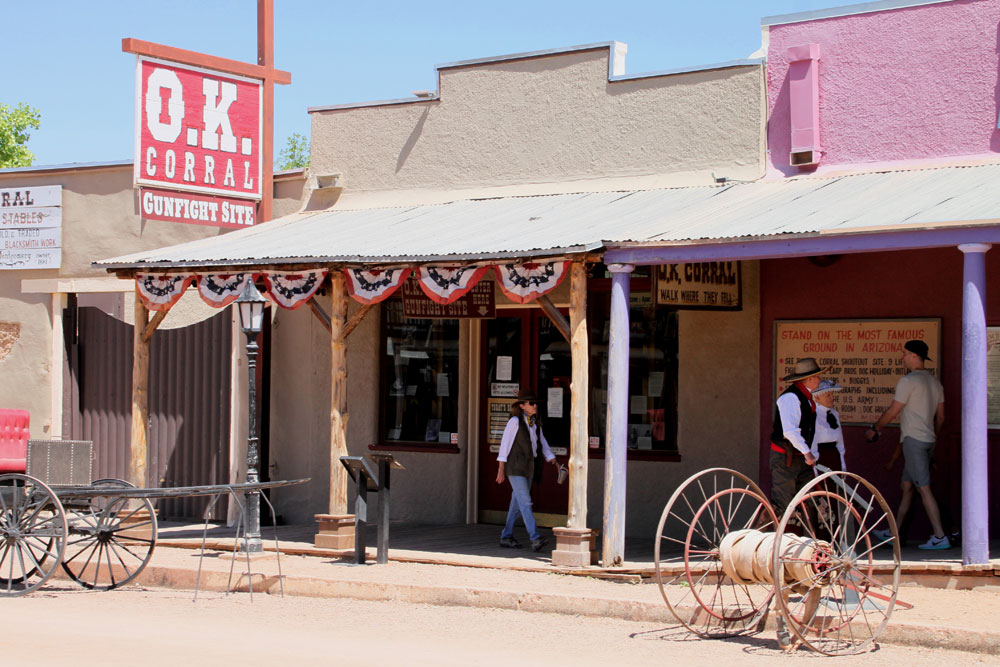 The O.K. Corral, the site of the famous shootout – or was it? Photo courtesy of Deb Roskamp.
A Daytrip in Tombstone
The irony of openly carrying guns without a license in the Tombstone of today was too great not to mention. History tells us that Tombstone was once the very definition of a lawless Western Town, but then cleaned up by Marshal Virgil Earp and his deputies Wyatt and Morgan, by issuing a mandate on not allowing guns in the town proper. Curiously, the infamous gun fight at the O.K. Corral – where the Earp brothers and Doc Holliday attempted to arrest outlaw cowboys for carrying guns – is the major marketing component of the town.
But that was then, and this is now, where citizens proudly carry guns and have a homicide rate higher than the Arizona state average. I attempted to interview three Tombstone PR representatives with one simple question: "Where is the line in the street where one had to check in their guns at the jail or hotel during the days of Earp?" My lack of western tang or perhaps wearing a mask made it clear I was an outsider and received very guarded replies. One man politely ended with, Oh… Tombstone is just a fun and safe family town. I decided to leave it at that.
But, he was right, Tombstone was fun, beaming with history and folklore.
Nevertheless, in the hope of finding the real story of  the "Gunfight at the O.K. Corral," I read an article by Casey Tefertiller and Jeff Morey that had appeared in Wild West Magazine. You can read "O.K. Corral: A Gunfight Shrouded in Mystery" by clicking the yellow button at the end of this article.
---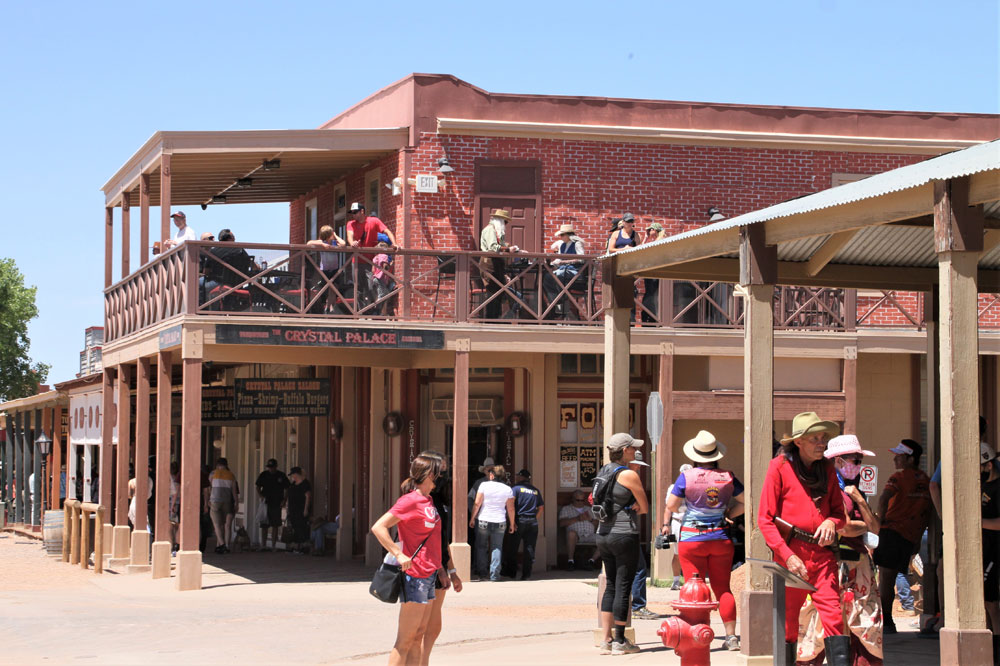 On the streets of Tombstone. Photo courtesy of Deb Roskamp.
There are seemingly countless books and film versions of the Earp Brothers and the Gunfight at the O.K. Corral. But the best film as art, though hardly accurate, is John Ford's My Darling Clementine (1946) with Henry Fonda as Wyatt Earp. And Remember, When the legend becomes fact, print the legend. – Taken from Ford's The Man Who Shot Liberty Valance (1962).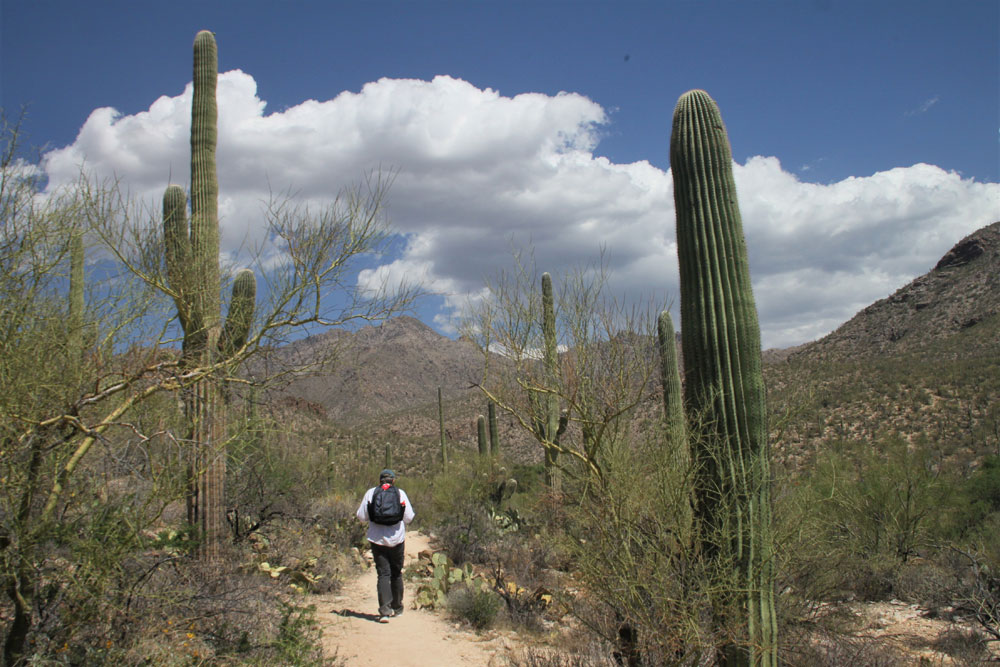 Back to the saguaros of Tucson. Photo courtesy of Deb Roskamp.
It was back to Tucson from there, with my looking forward to another hike among saguaro cacti in Sabino Canyon. Besides, I was informed that El Charro Café had a franchise restaurant five minutes from where I was lodging.


Postscript: Later that evening we did dine alfresco at the El Charro Café. My sister noticed Kevin, an old friend from Seattle, who lives part time in Tucson, drinking a beer while waiting for a takeout order. I stood up and instinctively shook his hand, then resumed eating hand-to-mouth chips and cheese crisps, another  El Charro Café specialty. The next morning it dawned on me that it was the first time I'd shaken hands with someone since the pandemic. I asked my sister, I'm sure your friend Kevin is fully vaccinated.  She replied, Kevin vaccinated?!  He doesn't believe that Covid even exits. But then she reassured me that I'll probably be fine, but will know for sure in ten days or so. The days passed slowly, but on the tenth I found myself to be still alive and well, which gave me further reassurance that the vaccination does truly work.
---
Click here for information on Tucson Hotels. For Things to Do, visittucson.org.