P
eople travel to other lands to discover the people, the culture, the architecture, the history and the technology. But few realize that somewhere in the background is the political landscape that shaped what they see and/or "allowed" to see.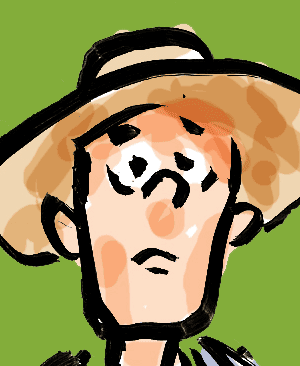 Welcome to Traveling Boy's Travels in Politics — specifically, American politics. We know there are many other blogs and websites out there that are heavy into this subject but what makes this blog different is we genuinely want to learn from each other. Most people have little patience listening to opposing views because they are only met by irrational emotions. It is Traveling Boy's  mission to provide this "safe" environment for all sides to vent in a respectful way. We welcome opinions from both sides of the political arena. To ensure equal access, we have assigned an overseer for each side (Tedward for the Democratic side and David for the Republican side). Both of these overseers will make sure everyone "behaves." And just to be clear, the views and opinions expressed are not necessarily that of Traveling Boy.
Definition of the U.S. Democratic Party (D)
Liberal | Left Wing | The Party of the People
The political party that promotes social and economic equality. They believe in the welfare system. They want the federal government to participate in the economy. Their concept of fairness is taxing the rich to help the poor. They support social programs such as labor unions, affordable education, universal health care, equal opportunity, consumer and environmental protection, LGBT (Lesbians Gays Bisexuals Transgenders) rights, Women's rights, anti-gun laws, access to free abortion, freedom of many religions yet separate from state laws, free speech, free press, transparency, evolution, sex and racial equality, lenient immigration, lenient drug restrictions,  etc.. The majority of media lean left. Jews, African Americans, immigrants, "the poor," millenials, celebrities from the entertainment industry, scientists, educators — tend to vote Democrat. 
Definition of the U.S. Republican Party (R)
Conservative | Right Wing | The GOP (Grand Old Party)
The political party that promotes free enterprise and private ownership. It does not want the federal government meddling in people's lives instead they encourage personal responsibility. Their concept of fairness is supporting business so it will grow and create more jobs. They want lower taxes, freedom from labor restrictions, less government spending especially on social programs. They support Judeo-Christian values.  They believe in self-protection with rifles and guns. They are pro-life (ie. against abortion) and promote adoption. Fox media is one of the few who lean right. The capitalists, the rich, business owners (especially big business establishments), military, Christians, gun owners, people from the southern states — tend to vote Republican.
Note: Although there are other political parties (ie. the alternative "Third Parties" like the Libertarian, Independent, Green Party, etc.) this forum would like to focus on the two mainstream organizations. If Traveling Boy feels there is enough interest, we will include other party viewpoints in the future.
To start the discussion, we thought we'd ask about the 2016 Presidential Elections. It was the craziest political event in decades. Neither side was completely satisfied with the outcome. Here are 2 different perspectives coming from two different camps.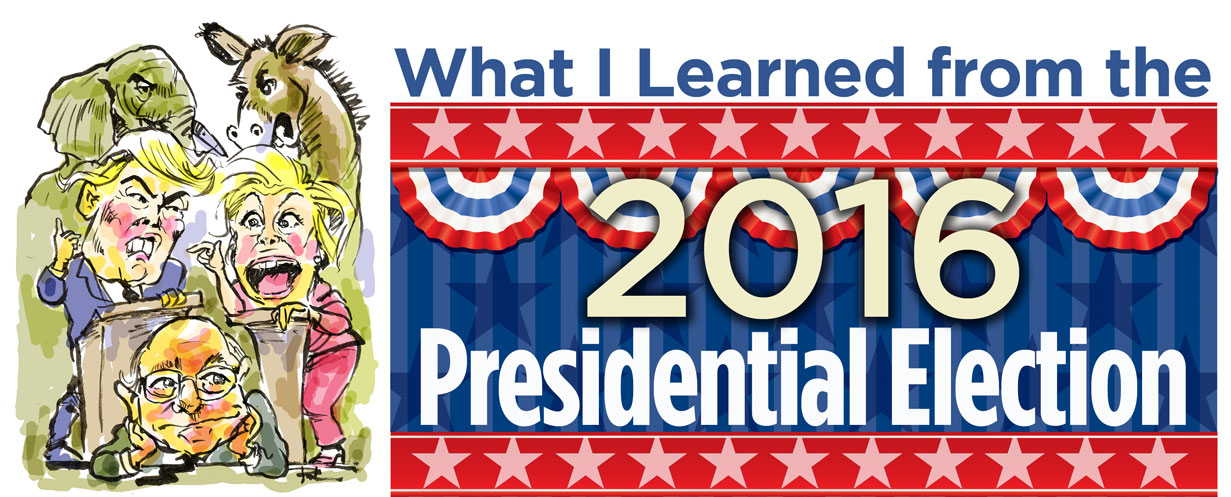 THE DEMOCRAT SIDE

by Tedward Onward
The 2016 presidential election results will continue to be assessed in the years ahead as the yet resolved issue of collusion between the Trump presidential campaign and Russian Internet propagandists and pot stirrers is unveiled.  We do know that Russian interests did in fact work to impact the election in a variety of ways.  The simplicity and speed of social media captivates many with alarming ease.  There is much more to be uncovered by Special Prosecutor Bob Mueller, which may reveal to what extent that interference was successful.  Because of the power and influence of the Internet and social media, how political campaigns are run have entered new territory.  If our nation truly cares about democracy then it will have to seriously examine who and how political races are handled, establishing laws to limit illegal/outside influence.
It is known that many registered Democrat voters (particularly young and female) did not bother to vote for the candidate that represented their party, and thus self-inflicted harm to their own best interests.  Those who assumed that Clinton would win were caught in their own naïveté.  Voting is a critical component of our open democratic system of governance.  Not voting is foolish as it lessens one's involvement, leaves it up to others.  Over half of those who could vote did not bother; a majority of them being Democrats.  It is unfortunate that voting is wasted on so many who do not bother to do so. Voting is a right, an obligation, and a privilege.  And for many the right to vote was and continues to be hard fought, a right that has been available for just a century or less to many.  The right to vote, unimpeded, continues to be an issue across many states.  I worry that there are not enough people in elected office and amongst the citizenry who actually care about the various issues that can and do impact elections, from the real potential of electronic vote tampering to intimidation.
In the case of Donald Trump as the Republican nominee, not enough members of the media and the public took him as a serious candidate.  In hindsight, there are many members of the media who admit that they did not shine the bright lights on Trump sufficiently, rather saw him as an entertaining side show.  The collective belief by most on the left was that Trump was not electable yet they did not work hard enough to insure his loss at the polls.
As the Democrat candidate for the White House, Hillary Clinton left enough to be desired.  Though she was very experienced in matters of The District and the White House, there were many Independents who simply would not lend their vote to her in the national election.  Clinton ran on established, old-school values, which turned out to have limited effect on getting the additional support she needed.  Trump exploited certain key issues amongst white voters in those states suffering unemployment and underemployment.  No doubt fear and loathing by angry white voters helped Trump secure just enough votes to win the key states.  Well informed and thoughtful voters would not have chosen Donald Trump to represent them and run our nation.
In desperation, with no other seemingly viable candidate who called himself a Republican the Republican party and many of its members felt that they had to support Trump with their vote because they could not stomach the idea of Hillary Rodham Clinton as their president.  The United States is simply not ready to put a woman in the White House, foolishly choosing someone with no political knowledge nor experience, who never actually believed he could get elected.  The cost to the United States and beyond will be felt for many years ahead due to indifference by too many.
And of final note, FBI Director James Comey's mishandling of the Clinton emails matter shortly before Election Day, coupled with not disclosing the extent of the investigation of the Trump campaign's interactions with a foreign power put a dagger in Clinton's hopes.  Regardless if by error in judgment or other motivation, the impact of someone with the power of the FBI Director cannot intervene/interfere in a race, all the more so shortly before votes were cast.
THE REPUBLICAN SIDE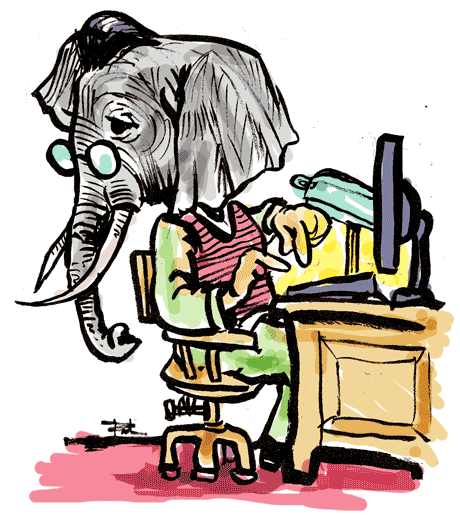 by David Alexander:
The 2016 election was the saddest campaign I have seen so far in my life. Were these really the two best people each party had to offer? Each candidate seemed to have major character flaws in one form or another. I was truly conflicted on how to vote and didn't make a decision until the morning of the election. I went into the voting booth fully expecting Hillary Clinton to be elected president as the polls indicated. But as the results started to pour in, my jaw dropped as I saw the Rust Belt starting to turn red. One of the biggest lessons I learned was to not trust the polls. Even now, I'm sure the pollsters are scratching their heads wondering what went wrong.
I came out of the election cautiously optimistic that perhaps Donald Trump could get some positive things done. While I'm far more conservative than him on policy, I was happy that, at the very least, Hillary Clinton wasn't in office to advance a liberal, progressive agenda. Thus far, his greatest achievement has been appointing Neil Gorsich to the Supreme Court. I still think he can accomplish much more good.
Unfortunately, though, in many ways, he has become his own worst enemy. Whatever goodwill he might curry among those of us willing to give him a chance, he loses with each Twitter comment he makes insulting someone's appearance or intelligence, or each press conference in which he bungles his messaging on a sensitive issue. Even some of the other good things he might be working on are drowned out by the media's obsession with the person of Donald Trump, and they aren't entirely wrong for paying attention to these things. A president ought to be held to a higher standard.
If he wants to accomplish good in this country, the first thing that's going to need to change is him. Otherwise, this is going to be a very long and wearisome 4-year presidency.
WE INVITE YOUR COMMENTS BELOW
---
OUR SPONSORS: