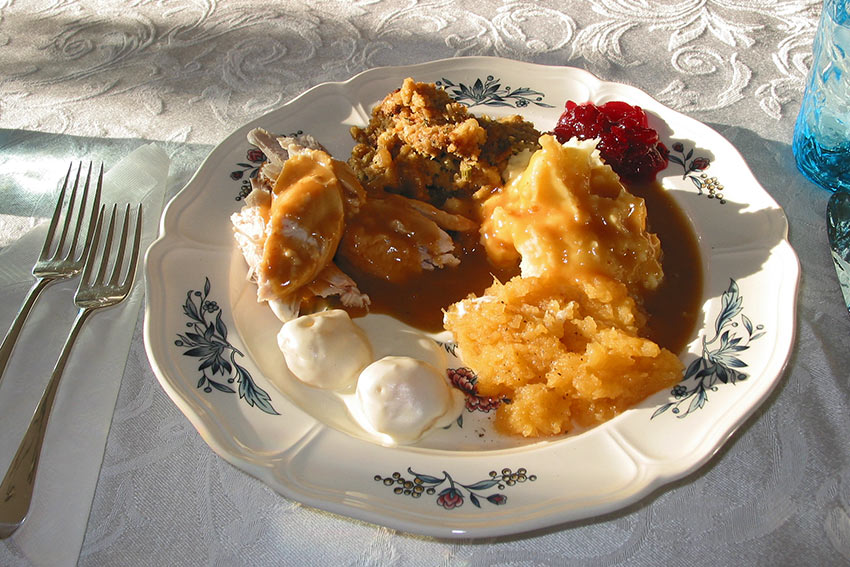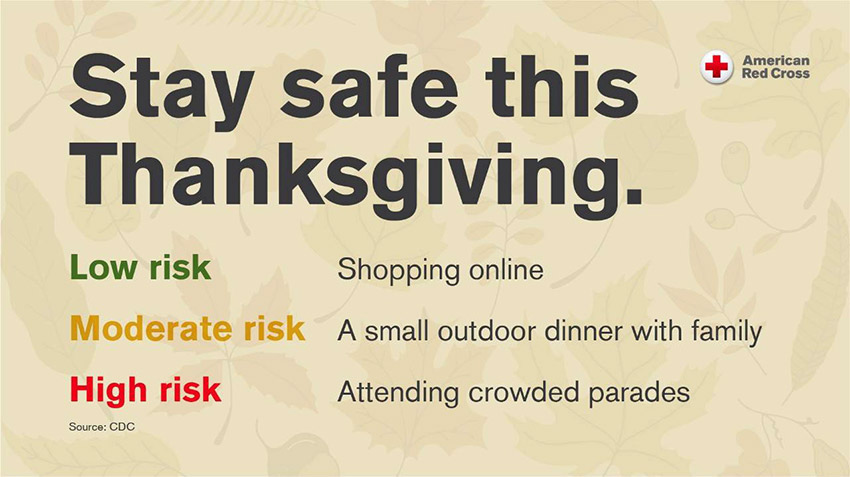 The way we celebrate Thanksgiving this year may be a little different due to the ongoing coronavirus pandemic. But what hasn't changed is the need to stay safe from cooking fires, which typically peak on this holiday.
To help you and your family stay safe, the American Red Cross offers these cooking safety tips and recommendations from the Centers for Disease Control and Prevention (CDC) to help protect everyone's health during Thanksgiving.
Stay Safe from COVID-19
The CDC recommends these lower risk activities:
Avoid attending large indoor gatherings with people from outside our households. Instead, have a small dinner with family and perhaps a virtual dinner with friends and family who live outside the home.
Still want to share favorite dishes with others? Prepare family recipes for nearby loved ones and neighbors, especially those at higher risk of severe illness from COVID-19, and deliver them without direct contact with others.
Love to shop over the holiday? Avoid crowded stores and revert to online shopping.
Cook Your Feast Safely
Cooking is the top cause of home fires in the U.S. Most often, these emergencies are caused by unattended cooking — a common behavior shared by nearly 70% of us, according to a national Red Cross survey conducted earlier this year. Follow these tips to help stay safe:
Keep an eye on what you fry! Never leave cooking food unattended. If you must leave the kitchen, even for a short period of time, turn off the stove.
Move items that can burn away from the stove. This includes dishtowels, bags, boxes, paper and curtains. Also keep children and pets at least three feet away.
Avoid wearing loose clothing or dangling sleeves while cooking.
When frying food, turn the burner off if you see smoke or if the grease starts to boil. Carefully remove the pan from the burner.
Keep a pan lid or a cookie sheet nearby. Use it to cover the pan if it catches on fire. This will put out the fire. Leave the pan covered until it is completely cooled.
Turn pot handles to the back of the stove, so no one bumps them or pulls them over.
Use a timer to remind yourself that the stove or oven is on. Check the kitchen before going to bed or leaving home to ensure all stoves, ovens and small appliances are turned off.
Free Resources for You
Download the free Red Cross First Aid app for instant access on how to control bleeding, help someone who is choking and other scenarios. Search "American Red Cross" in app stores.
You can also help keep your family safe by testing your smoke alarms monthly and practicing your home fire escape plan until everyone can get out in less than two minutes — the amount of time you may have to get out of a burning home before it's too late. Visit redcross.org/fire for more information or download the free Red Cross Emergency app (search "American Red Cross" in app stores).
About the American Red Cross
The American Red Cross shelters, feeds and provides emotional support to victims of disasters; supplies about 40 percent of the nation's blood; teaches skills that save lives; provides international humanitarian aid; and supports military members and their families. The Red Cross is a not-for-profit organization that depends on volunteers and the generosity of the American public to perform its mission. For more information, please visit redcross.org or cruzrojaamericana.org, or visit us on Twitter at @RedCross.
Celebrate the Holidays Together, Virtually
This year, gathering in person might not be possible for a variety of reasons. Read on for how to keep the holiday spirit going even if you're apart.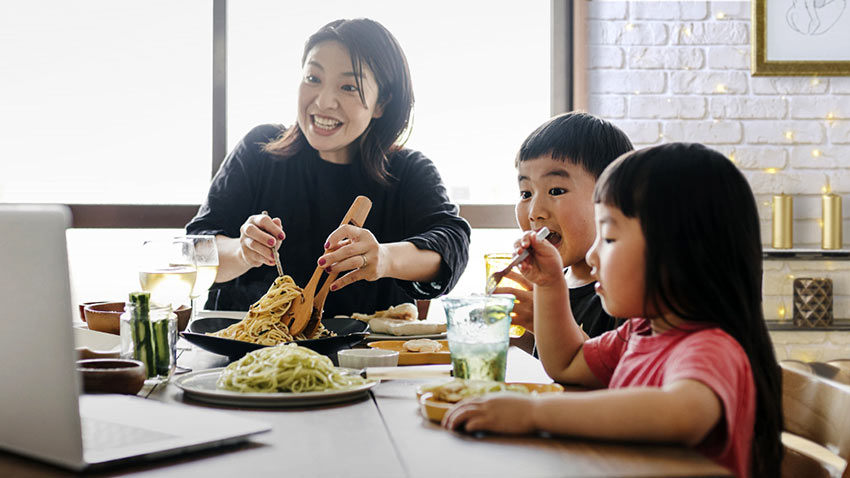 Everyone has their own vision of what makes a perfect holiday, but there's one thread that unites us all: coming together to celebrate with loved ones.
Carve out time to catch up with friends and loved ones
The holidays are the perfect time to comb through old memories and forge new traditions. Video calling makes it easy to spend time together, even when you're time zones apart. Here are some ideas for how to spend your time while connecting:
Keep traditions alive. Light candles or lanterns, decorate your house or tree, open presents, sing carols around the piano, enjoy holiday baking sessions, and more. The memories you plan on making this year can still be shared with your loved ones via video call.
Give thanks. Make your holiday dinner an online party using Meet Now. You may not be able to pass potatoes in person, but you can share what you're grateful for, swap stories, and enjoy time with your loved ones virtually.
Craft holiday fun. Whether it's a gingerbread house with graham crackers or cutting out paper snowflakes, create your masterpieces together and then send and share your "nailed it" photos
Get on everyone's schedule
Make time for your family gathering using an Outlook calendar invite. Outlook keeps track of time zones and daylight saving time so events automatically appear at the correct time on your calendar.
Don't let distance get in the way of celebrating with your friends and family this holiday season. With Meet Now, you can easily get together on a video chat. From virtual holiday gatherings with your family or spontaneous chats with your friends, you can connect no matter where you are. The best part is you don't need to download an app or sign up for an account to video chat! Just add the Meet Now link to the Outlook calendar invitation you created above.
Make it an online party: free group video calls
Connect with your favorite people across the country or the world. Use Meet Now to video chat and talk for free all day or night* on just about any mobile device, tablet, or computer.
Make a yearbook video
This has been a year like no other. Whether you want to document your life at home, work from home, or your adventures beyond your home, capture and share those moments with a Video Recap in Microsoft Photos.
Create and share a Video Recap
Movie editing is easy when you organize, edit, and share your memories with Microsoft Photos. Pick a theme, choose a soundtrack, or generate a movie with one click.
Stroll down memory lane from different perspectives
See the events in your life from the eyes of your friends and family with Shared Albums in OneDrive. Invite everyone to combine their photos and videos to get fresh, unique perspectives of memories. Remember, unless it's a selfie, the person most likely not to be in the picture is the photographer. So make sure everyone's included with Shared Albums!
Collect and enjoy treasured family photos
Create a Shared Album with OneDrive and invite your loved ones to contribute and enjoy memories of vacations, celebrations, and more.
Design your own holiday card
Create and customize heartfelt holiday greetings for friends and family that you can mail, email, or text. In Microsoft PowerPoint, you can transform each card into something truly special with your own personal touches.
Start from a template and customize it
Make someone feel special when you create a custom card just for them. Short on time? Send everyone the same card that best matches your personal style.
While this holiday season will be different, it can still be extraordinary. Group video calls, shared albums, and digital cards can help you stay in touch with your friends and family over the holidays. Use these tips to make and share new memories you will cherish for a lifetime.
*Calls up to 24 hours each, but just call back to start a new call and keep talking!
Global Rescue's COVID-19 Intelligence Blog Series Wins 2020 Magellan Award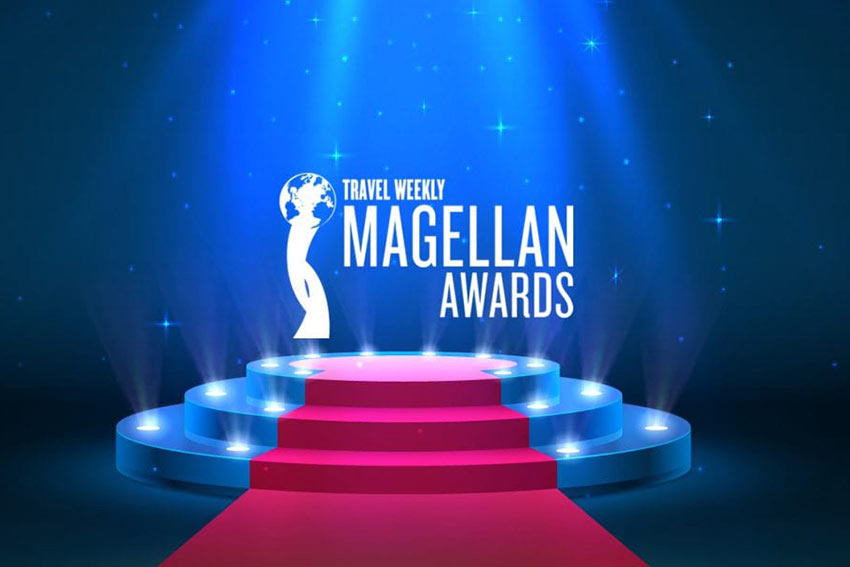 Travel Weekly, the most influential B&B travel industry news resource, awarded Global Rescue, the world's leading provider of medical, security, evacuation and travel risk management services, the 2020 Magellan Award for its COVID-19 Intelligence blog series.
"The 2020 Magellan Awards received entries from top travel organizations and professionals worldwide and the quality of the work was outstanding. Being selected a Magellan Award Winner is a tremendous achievement and proves you represent a high standard of excellence within the travel industry," said Kara Cleary, manager of Travel Weekly Magellan Awards. The annual Travel Weekly Magellan Award is the premier award for the travel industry, honoring the best in travel and saluting the outstanding travel professionals behind it all.
Global Rescue entered its Coronavirus blog series into the category Online Travel Services Marketing Campaign and won for its coverage of the pandemic in its early days.
"The pace of the coronavirus outbreak and the need for updates compelled the Global Rescue Intelligence Team to compile and publish a comprehensive daily report and frequent articles for members, the public, business leaders and journalists," said Kent Webber, former Senior Intelligence Operations Officer in the Office of the Under Secretary of Defense for Intelligence, United States Pentagon and senior manager of Intelligence Services at Global Rescue.
"Everyone was looking for helpful, educational, straight talk about the pandemic and its impact on the industry and travelers. Global Rescue's daily reports and blog series were the fastest, most effective, ways to channel our expertise and share the information," Webber said.
The free report was refreshed every 24 hours with detailed information on worldwide outbreak locations, restrictions, updates, outbreak data, signs and symptoms and advice for travelers. The Coronavirus Update included weekly blog posts.
The Coronavirus Intelligence Center and five blog post entries for the award were:
About the Magellan Awards
From design to marketing to services, the Travel Weekly Magellan Awards honors the best in travel and salutes the outstanding travel professionals behind it all. Travel Weekly is the most influential provider of news, research, opinion and analysis to the North American travel trade marketplace.  
About Global Rescue
Global Rescue is the world's leading provider of medical, security, evacuation and travel risk management services to enterprises, governments and individuals. Founded in 2004, Global Rescue has exclusive relationships with the Johns Hopkins Emergency Medicine Division of Special Operations and Elite Medical Group. Global Rescue provides best-in-class services that identify, monitor and respond to client medical and security crises. Global Rescue has provided medical and security support to its clients, including Fortune 500 companies, governments and academic institutions, during every globally significant crisis of the last decade. For more information, visit Global Rescue.