I don't know what's in the water up in the Northeast portion of the U.S., but we need to ensure it never stops producing. I'm talking about the incredible guitar talent that comes from the State of Massachusetts. From Black Francis and Dick Dale to Little Steven and Susan Tedeschi; the richness and depth of talent is beyond belief. One of the latest prodigies is a 22-year old New Bedford guitarist named Quinn Sullivan.

Sullivan is not really new to the music scene; he's been carrying around a guitar since he was four. When his father took him to see Buddy Guy at a local theater, Guy invited the then eight year old Quinn on stage to play. As a teenager he would find himself touring the world, playing and hanging out with other guitarists, including Eric Clapton, B.B. King, Jeff Beck and Carlos Santana. You know… just normal teenager stuff.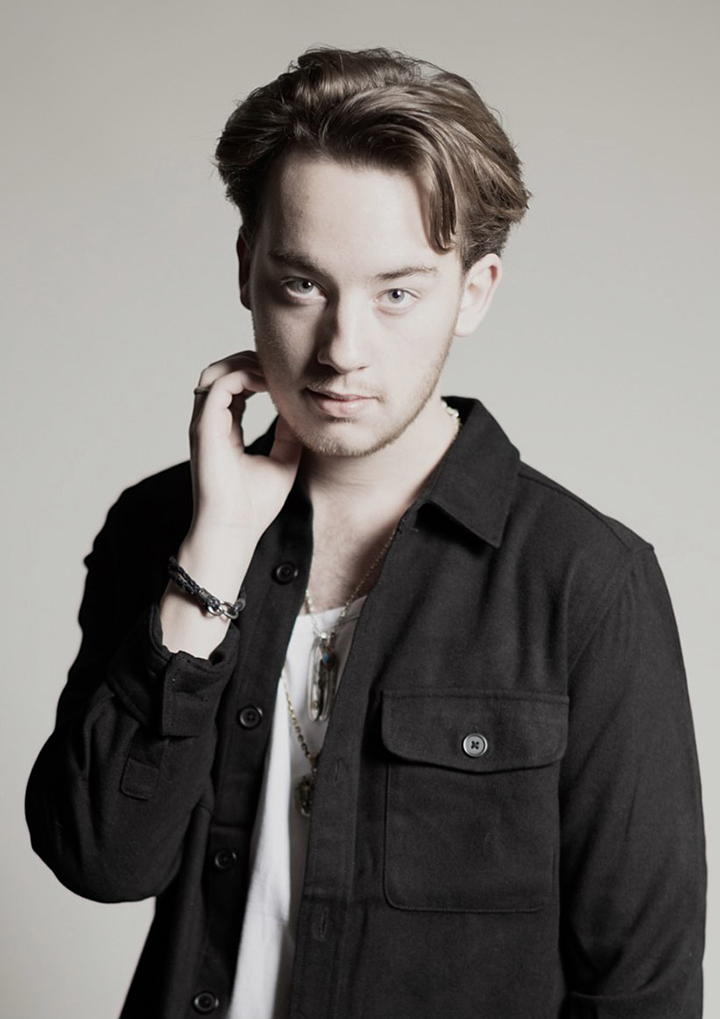 His discography now includes a fourth album, 'Wide Awake' that he released in the summer of 2021. Having accomplished so much at such a young age, you might think in our world of selfies, lifestyle and bling that Sullivan would be enticed by the 'rock star' image. But you'd be wrong. "I still live in New Bedford" he says. The more we talked the more I realized Quinn Sullivan is well-grounded. He knows what he wants in his music and he's laser-focused on making it happen. Our conversation began with those early days
You've got to tell me a little about the Toe Jam Band.
"That was the first band that I used to go see as a kid. They used to play at a zoo close to my house. Every Monday my dad and I would go see these guys play; it was a kid's band. We got to know a couple of kids in the band and at the same time I was learning how to play guitar. I probably was about four. They saw me with my guitar, I was just hanging out playing it, strumming along with them and one day the lead singer said, 'Hey, how about we have Quinn come on stage with us and play along?' So, I came up with my acoustic guitar, unplugged just strumming away with the band … thought that would be so awesome and so much fun to do. So every week I would go and hang out and play. It was such a great thing to do as a kid, especially loving music."
What is it about Massachusetts and guitar players?
"I don't know, nobody really thinks of Massachusetts as being a music place unless you do your research and look at history. I don't know man, like I said I grew up in New Bedford and there are a bunch of great musicians around this area that play all over the downtown area. We call this area the South Coast and it's just a bunch of cool musicians, bands and artists playing. I was lucky enough to grow up in a place where that was going on a lot as a kid. I was just surrounded all the time; I'd go to open-mike jams and various events going on in the area. I was always around music growing up."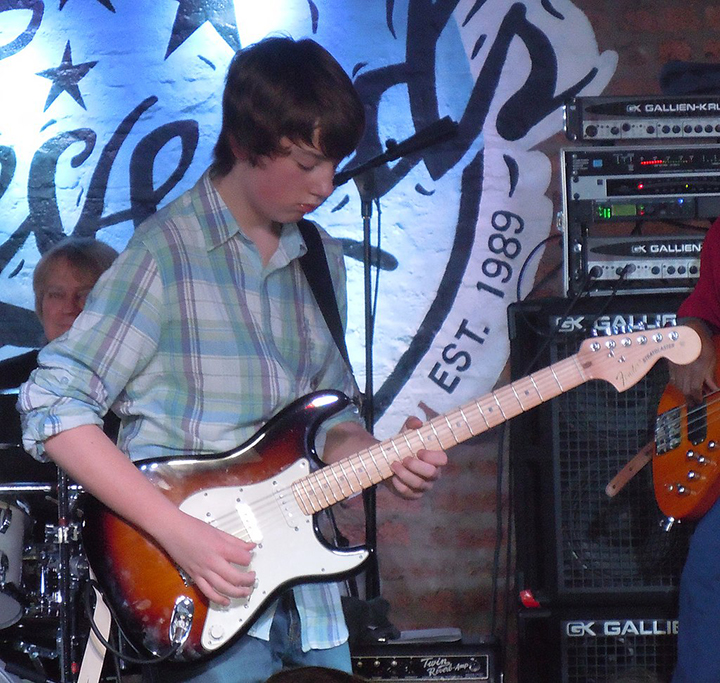 You've been mostly considered a blues player but your collaboration with Oliver Leiber on your latest project, 'Wide Awake' gives fans some fresh perspective on the music of Quinn Sullivan.
"What a fun process it was. Yeah, it's funny you said the blues thing. It has been my title for a long time. This album allowed me to see what I could do, the avenues I could go down, musically. As Carlos Santana put it, 'expand your Rolodex!' "(laughing)" The record was really fun to make. I made it in Oliver's home studio in Los Angeles and it was such a fun process. We wrote the album in about five or six months and I enjoyed the writing process so much. We got together the first time probably in mid-2018 and the first writing session off the bat was just great. We wrote a song called, 'She's Gone' which is actually one of my favorite songs off the album. We wrote it in about two hours. I spent about a week writing with him and it was the first time I ever met him, never met him before, never really knew much about him. It was a mutual friend who hooked us up together and we immediately had this great friendship that just sparked an immediate chemistry…and we did the whole album in a year and a half span. We wrote fourteen or fifteen songs and I came back to L.A. at the end of 2019 to record. And all of these incredible musicians he put together for this album; Abraham Laboriel, Jr. "(Paul McCartney's drummer)" Aaron Sterling "(John Mayer, Taylor Swift)" just phenomenal musicians, Paul Peterson's playing bass and keyboards, you know a Minneapolis hero. Oliver got a bunch of these people together and that in itself was incredible because I never thought I'd ever be in a room with all these people." (laughing)"I am such a huge fan of music and a huge fan of looking at the liner notes on albums, seeing all the people that played on the songs on great albums. I'm just a huge music lover in that sense and to have these people's names on one of my albums is just out of this world. I couldn't have had anybody better on this record."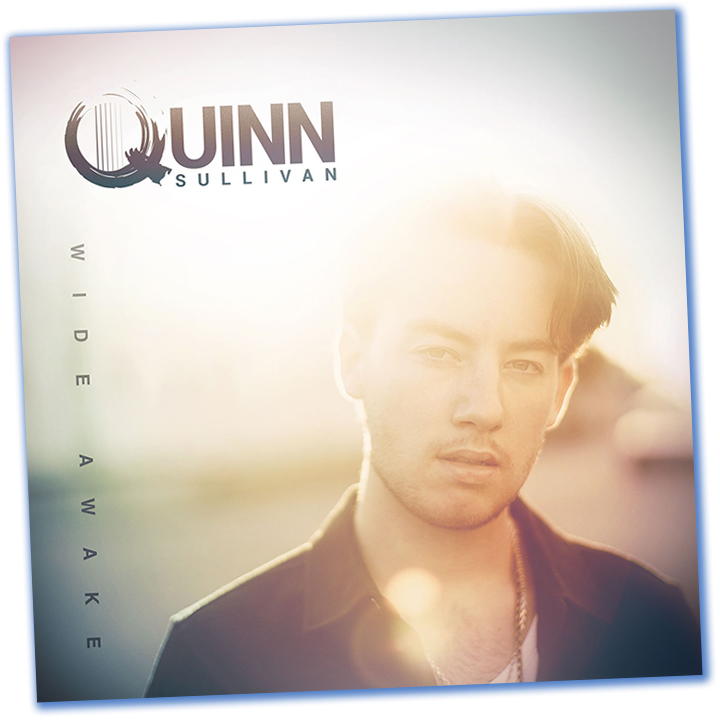 The track 'All Around the World' really hits home right now. I think it gives us all a little inspiration, some light at the end of the tunnel.
"Absolutely, that was one of the reasons we chose that to be the first single. Funny enough, we wrote the song before any of this even happened. We wrote it in 2019 about how the world was at the time, which was not great. Obviously, things began to get a lot worse, but we had no idea. It just resonated with me and my whole record company and my manager. We just decided it would be a good song to put out as the first thing that people hear of mine, because I hadn't released any music for a good three to four years, so it'd been awhile. I thought the first piece of music I put out, I wanted it to be something positive, with energy and good vibes, really."

Sounds like you've been pretty productive during the pandemic?
"Well, I have. It's been a drag for us all, but the album was done before the pandemic started. I was very fortunate to not have a half done album and then have to cram to finish it. If anything it gave us more time to work on it, refine things, more time for mixing. So I had a lot of time to think about it, reflect on it and add things I thought needed to be added. Oliver would do things to it and that added a good six months to it. We pushed it all back a year. It was suppose to come out in 2020 and have it done by the summer. Obviously, it didn't make sense to put it out in 2020, so we waited a year and the start of 2021 let's have a new single out and let's just push this thing out there, so that's what we did."
Blues it seems, more than any other genre of music is handed down from teacher to student. That truly was the case for you when you met Buddy Guy, wasn't it?
"Well when you look at all these people in the blues world, even the rock and British blues world, like Jeff Beck, Clapton, Carlos Santana, I kind of put them all together in a group. You grow up listening to these people, seeing them on TV, posters on your wall, but you never think ever in your life you'll be in the same room with them. Through Buddy Guy I've gotten to meet some of my heroes. It's a full circle moment for me. The Buddy Guy thing happened when I was about eight years old; I got to see Buddy play at a theater called the Zeiterion, which I actually just got to headline a show there a few months ago…another full circle moment for me. We went to the theater in 2007 and I went with my dad and we knew some people at the theater and hoped maybe we could finagle our way backstage. So, we did and met Buddy's guitar tech. I think we knew that Buddy was notorious for bringing kids on stage and giving them some time if they could play, because Buddy's just so generous like that. We walked into his dressing room and I had my little Squier Fender Stratocaster with me and I was definitely a shy little kid at that time so I probably wasn't talking much. I remember him being so gracious and so nice to me. I think he was just geeked out because I had a guitar (laughing) I was a little kid with a guitar and he was like can he play this thing? So I played a little bit for him and apparently that was good enough for him to call me on stage that night because that's what ended up happening. He called me up and I played the last half hour of the show and it was like the greatest night of my life. I mean for an eight year old kid to get an opportunity like that you don't really realize how cool that is at the moment. I've just begun to realize it now, how incredibly amazing that is for a little kid to do. And also having no idea how it would change my life course; I always knew I wanted to be a musician and it would be something I would want to do, but I never thought it would come so quickly. Through Buddy Guy, it's jump-started the career I have today, so I owe Buddy so much and obviously thank him so much for all he's done."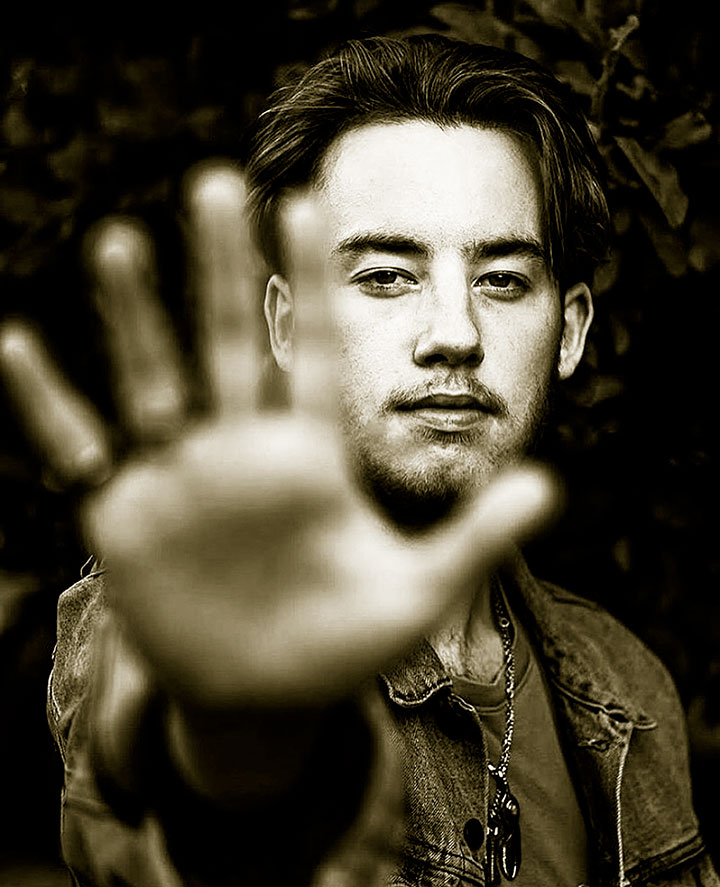 Did I see you playing a Sitar at an event, one time? A Sitar?
"Yeah, that's just from my connection to the Beatles and George Harrison and the love that I have for that music. I love Indian music; I love all different kinds of stuff. I did that in India, I got to play a festival in Mumbai a few years ago in 2017.
Let's talk about your writing, do you have a process…do you write with your guitar?
"My process is always changing for me. Normally it does start with the guitar, or an idea or concept for a song. Lately, I've been trying to teach myself how to play the piano a little bit so I've been messing around with that. Writing on a piano you get different chordal ideas versus playing guitar, it's just a different weapon of choice to use to write. But yeah, most of the time it's on the guitar and it usually starts with a vocal line, a chord progression or any sort of melodic thing I hear in my head, I just have to put down. And once you start you really can't stop!" (laughing) "You have to just get it done…I mean, I have like a thousand, if I showed you my phone I have a thousand voice memos and ideas that sometimes are just insane, but you have to put them down."
As the world comes out of hibernation, talk a little about the tour you've got coming up with Beth Hart.
"It starts in San Diego on February 3rd at the Balboa Theater, I believe and we're going to go all across the country and we end in Boston, which is really cool because that's home for me. It's going to be so fun and Beth is an extremely gifted singer/songwriter and so cool. I'm so excited to do some shows with her, she's so amazing. This is really my first major tour in quite some time. It's been a few years since I've gone on this big of a tour. I've just finished rehearsals for it and I'm looking forward to playing the new music for people and meeting new people, obviously as safely as we can do it. It just feels really good to be out again and playing live. It's really the bread and butter of what I do and why I love playing music, playing live for people."
You're playing some outstanding venues, too?
"Yeah, we're playing the Ryman Auditorium in Nashville, two nights at the Wilbur in Boston, the Foxwoods in Connecticut, just all over the place."

Check out Quinn Sullivan live during his current national tour with Beth Hart. It's going to be a party!
Quinn Sullivan Tour Dates 2022
Tue, FEB 1
Luther Burbank Center for the Arts
Santa Rosa, CA

Thu, FEB 3
Balboa Theatre
San Diego, CA

Sat, FEB 5
Saban Theatre
Beverly Hills, CA

Mon, FEB 7
Mission Ballroom
Denver, CO

Thu, FEB 10
Uptown Theater
Kansas City, MO

Sat, FEB 12
The Pageant
St Louis, MO

Mon, FEB 14
Center Stage Theater
Atlanta, GA

Wed, FEB 16
Ryman Auditorium
Nashville, TN

Fri, FEB 18
Old National Centre
Indianapolis, IN

Sat, FEB 19
Taft Theatre
Cincinnati, OH

Tue, FEB 22
The Palace Theatre
Greensburg, PA

Thu, FEB 24
Warner Theatre
Washington, DC

Sat, FEB 26
Keswick Theatre
Glenside, PA

Sun, FEB 27
Hackensack Meridian Health Theatre at the Count Basie Center for the Arts
Red Bank, NJ

Wed, MAR 2
The Town Hall
New York, NY

Fri, MAR 4
Turning Stone Resort Casino
Verona, NY

Sat, MAR 5
Foxwoods Resort Casino
Mashantucket, CT

Wed, MAR 9
The Wilbur
Boston, MA

Thu, MAR 10
The Wilbur
Boston, MA