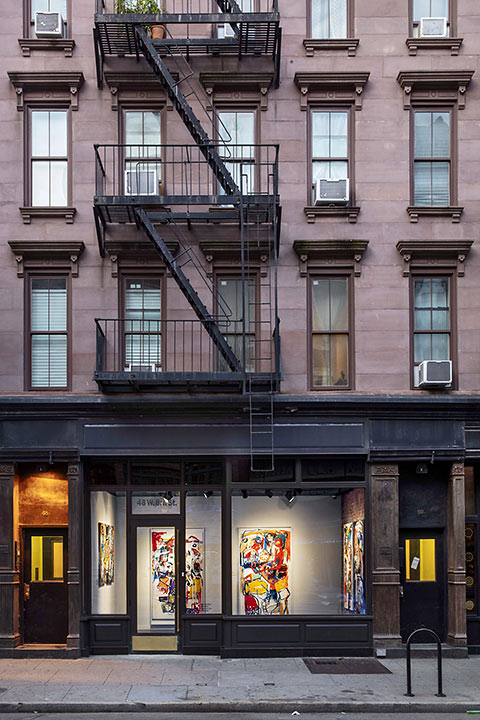 In fall, 2019, I set out for the West Village in a monsoon. It was the last night of a small, culturally significant exhibit that I wanted to catch. At the designated address, I walked into a darkened courtyard, seemingly the patio of a shuttered restaurant on the far side of the enclosure, certainly not a gallery. More perplexingly, the doors to the eatery were locked. I looked at the address again, walked back out to the street, hunted for the building number, scratched my head, and plunged into the shadowy patio again. Where the heck was this elusive exhibit? Aha! I spied a doorway, kitty-corner, and when I opened the door, I figuratively tumbled through the looking glass, into the gallery!
Well, expect the reverse prelude to your dining experience at Frevo, (a Portuguese word meaning to boil, simmer, seethe), and, indeed, this boite percolates with appetizing, mouthwatering offerings. You'll hit the proverbial jackpot if you can score a reservation here (the restaurant serves dinner only, see below), as The New York Times gave it two stars, when it opened in spring, 2019. Be forewarned to expect an experience that is the polar opposite of my autumnal outing, when I went from a barely lit restaurant into an art gallery.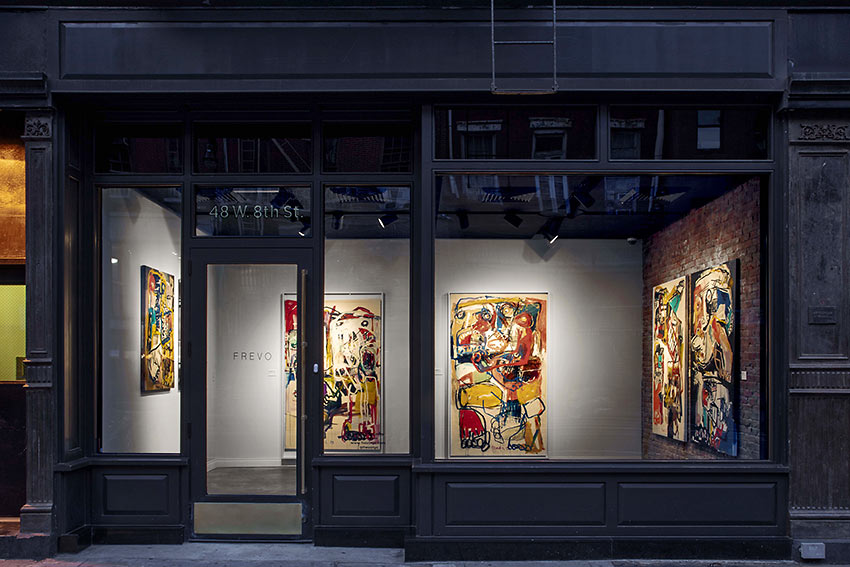 At 48 West 8th Street, you'll commence your evening in a jewel box of an art gallery. Barely six paintings hang on the white plaster and red-brick walls. The brightly lit space is no larger than 14′ x 18′. This is a restaurant? Here, a gracious young woman will greet you when you query, "I was looking for Frevo. I'm not sure I'm in the right place." "Yes," she'll retort. "You're here!" But, you'll wonder, just where is the restaurant? Well, voila! An outsize canvas, hinged to the wall, swings away, and there you are, in the entryway of Frevo. Glide through the doorway and into the atmospherically lit, intimate dining room, and experience the transformation.
Frevo is an unusual restaurant, in that it seats a mere (but, certainly fortunate) 18 diners at a long, bar-style counter; there is a chef's table in the corner, accommodating up to six. (COVID restrictions are enforced, so, at present only 10 may dine at the counter.) I was wondering just how could someone truly relax sitting on a bar stool long enough to appreciate a multi-course, haute cuisine meal? However, rest assured, the charcoal-gray, upholstered stools have seat backs, and are extremely comfortable. During non-COVID times, Frevo has two seatings, each with a slightly flexible window for arrival; with the dining times staggered, there is no orchestrated banquet-style service, where everyone is presented each course in an assembly line, as they would be at a banquet for 500 at a wedding, say. (During this COVID-altered time warp, the restaurant has changed its policies, to include one seating weekdays, and two seatings, weekends; see the info below.)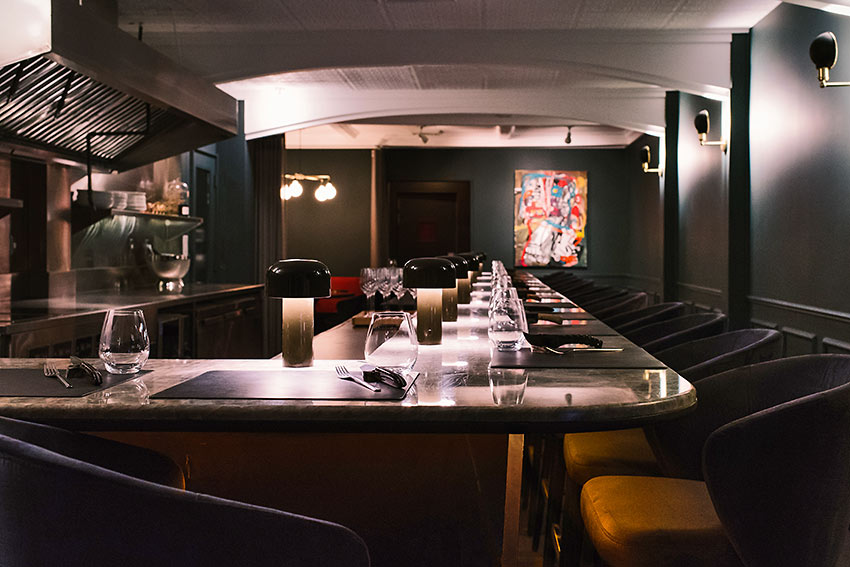 Seated at the bar, you face the work counter where the kitchen staff of four (sous chef, pastry chef, and two line cooks) in long white aprons are busy getting toothsome meals prepared and plated. They do this seamlessly, quietly, like ninjas. I swear, I never even saw an open flame, and I'd testify in court that there isn't one! There is, indeed, a tiny kitchen in the back netherworld of the restaurant, but it is used, at least during meal service, for dishwashing, and earlier in the day, for prep. All the action, intriguingly, takes place right in front of you, yet you do not see it happening. A black-cloaked busman removes plates and restores flatware magically. (And, a propos flatware, the gorgeous dinner knives are distinctively unique, and each is perched on a cross-section of polished bone, so that the utensil stands at attention.) Two maître d's do the more serious menu consulting with diners, in case you don't or can't eat one of the courses. (There are always substitutions for particular courses for those who have dietary restrictions—as in, "I can't eat oysters," or some such—although during this altered time, Frevo cannot accommodate a vegan, vegetarian, or lactose-free diet for its multi-course meal.)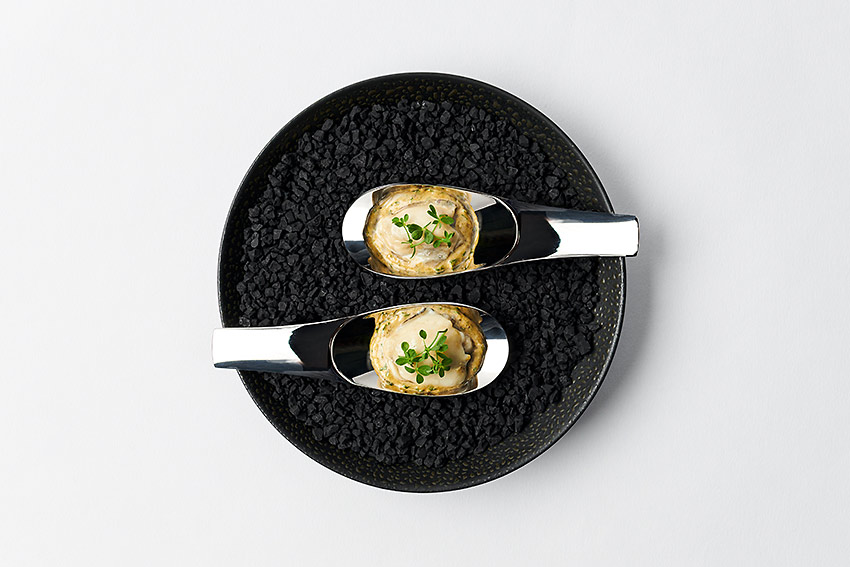 Inspired by classic French cuisine, Frevo's co-owner and chef, Brazilian-born Franco Sampogna, has crafted a menu that changes seasonally. Simplicity is the keynote, but that refined menu is exquisitely nuanced, with surprising flavors. For example, the night I dined in the spring (just before lockdown), the second course was seasonal (and prized) white asparagus, with sorrel and blood orange. At another time, that course was a cup of remarkably tasty and creamy hummus, accented with crispy quinoa and chives. Our first course was hamachi, with coconut and sea urchin, topped with golden kaluga caviar; I passed on the raw hamachi (but my dining companion raved), while I was offered one of the most mouthwatering dishes I've ever savored—a thick  artichoke soup, smothered in black truffles, punctuated with foamy, ethereal truffle juice and bread crumbs. I can still taste it and am still dreaming about it. I did not have to dream long—as I returned for the take-out Christmas menu and ordered extra soup!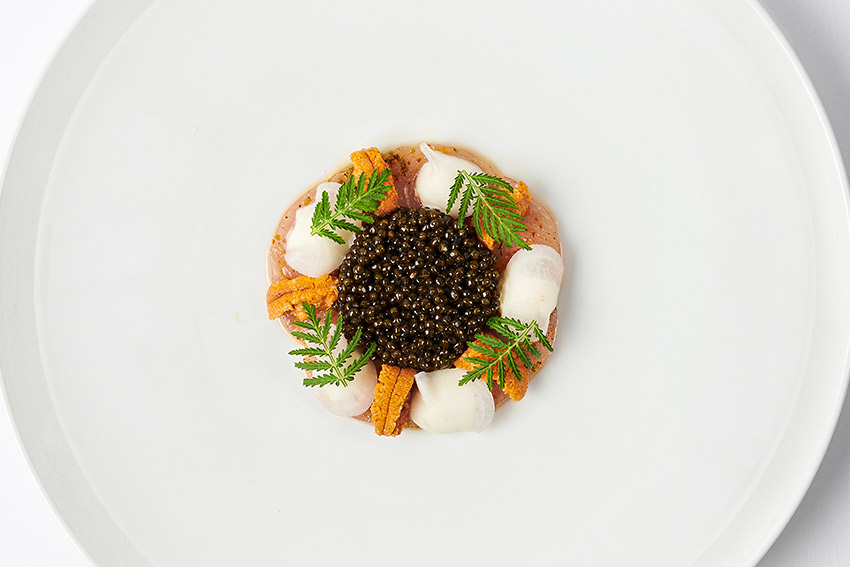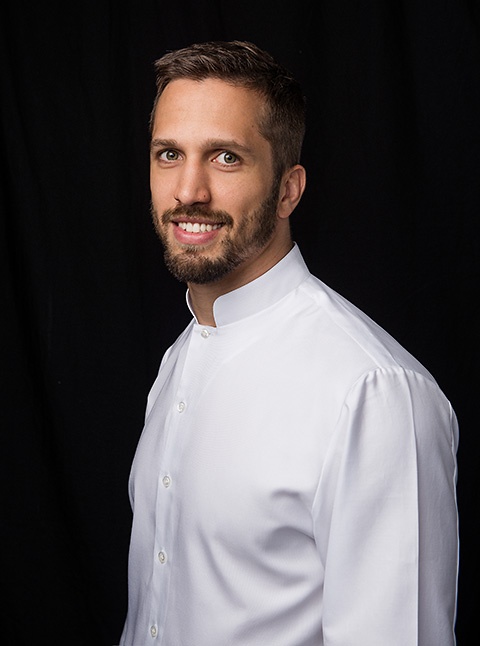 After culinary school, Sampogna further advanced his education, working under Michelin-starred chefs Fabrice Vulin (at a Chèvre d'Or in the South of France); Guy Savoy (at the Rue Troyon in Paris); and Alain Ducasse (at the Hotel Plaza Athénée, also in Paris). His extensive in-kitchen training is apparent in the artful amalgam of flavors he has melded into each course.
I could not believe how tasty the celery root tagliatelle pasta course was, and, as it was accented with black truffles, it was all the more satiating. That was followed by a delectable scallop dish, with crispy salsify, resting on an airy cloud of roasted salsify. When the main course arrived, chicken Albufera (named for the Duke of Albufera), it looked like a chocolate brownie, smothered in hot fudge sauce, bisected with thin, striated lines of vanilla crème. Of course, it was not; it was a lovely three-inch square of poached, tender chicken, in a blackened (with squid ink), cognac-infused cream sauce. It was simply heavenly. Celestial is also an adjective suitable for the luscious dessert — dulce de leche gelato, hazelnut foam, with caramel and a sugary tuile.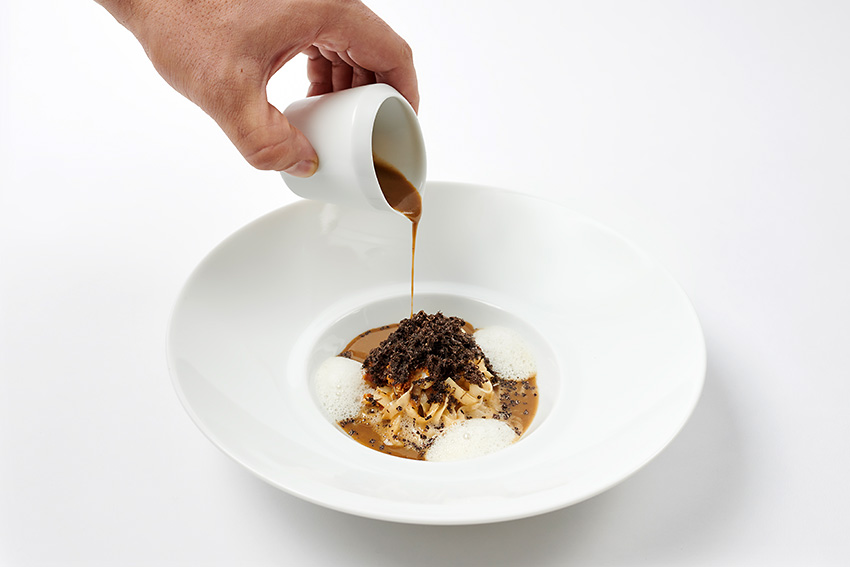 A cheese course, 36-month-aged comté de garde from French cheese monger Fromagerie Antony, was served with a giant, crispy, house-made, tuile-like bread-cracker, the perfect accompaniment to the paper-thin, nutty cheese.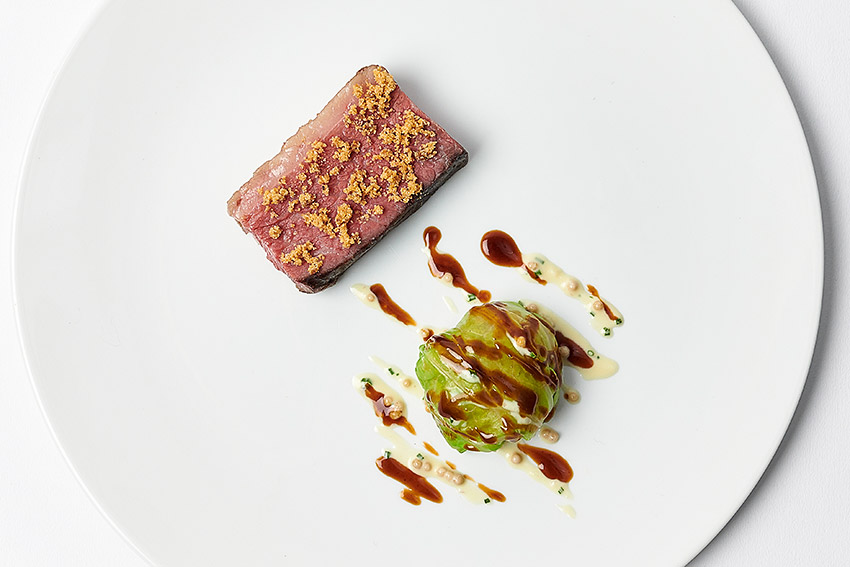 And, oh, yes, if you are interested, the paintings in the foyer-entryway are for sale. They have been created by the French artist Toma-L., whose work Chef Sampogna discovered in Paris. When Sampogna and his partner, restaurant manager, Portuguese-born Bernardo Silva, were planning Frevo, they invited the painter to the city to create art for the restaurant and gallery (which, parenthetically, was previously a panini restaurant). The idea was to create artwork that reflected the constant state of vibrancy and exhilaration that Gotham engenders, and that would suggest the simmering or bubbling spirit of the restaurant.
If you opt to buy the painting that is Frevo's front door, then Toma-L. will simply have to create a new doorway for Alice and her anointed guests who are lucky enough to snag some of the precious seats at Frevo.
The Details:
Frevo Restaurant, 48 West 8th Street, New York City, NY  10011; 646-455-0804
Open for dinner only: Tuesday through Thursday, at 7 pm; Friday and Saturday, two dinner seatings, 5:30 and 8:30 pm.
Reservations, a must. The tariff for dinner is $138 per person; an additional $88 for the basic wine-pairing; $220 for the premium wine-pairing.  There are a few other supplemental fees for extras, if desired, such as additional caviar.  (Frevo, however, is a non-tipping restaurant.)