The 1993 Long Beach Blues Festival was a phenomenal tribute to the blues of the Delta. It featured Robert Jr. Lockwood and Pinetop Perkins on stage, recreating a live presentation of radio station KFFA's 'King Biscuit Time.' There was also an outstanding homage to the work of Robert Johnson; brought to life by Lonnie Pitchford, Keb' Mo, Rory Block, and John Hammond, Jr. As if that wasn't thrilling enough, another festival highlight was the gathering of a few surviving members of the legendary Muddy Waters blues band. A lineup that included Pinetop Perkins, Calvin 'Fuzz' Jones, Jimmy Rogers, Willie 'Big Eyes' Smith, 'Big Daddy' Kinsey, Luther 'Guitar Jr.' Johnson, and Carey Bell.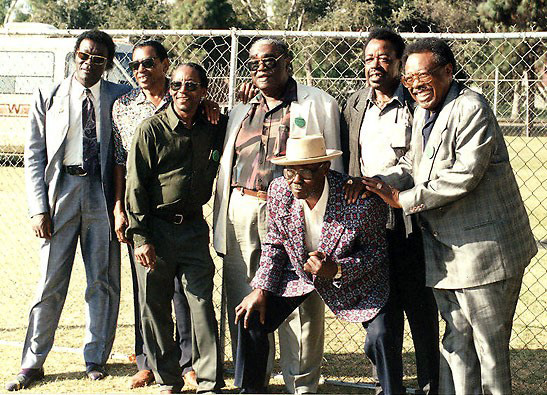 Surviving members of the Muddy Waters Band – just one of the highlights of the '93 Long Beach Blues Festival. Photo: T.E. Mattox
A Delta blues overload most certainly, but the highpoint for me was the opportunity to sit for a few minutes with Robert Jr. Lockwood and talk briefly about his life, the music and his amazing longevity in the blues. It started with the most obvious topic, growing up around the mythical King of the Delta Blues Singers; Robert Johnson. Lockwood was often referred to as the stepson of the legend, but he was adamant about their relationship.
Was your mother married to Robert Johnson? "No, she was not!" Lockwood said. "My mother lived with Robert Johnson." Was that your introduction to the guitar? "No, there were guitar players all over the country out there where I was born." Lockwood was born in Turkey Scratch, Arkansas March 27, 1915 and he smiles when he adds. "Well, I guess Robert Johnson was my choice, but I knew a whole lot of other guitar players."
What were your first memories of Robert Johnson? "He followed my mother home. And she couldn't get rid of him." (laughing) He was so young when he passed. "I don't know how old he was when he died. He was a young man, yeah." Why do you think he remains so popular? "Why?" Lockwood repeats. "The reason he's so popular today is because he was before his time."
Did you learn a lot from him? "He was my teacher."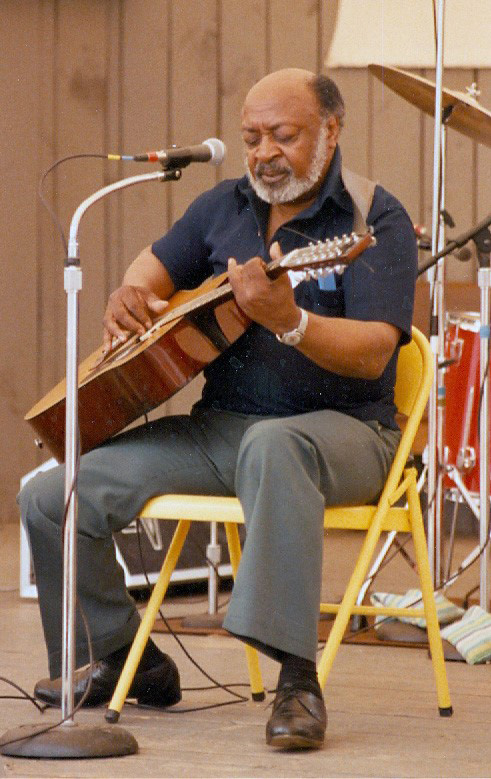 Your road is filled with blues elders, when did you first meet Sonny Boy Williamson (Rice Miller)? "I first met him when he came to my home in 1929." Did you play on the street with him for awhile? "Yeah, around Arkansas and in Mississippi." When did you start on 'King Biscuit Time' on KFFA? "That started in 1940. SonnyBoy had that first."
In the 1950s you moved to Chicago, tell me a little about Roosevelt Sykes? "Well, I don't have a favorite story, but he was a very nice man. We was like brothers, yeah. I worked with Roosevelt's band about, close to two years. We did quite a bit of moving around, yes."
You also worked with Eddie Boyd. "Yeah, I worked with Eddie about four years."
Muddy? "You got everybody on there!? How'd you find all that stuff out?" (laughing)
I told you, I was a fan! (laughing) "Well, I played a little bit with Muddy's band, not a lot. But I done a lot of recording with him."
Sunnyland Slim? "Sunnyland and me had a trio together and a 4-piece together."
The blues have taken you all over the world; you've toured in Europe and weren't you one of the first blues players to tour in the Far East? "I was one of the first to go to Japan. My first trip to Japan was Tokyo and Osaka." Did they give you a nice reception? "A lot better than America!" (laughing) "You trying to get me in trouble?" (laughing)
Johnny Winter once said he believed audiences overseas have more respect for American blues and American blues players because they don't have as much access to it as the U.S. does. So, European and Asian blues fans show more appreciation for it when it comes their way.
Robert Jr. just smiles and says. "They treat me pretty good in the States, but they treat me better outside the States."
Did you know Charlie Christian? "I never got a chance to meet him, I heard a lot about him and we were doing some of the same type of things when he was living, but Charlie was a horn player and a lot of people don't know that. Yeah, he was an alto player."
I didn't know that. Do you play other instruments? "I play bass and piano a little bit."
Tell me about the 'Grapes of Wrath' in Cleveland? "Ohhh! That was a little small place when I first started and tried to put a band together, I worked down there."
Any rowdy clubs you can recall? "I don't know…what do you mean by rowdy? 90% of the clubs have fights, how can I pick out one?" (laughing)
Can you describe Robert Jr. Lockwood's blues? "Un-uh! My blues is so wide, my blues runs in every direction."
Any new recordings what can we anticipate from Robert Jr. Lockwood? "I intend to do some more recording in the near future with about 9-pieces. And it'll be jazz, too!" That's great; jazz isn't really new to you, is it? "Well, I've been playing it practically all of my life! There's not a big difference between jazz and blues, because blues comes in all forms."
You knew Willie Dixon? "He was a very good friend. I worked for Chess for 17 years."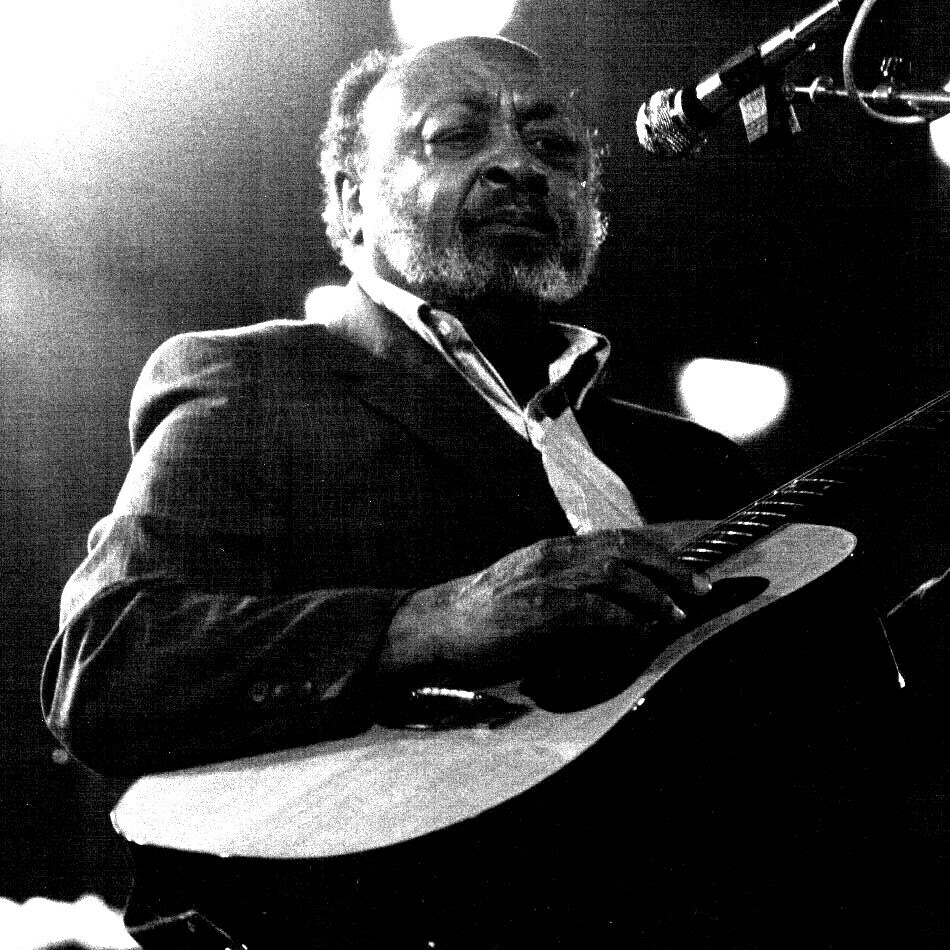 Robert Jr Lockwood on stage in France. Courtesy Lioneldecoster, Wkimedia Commons
At this festival they recreated KFFA's 'King Biscuit Time' radio with Pinetop Perkins, Rufus Thomas and host, 'Sunshine' Sonny Paine; will you continue to perform with them? "I'll help them out if they need it." Do you like playing festivals? "It's alright, it's all work…it's all work."
And the man was nothing if not productive. Talking with producer, friend and fellow musician, Bob Corritore, he remembered a number of wonderful memories and time spent with Robert Jr. Lockwood. "I first met Robert in probably 1977 or '78?" Bob says. "It was when the Paradise Club in Tulsa, Oklahoma had just opened up. I was going to college there, and Robert Lockwood whom I'd been a fan of for years at that point…from the Little Walter and Sonny Boy Williamson records…and he was playing in Tulsa for three or four days. So I went…everyday! I sat with him on breaks and he just kind of took me in as an adopted blues child. And that was the roll I would have with him for the rest of his life."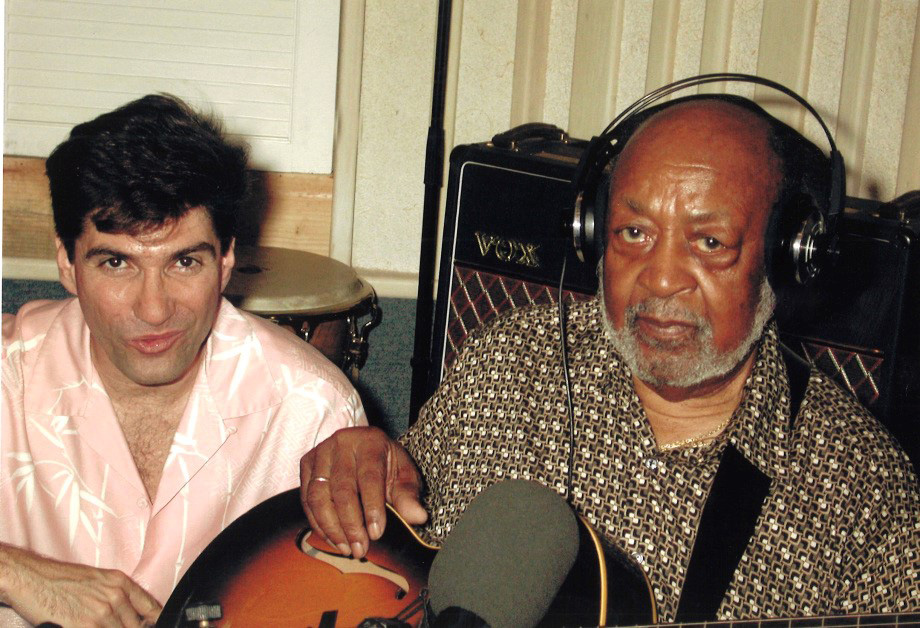 Bob Corritore and Robert Jr. in studio. Photo courtesy of Dick Rice
You produced the album, 'The Legend Live!' "I got to take him into recording situations five times, which I feel good about!" Corritore says. "Robert was so disciplined, every time he came into town he'd ask me to bring him a practice amp so he could work on his music. He practiced every day, and he did pushups every day to stay in shape. He was filled with discipline and if you think about it, he had learned that style of Robert Johnson as a young man and that style was so physically involved, you had to have so much co-ordination between playing the bass notes and the melody lines spontaneously and he studied that every day. In the process he added his own embellishments and he actually made it more decorative than Robert Johnson had done…and I so admired him for that."
As we wrapped up our conversation with Mr. Lockwood I asked if he'd ever thought about retirement. "It's too late for me to retire!" He laughed. Did you ever work outside of music, other jobs? "No, no, no. I don't know what I would have done. I started playing when I was eight years old. I started playing music at eight, yeah. So, I ain't done too much work!"
We lost Robert Jr. Lockwood from respiratory failure November 21, 2006 at the age of 91. According to Bob Corritore the funeral held in the city of Cleveland was truly befitting "a statesman…a King's sendoff."And that is as it should be.