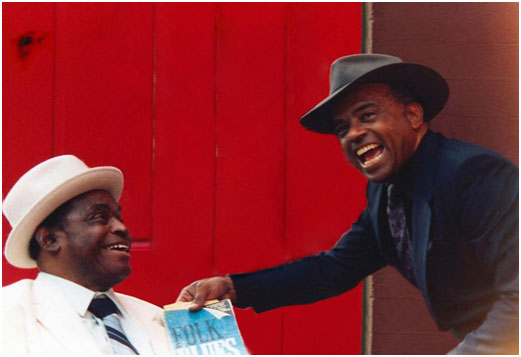 Born in Waskom, Texas about 25 miles west of Shreveport, La. in 1937, Roy Gaines was the epitome of a Texas bluesman. Soft-spoken and respectful to a fault, he more often than not, let his music speak for itself…and did it ever. Growing up in a small Texas town, Gaines was exposed early to artists his mother listened to and smiles when he says, "she liked Lightnin' Hopkins a lot!"Other stars of the era that caught his attention were T-Bone Walker and 'Gatemouth' Brown, but there were numerous jazz influences as well as country and western musicians that the youthful Gaines would grow to love.

The variety of styles and musical genre's had a lasting impact on Roy's own direction and made him a tremendous asset in the recording studio. His work as a session player has been well documented and can be heard in the early recordings of Bobby 'Blue' Bland, Junior Parker, Big Mama Thornton and as wide ranging as the Everly Brothers, Billie Holiday, Stevie Wonder and the Supremes.
His own discography includes more than twelve solo albums; he was a featured artist in the Spielberg film, 'The Color Purple' and his songwriting credits include compositions with George Jones, Joe Louis Walker and Ray Charles to mention but a few. Roy Gaines was more than a bluesman, he was a musical innovator.

When I ran into him at a Blues Festival in Southern California back in the early 90s, a festival incidentally where all the artists paid homage to the late T-Bone Walker; Roy talked about the earliest memories of his blues mentor. "T-Bone Walker used to call me onstage when I was a little kid. I was no more than about fourteen down in Houston, Texas. Today is for him, 'Bone from now on' I said and he was calling me on stage again. I just love 'Bone so much and he's always been a part of my life. Before 'Bone there were rural blues players playing the folk-type blues; People like Lightnin' Hopkins, Big Boy Crudup, Big Bill Broonzy, Big Joe Williams, Leadbelly and Robert Johnson. Those kind of guys had harmonicas with them if they were ever accompanied by anything. But when 'Bone came along he had the good fortune to pick up the guitar and play single lines like on the saxophone or horns with a jazz or blues band. In that respect, he was the first. He took the chance, everyone else followed him. He is the true king of blues and jazz. What his style has done for the music business and guitarists all around the world…I met a guy recently from Tokyo, his name was Oshiyama and he just recorded an album here and he did T-Bone songs. (laughing) Bone has hypnotized everybody…including myself."

T-Bone was one of the earliest to plug in… "He was one of the first to plug in an electric guitar and play with Blues…and Jazz bands. There was a man before him named Charlie Christian and Charlie Christian was the first one to electrify the guitar and play real jazz horn solos. 'Bone was close to what he did because they studied with the same teacher, a lady, a piano teacher from Oklahoma City."

Other than T-Bone, who influenced your direction in music? "The man that taught me my first chords on a guitar, was a man named Clarence Holliman. In fact I did an album with my brother, Grady Gaines and Clarence played guitar on the same date and we're on the front of that album. It's called 'Full Gain.' Clarence taught me my first chord on the guitar. He's such a great guitar player, Clarence Holliman.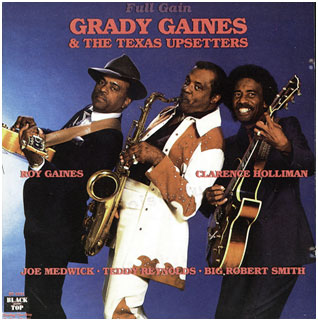 My first teacher played in Country Western bands around Houston, Texas, he also played in big bands; his name was Steve Hester and he taught me out of the Mel Bay book system. When I was a little kid my mother used to listen to Lightnin' Hopkins and T-Bone Walker of course and she liked Lightnin' a lot. SoLightnin' Hopkins would be top on the list of influences. Gatemouth Brown was very, very influential because he had a style that was flamboyant. He played with a clamp so he could turn the guitar loose do all kinds of things with his hands in the air and sing. He wore green, real loud colored suits. He used to wear green suits, green shoes, green socks, green hat, green tie, green shirt, a green feather. I mean, he had orange suits…I used to dress like him, you know? People loved it, they thought it was great. Gatemouth Brown. Then Charlie Christian, of course and later on I discovered Wes Montgomery. I was just as excited by Wes as I was about T-Bone Walker because he again, was a first, you know what I mean? He was a first in a sense, because he played octaves. Single lines and chords and I got a lesson from him once. He told me to meet him on Wellington Road near Adams. I told him I've got this new guitar and I want you to look at it. He came out to the car to see and said okay, he put it back and said come inside. He said the best thing I can talk to you about is practicing. If you practice your single lines as much as you practice your octaves, practice your octaves as much as you practice your chords then your playing will be balanced. When your playing is balanced you can reach to any part of that style, and get it and use it. Then he said, practice playing two as much as you play any one of them, then practice playing three simultaneously. He could play a single line, an octave then he'll play a chord and people were excited by that."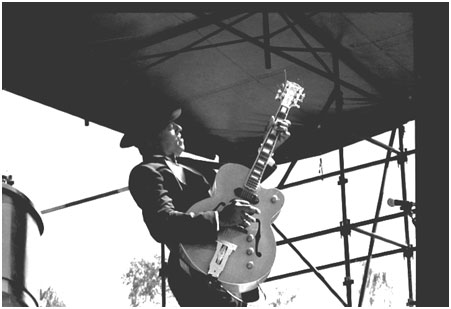 Talk a little about Junior Parker. "Junior Parker was on the Peacock Record label, not Peacock…it was Duke. Peacock was the gospel side of Don Robey's company in Houston, Texas, but when that all came about with Junior Parker, Bobby 'Blue' Bland, Johnny Ace, Pluma Davis, Joe Scott who wrote all those songs with Bobby 'Blue' Bland 'Turn on Your Lovelight' He was the producer for Don Robey. Scott's contribution was enormous, what he did for that company. He let me play on some of Bobby's early songs when I was 16 and some of those solos that I played became standards in the blues business. Also Clarence Holliman a friend I told you about, he played on a lot of those early records. And Wayne Bennett with Bobby 'Blue' Bland…those solos became solos to learn by all the English guys. They would come over here; Eric Clapton, the Rolling Stones, they all studied those solos. When we see those guys they'd say, 'I used to practice that…you're that old Texas blues man, Roy Gaines?' Yeah, I guess I am an old Texas blues man. (laughing)
But Junior Parker had a great style, you know? He's like a first cousin or relative of Al Green. Junior had 'Drivin' Wheel' and all those great hits. I got to talking about Bobby and left him out; you had asked me about him. He's gone now but he did songs like 'Next Time You See Me' I have so much respect for Junior Parker."
Listen to Little Junior Parker here:
You talked about the British bands and how they loved and respected blues, why do you think that was? "The white kids in England had underground things happening but it was also happening in Texas, Chicago and New York at the Village Vanguard. Van Morrison and the Doors, Jimi Hendrix, they'd all jam together. The Blues were being learned in higher institutions, universities and junior colleges by white kids. They were studying the black cultures. So twenty years of that went by and that's long enough to put a big dent in the blues. And that's what has happened; some of the white kids now play the blues just as well or better than the young black kids because they haven't been playing it. They looked down on it as if it were nothing."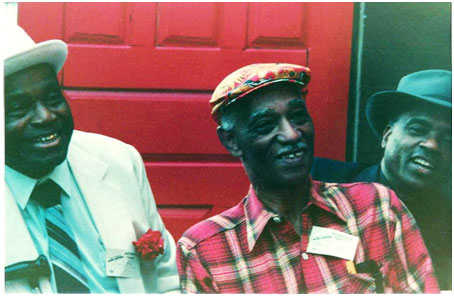 As we sat and looked out on the sea of folks attending the festival, I asked if younger people like Robert Cray were changing that scenario. "Yeah, I do. I think Robert Cray is the Sam Cooke version of the blues. He's not a hardcore blues man like B.B. King or myself even, at some of my bluesiest points, or Lightnin' Hopkins or any of those great blues guys. Cray has got a voice like Sam Cooke's and he can howl like Sam Cooke and he's got that nice, young warm stage presence and he looks peaceful on stage, and at peace with himself. But he doesn't have that rural blues concept; I think the best way to describe it is a Sam Cooke version of the blues, which is a lighter version which I think, is great."
Like fuel to the fire, do you see it contributing to any resurgence or adding more interest in the blues? "Oh, I see a great resurgence in the blues. Now, I'm having more luck than I've ever had work-wise, TV work, movie work…I was in 'The Color Purple' because of the blues… with Quincy Jones and Steven Spielberg. I got a chance to act in there; I had a little part in the juke joint scene. I wrote a song with Quincy Jones and James Ingram. I played on the soundtrack all the way through the album. I had an extensive role in that because of the blues. Quincy operates on a love basis, he gives it out and he gets it back. I've been doing commercials; I've got my SAG button. I did a Coors commercial; I did a CBS national promo. I've had friends all over the country call me up and say, 'I was just thinking about you and I saw you…I saw you! You was in my bedroom!" (laughing)."

Man, you're working constantly. "I'm doing all kinds of things; I'm building a restaurant on Crenshaw, 5716 Crenshaw. It's called Gainesville, USA Smokin' Coffee House. My nephew Johnny Gaines is one of my cooks."
You've been playing so long, the name Roy Gaines is literally known around the world. "Oh yeah, I was known in Europe long before I was ever known here. I did an album with Jimmy Rushing on Vanguard Records called, 'If This Ain't the Blues' when I was about 19 in New York. I lived in New York in the later part of my teens and into my early twenties. So I had a name over there from 1959 up until '75 when I went there, and that was the last time I saw 'Bone. I went there and worked for a company called 'Black and Blue' and they put out two albums on me. One with T-Bone Walker called 'Feeling the Blues' and they have my album, Roy Gaines 'Superman.' It's really a great thing in Europe, because they know more about the records that you recorded years ago, than YOU know sometimes. They know who recorded it and who the sidemen were on the record, who wrote the lyrics and how big it was. They love to discuss things like that."

As do we. We lost Roy Gaines August 11, 2021, just one day shy of his 84th birthday. Take some time and check out a few of Roy's recordings. I'd highly recommend his 'Bluesman for Life' album, it's a great listen and it features some of Southern California's best horn players; Troy Jennings and Jonny Viau. You can thank me later.