Courtesy of Nova Scotia Tourism

What are some of the "things" or activities that Nova Scotians do for fun?
ANSWER: There is never a shortage of things to do in Nova Scotia. Our attractions celebrate Nova Scotia's best, from sports heroes to legendary musicians, and reconstructed fortress towns to seaside vineyards overlooking the world's highest tides. We like to take day trips to festivals or farmers markets! We like to eat – fresh seafood is always in abundance and we have great beers and wines to accompany it! We have over 7,600 km of coastline so its only natural that we like to get out on the water, whether it be kayaking, canoeing, fishing, rafting or spending the day at the beach with family and friends.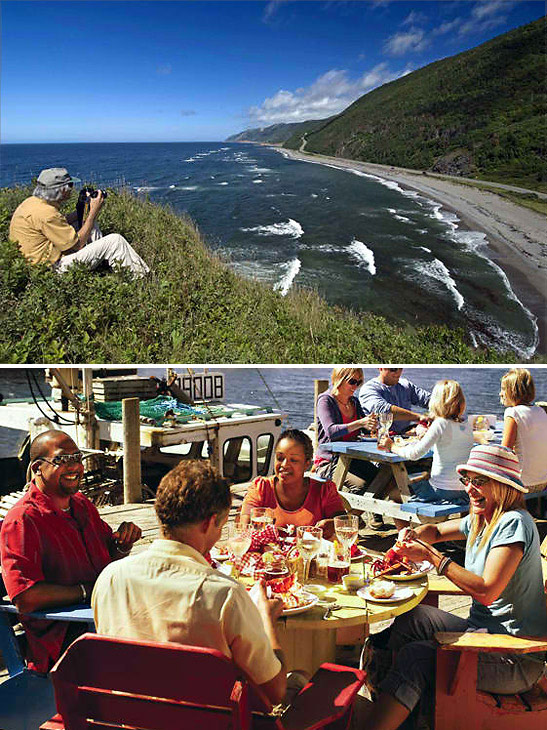 Photos courtesy: Nova Scotia Tourism
What's one thing the public probably does NOT know about Nova Scotia?
ANSWER: Although we are a Canadian province, we are not a cold destination! In fact, we are one of the most southerly locations in Canada and Nova Scotia's weather can be summed up into one word – moderate. It rarely gets extremely hot or extremely cold. The daily temperature does fluctuate both by time of day and by your proximity to the ocean. The Gulf Stream runs just off our coastline, keep it fairly mild in comparison to other parts of Canada.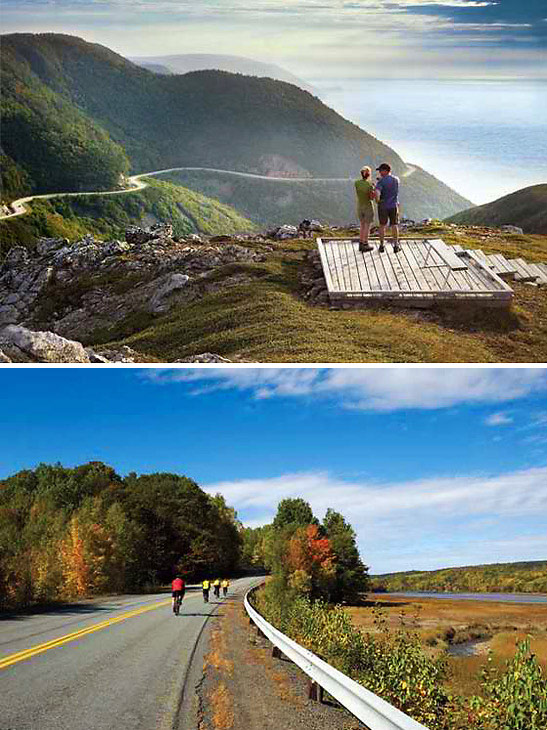 Photos courtesy: Nova Scotia Tourism
Share some aspect of Nova Scotia as regards to what it has contributed to the world.
ANSWER: The Silver Dart was a derivative of an early aircraft built by a Canadian/U.S. team, which after many successful flights in Hammond sport, New York, earlier in 1909, was dismantled and shipped to Baddeck, Nova Scotia. It was flown off the ice of Baddeck Bay, a sub-basin of Bras d'Or Lake, on 23 February 1909, making it the first controlled powered flight in Canada. The original Silver Dart was designed and built by the Aerial Experiment Association (AEA), formed under the guidance of Dr. Alexander Graham Bell, inventor of the telephone. Alexander Graham Bell's legacy lives on in Baddeck, Nova Scotia, where his family summer home, Beinn Bhreagh, still exists. In fact, Dr. Bell and his wife Mabel are both buried atop Beinn Bhreagh mountain, on the estate, overlooking Bras d'Or Lake.
Bell constructed a laboratory on this property, where he conducted experiments in powered flight and hydrofoil technology, among many other things. Some of his most notable accomplishments at Beinn Bhreagh included the first manned flight of an airplane in the British Commonwealth (by the AEA Silver Dart) in 1909, plus the HD-4, a hydrofoil boat designed by Frederick Walker Baldwin and Dr. Bell, and built at Beinn Bhreagh. Designed as a submarine chaser and powered by aircraft engines, their vessel set a world watercraft speed record of 71 miles per hour (114 km/h) in 1919, which remained unbroken for many years.
The Alexander Graham Bell Museum, a unit of Parks Canada, containing a treasure trove of objects donated to Canada by Dr. Bell's descendants, is open to the public. The Alexander Graham Bell Museum is on the Canadian Register of Historic Places.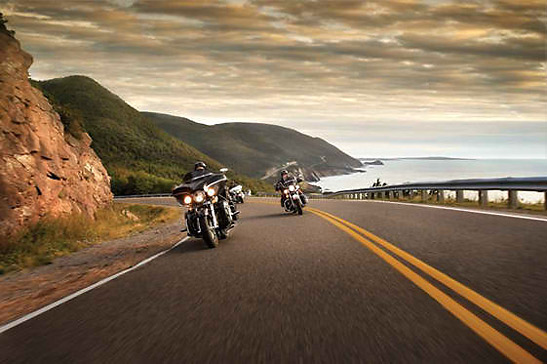 Photo courtesy: Nova Scotia Tourism
For further information about Nova Scotia, click on: www.novascotia.com.