Father's Day Gift
I'm observing a changing social landscape. See if you agree with me.  They say we live in a patriarchal society where men are the bread winners and women take care of the children. Even though popular media decries the imbalance of men vs women's salaries (which is still predominantly true) the same sources do not acknowledge that there have been  major strides towards the bridging of this gap.
Raise your hands if you know of a married couple where the wife earns more than her husband. Raise your hands if you know of a "house-band" who is taking care of the children while the wife goes to work. Raise your hands if you know of a hen-pecked husband.
Like the mystery of disappearing bees, there is a disappearing man who "wears the pants" in the house — the stereotype of the man of the 70's — the chauvinistic strong silent James Bond types who rescue damsels and save the world. The liberated "secretaries" who sing "I am woman hear me roar" and who smoke Virginia Slims (wow! remember that?) have blossomed into independent Wonder Women. Still do not believe me? Compared to yesteryear, how many more women heroes are celebrated in TV and movies? Even Netflix has a category where females have a strong lead role.
When I attended my son's graduation, I think the women grads far outnumbered the men by 75% … maybe more. Why? I have my theories but that is not really why I am bringing this up. I'm thinking of Sunday — Father's Day. If you are wondering what a good gift will be for the Dad in your life, I am suggesting something other than the standard shirt or tie.
Because of the changing gender roles I believe Dads want appreciation more than anything money can buy. With the depiction of buffoons like Homer Simpson and other dorky TV Dads, you wonder if there are any hero Dads left. It's true the "Me Too" movement has exposed some dastardly Dads but what about the faithful Dads? Can't we cheer them on? Don't get me wrong. We're all imperfect and we all have our internal demons but Super Dad is not given much recognition.
Why is it easy for many of us to appreciate our Moms during Mother's Day but Dads …? Why is it so much easier to focus on the negatives? Indeed there are some awful selfish Dads out there who deserve to be hung by their fingernails. Who am I to justify their misdeeds? My own Dad isn't perfect. But neither am I. Let's not talk about other Dads. Let's talk about YOUR Dad. How is/was your relationship with your Dad? Does he, did he, fall short of your expectations? I ask because I wonder how I'm doing as a Dad. Did I do enough?
This Father's Day, may I suggest you don't buy him something he will never use. Instead, talk to him and have a meaningful conversation. Ask his advice. Make him feel important in your life. Initiate a bridge towards any needed reconciliation. If you are fortunate to have a super Dad, it will mean a lot for him to hear you say it.
For some, I totally understand if my suggestion is too hard to do … well, you can always get him a tie.
I know my Dad reads my TGIF joke email so, in front of everyone,  "thank you Dad! I appreciate all you did for me and helped shape me into the man I am today.  Love you a lot. I'll try to call you on Sunday."
Of course, this is just me.
"Love is patient, love is kind. It does not envy, it does not boast, it is not proud.  It does not dishonor others, it is not self-seeking, it is not easily angered, it keeps no record of wrongs.  Love does not delight in evil but rejoices with the truth.  It always protects, always trusts, always hopes, always perseveres."
—   1 Corinthians 13:4-7
TGIF people!
Be Careful of Your Words
Shared by Eric of La Mirada, CA
According to Eric this was the funniest joke in a recent Scottish poll.



NBA Bad Lip Reading
Sent by Peter Paul of South Pasadena, CA
It's trash talking time with the NBA players. Silly and funny.

The Animation Winner: Piper
Sent by Naomi of North Hollywood, CA
This  movie "Piper" won the Oscar for the best animated  movie. It's  duration is only 3 min but  the director took 3  years to create it. See how life can change when our perception changes.  An outstanding movie!

When Kids Grow Up With Dogs
Sent by Debbie of Moreno Valley, CA
Makes me want to have a dog again. I grew up with dogs but now it seems like the maintenance is too much for me right now. No pets for now. Less stress.
Don's Puns
From Don's collection of puns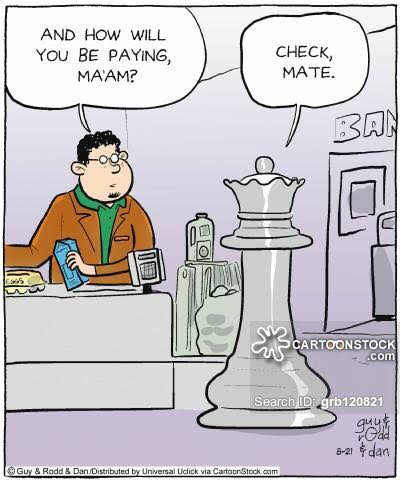 Parting Shot
Thanks to Rodney of Manitoba, B.C. who shared this photo