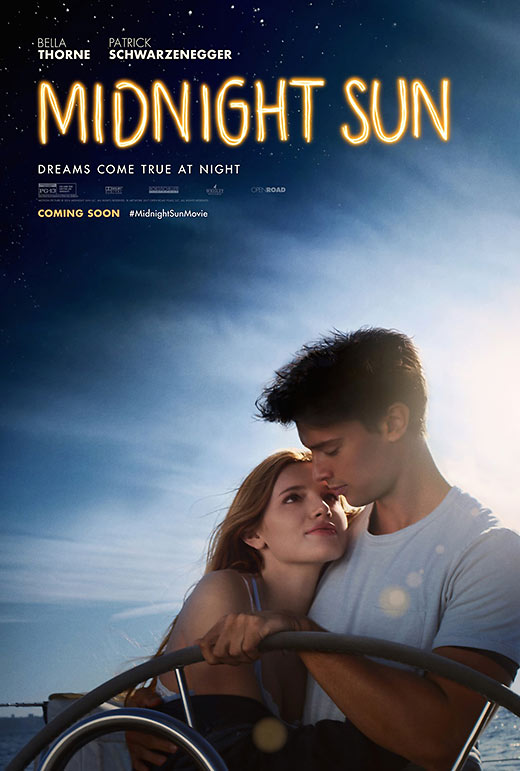 Out of the historic Kennedy clan has emerged yet another young "prince," and his name is Patrick Arnold Shriver Schwarzenegger.  The eldest son of Arnold Schwarzenegger and Maria Shriver, his family tree reads like the who's who in American philanthropy and politics, ranging from Robert F. Kennedy, Ted Kennedy, and John F. Kennedy, to his grandmother, Eunice Kennedy Shriver, who founded the Special Olympics, and his grandfather, Sargent Shriver, who was a United States Ambassador to France, the first director of the Peace Corps, and the Democratic nominee for Vice President of the United States under George McGovern in the 1972 U.S. presidential election.
Patrick is taking a non-political path and began his career as a model.  He's a local boy and was educated at the Brentwood School and received a degree from USC's Marshall School of Business as well as a degree from USC's School of Cinematic Arts.  In keeping with the philanthropic tradition of the family, with the help of his parents Patrick founded Project360 when he was 15, some of the proceeds earmarked for charitable donations.  24-year-old Patrick's love of the world of film goes back to his childhood when he hung out with his dad on set and got bitten by the acting bug.  He makes his film debut as Charlie in "Midnight Sun," in which he co-stars with Bella Thorne as Katie Price.  This is a touching story about a young girl with a terrible disease, how she copes with it, and how meeting Charlie brings her unexpected joy.  Sensitively directed by Scott Speer from a screenplay by Eric Kirsten, the film co-stars Rob Riggle as Katie's dad Jack and Quinn Shephard as her best friend Morgan.  And yes.  Do stuff some Kleenex in your purse.
Patrick recently sat down with a select group of journalists and the following has been edited for content and continuity for print purposes.
How did you get involved in "Midnight Sun?"
Patrick:  I was the last component.  Bella Thorne was already cast and I got involved through the traditional way of auditioning.  I did the director read and then had to do the chemistry read, which was with Bella.  Chemistry reads are when you do it with the leading person who is already cast.  You basically see if you have chemistry with each other.  I had known Bella a little bit prior to this film and texted her telling her that I was going to have a chemistry read with her and wondered if there was any chance she could meet me.  She texted back, 'Print out an extra set of the sides,* choose a place, and I'll meet you.'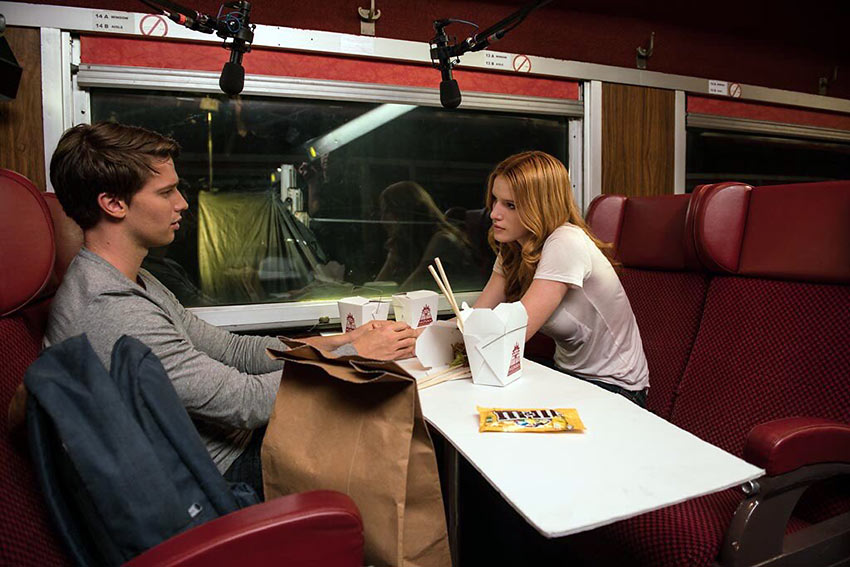 Where did the meeting take place and why did you want to play the part of Charlie?
Patrick:  Her mom dropped her off at the Montage Hotel.  We met for over an hour and went through all the sides and just hung out. It was right before the audition and even though we hung out for only an hour, we were much more comfortable with each other.  That helped me a lot.  But to your question as to why I got involved with the project.  I love romance.  I love a love story and obviously this isn't your ordinary love story because it deals with Bella's character, who has a real dangerous degenerative disease called XP,** which is deadly if you're exposed to sunlight.  The story follows their relationship and how my character pulls her out of her life of isolation and helps her to embark on a journey of love and experience what it feels like to be a "normal" teenager.
How would you describe your experience with your first leading role?
Patrick:  It was so much fun. We shot in Vancouver for two months and Bella and I got along just great.  There wasn't anyone else to hang out with so it was just she and I. We worked and afterwards we went on hikes and bike rides and as the filming process went on, we got closer and closer to each other on and off screen and I think that closeness and comfort was portrayed in the film.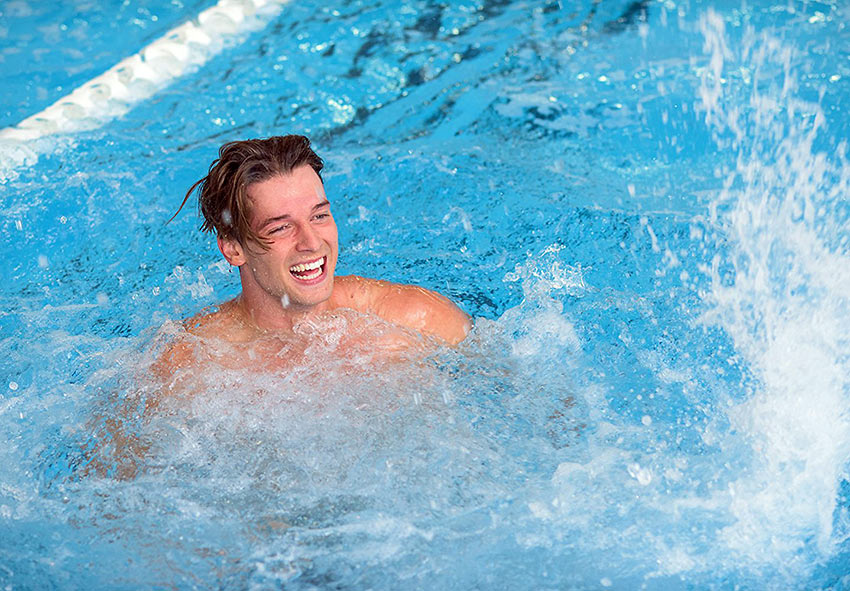 How did Bella help you with some of the very emotional scenes?
Patrick:  You know, when you play tennis with someone who is not good, you're not good, but when you play with someone who is really good, you become better.  That's how it worked with Bella.  This was my first starring role and there was so much I didn't know about acting, and still don't know about acting, but just working with her was like playing tennis with an "A" player – it brought up my "game."  Also, I had coffee with Scott before we began to shoot and told him to feel free to dig into any parts of my life that he felt would inform the character and help me get to those very emotional moments.
Were you aware of how much a girl's best friend influences a relationship such as how Morgan influenced your relationship with Katie? 
Patrick:  I was aware of that because I've had girlfriends and know how their friends influence the relationship.  You have to win over the friends.  By the way, it's the same for guys.  When I met my girlfriend, trust me, all the guys gave me input – do they like her, do they not like her, can she hang out with the boys.  So it's a vice versa situation.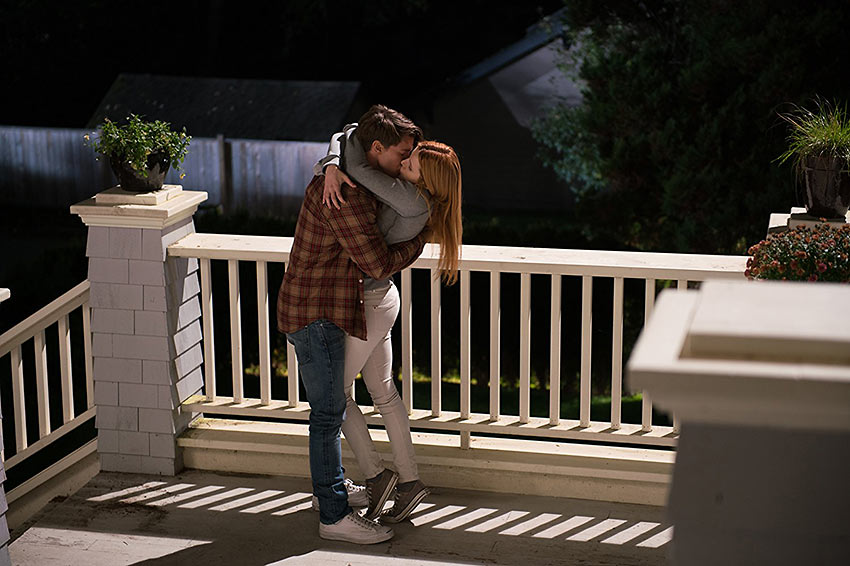 What influence did your dad have in your pursuing an acting career? 
Patrick:  Obviously while I was growing up my dad made a few films.  (Laughter)  My favorite thing was I could ask him to take me to the set.  He would pick me up early from school, throw me in the Hummer and we would drive to Universal. I wanted to stay there all day because I would watch movies, visit him in the make-up room, and watch him go from dad to "Mr. Freeze" or "The Terminator."  I would see something on paper become a reality in terms of film.  During breaks we would jump in his golf cart and go on all the rides.  I loved going to Craft Services and getting candy.  (Laughter) This was when films were always shot in Los Angeles and he filmed at Universal Studios.  So I loved going to sets and fell in love with film and always wanted to do film.  I took some theatre classes at school.  I think my parents always knew that I wanted to be an actor but they also wanted me to get an education.  They wanted me to finish high school and go to college.  I'm happy I did.  My dad is obviously someone that had a path in acting, but also has the real estate and business side as well as the political side.  You know with acting you can work for three months and not work for a year.  So having other things you like to do during those down times is important.
Did you have more fun on film sets than when you lived in Sacramento?
Patrick:  (He laughs) Sacramento?  When my dad ran for governor, I was around ten so when you're ten or eleven – (makes a weighing motion with two hands) the capital or movie sets? (Laughter)  It was definitely a great experience.  I got to learn a lot, but as a kid going to movie sets was more fun.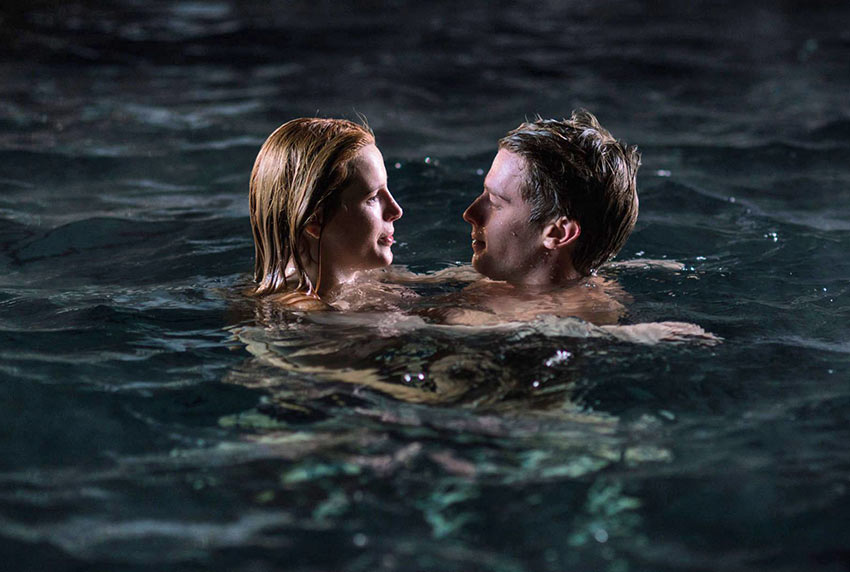 On which set did you have the most fun?
Patrick:  A lot of the filming of "Terminator 3" was shot on the hillside near the Griffith Observatory so I got to go on a lot of hikes, but my favorite was when he was working on the Universal lot.  You literally got to go to "King Kong" or "Jaws" and it was a dream come true for a kid.
Your name:  Does it help or hinder?
Patrick:  You can look at anything in life as a positive or negative.  I definitely like to see it as a positive.  I've gotten to meet so many people from the film industry through my dad – people he's worked with since he was a young actor.  Does it help open up some doors for me?  Well yes, but again like everything in life, if you're not going to put the time in, if you're not going to work hard, if you're not dedicated, people will care only so much what your name is and then they'll say "next."
You and your dad are built quite differently.  Where do you fall and did you have to train for the swimming sequences?
Patrick:  Well before this film, I loved weight lifting, I loved eating, I loved bulking up.  But for this role, I lost almost 20 pounds because I stopped lifting and started swimming. When you start swimming, your body gets wider shoulders and a slimmer waist. I had someone from the USC swim team train me four days a week for the swimming sequences and I actually got pretty good at free-style swimming.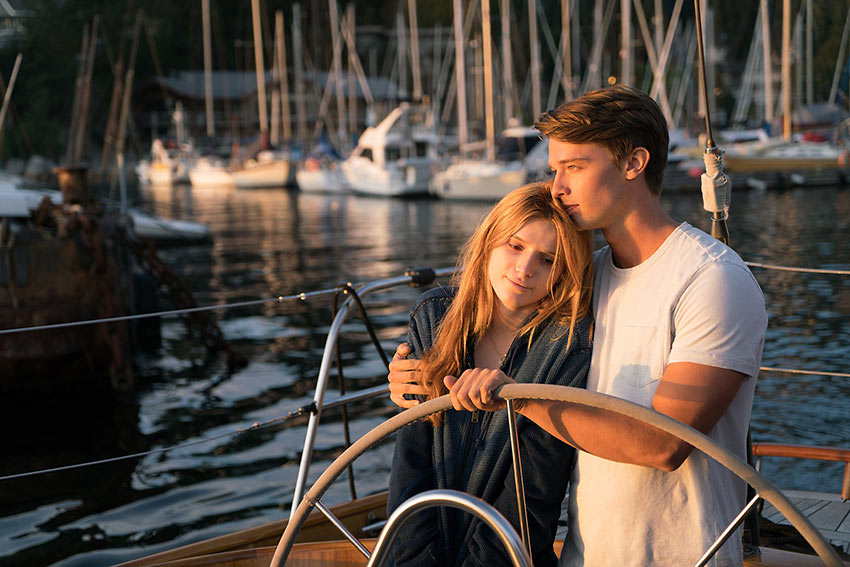 What was your reaction when you watched the film for the first time and who did you watch it with? 
Patrick:  I watched it with my friends and my family. It's weird to see yourself on screen and to hear your voice.  I was thinking, 'Do I really sound like that?'  My mom and sisters were tearing up at the end, which made me happy, I guess.  (Laughter) They really liked it and I'm really proud that I got to do this.
How did your dad react to the film?
Patrick: He's proud.  He actually shed a tear and I don't know if it's from the story or from just seeing me on the big screen. Kids want their parents to be proud of them and to be happy for them.  My parents just want us to do what we want to do.  My dad has always said to follow your passion.  It's not really work if you're doing something you love to do.
Congratulations.  Your family has good reason to be proud of you.
Patrick:  Thank you….
*Sides: Excerpted pages from a screenplay that an actor can study and read to prepare for an audition or screen test.
**XP: Xeroderma Pegmentosum