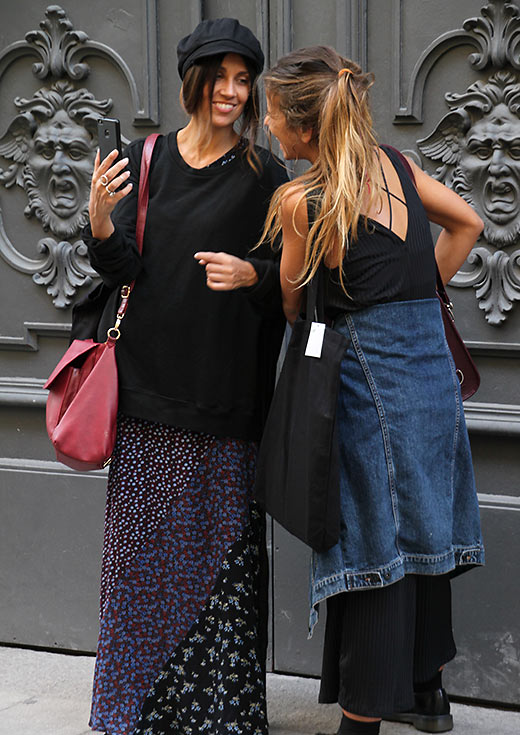 I had never seen so many tall and sleek model types in my life. I watched with fascination as they rushed through Milan's  Piazza del Duomo ("Cathedral Square") for an unknown rendezvous or appointment, dressed in the latest fashion. It was also the first time I had ever paid $16 for a café latte, but it was well worth the price for a front row table facing the magnificent Piazza.
At the other end of the square sat the iconic symbol of Milan: The Duomo di Milano. Occupying an entire city block, the Lombard Gothic style cathedral glistened in evening light due to the façade of pink-veined white Candoglia marble. Adorned with 3,400 statues, 135 gargoyles and 700 figures, construction took over 500 years to complete. As the third largest cathedral in the world, I could just catch a glimpse of the rooftop terrace with the gold-colored statue of the Madonnina, standing on the Duomo's highest spire.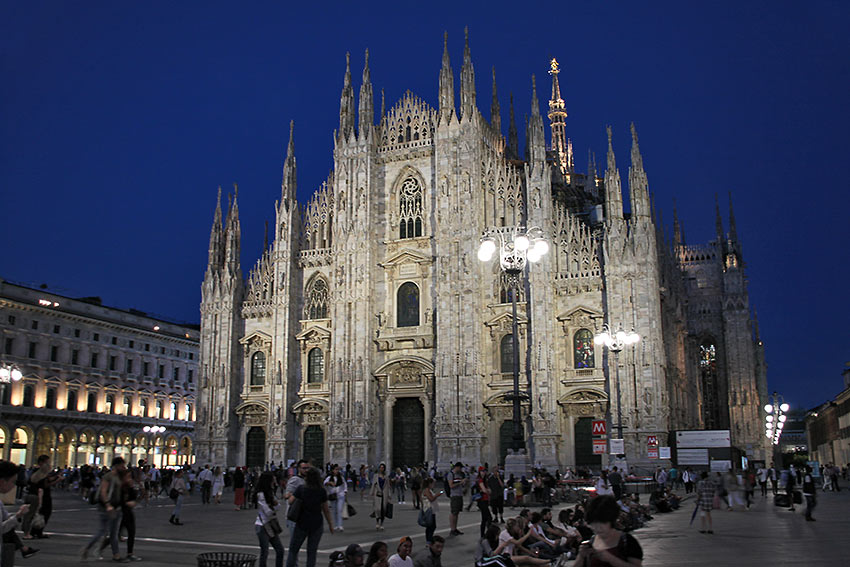 I proclaimed then and there it was the most beautiful cathedral I had ever seen. I read in a guide book that there's an elevator to the top, but you can also walk up the stairs in an average time of 10 to 15 minutes. I challenged myself to do it in under 10. But first, the night was before me and it was time to explore more of the pulsating city of Milan.
The Next Day
After a filling lunch of the Milanese specialties Osso Buco – a cross-cut veal shank with a bone marrow hole at its center, served with the traditional side dish of Risotto alla Milanese with saffron – I took another look at my guide book.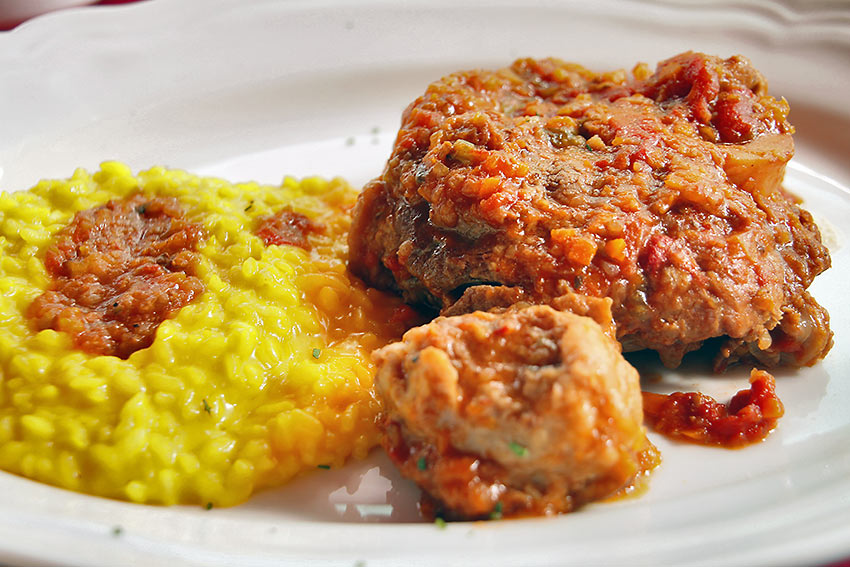 Surrounded by skinny suit attired locals on the go, I read that Milan is an important railway hub, which many tourists use as a starting point for journeys to more ancient Italian cities with Roman ruins and medieval cobblestone streets.  This is not Milan. As the fashion capital of the world, it is there to experience the moment. Milan embodies the Italian notion of la bella figura: behaving well and looking good doing it.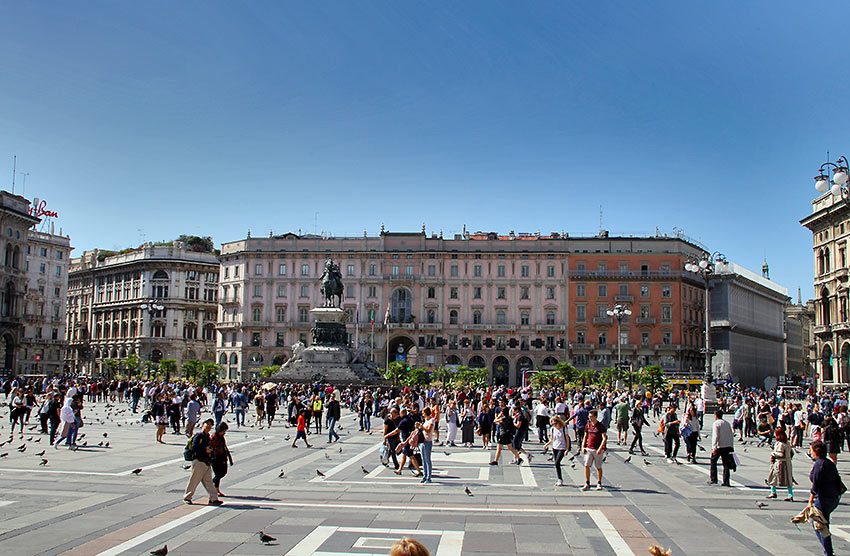 With a population of 1,357,599,  Milan is also a major financial, industrial, and design hub. It possesses a historic core that has an imposing, solid grandeur to it.  In recent years, vehicles have begun being banished from it (gradually – street by street), making one feel as if in an open-air living room.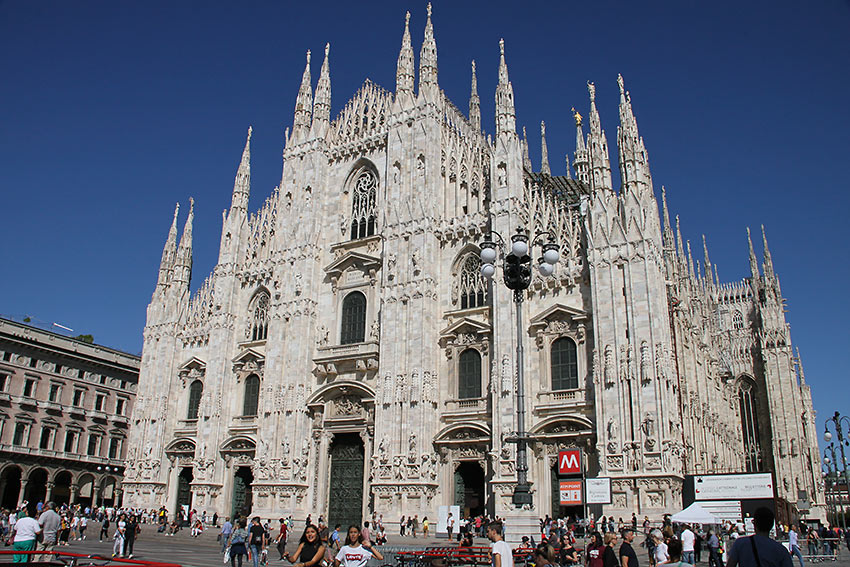 As I strolled to the Duomo, I remembered last night's outing to the famous Navigli, a canal area left over from a system of waterways that once connected Milano with Lake Como and the Adriatic Sea.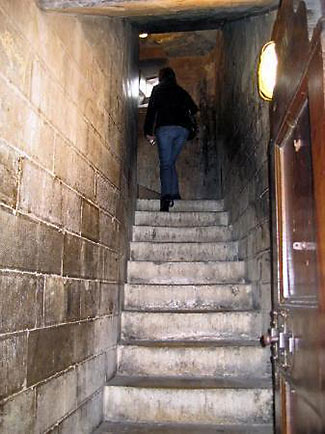 The innovative system of locks was designed by Leonardo Da Vinci in the late fifteenth century. One of the canals actually stopped directly in front of Duomo, transporting the Candoglia marble from quarries in Lake Maggiore. Leonardo spent 17-years in Milan. His fresco of "The Last Supper" is available for viewing at the Church of Santa Maria delle Grazie, but make sure you get your tickets in advance.
1:02 PM: Soon I arrived at the darkened entryway of the Duomo. Before me were the high steps to the terrace.   I gave the elevator a second look, and began my ascent up the stairway. Worn smooth by centuries of other pilgrims, it seemed an easy task. There was a young family leisurely walking up the steps before me so I lessened my pace, rather than rush by them and ruin their experience. I decided to take a short break by an open window overlooking the square.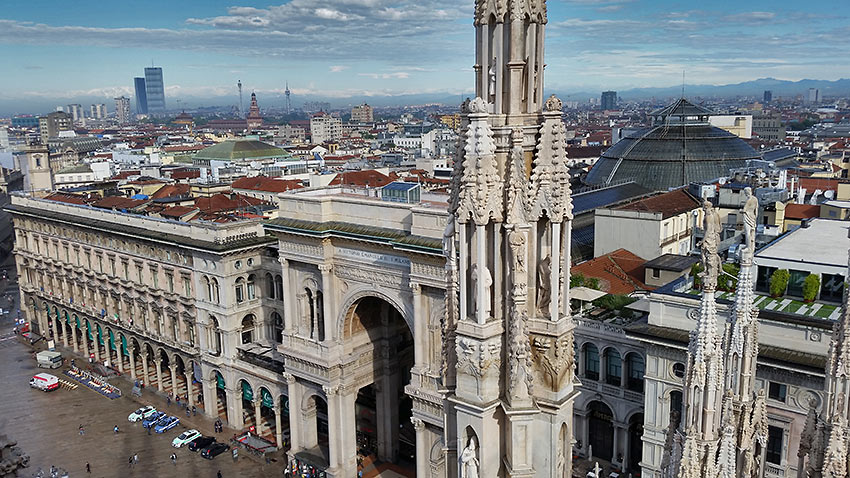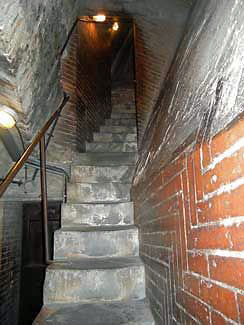 I could just make out the magnificent Galleria Vittorio Emanuele II Arcade, named for the first king of Italy in 1900 after the unification of the Italian States. The famous passageway through the arcade was where the likes of Toscanini, Verdi and Maria Callas would walk after a performance at nearby Teatro alla Scala. I had hoped to book a ticket at the historic opera house, but did manage a tour where I enjoyed an unforgettable afternoon rehearsal, thanks to With Locals' all knowing guide, Francesca Giorgetti.
1:06 PM: I took another look at my watch, and realized that I had some serious time to make-up. I charged up the steps, this time passing the group before me. Another 100 steps on, I began to falter. Did the guidebook say anything about the effect of the altitude? And why had I had such a big lunch? Disappointed in myself, I needed another reprieve.
I caught my breath before another open window where I could see the entrance to the interior. I had booked my ticket earlier at the Museo del Duomo where the helpful staff were quite accommodating, answering my endless questions. As expected, the interior of the Duomo was beautiful, consisting of a nave with four side-aisles, crossed by a transept, then followed by an apse. Above the apse there is a small illuminated red light bulb. This marks the spot where one of the three nails of Jesus' crucifixion was placed, believed to be retrieved by Helena, the mother of Roman Emperor Constantine, after a religious tour of Jerusalem. She is regarded as the one who converted Constantine to Christianity, who, in turn Christianized the Roman Empire. Once a year the nail is presented in a wooden basket for viewings.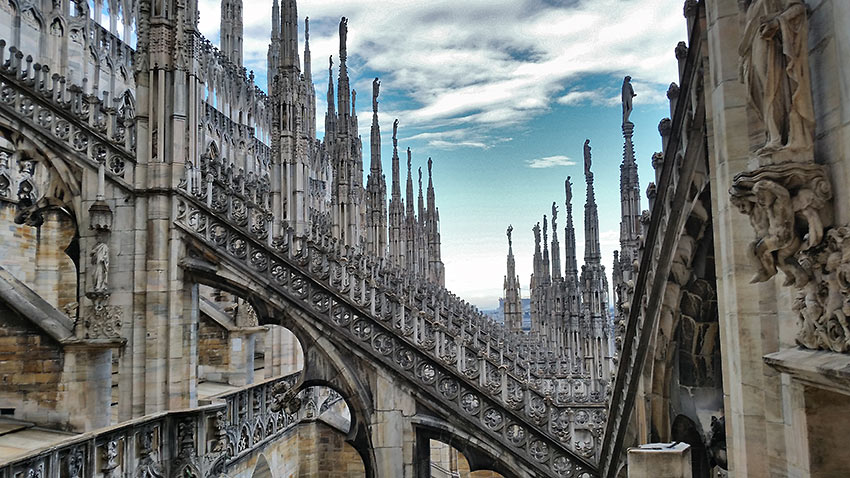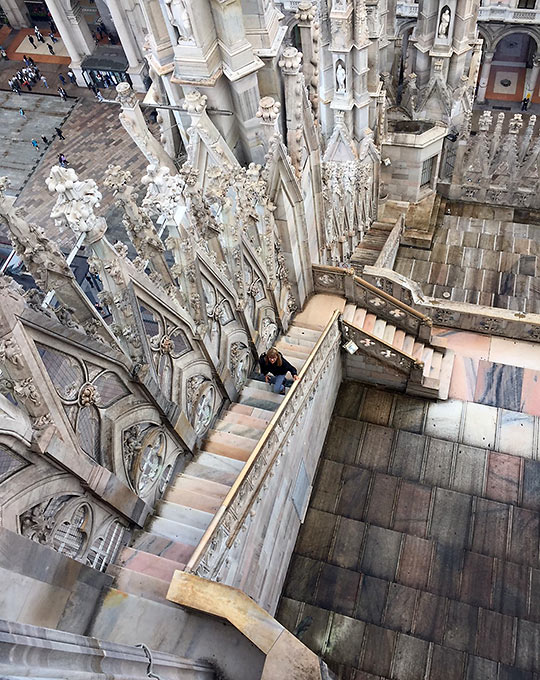 1:11 PM: Okay, no more time for breaks. I needed to make up some serious time, with about one minute left to make it to the terrace. My legs felt as heavy as Candoglia marble.  Taking deep breaths, I remembered my wife begging me not to let my membership to my health club expire. Huffing and puffing I was soon met with glorious daylight, 30 seconds ahead of schedule. But somehow it wasn't what I had expected. Where was the statue of the Madonnina and the flying buttresses? A kind guide noticed my confusion, and informed me that there were still more steps to the terrace, just around the corner.
I hurried to her direction to the base of the final stairway. A tourist gave me a quizzical look. I shouted over my shoulder, "I'm on a mission." The tourist replied, "This is the Duomo, not a Mission." Adrenalin kicked it and I began to ascend the final stairs.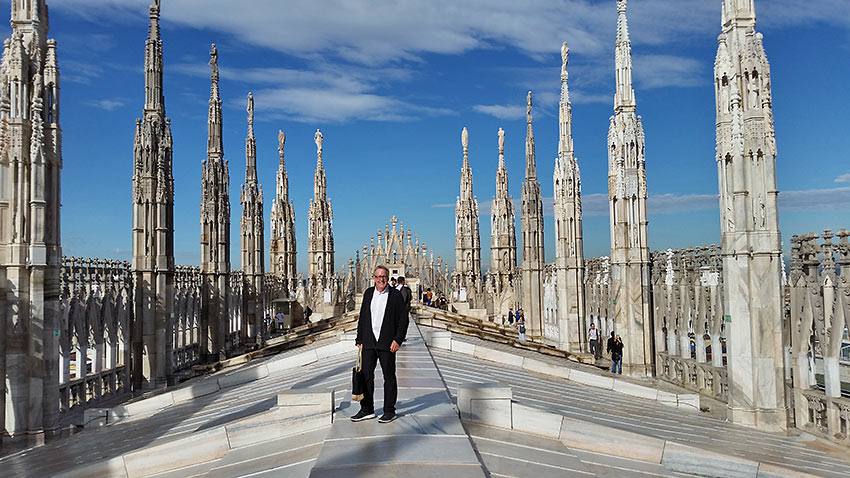 1:12 PM: With just seconds left of my allotted ten minutes, I made it victoriously to the terrace. Although there were no medals or applause; my reward was more inconceivable than anything I could ever have imagined: I had just ascended to heaven. Before me was a fairy tale array of openwork pinnacles and spires, set upon delicate flying buttresses. And yes, there was the glorious Madonnina, towering above me. The other tourists on the terrace were serene and respectful, only adding to this other-worldly experience. I recalled a quotation from  Mark Twain:
What a wonder it is!
So grand, so solemn, so vast!
And yet so delicate, so airy, so graceful!
A very world of solid weight, and yet it seems
In the soft moonlight only a fairy delusion of frost-work
That might vanish with a breath!
How sharply its pinnacled angles
And its wilderness of spires were cut against the sky,
And how richly their shadows fell upon its snowy roof!
It was a vision! — a miracle! —
An anthem sung in stone, a poem wrought in marble!"

– Mark Twain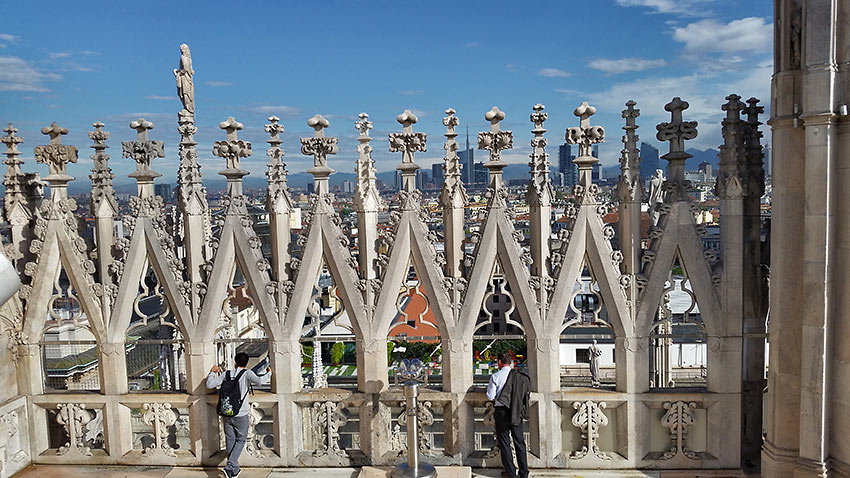 I walked to the ledge for the angel-like view before me. It was a picture perfect day with spectacular vistas of the city and even the snowcapped Swiss Alps in the distance. There was still much to see and do in Milan. But, for the moment, I was in no hurry.
For further information about travel to Milan, logon to Turismo Milano.