Our wooden vessel glided along Ha Long Bay's jade green waters. Located off the coast of Northeastern Vietnam, its stunning 620 sq miles of seascape is one of the country's five UNESCO World Heritage Sites. Hundreds of towering karsts dotted the horizon. Vendors in little skiffs tapped on the side of our vessel, selling unfamiliar exotic fruits – mangosteen, rambutan (aka Harry Cherry), longan, star and jack fruits.
This trip was to be a genuine taste of adventure. When Royal Caribbean International invited me to be a guest on their Exotic Asia voyage to Southeast Asia, I couldn't say no. The centerpiece of the voyage would be to locations barely on the tourist map – four-days in Vietnam, a day in Cambodia, and the added bonus of landings in the more traveled destinations of Bangkok and Singapore.
Embarkation on the 2,435 passenger Rhapsody of the Seas was in Hong Kong, with the next day spent on the voyage to the port of Haipong, gateway to Hanoi. This allowed us to catch up on our sleep and to become familiar with the seemingly endless amenities on the vessel, our home for the next thirteen-days.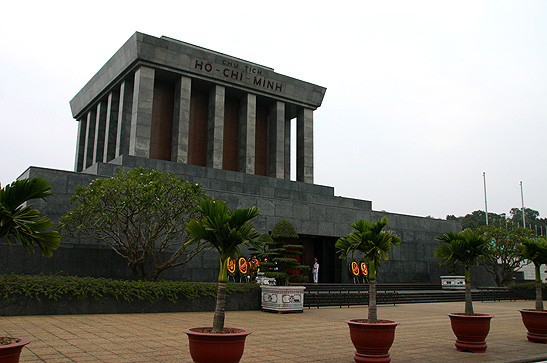 In preparation for our landings, a guest speaker conducted seminars on what to expect in Vietnam. Today it is a communist nation with a free-market economy, and considered one of the safest nations in the world. With 84 million people, it is now one of SE Asia's vibrant Little Tiger economies. A number of Vietnam War veterans were on the vessel, many returning for closure from the war (1959 to 1975), others bringing family members to share with them an important piece of their personal history. I later found that for most Vietnamese people, the war is past tense, and a let 'bygones-be-bygones' sentiment prevails.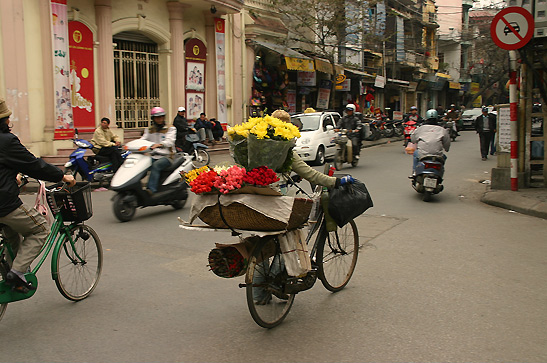 As we took the 2.5 hour bus ride to the capital of Hanoi, there was an intensity of traffic;
bicycles, motorcycles, scooters and little cars chocked the bumpy road. I noticed virtually all women wore scarves (khau trang) covering their faces. I asked if this was due to pollution, but was informed that culturally Vietnamese women prefer pale complexions. The county's pristine beaches are often empty until 5 pm, with locals waiting for the sun to go down.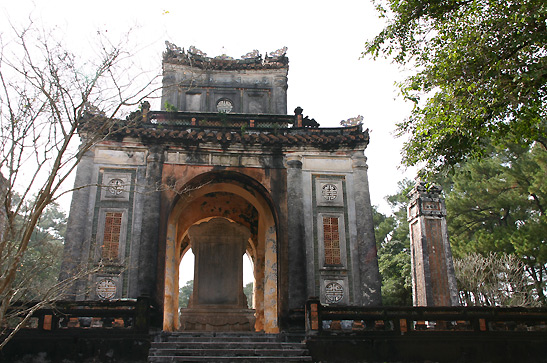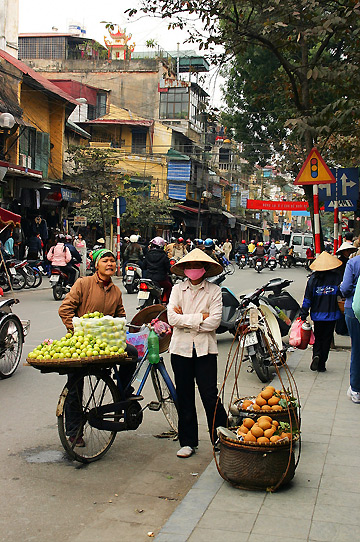 Hanoi's Old Quarter is located the heart of the original city, with its 36 streets named after the products for sale: Silver Street, Silk Street, etc. We were greeted with welcoming smiles from a populace that was just as interested in seeing us as we were of them. Waking across a chaotic car strewn street was akin to a brush with death. Yet, it was not unusual to see a younger Vietnamese gently taking the hand of a senior, with the words: "Uncle, may I help you across the street?" The French Quarter – a remnant of France's 100 years of dominance – featured wide boulevards of tree-lined streets. Monuments to former President Hoh Chi Minh (1890 –1969) were seemingly everywhere. His body rests in a mausoleum where it has been embalmed for viewings. We also toured the former palace, which Hoh turned into an administrative building, preferring to live in the simple servant's quarters in back. The day also featured regional delicacies such as pho, spring rolls, green papaya salad and baguettes; a gift from the French Indo-China era.
Hue (pronounced Hway), located on the central coast, is the original Imperial Capital, with many of its century-old pagodas, architectural relics and Forbidden Purple City – modeled after China's own Forbidden City – still standing despite heavy U.S. bombings during what the Vietnamese refer to as "The American War."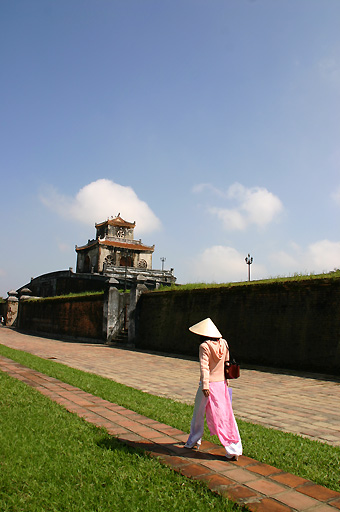 The first site in Vietnam ever listed in the World Heritage list, a visit to Hue offers an inside look at the Vietnamese monarchy during its most prosperous period. Lunch on the banks of the Perfume River was an unforgettable experience, with floating villages of water gypsies in the distance.
Ho Chi Minh City (formerly Saigon), just off the southern coast, is an urban frenzy of eight million people packed into a city of sidewalk cafes, cyclo-pedicabs, city squares, palaces and markets. The three top tourist attractions are the War Remnants Museum, Reunification Palace and the underground world of the Chu Chi Tunnels, with many of the tours conducted by former residents. Later we saw the remnants of the towers and temples of the now extinct Indian-influenced Kingdom of Champa.
Our time in Sihanoukville, Cambodia was brief. But it was easy to see a fledging nation still recovering from the genocide of the Khmer Rouge regime and their own war with Vietnam. Many in our group were stunned to see such poverty in this nation attempting to make tourism an important component in their infrastructure. Animals grazed in open garbage dumps, and derelict homes on stilts tilted towards the sea. Yet young children with open smiles rushed up to me to say hello in English. Like Vietnam, I hope it's just a matter of time for them to join the modern world as well.