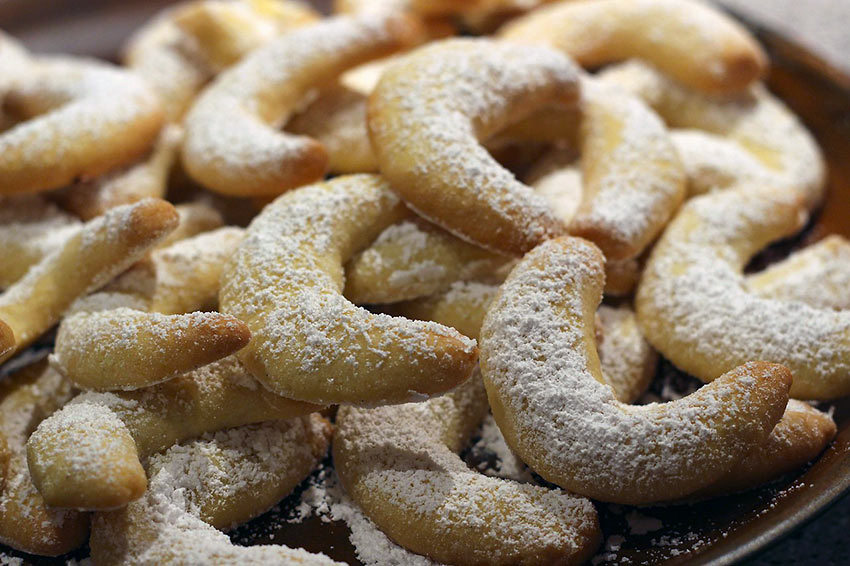 Susanne Servin of Herzerl Tours has just returned from Vienna and the festive Advent Markets. While Ms. Servin was in Vienna she revisited two great Viennese holiday cookies, Vanillekipferl (vanilla moon/crescent shaped) and Engel Augen (Angel Eyes), in which she has generously shared the recipes with our readers.
History and Recipes
Vanillekipferl are sugar cookies in the shape of crescents that originated in Vienna. Kipferl means "moon/crescent shaped." History tells us that in 1683, the Ottoman Empire besieged Vienna. The town was nearing the end of its ability to resist, but a Polish army came to its rescue. On September 12th, in an open battle before the gates of Vienna, the Ottoman army was defeated, and the city escaped pillage and destruction. Vanillekipferl was invented by a baker in Vienna approximately 400 years ago to commemorate the victory. Kipferl was inspired by the Ottoman banner, which includes a crescent shaped moon. The Ottomans, though, introduced the Viennese to pure vanilla and coffee. Thanks to the failed Ottoman invasion, Vienna became synonymous with coffee house culture. The crescent shaped Kipferl later traveled to France where the name was changed to croissant. The French also altered the recipe by eliminating sugar, almonds and vanilla, making the croissant a breakfast item. Some sources suggest it was the Habsburg Viennese princess, Marie Antoinette (Maria Antonia) who brought Kipfer to Versailles, at the time of her arranged marriage to the heir of the king of France, dauphin Louis-Auguste.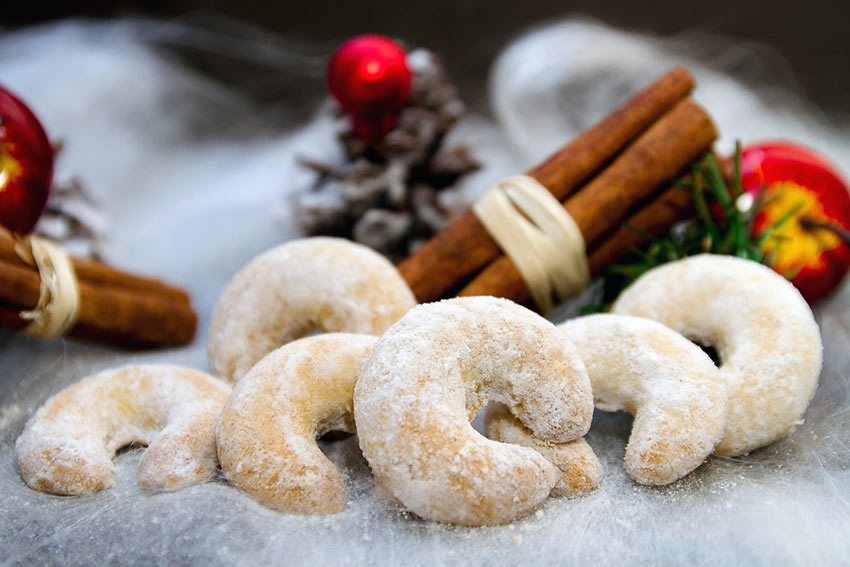 Vanillekipferl
Ingredients
150 grams soft Butter or 5.3oz or ⅔ cup
70 grams powdered Sugar 2.5oz or ⅓ of a cup
8 grams Vanilla sugar 'homemade or store bought mixed with some regular powdered sugar or 2 Teaspoons
100 grams meal or 3.5oz or almost ½ cup
200 grams all purpose Flour or 7oz or almost 1 cup
For the Coating: Vanilla Sugar
Preparation:
Start by mixing the soft butter, powdered sugar and vanilla sugar smooth.
Then add sieved white flour and almond flour to the mixture and incorporate the ingredients with your hands to a smooth pastry. For example there shouldn't be any visible butter pieces, that's when you know you have mixed it enough. Don't work it out anymore or the dough won't hold together later.
Keep it to rest minimum 1 hr. in the fridge or in a cool place. I keep mine always over night, so that the flavor in my cookies turn more intense.
Once ready to be used, form the dough into a sausage shape with a 2 cm thickness. Cut thick slices so, that each should be around 20 grams (0.7oz) heavy.
Preheat the oven to 200 Celsius or 392 Fahrenheit. Roll each "sausage" pastry slice into a smaller sausage with pointed ends and shape it into a half moon/crescent form. Place them onto a baking tray, each with enough space around to rise a bit, and bake them for 10 minutes a 200 Celsius to a light yellow shade.
While the cookies are baking, prepare a plate with the home made vanilla sugar.
Add the cookies to the vanilla sugar in the plate, once they are finished baked and they have cooled down for at least 1-2 minutes, roll and coat them well with the sugar.
Best stored in a metal cookie boxed with baking paper (butter paper) and apple slices on top.
Note that the Vanillakipferl cookies are very fragile and might break when coming out of the oven, so give them 1-2 minutes to rest. During that time they harden when they make contact with air. It's important to roll them into the homemade Vanilla sugar when they are still hot, so that the sugar sticks on the cookies.
Engel Augen (Angel Eyes)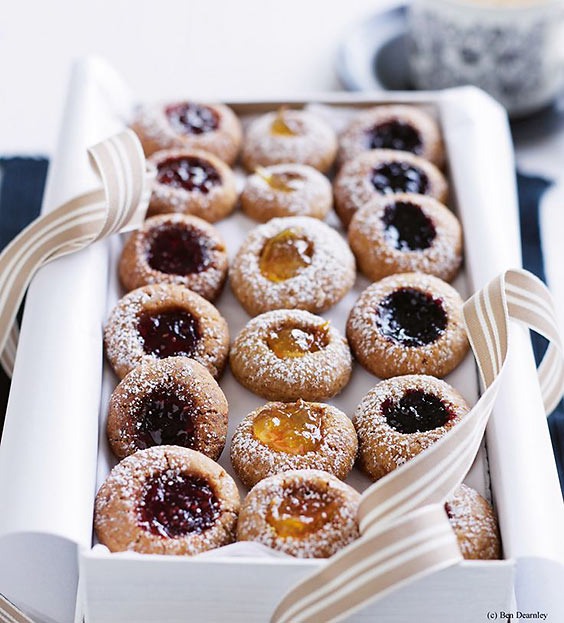 Ingredients for 55 cookies
Ingredients
3 1/2 oz butter (room temp)
1 tsp instant coffee,
9 oz flour
1/2 tsp baking powder, 1 pinch of salt
5 oz sugar
3 eggs
1 oz each: orange marmalade, raspberry jam, blueberry jam
3 soup spoon powdered sugar (stir until smooth).
Preparation:
Mix butter and coffee powder; then add flour, baking powder, salt, sugar and egg yolks, kneed speedyly until it is a smooth dough. Wrap in foil and let it rest in the fridge for 60 minutes. Preheat oven for 350F. Make 1 1/2 in. balls and place on baking sheet covered with parchment paper 1 inch apart. Make a hollow in the middle of each ball with the handle of a cooking spoon. Fill each hole with a different jam. Bake cookies for 15 minutes, take out of the oven, place cookies with paper on cooling rack, let them cool, dust with powdered sugar – AND THEN ENJOY!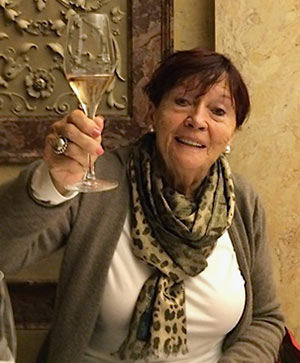 Seasons Greetings,
Susanne Servin
Phone: 800-684-8488, 914-771-8558
Website: www.herzerltours.com
Email: sms@herzerltours.com