Theatre Review
Is it a book?  Is it a film?  Is it a play? Is it a musical? Is it "Jersey Boys?"  Is it "Guys & Dolls?"  Is it "West Side Story?"  Well, my friends, if this production was a stew, it would be a dash of this, a little bit of that, and a drop or two of schmaltz* for seasoning.  "A Bronx Tale" the musical, is yet another iteration of Academy Award nominee Chazz Palminteri's heartwarming, semi-autobiographical story based on his childhood.  The genesis of the current version began when he was 40.  His career wasn't exactly skyrocketing and as any smart, ambitious actor would do, he decided to write and star in his own material.  He launched his one-man show in Los Angeles after which it travelled to off-Broadway and enjoyed a successful run.  Eventually it morphed into a film directed and acted by two-time Oscar winner Robert De Niro, who also co-directed with four-time Tony Award winner Jerry Zaks for the current North American tour.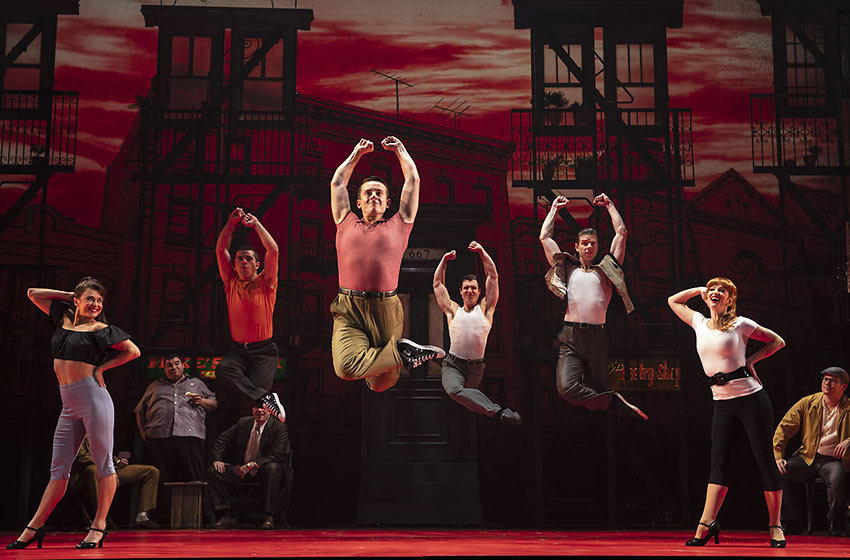 The story, told through the eyes of the adult character of Calogero, portrayed by Joey Barreiro, takes us from his childhood and teenage years to adulthood. The tale begins with a familiar Frank Sinatra shot of a quartet of bebop singers standing under a lamppost, illuminated by an effective lighting design by Howell Binkley, which is consistent throughout the production.  With a backdrop of movable multi-level fire escapes and storefronts by set designer Beowulf Boritt, "Belmont Avenue" sung by the ensemble and a young Calogero, kicks off the first of 18 production numbers with music by Oscar, Grammy, and Tony Award winner Alan Menken with lyrics penned by Glenn Slater, Grammy Award winner and Oscar and Tony Award nominee, with choreography by Tony nominee Sergio Trujillo.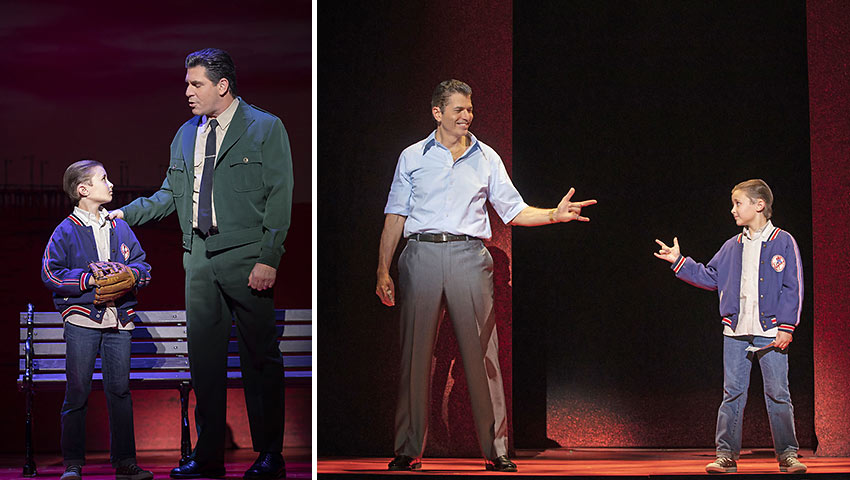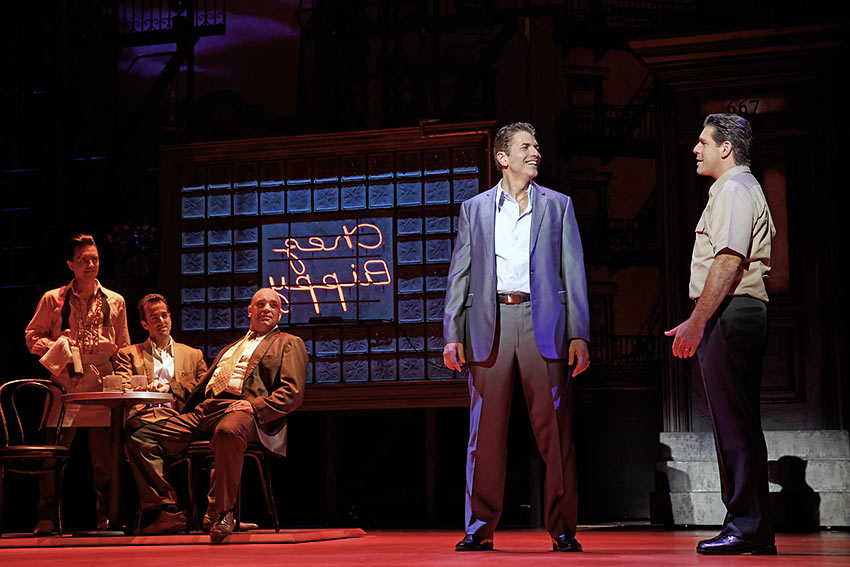 The youthful Calogero, played by a little dynamo named Frankie Leoni, lives in this Italian-American Bronx neighborhood with his father Lorenzo, (Richard H. Blake) and his mom, Rosina (Michelle Aravena).  Dad is a hard working bus driver who makes just about enough money to pay the rent and put food on the table.  Their kid witnesses a shooting by the local gangster, Sonny, well played by Joe Barbara, but when interviewed by the police, and asked to identify the shooter, Calogero, declines to pick the killer out of the lineup. This act becomes an immediate bond between he and Sonny, who nicknames him "C."  Hence begins a tug of war for influence over the youngster between his dad and this exciting, well-dressed, slick guy who is free and easy with money.  He gives "C" a hundred bucks for bringing him luck in a crap game during which Sonny, "C" and the ensemble sing "Roll "Em."  Over "C's" strong objections, dad returns the money to Sonny whose colorful gang members have Runyonesque names such as Handsome Nick, (Giovanni DiGabriele,) Rudy the Voice, (John Gardiner,) Frankie Coffeecake, (Robert Pieranunzi,) Eddie Mush, (Mike Backes,)  JoJo the Whale (Michael Barra,) Crazy Mario (Joseph Sammour) Tony-Ten-To-Two (Paul Salvatoriello,) and Sally Slick (Sean Bell). Sonny has profound effect on "C's" life, saving him from dying in an explosion that killed his friends.  He recognizes early on that this kid is special and encourages him to make something of himself, which clearly he did as in addition to writing "A Bronx Tale," the talented Mr. Palminteri has had a successful career with starring roles on stage, film and television.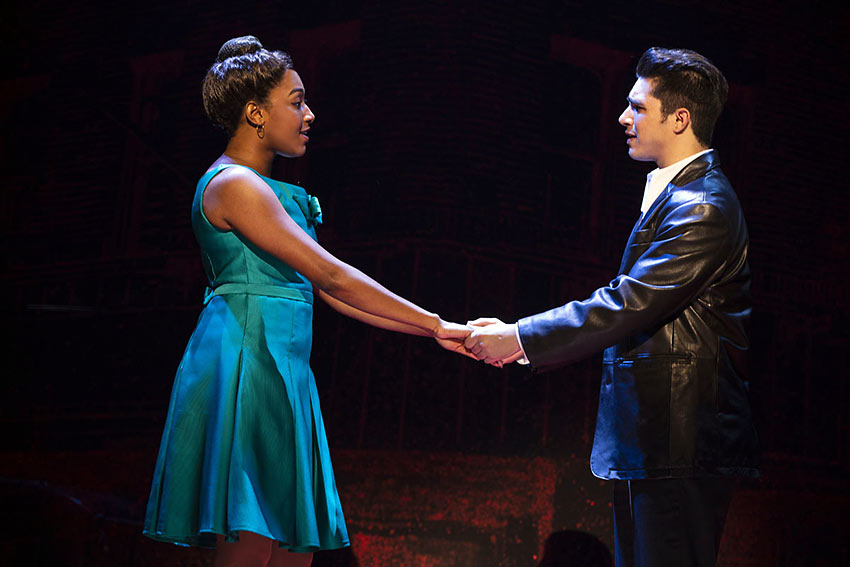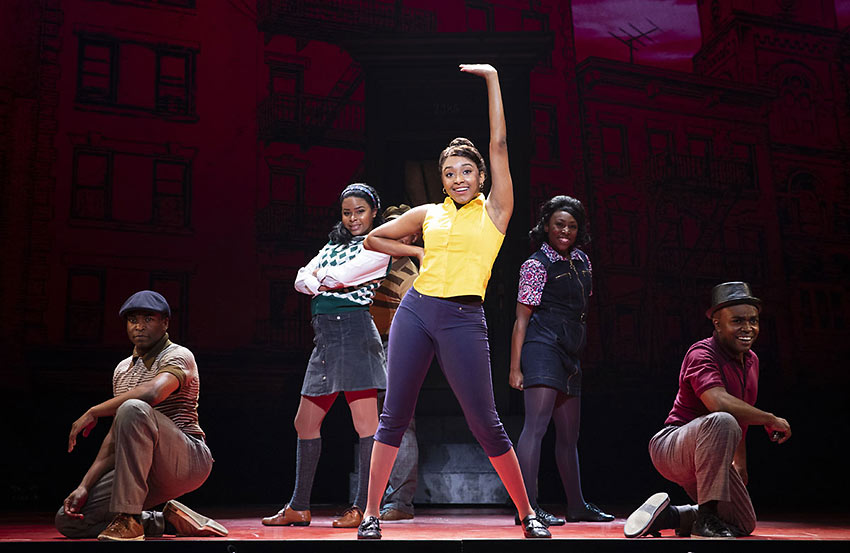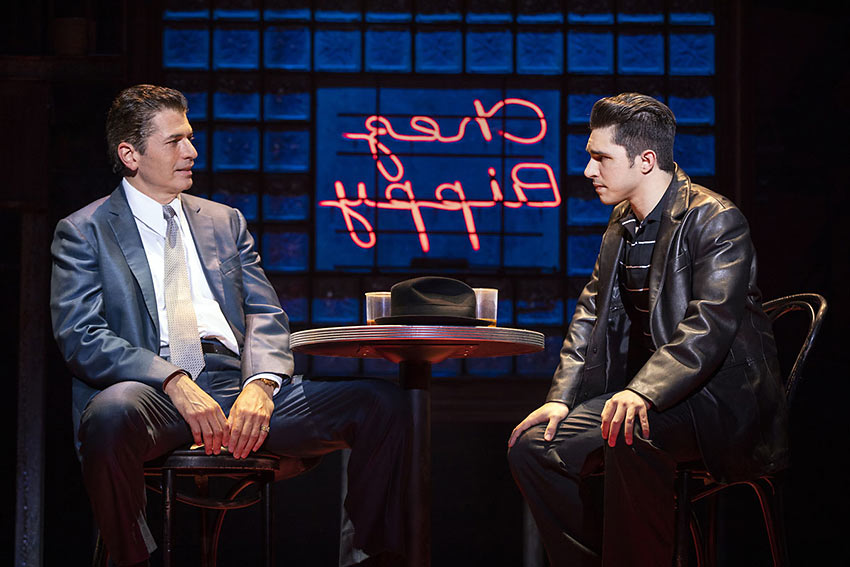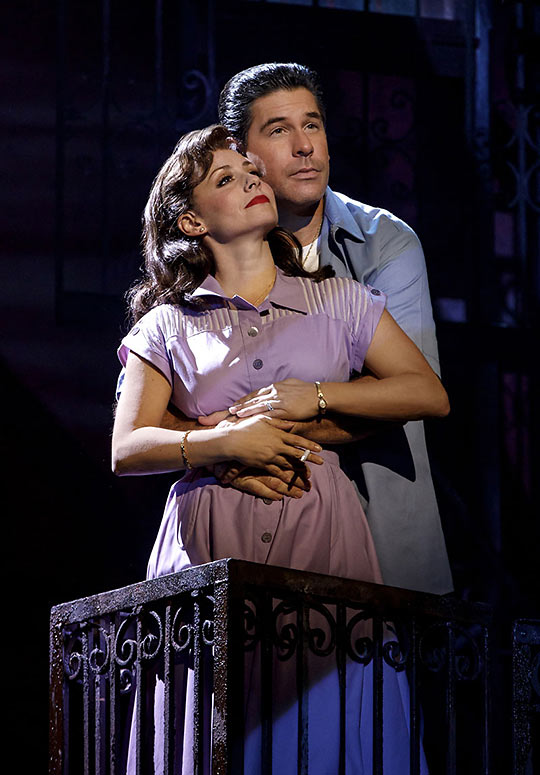 Of course, what would a good story be without a complicated love life and here we have yet another version of the war between the Capulets and Montagues in Shakespeare's "Romeo & Juliet," or the conflict between the white Jets and Puerto Rican Sharks in "Westside Story." So, this young man falls in love with Jane, (Brianna-Marie Bell) a black girl from Webster Avenue, forbidden territory for "C" and his gang, as is Belmont Avenue off limits for Jane's brother Tyrone (Antonio Beverly) and his gang.   Jane, Calogero, Tyrone, Denise (Ashley McManus) and Frieda (Brandi Porter) sing a rousing "Webster Avenue."  Some of the other production numbers include, "Look to Your Heart," "Giving Back the Money," "These Streets," "Out of Your Head," "In A World Like This," and "The Choices We Make."
A lot of talent went into creating this production including Robert Westley's excellent fight sequences and William Ivey Long's costumes.  Although there is nothing intrinsically wrong with this show – excellent acting and powerful legit voices – there is nothing particularly outstanding.  It's akin to a satisfying meal that doesn't stick to your ribs or cause a bitter aftertaste.  It's unmemorable, but nice.
*schmaltz – rendered (clarified) chicken or goose fat used for frying or as a spread on bread.
"A Bronx Tale"
Hollywood Pantages Theatre
6233 Hollywood Blvd.
Los Angeles, CA 90028
Performance Schedule:
Tuesday – Friday: 8:00 pm

Saturday: 2:00 pm & 8:00 pm

Sunday: 1:00 pm & 6:30 pm
No evening performances: Thursday 11/22 & Sun 11/25
Added performances: Monday: 11/19  8:00 pm & Friday 11/23: 2:00 pm
Closing:  1:00 pm Sunday, November 25, 2018
Individual Tickets start at: $35
Phone:  1-800-982-2787 or Online:  HollywoodPantages.com
Ticketmaster.com
In Person: Hollywood Pantages Box Office