Bluesmen have been lacing up their walking shoes and relocating to Europe for generations. The list is extensive; Memphis Slim made his home in Paris the latter part of his life, and Champion Jack DuPree lived in Switzerland, Denmark, Sweden, England and Germany. Harp player Hook Herrera still lives in Scandanavia and the late Frank Frost once said he loved being in Italy because the people there 'treat me so nice.' So, when L.A.-based guitarist Phil Gates packed his bags in 2016 and moved to the Swiss countryside, he was just following in the footsteps of a long-standing blues tradition.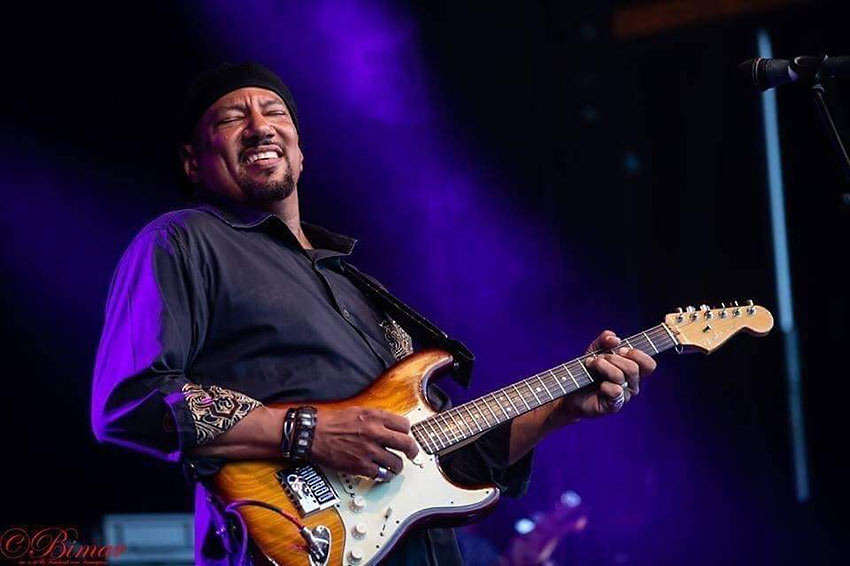 The question remains, why Switzerland? "I had been to Switzerland a few times on tour." Phil says. "And I liked it a lot. A few years ago I met my wife, who is from South America but was living in Switzerland. We dated long distance for a few years, but I decided to move there when we got married."
Are you playing a lot? "I've been playing as much as possible. I have a really good band that I've put together. The current line-up is Tom Wagener on drums, Uwe Rodi on keyboards, and Stephan Hug on bass. They're great cats." He adds. "I also have an amazing booking agent that has been getting us really GOOD gigs in nice venues and on big festival stages.
I've played a lot in Switzerland, and have had dates in Austria, some fun places in Germany, Greece, and Romania. It takes some time to get known in every country on this side of the pond, yet it's been a good path. As the talent buyers get to know you and what you do, they also see how we are on stage. You have to win country by country here, not state by state like in the U.S. It's tough enough getting known around America, but here you have to add different languages and different cultures. That said… that's exactly what makes it so fun! Being here for a few weeks or a month on tour is different than when you're living here. There's a different mentality to it."
You said you played at a few blues festivals this year? "Yes, we played the Dichis'n'Blues Festival in Tulcea, Romania. It was awesome! They have such great fans and organizers. We even did a boat cruise down the Danube River to the Black Sea with a jam that included all of the bands from the festival and even a few players from the audience!
We also played the PG Bike Festival in Öblarn, Austria and the Gossau Rock n' Blues Nights in Gossau, Switzerland. We've been fortunate enough to perform at some great club dates too. We did four nights in Athens, Greece at a place called the HalfNote. We have so much fun at the Blues venues because we bring a combination of musical genres with our show that really seem to resonate with the audiences."
I get the impression that you truly enjoy your time performing. "Absolutely, what I like about it is that one of the most comfortable places in the world for me is onstage. And when I get onstage it's like, it's my living room. It's like, hey come on in and get yourself a glass of wine or a beer, have a seat, let's have some fun, man. We're just going to chill out and have fun. Because I love being onstage and interacting with the audience. I've played everything from small clubs to the halftime of the Super Bowl and ALL of them are fun.  Whether it's a small crowd or large crowd it only takes a couple of people to have a great time."
Have you always had an appreciation for multiple genres; jazz, blues, rock and R&B? "Absolutely, I don't bag on any kind of music unless I can play it really well and have an informed opinion about it, and then go, 'Yeah, I like it… or not!'"
Gates says his earliest influences were jazz… "Coltrane and Parker and those cats, but also a heavy dose of Roy Buchanan, Carlos Santana, Tommy Bolin, Hendrix of course, a lot of those folks. What I try to do is learn a lot of different kinds of music so it's like spices in the kitchen. I can go okay, 'I want a little more spice today or a little less,' and then the way I mix it becomes Phil Gates."
Do you have a process when you write? "Yeah, it's mostly about, I'll come up with a pocket first. A little riff or something like that, that's just kinda' fun that emotes a certain kind of emotion. And that emotion will dictate how that makes me feel… and that dictates the story line. And then I'll start going down that path. If it makes me feel sad, well then it's probably going to be a relationship song about breaking up. But if it's a funky pocket song, it's probably going to be a club song."
Do you always write with the guitar? "Actually I write almost by hearing. What I'll do sometimes is I'll have drum loops on CD's and I'll just lay down in bed and I'll just hear different drum loops and a line will come to me. I almost want to hear stuff in my head. There's one song that I wrote that came out, I don't know four or five records ago, called 'Querida' and it's a salsa tune. And I mean I heard the WHOLE song (snaps his fingers) like that. The horn parts and everything like that, so my approach is varied."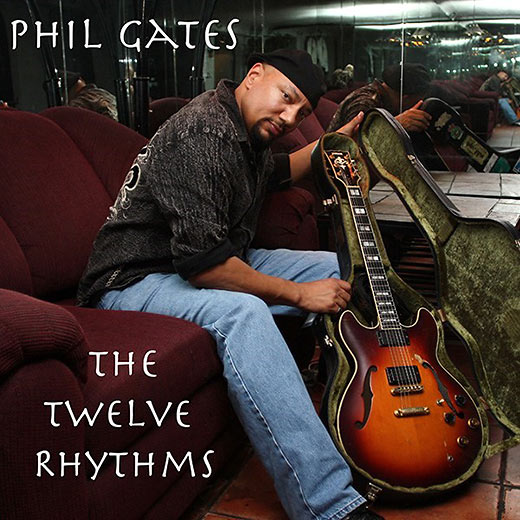 You released your 9th album 'The Twelve Rhythms' before you left the States… "Yes, and following up that CD is going to be a task because that was a really good record. It was my last record with my L.A. band. That band had Larry Houston on keys, Ron Battle on the bass, Keith Williams on drums and rhythm arrangements."
You had some friends sitting in as well? "Some great guest artists." Phil says. "Elizabeth Hangan on back-up vocals and vocal arrangements, Kenny Neal on harmonica, Eric Gales on guitar, Rob Mullins on acoustic piano, Tre Balfour on percussion, and Poncho Williams on saxophone. Amazing!"
Now that you're settled in Switzerland, are you still recording? "Absolutely I'm recording!" Phil says. "New fun stuff! For the first quarter of next year, I'll have two new records out with this new band I have here in Europe. One is a live record, and the other will be a studio record with 12 new songs. I'm mixing the live record now, finishing up writing the new studio record and trying to figure out the guest artists for this record… Busy, busy!"
Any plans for touring back in the States? "I would love to tour back in the States! I'm having conversations now about a southern East coast & Florida tour. I'd love to come back through Southern California as well. I'm open to the conversations, because I would love to play the new material in the States."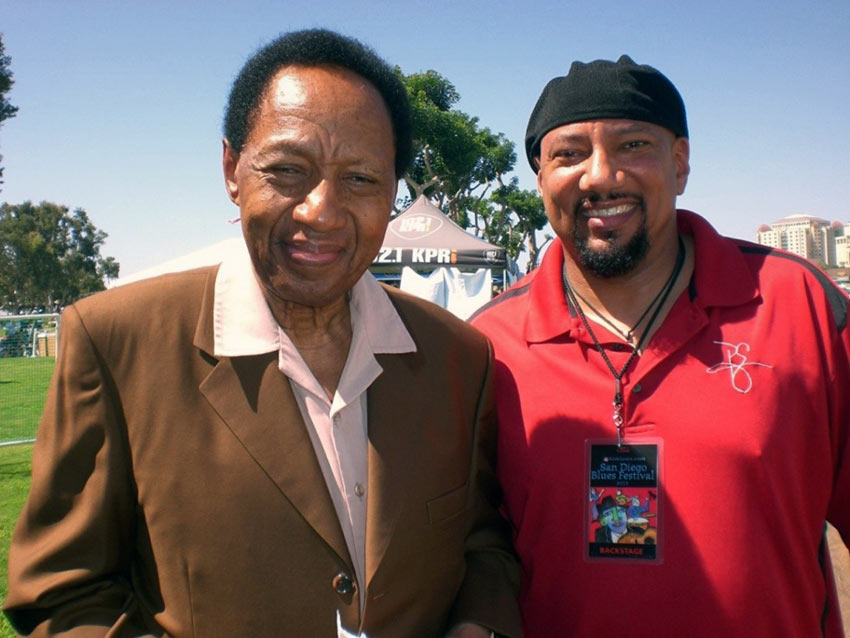 So give us the Phil Gates philosophy?  Gates just smiles. "I've beaten this horse to death.  It seems that a lot of the people 'in charge' of the blues, are afraid of it becoming Rock and Roll. The blues started with violin went to acoustic guitar went to a guy on a stool with a dobro and then went to Chicago and got electric. Now if you go, 'well if they have a band… that's Rock and Roll,' then you just cut out Muddy Waters. Okay, if you go, 'well a guy playing a distorted guitar behind his head is Rock and Roll,' then you just took out Buddy Guy. (laughing) "It moved it forward! These guys were not afraid to move it forward and I'm excited to see if we can STILL move it forward, or if people are going to say, 'Nah, if it doesn't sound like 1960's or earlier, it's not really the blues."
You are a military veteran. "Yeah, I spent five years in the Air Force, working in avionics on F-15 fighter aircraft and then I extended and was involved with the Air Force talent competition. You can be a musician in the military and get signed on as that or the military has a type of Star Search or American Idol and the winners become what they call, 'Tops in Blue.' And twenty-five people do a stateside tour and twenty-five people do a world tour and I was fortunate enough to be selected for the world tour. We did twenty-two countries and I was on the road for 373 days and we finished by playing the halftime at the Super Bowl. That was a lot of fun. The military truly paved my way, you know? It brands you with responsibility at an early age; it teaches you a ton of things about discipline, about structure and about order. The clearances that I had helped pave the way after that, because I ended up having a great career in aerospace after I got out of the Air Force."
Quite a career leap from aerospace to Blues…? "Before I made the change, I thought okay 'this is what I can do, but this is what I want to do.' And music is what I want to do, because if it was about the money… I should STILL be in aerospace! (laughing) So it's definitely about the passion for music, it's about the passion of working with other great musicians, the passion of the fans and the crowds and the whole thing."
Stay up to date on all of Phil's European exploits and get updates on his latest projects and tours by checking out his website.