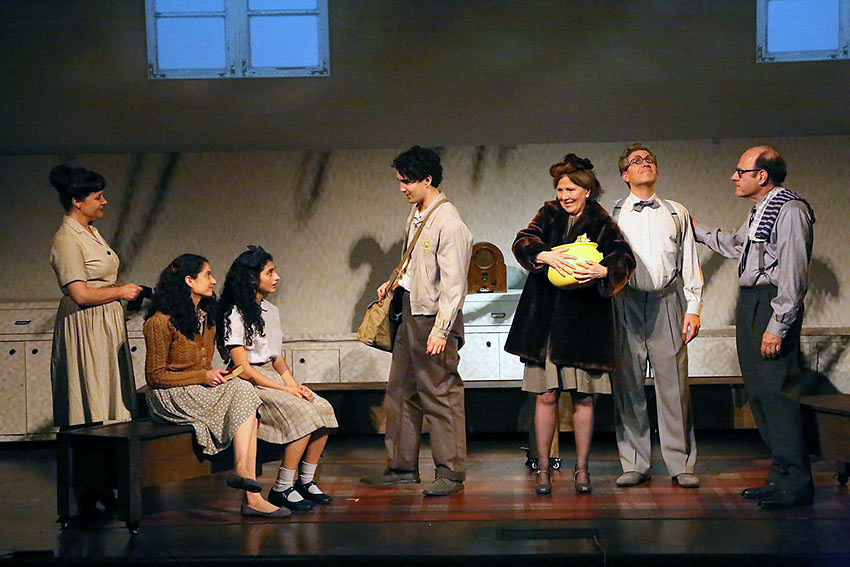 What can you say about Anne Frank,  one of the most famous people of the last century, that hasn't already been said? Her diary, "The Diary of Anne Frank," contains the ruminations of a young German Jewish girl who went into hiding in Amsterdam in 1944 with her family and friends desperate to escape the Nazi slaughter of Jews.  Living in cramped quarters for two years, this energetic young lady kept her sanity by writing to "Dear Kitty" in her diary every day, recording her hopes, fears, dreams, philosophy, and even her optimistic outlook, as well notes on the dawning of her sexual awakening.  As recorded history has shown us,  the Nazis eventually found the hiding place and everyone was arrested and carted off to concentration camps where Anne and her sister Margo died of typhus in the Bergen-Belsen camp just several weeks before the allies liberated the camps. Her father Otto Frank, the only surviving member of the family, posthumously published his daughter's  incisive wit, witticisms, and observations contained in her diary in 1947.
First printed in Dutch, and subsequently translated into 67 languages, this slim book has sold over 31 million copies.  A  play, based on Anne's diary, made its Broadway debut in October 1955 and ran for 717 performances, winning a Pulitzer Prize.  Subsequently, it was made into a film directed by George Stevens, winning three Academy Awards, including the Best Supporting Actress nod going to Shelley Winters, who donated her Oscar to the Anne Frank Museum.  The film is listed as eighteenth in AFI's Top100 of the most inspiring American films.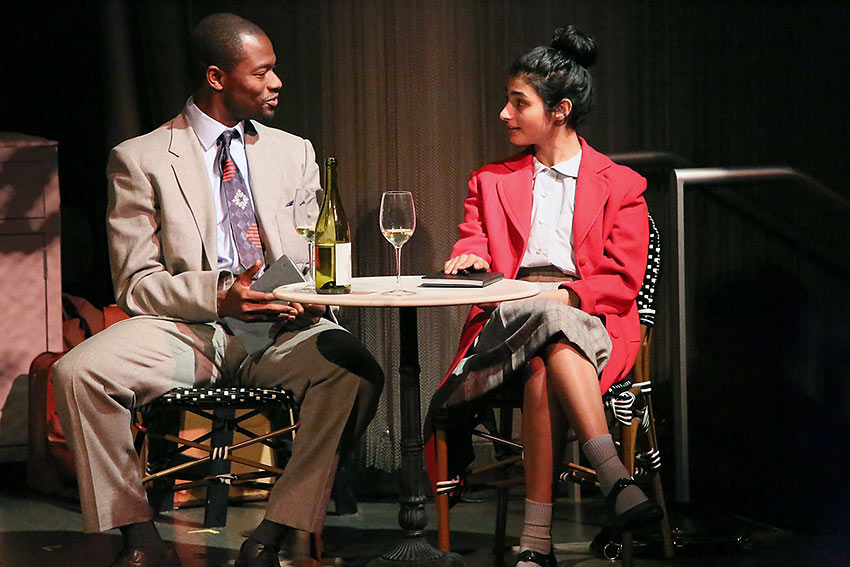 So, I'll pose that question again: What can you say about Anne Frank that hasn't already been said?  In an attempt to alter the famous narrative, "Anne," currently on stage at the Museum of Tolerance's Pelz Theatre, is a fantasized interpretation written by Jessica Durlacher and Leon de Winter, based on Frank's The Diary of a Young Girl adapted by Nick Blaemire.   Directed by Eve Brandstein, in this version, Anne (Ava Lalezarzadeh) survives the concentration camp and is now a young lady in her twenties determined to get her story published.  She meets with a publisher (Timothy P. Brown) who is interested in her experience. With the ensuing action sticking very closely to the original text as penned by Anne, he silently observes the events unfolding on stage replicating the life and times as experienced by the people co-existing in that infamous hiding place.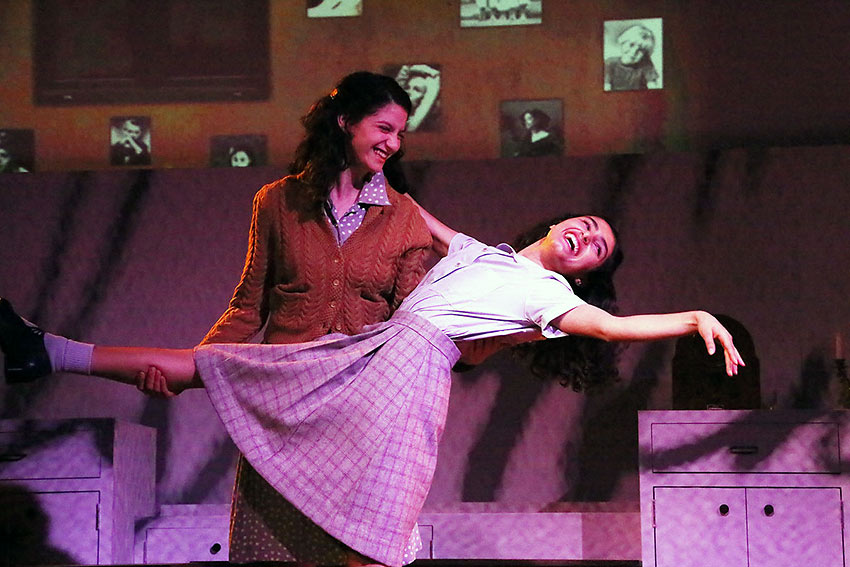 The ensemble does a creditable acting job in bringing these characters to life.  The cast consists of Rob Brownstein as Anne's dad Otto,  Andrea Gwynnel as Edith Frank, Marnina Schon as Margot Frank, Aylam Orian as Herman van Pels, and Mary Gordon Murray as Mrs. van Pels and Miep, the good Samaritan who provides the group with food and hope.  Tony DeCarlo also plays multiple roles, with Kevin Matsumoto playing Peter van Pels, the young boy with whom Anne falls in love. Technically, given the limited space and production budget, Desma does a good job with her set design depicting the Frank family home in Amsterdam and the Annex hiding place where the inhabitants try to live some semblance of a normal life.  Other production values consist of Lighting Design by Ian James, Derek Christiansen's Projection & Sound Design, and Florence Kemper Bunzel's Costume Design.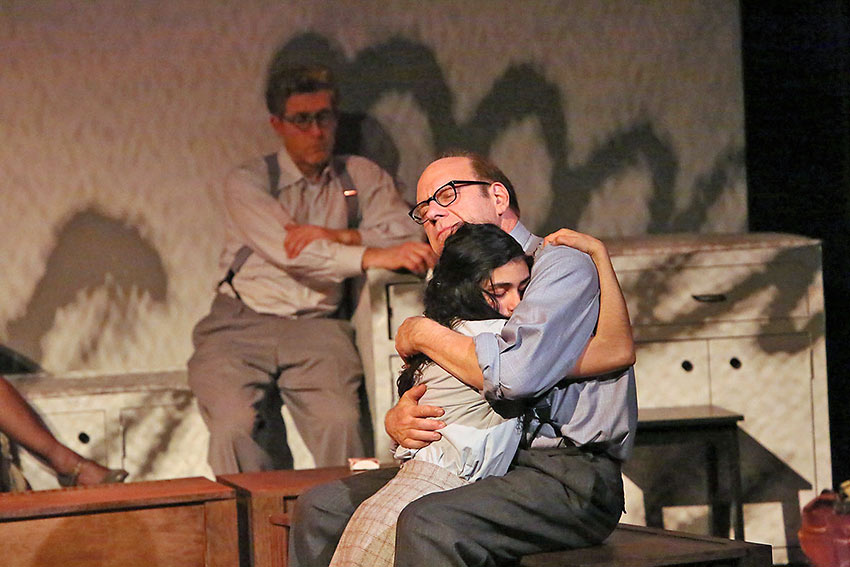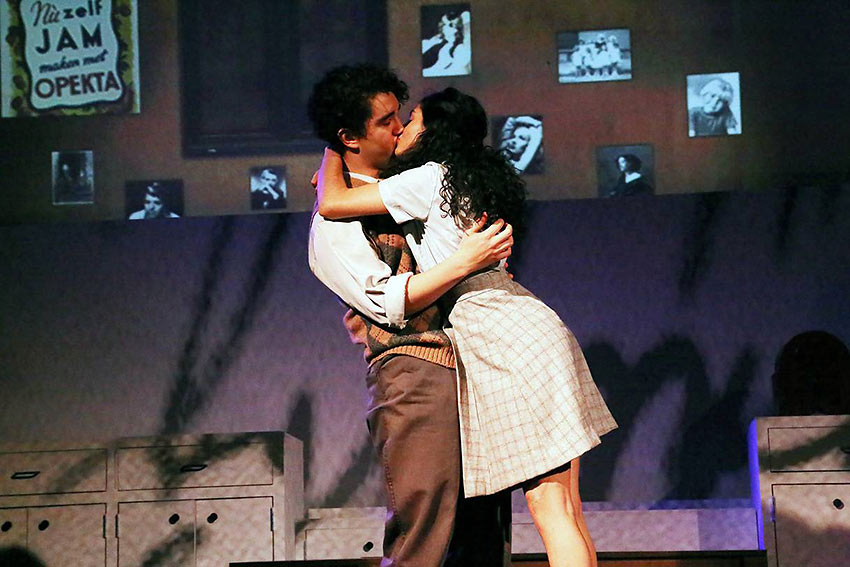 This June, Anne Frank would have celebrated her 90th birthday.  Just think what the world would have benefited from her talent had she survived.  Just think also about what 6,000,000 murdered Jews could have contributed to humanity.  With the world Jewish population at around 13.3 million, almost close to half live are divided between America and Israel, which has become a world leader in such fields as science, technology, medicine, chemistry, physics, agriculture, and water conservation.*
Today, the powerful "Never Again" battle cry has tiny cracks in it given the escalation of anti-Semitic acts being committed around the world and at home, sprouting from the explosive, divisive political climate permeating our country.   We need not look any further than "The Diary of Anne Frank" to be reminded of the potential catastrophic consequences of singling out a group of people and making them "the enemy of the people."
*Israel's top 45 greatest inventions of all time | ISRAEL21c
New Israeli Cancer Vaccine Triggers Response In 90% Of Cancer
"ANNE"
Pelz Theatre
Simon Wiesenthal Center
9786 West Pico Blvd.
Los Angeles, CA 90035
Run:
Sundays:  3:00 pm & 7:00 pm
Mondays: 8:00 pm
Closing:  Monday, July 22, 2019
Tickets:
General Admission:  $40
Seniors: $25
Students:  $20
Family Pack:  $100 (two adults and up to three children)
310.772.2505 or www.museumoftolerance.com