Part 1: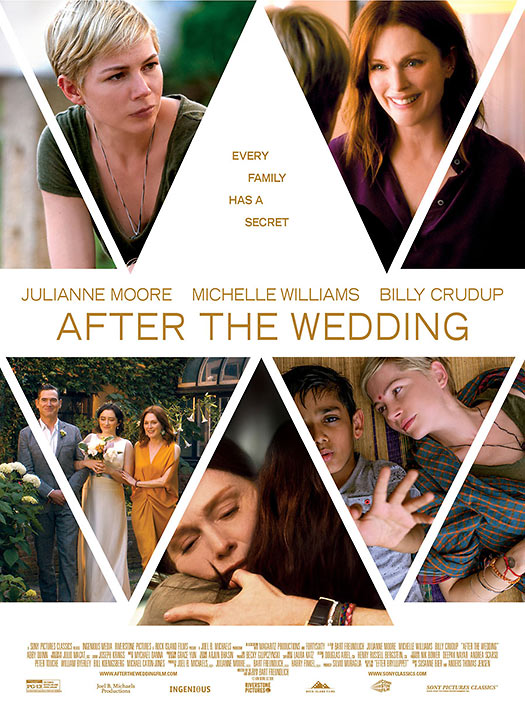 Julianne Moore (Julie) is one of Hollywood's most gifted actors.  She has won an Academy Award and an Emmy and was the first American woman to be feted with acting awards at film festivals including, Cannes, Berlin and Venice.  Due to her father's military career, Julianne lived in dozens of countries around the world.  Eventually, she enrolled in Boston University where she earned a Bachelor of Fine Arts degree.  She cut her teeth on episodic television series such as, "The Edge of Night," "Another World," "B.L. Stryker,' and "30 Rock." Moving onto the big screen, she gave memorable performances in such films as The Hand That Rocks the Cradle, Body of Evidence, Benny & Joon, The Fugitive, Roommates, Nine Months, Surviving Picasso, The Lost World:  Jurassic Park, Boogie Nights, Welcome to Hollywood, Psycho, Hannibal, Far from Heaven, The Hours, Children of Men, I'm Not There, A Single Man, The Hunger Games:  Mockingjay – Part 1, (and Part 2) The Kids Are Alright, and The Big Lebowski, which, starring Jeff Bridges, turned into a cult classic.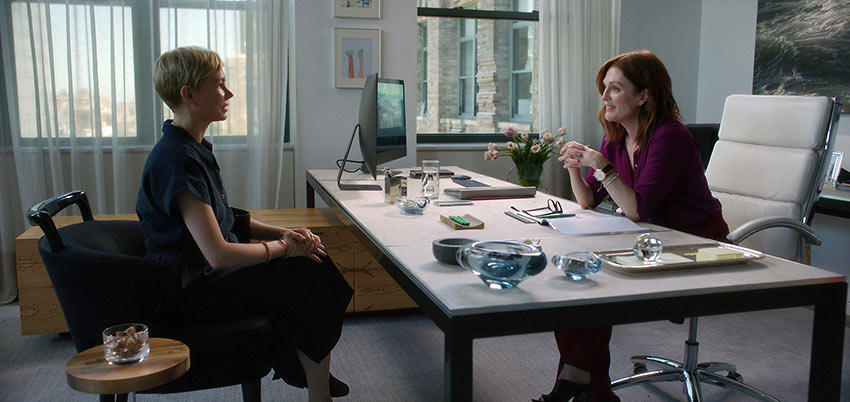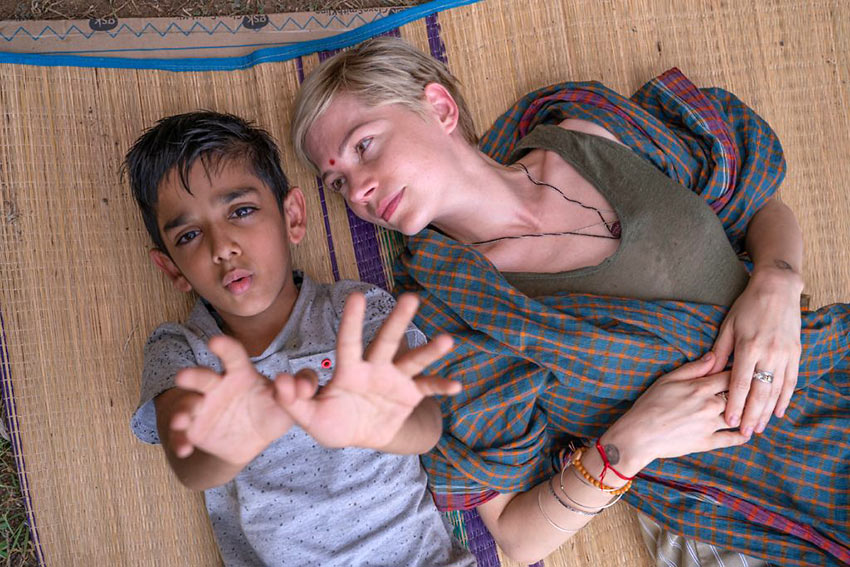 Julianne's latest film is After the Wedding in which she plays Theresa Young, a high-powered media mogul who has amassed millions.  Directed by her husband Bart Freundlich, Michelle Williams co-stars as the mysterious Isabel, who runs an orphanage in a poor section of Calcutta.  Billy Crudup plays Oscar, Theresa's husband, and Abby Quinn plays their daughter Grace, who has two younger twin siblings.
Bart, Julianne, and Abby Quinn* recently sat down with a select group of journalists to talk about their film and other topics and the following interview has been edited for content and continuity for print purposes.
Danish filmmaker Susanne Bier's Academy Award nominated film — featured the two main characters as men.  Why did you change those characters to women?
Bart:  Susanne Bier's and Anders Thomas Jensen's film was so complex emotionally that I didn't see any reason to remake it in English.  So, it needed some kind of reinvention.  When Julie saw the movie, she was really drawn to the role of Theresa and expressed interest in that role.  I don't think it was a real thought that we were actually going to change the genders.
How did the change actually take place?
Bart:  During discussions with the producers, I talked about how we would give the story a new life. They said that we should try to reinvent it with the lead characters as two women instead of men. Because I knew the plot so well, I was confident that it would not be a major stumbling block. I struggle talking about this because I don't want to give away too much away, so I rely on all of you to figure it out. (Laughter) But obviously the challenge was going to be if you're a woman and have a baby, you're going to know. One of the male characters in the original screenplay was ignorant about the existence of the baby. The thing that became the ultimate stumbling block became the thing that helped me reinvent the story.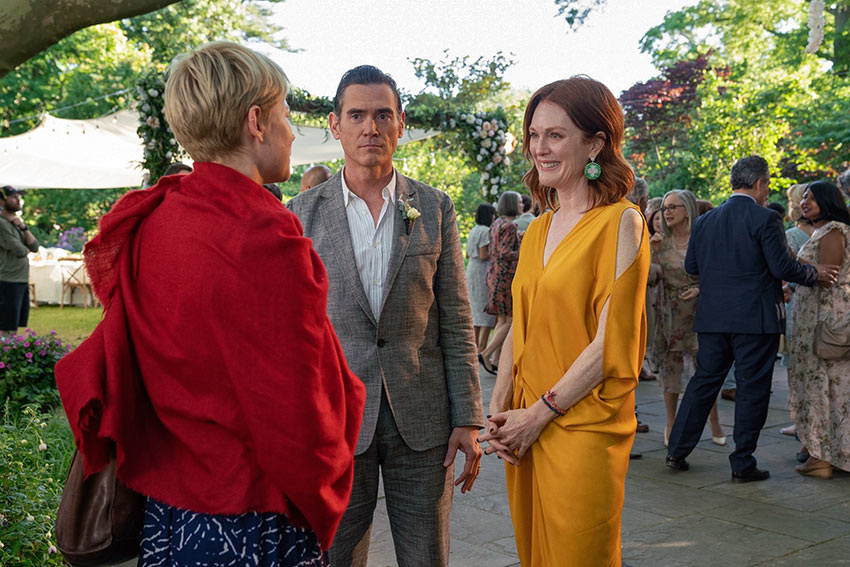 How did you approach the new concept?
Bart:  I researched people who had been given up as babies and were adopted by a different family asking them how they felt about that.  It gave me a whole new world to explore and it felt really exciting to have two women at the heart of the movie — both of them very strong characters with totally different life philosophies and both of them convinced that their philosophy of the world is the right one.  I loved that contrast and having Julie and Michelle play those roles.
Julie:  We all had to make a considered decision.  Every adult in this film knows about the decision and kept it a secret.  That deliberateness really heightened the drama tremendously. It's like people make the best decision they can at the time and later oftentimes have regrets.
Your character is very strong and successful.  Did you base her on someone you know?
Julie:  I've seen examples of women who have big lives — who have successful careers and also have families they are dedicated to, and what it takes to achieve that. I'm always impressed by how much they are able to accomplish. Many roles for women are paper-thin where you are that horrible person who hires you.  It's nice to see a woman in a powerful position who is not represented as an evil boss lady.
Did you guide the actors in the development of their characters and did you take input from them?
Bart:  I thought a lot about the story line and the characters, but the actors did their own work in becoming those people. You try to listen to them because they're usually right.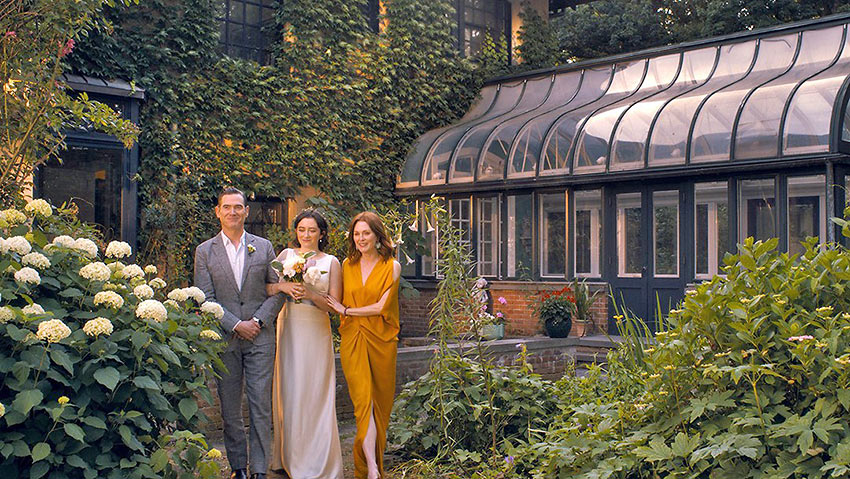 What did you use in your acting toolbox in that emotional scene between you and your husband?
Julie:  A lot of water.  (Laughter) My character doesn't reveal that she's sick to anybody so when you get to that moment, that's truly a very private moment and the only person who will see her that way is her husband.  Despite all her pent-up tension, you've never seen her crack, and then you see her implode.
Bart:  I feel why her character was so important was that she was doing all the things she had to do so set up everyone's life as a way to keep moving forward. And, after all was said and the secrets were finally out, there was no more to do. And, I loved it because she's not just sad – she's furious because she's someone who's so capable and yet there's nothing she can do to change the impending outcome.
*Due to space limitations, Abby's portion of the interview is not included.
In Part 2, Julianne Moore talks about her personal philosophy, her approach to character development, and the shortage of good roles for women.