The Art of Swimming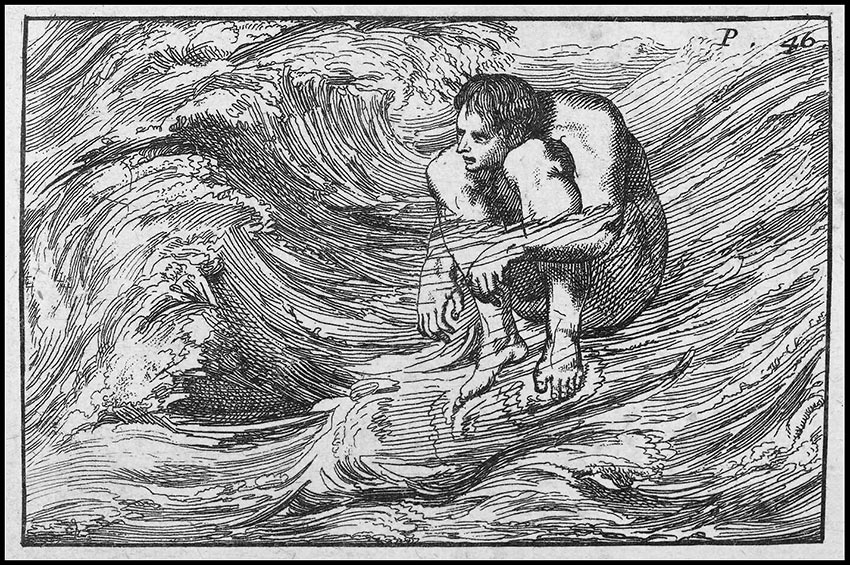 De Arte Natandi ('The Art of Swimming'), by Sir Everard Digby, published in England in 1587 but written in Latin, was the first treatise on the topic published in Britain. Written in an age when many people could not swim and drowning was a regular cause of death, it features advice on different swimming techniques, detailed information on how to enter the water safely and advice on what kinds of water were safest to swim in.
People claimed that they regularly saw dead bodies being retrieved from the New River in London, which sparked an interest in the resuscitation of the apparently drowned. The Royal Humane Society was founded in 1774 to aid resuscitation of the near drowned, and still exists today.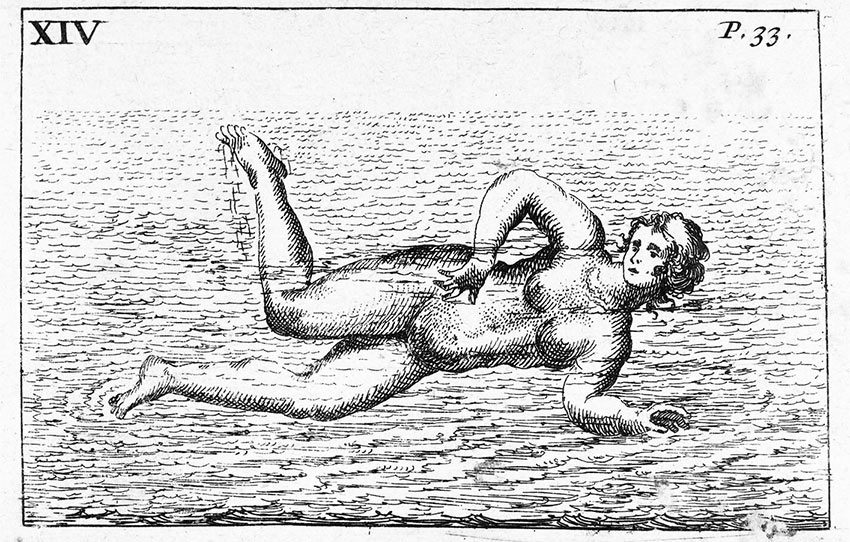 A Peep at the Mermaids
The late 18th century saw a growing advocacy of the health-giving properties of the seaside – and of sea bathing. This included not just the growing practice of sea-bathing but the voyeuristic nature of summer amusement or 'a peep at the mermaids.'
Swimming at the Modern Olympic Games
Although competitive swimming had been part of the modern Olympic Games since their inception in 1896, the 1912 Games was the first to feature events for women – the individual 100 metres and the 400 metres relay. The introduction was not uniformly welcomed: only three teams entered the relay and prior to the games both the French and American delegations opposed swimming being introduced to the Games for women.
Pioneer Health Centre
Aiming to uncover the factors that resulted in positive health, the Pioneer Health Centre was a family health and social centre located in Peckham in London.  At the centre of the building was the swimming pool – the second largest in London at the time.
Captain Webb: The First Person to Swim the English Channel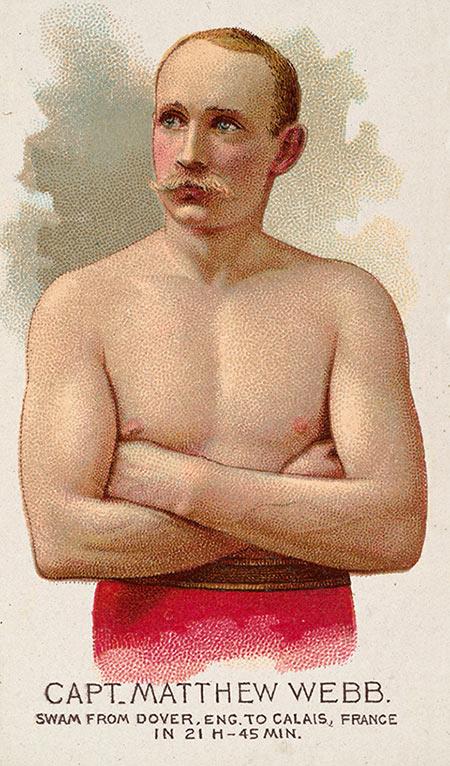 On August 24, 1875, Captain Matthew Webb of Great Britain becomes the first man to successfully swim the English Channel without assistance. After the feat, Webb became an international celebrity, admired for both his prowess in the water and his penchant for risk-taking.
Born in Shropshire, England on January 19, 1848, Webb taught himself to swim in the River Severn at Coalbrookdale. At just 12 years old, he enlisted as a merchant seaman, and eventually was named captain of the steamship Emerald. Webb had a well-deserved reputation for recklessness, and often had trouble convincing sailors to remain in his employ. In August 1872, he became a hero in England when, while traveling on a ship, he dove into the Atlantic to rescue a fellow passenger who fell overboard. Although the man drowned, Webb emerged unscathed 35 minutes later and was rewarded with medals of bravery for his efforts. He then embarked on a career as a professional distance swimmer, taking huge risks in order to add to his fame and fortune.
After hearing of a failed attempt to swim the English Channel by British swimmer J.B. Johnson in 1873, Webb set his sights on becoming the first man to swim the treacherous body of water without assistance. He made his first attempt on August 12, 1875, but was stymied by high winds and bad conditions. Unfazed, he tried again less than two weeks later.
After covering himself with porpoise oil to keep warm, Webb, trailed by a flotilla of three boats, entered the water near Dover's Admiralty Pier. Though he was stung by a jellyfish eight hours into his attempt, he persevered after being soothed by a nip of brandy. He swam into the out-rushing tide toward Cape Gris-Nez, which is now often used as the starting point for Channel swims. Finally, after 21 hours and 45 minutes of swimming against the tide—the equivalent of 39 miles–he waded onto the beach at Calais at 10:40 a.m., the morning after he began his swim, exhausted. His achievement was celebrated all over the world.
On July 24, 1883, Webb attempted his final stunt: a swim across the Niagara River, downriver from Niagara Falls. Many warned him the stunt was suicide, and, unfortunately for Webb, they were right. Webb drowned in the whirlpool approximately 10 minutes after entering the water. His body was found four days later.
That Sinking Feeling: 10 Cities Could Disappear by 2100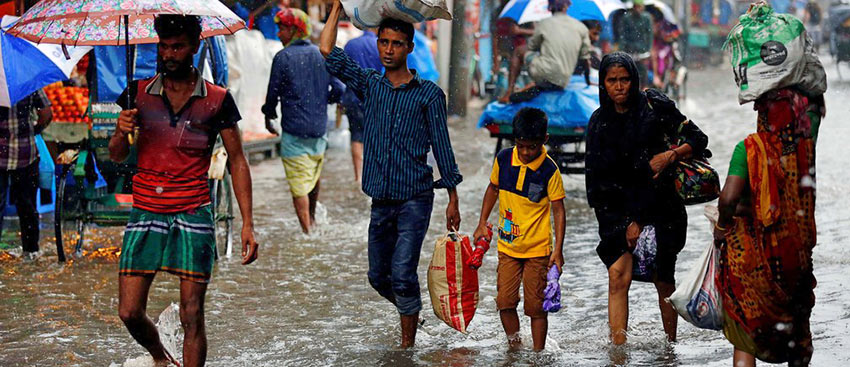 Global temperatures and sea levels are rising. Low-lying coastal cities are already experiencing devastating floods and working to come up with creative solutions to combat rising tides.
Some cities are sinking due to increasing sea levels slowly encroaching on their coasts, while others are sinking because of excessive groundwater pumping that creates a change in pressure and volume that causes land to sink.
Here are 10 sinking cities that are in danger of disappearing.
Jakarta, Indonesia. Jakarta is sinking up to 6.7 inches per year due to excessive groundwater pumping (which creates a change in pressure and volume that causes the land to sink). Much of the city could be underwater by 2050. The Indonesian government recently approved a plan to move the capital 100 miles away from its current location on the island of Java in order to protect its 10 million residents from more flooding. The move would take about 10 years and cost $33 billion.
Lagos, Nigeria. Lagos' low coastline continues to erode, and rising seas caused by global warming put Africa's largest city in danger of flooding. A 2012 study from the University of Plymouth found that a sea level rise of three to nine feet would " have a catastrophic effect on the human activities in these regions." Global sea levels are expected to rise 6.6 feet by the end of this century.
Houston, Texas. Parts of Houston are sinking at a rate of 2 inches per year due to excessive groundwater pumping. The more Houston sinks, the more vulnerable it becomes to increasingly frequent disasters such as Hurricane Harvey, which damaged nearly 135,000 homes and displaced around 30,000 people.
Dhaka, Bangladesh. Bangladesh produces 0.3% of the emissions that contribute to climate change, but the country is facing some of the biggest consequences of rising sea levels, according to The New York Times. Oceans could flood 17% of Bangladesh's land and displace about 18 million of its citizens by 2050.
Venice, Italy. Venice is sinking at a rate of 0.08 inches every year. Italy began building a flood barrier consisting of 78 gates across its three inlets in 2003. It's known as 'Mose.' The barrier was supposed to be completed in 2011, but will likely not be ready until 2022. When a series of storms hit Venice in 2018, the $6.5 billion project was still incomplete. The flooding was the worst the city had seen in a decade. Read more: A $6.5 billion sea wall was supposed to stop Venice from flooding. Now, most of the city is underwater.
Virginia Beach, Virginia. Virginia Beach has one of the fastest rates of sea-level rising on the East Coast, factoring in both rising water levels and sinking land. The National Oceanic and Atmospheric Administration estimates that Virginia Beach could experience up to nearly 12 feet of sea level rise by 2100.
New Orleans, Louisiana. Parts of New Orleans are sinking at a rate of 2 inches per year and could be underwater by 2100, according to a 2016 NASA study. Some parts of New Orleans are also 15 feet below sea level, and its location on a river delta increases its exposure to sea-level rise and flooding.
Rotterdam, The Netherlands. According to The New York Times, 90% of the city of Rotterdam is below sea level. As ocean levels rise, the risk of flooding increases. The Dutch have built "water parks" that double as reservoirs for the swelling water levels in a project called Room for the River, as well as enormous storm surge barriers.
Alexandria, Egypt. Alexandria's beaches have been disappearing as sea levels continue to rise. The Mediterranean Sea could rise as much as 2 feet by 2100, according to NPR.
Miami, Florida. Environmental author Jeff Goodell previously told Business Insider that " there's virtually no scenario under which you can imagine [Miami] existing at the end of the century" and referred to it as "the poster child for a major city in big trouble." Miami's sea levels are rising at faster rates than in other areas of the world, resulting in floods, contaminated drinking water, and major damage to homes and roads. The city may soon have to raise its structures to stay above water.
Chloe McCardel: Swimmer Beats Men's Channel Record and Quarantine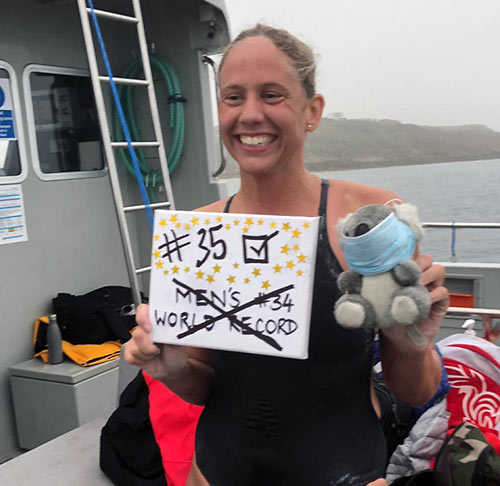 A swimmer has broken the men's record for the number of cross-Channel crossings – and been assured her fears of falling foul of the UK-France quarantine rules are unfounded.
Australian Chloe McCardel took 10 hours and 40 minutes to complete her 35th Channel crossing, after setting off from Kent on Saturday evening.
She was worried arriving in Calais would require her to self-isolate.
But she said UK and French coastguards have given her the all-clear.
"I'm in great spirits," Ms McCardel said.
"I would like to have a little celebration this evening in England. I'm extremely lucky to be surrounded by so much love and support, from my English host to my support boat captains and crew, and I'm excited to celebrate this achievement together with them."
The 35-year-old started her 21-mile swim from Abbot's Cliff beach near Folkestone at 20:00 BST on Saturday, and arrived in France just before 07:00.
She intended to spend only a few moments on the French shore before swimming back out to her support boat for the return journey.
"We don't go anywhere near the border officials or passport control, so I'm hoping technically the quarantine thing won't apply," she had said ahead of the swim.
Ms McCardel is now second on the list of the most Channel swims, passing the men's record of 34 held by Briton Kevin Murphy.
Equalling the women's record will be a greater task, however – Alison Streeter, the "Queen of the English Channel", has swum the distance 43 times.
10 of the Most Popular Topless Beaches Around the World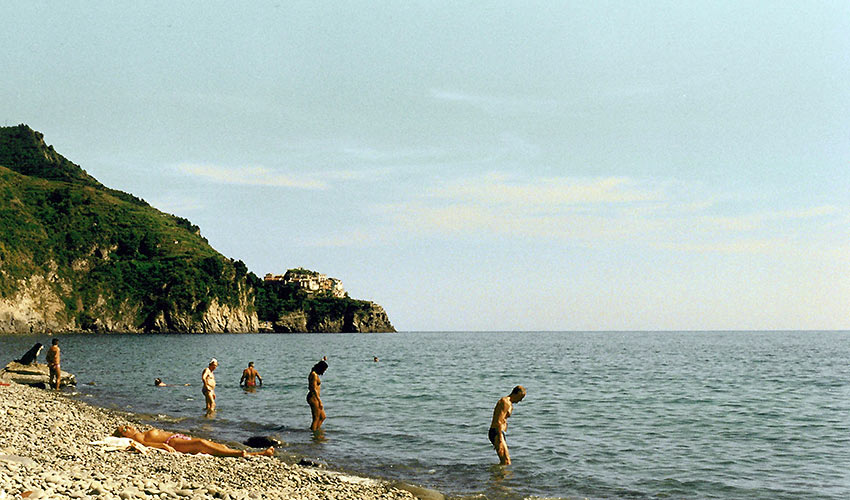 The most popular topless beaches are nice and well-kept beaches, and they are found over North America, the Caribbean Sea and in Europe. But as most of us can assume, being at a topless beach definitely isn't for everybody. But here are the ten most exclusive topless beaches:
10 Corniglia Beach, Italy
Corniglia Beach in Italy is located only a few miles away from some of the most popular non-nudist beaches in the country. However, it's quite the journey to get to this beach, as you'll have to hike up some hills and pass through a tunnel (so bring a flashlight in addition to your sunscreen!) and you'll find yourself in one of the most popular nude beaches in Italy. The unique aspect about Corniglia is that it has very few tourists here, and most of the topless people on the beach are Italians.
9 Bellevue Beach, Denmark
You may be wary about going to Scandinavia for a topless beach, especially considering that the area is noted worldwide, for its extremely cold temperatures. But in the summer time, the temperature is much more moderate. The seven hundred yards length of beach at Bellevue makes this beach in Denmark, one of the most popular nude beaches in the country, and also has lifeguards to ensure the swimmers' protection.
8 Valalta Beach, Croatia
Valalta Beach in Croatia is widely regarded as one of the finest nude beaches in Europe.  The beach is nearly two miles long and consists of fine sand, coves and a resort town not too far away. If you really want to enjoy yourself topless at a beach in Europe, you should definitely consider Valalta. It's also a good option for anyone looking to get on a romantic getaway with their spouse or partner.
7 Moorea Beach, Nevada
Number 7 differs from the other entries on this list because it is part of a hotel and involves a beach. Unlike some of the beaches we've looked at thus far, Moorea Beach in Las Vegas is a topless only beach. Additionally, there's a resort and casino (after all, it is Las Vegas) nearby, that is for adults only but also allows you to be topless inside the resort and at the pool.
6 Whale Beach, Nevada
Whale Beach in Nevada is an example of a beach that isn't officially classified as a nude or topless-only beach. The beach, located along Lake Tahoe, is very beautiful and holds many small caves and beautiful oases along the sand, but part of the beach allows for fully nude people, while other parts only allow for topless nudity. When you arrive at the beach, make sure that you are aware of what you are getting yourself into.
5 Leucate Beach, France
You might have guessed that a beach from France would have to appear on a list of the most exclusive topless beaches of the world, and if you did guess so, then you guessed right. The Leucate Beach in France has some of the finest sand of any beach in the country, and is also regarded by some as one of the best nude beaches in the entire world. Located nicely along the Mediterranean Sea, there are also quite a few fancy resorts just outside of the beach as well. Plus, there is a lot of space on this beach, more so than on other topless beaches. If you're cautious about getting naked publicly or seeing other people topless, then this is a good option for you.
4 Wreck Beach, British Columbia
Considering that much of British Columbia is a part of the Pacific Northwest in North America, you may not consider going to a beach in a cooler part of the world. Nonetheless, during the summer, the temperature is excellent here in British Columbia, and Wreck Beach is the most popular beach in the province and one of the most popular in Canada. Wreck Beach is not accessible by road, so you'll have to park your car and then walk (possibly naked) over to the beach from a distance. The beach is notable for having numerous vendors selling beverages and T-shirts…only the vendors themselves are topless as well.
3 Cap d'Agde, France
Cap d'Agde has been called the capital of nudism before. Part of that is because the town is not the only part for nudists; the entire town is full with nudists as well. That's right, you'll find people eating at restaurants naked, shopping naked, visiting old shops naked and doing their finances at the bank naked. While nudity is optional on the town, it is mandatory on the beach. Cap d'Agde is also just five hours away from Paris, so you'll be able to visit one of the most famous cities in the world in just one drive. Overall, Cap d'Agde is one of the most popular nudist destinations in the world, with tens of thousands of nudist people coming here annually. If you want to strip off your top and do, literally everything you can topless, then you'll have to include Cap d'Agde as an interesting choice of destination.
2 Montalivet Beach, France
Perhaps the most popular topless beach in France is Montalivet Beach. This beach is considered to be the birthplace of nude beaches, having opened all the way back in 1950, and still more popular today than ever. There are also two sections to this beach; one is family friendly (one would think how a nude beach could be family friendly), and another side that's not exactly so. Nonetheless, both sections to the beach will allow you to sprawl out on the warm sand and get a body tan or give you easy access to the luxurious resorts.
1 Haulover Beach, Florida
Haulover Beach is simply the most popular nudist (and topless) beach in America, and one of the most popular in the world. Hundreds of thousands of nudists converge here each year.  Located in northern Miami, the climate is very warm and temperature and the beach is one of the finest in North America. At over eight hundred yards long, everything you would want in a topless beach is right here in Haulover. Miami isn't too far away either, so there' s more to do than just hang out on a nude beach.
6 Destinations with Sunscreen Bans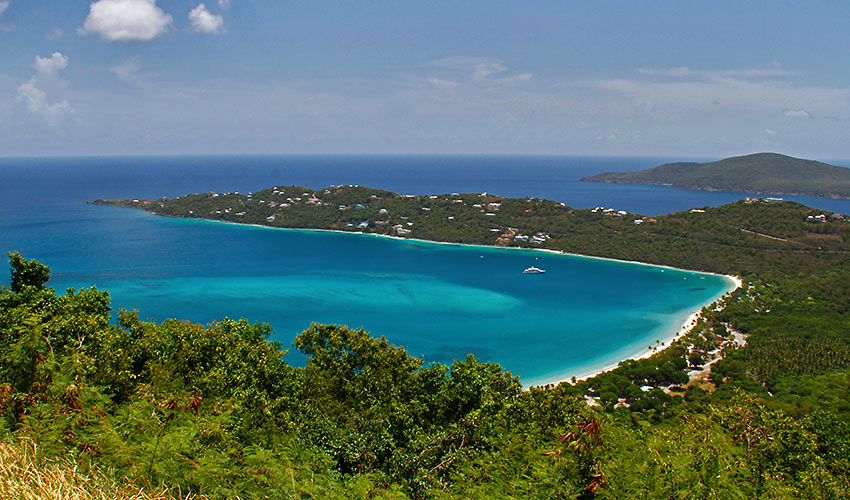 The U.S. Virgin Islands recently announced a ban on chemical sunscreens that are harmful to coral reefs, outlawing all imports and sales of sunscreens containing oxybenzone and octinoxate. The bill was signed into law in July 2019, and its terms will go into effect in March 2020.
Hawaii — The reef-rich state of Hawaii voted to ban the sale of sunscreens that contain the reef-damaging chemicals oxybenzone and octinoxate beginning in 2021. Experts have said the move is an effort to put pressure on sunscreen manufacturers to better label and produce natural sunscreens that use equally effective zinc oxide, which doesn't harm reefs.
Key West, Florida — Key West — the home of the largest coral reef in the continental United States—recently followed Hawaii in enacting a non-biodegradable sunscreen ban on its businesses. Starting in 2021, no stores in Key West can carry sunscreens that contain the reef-damaging chemicals.
Bonaire — The Caribbean island of Bonaire unanimously voted to ban the sale of reef-killing sunscreens in its stores by 2021. Scientists studying the effects of oxybenzone and octinoxate on reefs have conducted research in the Caribbean and said "about 90 percent of the reefs in the Caribbean have disappeared since 1980."
Palau — But it's not just the U.S. and Caribbean banning harsh sunscreens—parts of the Pacific are starting to follow suit. The archipelago nation of Palau is set to become the first country to enact a sunscreen ban, which will take effect in 2020. Palau lawmakers have said businesses could be fined up to $1,000 for selling non-biodegradable sunscreens. "The power to confiscate sunscreens should be enough to deter their non-commercial use, and these provisions walk a smart balance between educating tourists and scaring them away," Palau President Tommy Remengesau said of the change.
Mexican Vacation Spots — While it's not technically banned here, popular vacation spots in Mexico are some of the most likely places for Americans to be asked not to use their harsh sunscreen. Popular cenote swimming holes in the Riviera Maya that are home to copious animal life typically ask that visitors only use natural sunscreens. Ecotourism preserves and natural water parks like Xel Ha, Xcaret Park, Garrafon Natural Reef Park, and similar spots in Cozumel and Playa del Carmen are also asking visitors to use only natural sunscreens.
Pearl Hunting & Diving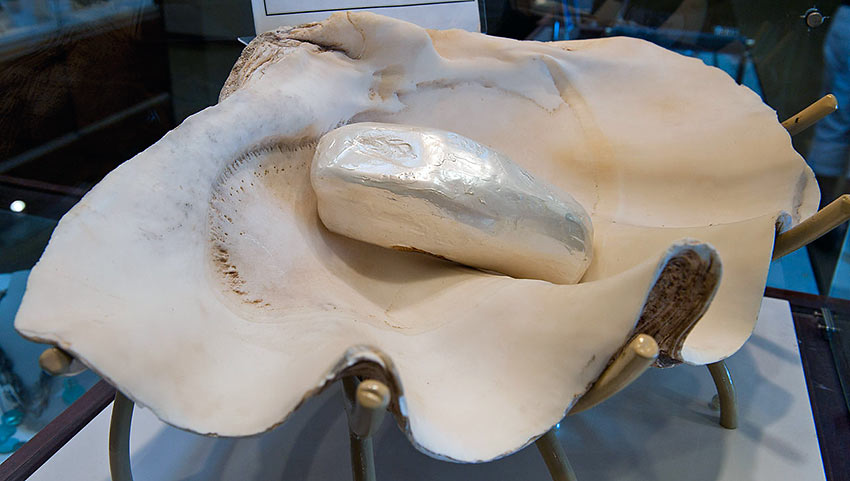 Pearl hunting, also known as pearling, is the activity of recovering pearls from wild molluscs, usually oysters or mussels, in the sea or fresh water. Pearl diving began in the 1850s on the northern and north-western coast of Australia, and started in the Torres Strait, off Far North Queensland in the 1870s.
Pearl hunting used to be prevalent in the Persian Gulf region and Japan. Pearl diving began in the 1850s on the northern and north-western coast of Australia, and started in the Torres Strait, off Far North Queensland in the 1870s.
Before the beginning of the 20th century, the only means of obtaining pearls was by manually gathering very large numbers of pearl oysters or mussels from the ocean floor or lake or river bottom. The bivalves were then brought to the surface, opened, and the tissues searched. More than a ton were searched in order to find at least 3-4 quality beds.
In order to find enough pearl oysters, free-divers were often forced to descend to depths of over 100 feet on a single breath, exposing them to the dangers of hostile creatures, waves, eye damage, and drowning, often as a result of shallow water blackout on resurfacing. Because of the difficulty of diving and the unpredictable nature of natural pearl growth in pearl oysters, pearls of the time were extremely rare and of varying quality.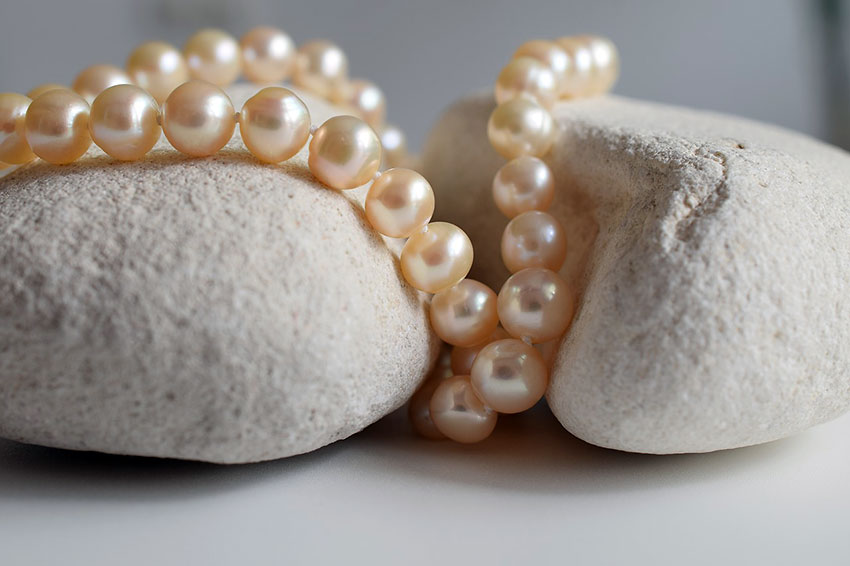 History
Asia
For thousands of years, most seawater pearls were retrieved by divers working in the Indian Ocean, in areas such as the Persian Gulf, the Red Sea, and in the Gulf of Mannar (between Sri Lanka and India). A fragment of Isidore of Charax's Parthian itinerary was preserved in Athenaeus's 3rd-century Sophists at Dinner, recording freediving for pearls around an island in the Persian Gulf.
In Asia, some pearl oysters could be found on shoals at a depth of 5–7 feet from the surface, but more often divers had to go 40 feet or even up to 125 feet deep to find enough pearl oysters, and these deep dives were extremely hazardous to the divers. In the 19th century, divers in Asia had only very basic forms of technology to aid their survival at such depths. For example, in some areas they greased their bodies to conserve heat, put greased cotton in their ears, wore a tortoise-shell clip to close their nostrils, gripped a large object like a rock to descend without the wasteful effort of swimming down, and had a wide-mouthed basket or net to hold the oysters.
Pearl divers near the Philippines were also successful at harvesting large pearls, especially in the Sulu Archipelago. In fact, pearls from the Sulu Archipelago were considered the "finest of the world" which were found in "high bred" shells in deep, clear, and rapid tidal waters. At times, the largest pearls belonged by law to the sultan, and selling them could result in the death penalty for the seller. Nonetheless many pearls made it out of the archipelago by stealth, ending up in the possession of the wealthiest families in Europe. Pearling was popular in Qatar, Bahrain, Kuwait, Japan, India and some areas in Persian Gulf countries. The Gulf of Mexico was particularly famous for pearling, which was originally found by the Spanish explorers.
The Americas
In a similar manner as in Asia, Native Americans harvested freshwater pearls from lakes and rivers like the Ohio, Tennessee, and Mississippi, while others successfully retrieved marine pearls from the Caribbean and waters along the coasts of Central and South America.
In the time of colonial slavery in northern South America (off the northern coasts of modern Colombia and Venezuela), slaves were employed as pearl divers. A diver's career was often short-lived because the waters being searched were known to be shark-infested, resulting in frequent attacks on divers. However, a slave who discovered a great pearl could sometimes purchase his freedom.
The Great Depression in the United States in the 1930s made it hard to get good prices for pearl shell. The natural pearls found from harvested oysters were a rare bonus for the divers. Many fabulous specimens were found over the years. By the 1930s, over-harvesting had severely depleted the oyster beds. The US government was forced to strictly regulate the harvest to prevent the oysters from becoming extinct,[and the Mexican government banned all pearl harvesting from 1942 to 1963.
The Pearl of Lao Tzu
The Pearl of Lao Tzu (also referred to as Pearl of Lao Tze and Pearl of Allah) was once considered the largest known pearl. The pearl was found in the Palawan sea, which surrounds the island of Palawan in the Philippines, and was found by a Filipino diver. It is not considered a gemstone pearl, but is instead known as a "clam pearl" or "Tridacna pearl" from a giant clam. It measures 24 centimeters in diameter (9.45 inches) and weighs 6.4 kilograms (14.2 lb).