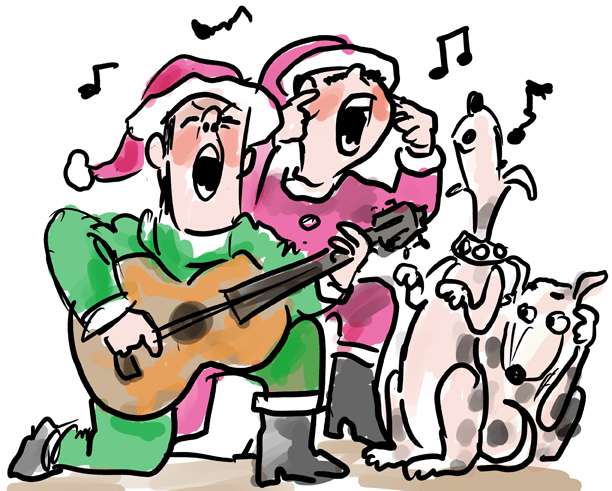 "Tis the season for the singing.
I don't know about you but I've found myself in a Christmas party predicament quite a few times. The folks are huddled together with the air of holiday cheers and then someone blurts this challenging proposal: "Why don't we sing a Christmas carol?" And everyone looks at you because they know you play the guitar. They hand you the house guitar and believe holding this instrument of beauty (or shameful death) would magically move your fingers to the proper chords.
Sounds familiar? We, at Traveling Boy, feel your pain and anxiety and we have decided that we'd provide this public service. Below are a bunch of Christmas jingles that begin with the key of A minor and you can easily dial it up (go to Travelingboy.com and search for 'carol') on your smart phone to guide you through your musical duties.
You can skip to the end whenever you think they've had enough. These are the songs in this arrangement:
O Come O Come Emmanuel
Humble Yourself in the sight of the Lord
God Rest Ye Merry Gentlemen
Do You see what I see?
This arrangement was posted by Raoul Pascual to fit your iPhone.
Blame it all on him!
O COME O COME EMMANUEL
Intro:  Am – G – F – E
Am                                Dm  Em  Am
O come, O come, Em-man-u-el
C                            Dm   Em   Am
And ransom captive   I——s—rael
Dm                          FM7    G
That mourns in lonely ex–ile here
C                       Dm  G   Am
Un-til the Son of God   a-ppear
CHORUS
      CM7         Am            Dm7 Em  FM7
Re-joice! Re-joice! Em-man-u-     el 
          FM7        Dm7        G F Em   Am
Shall come to thee, O     Is– ra-    el.
Verse 2
O come, Thou Rod of Je-sse, free
Thine own from Satan's ty–ranny
From depths of Hell Thy peo-ple save
And give them victory o'er the grave
O come, Thou Day-Spring, come and cheer
Our spirits by Thine ad-vent here
Disperse the gloomy clouds of night
And death's dark shadows put to flight.
O come, Thou Key of David, come
And open wide our heavenly home;
Make safe the way that leads on high,
And close the path to mi–sery.
O come, O come, Thou Lord of might,
Who to Thy tribes, on Sinai's height,
In ancient times did'st gi-ve the Law,
In cloud, and majesty and awe.
HUMBLE YOURSELF
Am
Humble yourself in the
G                    Am
sight of the Lord (2x)
       Dm7      G         Am
For He will lift you up   (higher and higher)
FM7      G           Am
and He will lift you up.
GOD REST YE MERRY GENTLEMEN
Intro: Am – G (2x)
Am               G        Dm7       FM7
God rest you   merry gentlemen
Dm7        G   E
let nothing you dismay
          Am           G                Dm7  FM7
Remember     Christ our Sa-      vior
       Dm7       G               E
was born on Christmas day
Dm7         G       C   E7
To save us all from Satan's pow'r
FM7      Em7    Dm7
though we have gone astray.
C         FM7   G        Am
Oh tidings of com-fort  and   joy
G
Comfort and joy.
C  G       FM7     Em   Am
Oh tidings of comfort and  joy.
In Bethlehem, in Israel
This blessed Babe was born
And laid within a manger
Upon this blessed morn
The which His Mother Mary
Did nothing take in scorn
Oh tidings of comfort and joy
Comfort and joy
Oh tidings of comfort and joy
Fear not then, said the Angel
Let nothing you a-fright
This day is born a Savior
Of a pure Virgin bright
To free all those who trust in Him
From Satan's pow'r and might
Oh tidings of comfort and joy
Comfort and joy
Oh tidings of comfort and joy
DO YOU SEE WHAT I SEE?
Intro:               A   (G)Asus  A
A                            G     A
Said the night wind to the little lamb
E            D  A
Do you see what I  see?
A                               G        A
Way up in the sky little lamb
E            D  A
Do you see what I  see?
F#m      C#m   E                      F#m
A star,       a star, dancing in the night
DM7     E       F#7
With a tail as big as a kite
DM7    Bm   E      A     G  A
With a tail as   big   as a kite
Said the little lamb to the shepherd boy
Do you hear what I  hear?
Ringing through the sky, shepherd boy
Do you hear what I  hear?
A song, a song, high above the trees
With a voice as big as the sea
With a voice as big as the sea
Said the shepherd boy to the mighty king
Do you know what I  know?
In your palace warm, mighty king
Do you know what I  know?
A Child, a Child, Shivers in the cold
Let us bring Him silver and gold
Let us bring Him silver and gold
Said the king to the people every-where
Listen to what I  say!
Pray for peace, people every-where
Listen to what I  say!
The Child, the Child,
sleeping in the night
He will bring us goodness and light
He will bring us goodness and light