With more than 17 million square kilometers of surface area spanning nine time zones, she's the largest country on the planet. Why, she's even bigger than Pluto. That's why getting from point A to point B in Mother Russia via a high-speed train makes perfectly good sense, especially when you've got no time to waste. And, we don't.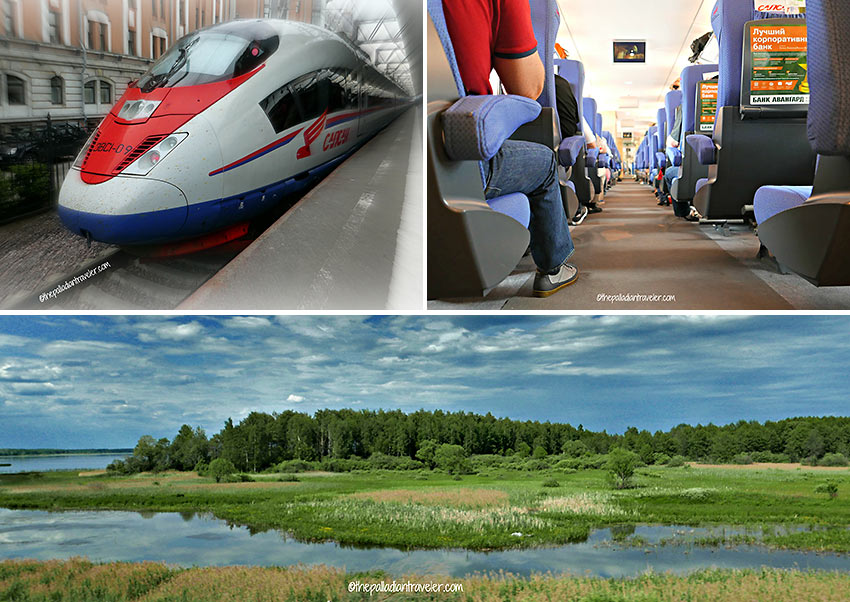 Along with 22 other travel companions, I, the lone photojournalist invited by Insight Vacations (Insight) to experience its Easy Pace Russia journey, hop on spotless Sapsan Seven-Six-Fiver at St. Petersburg's Moscovsky Station and step off the sleek silver, blue and red bullet train at Moscow's Leningradsky Station in just under four hours (3:58:00 to be exact).
One of three major hubs that surround Komsomolskaya Square, the Leningradsky, where Moscow's railway history began, is by far the largest and busiest as it takes quite a while just to exit the station and make our way to the Insight motor coach. Once everyone is on board and accounted for, Gennady, our tour director extraordinaire, gives the thumbs up to the pilot and we pull out into the rush-hour traffic headed for our new, temporary digs overlooking the Moscow River: the Radisson Royal Hotel, one of Joseph Stalin's "Seven Sisters."

"Having been on the winning side of World War II," Gennady comments from the front of the coach, "Premier Stalin believed that foreigners would soon begin to arrive, walk around and notice that Moscow had no skyscrapers to match the cityscapes of other world capitals." Gennady continues, "He strongly felt this negative reaction would be a moral blow to the Soviet Union, so he commissioned seven skyscrapers, nicknamed the 'Seven Sisters' because of their wedding cake-like design topped with a sweeping crown, to jump-start the modernization of Moscow."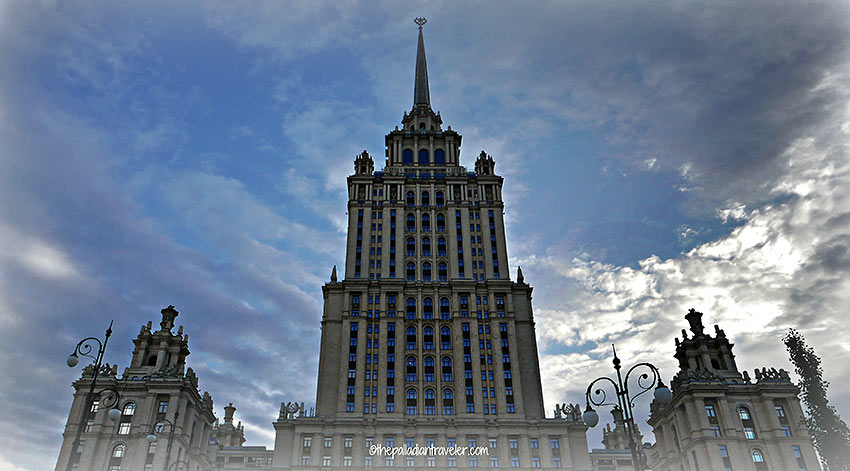 The historical footnote expertly explained, we arrive at the large circular drive fronting the Radisson Royal Hotel, the second tallest of the septet at 206m (676 ft). Dripping with 5-star opulence, it's a magnet for rich and influential oligarchs, their leggy, runway-ready companions and their exotic rides, all buffed to the nines — the cars, SUVs and limos that is. If ever I felt out of place, now is the time; but, I'm a journalist on a mission and I must endure.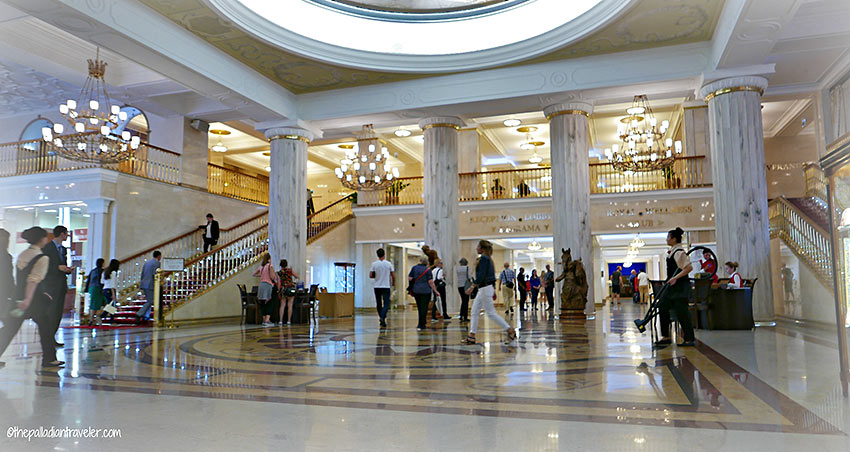 Check-in's a "no muss, no fuss" affair as we're pre-registered, handed keys to our rooms by Gennady, and head for one of at least six lobby elevators and quickly ascend to the 15th floor.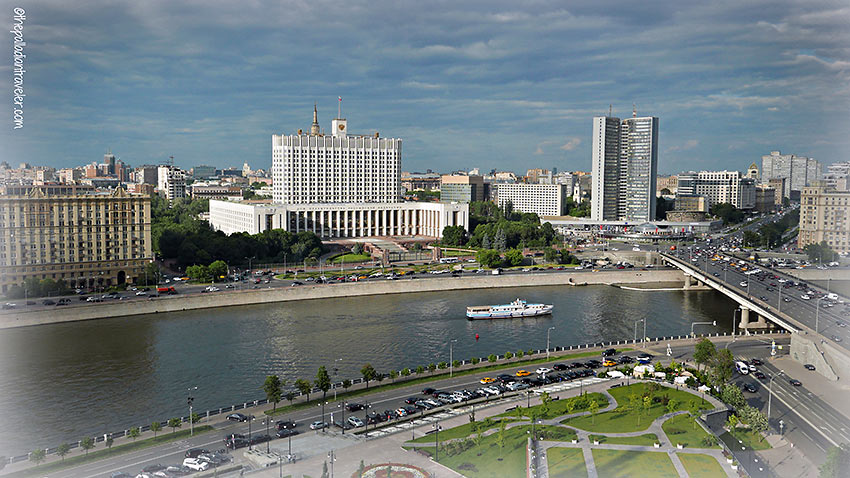 With 497 stylish rooms and suites, along with 38 serviced apartments, all spread out over 34 stories, the Radisson Royal, formerly known as Hotel Ucraina (Ukraine), is quite the structure, especially if you score a room overlooking the river from which the city got its name. And, I do. Right out my window I have a suitable-for-framing view of the city's "White House," a government building along the banks of the Moscow River where Dmitry Medvedev, Russia's prime minister, reports to work.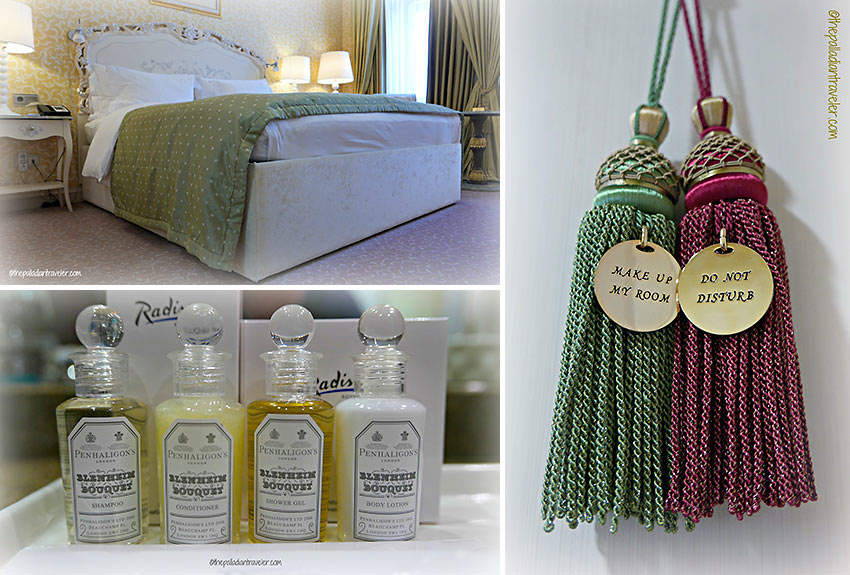 My deluxe room is not large, nor small, and is impeccably appointed and neat as a pin, from the light sage-green bed cover and gold fabric walls, to the complimentary, stiff-upper-lip Penhaligan of London toiletries on display in the sparkling marble bathroom.

A quick freshen-up, then it's out the door, down the elevator and, before I know it, I'm seated at an outdoor table at il Forno, an Italian restaurant-pizzeria overlooking the river. With only an hour to consume, I'm in and out in a flash — I had the grilled salmon, it was delish — and back on the motor coach with Vera, our local art-history guide for the next three days, who's going to narrate our "Moscow by Night" tour, an optional Insight experience.

Bursting at the seams with a population of 13.2m within her city limits and another 17.8m out in her 'burbs, Greater Moscow — with more billionaire residents than any other city in the world — has its fair share of traffic, but our Insight pilot doesn't seem to mind as he steers our business class legroom Mercedes coach through, around and above traffic until we safely reach the first of three destinations as the sun goes down: Novodevichy Park.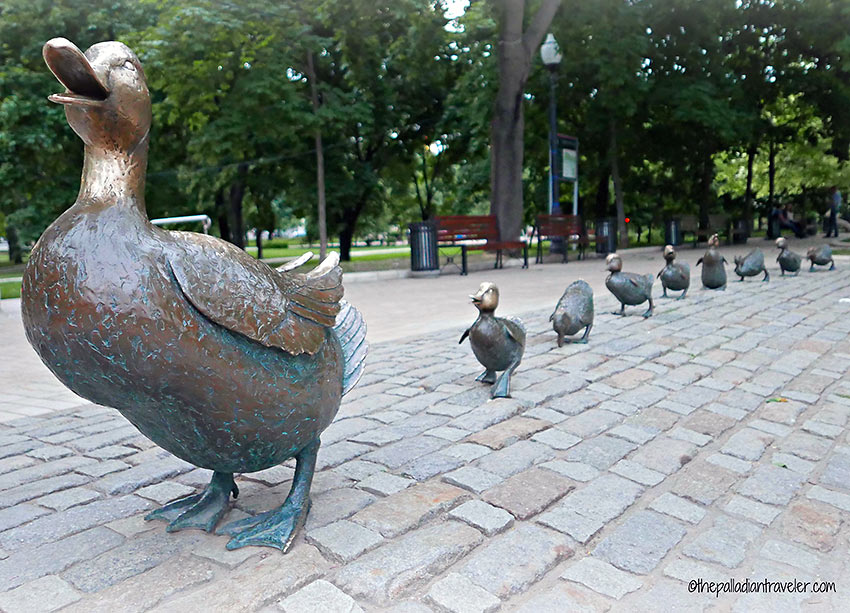 Following Vera with her raised umbrella, like ducklings behind their mother, we come to a bronze statue display and I wonder if life is imitating art. "Based upon the characters from the acclaimed American children's book Here Come the Ducklings by Robert Mccluskey," Vera explains, "these are exact replicas of the original statues at the Boston Public Garden." She adds, "These statues were a gift back in 1991 to Raisa Gorbachev, the late wife of former President Mikhail Gorbachev, from Barbara Bush, the former First Lady of the United States."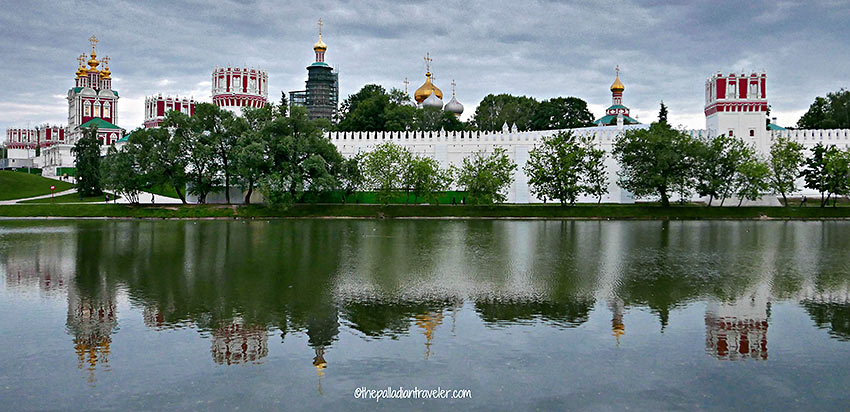 Further into the park we go until we come to a pond, but not just any pond. According to Vera, "Legend has it that Novodevichy Pond served as the inspiration for Pyotr Ilyich Tchaikovsky to compose the world-renowned ballet Swan Lake."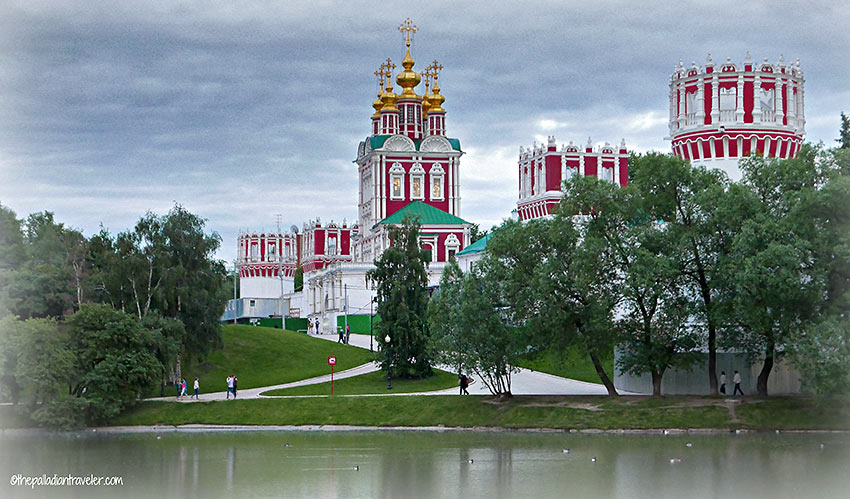 Straight across this postcard-perfect body of water is the real reason why we're here, to admire Novodevichy Convent, a UNESCO World Heritage Site. A marvelous example of Orthodox architecture, the convent, an ensemble of 14 buildings, including 8 cathedrals, is the only ancient nunnery which served as a fortress at the same time. "The complex," Vera notes, "was home to Sofia Alekseyevna, the half-sister of Peter the Great, who was confined there permanently by the young Tsar when he became of age." Wow, talk about sibling rivalry!

Like Athens, Lisbon and Rome, to name but a few, Moscow is also built on seven hills, including Vorobyovy Gory (Sparrows Hill), one of the highest points in the city and a popular rendezvous spot for lovers in love. From here your lens can capture quite a bit of Moscow proper spread out down below.

Before flying away from Sparrows Hill, we stop long enough to capture Moscow State University's main building shimmering in a reflective pool. The tallest of Stalin's "Seven Sisters" at 240m, she was once the loftiest building in Europe, but still remains the highest educational building in the world. Thirty-six stories in all, MSU's main building reportedly contains 33km of corridors and 5,000 rooms. "Hey, does anyone know where the Bio 101 lecture is being held?"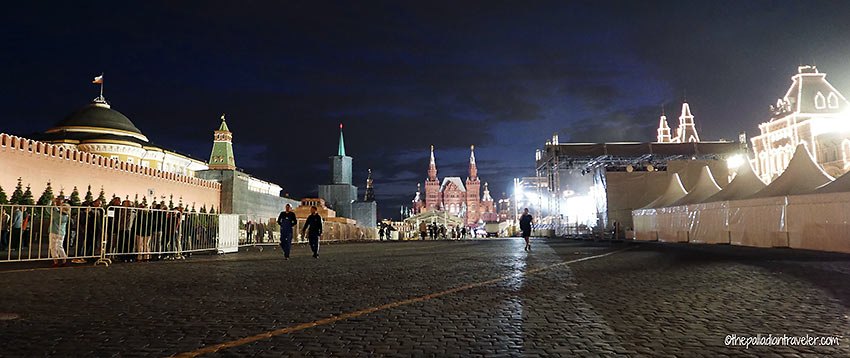 "Despite what you may have heard," intones Vera, "Red Square is not named after the color of the bricks of the surrounding buildings nor from the link between red and communism." She pauses slightly for effect, "The red in our beloved square is from the Russian word krasnaya, which means beautiful."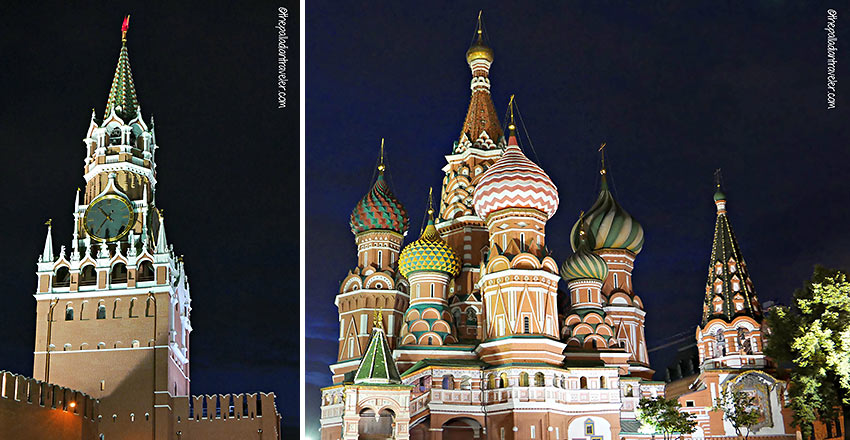 Red Square is a spacious quadrangle and is considered the country's "kilometer zero" since all of the city's major streets, which connect to Russia's major highways, originate from here. Red Square serves as the cobblestone divide between two of the cities most iconic sites, St. Basil's Cathedral and the Kremlin's Spasskaya (Savior) Tower.
We'll find out more about Red Square and the nearby environs when we return tomorrow, hopefully under sunny skies.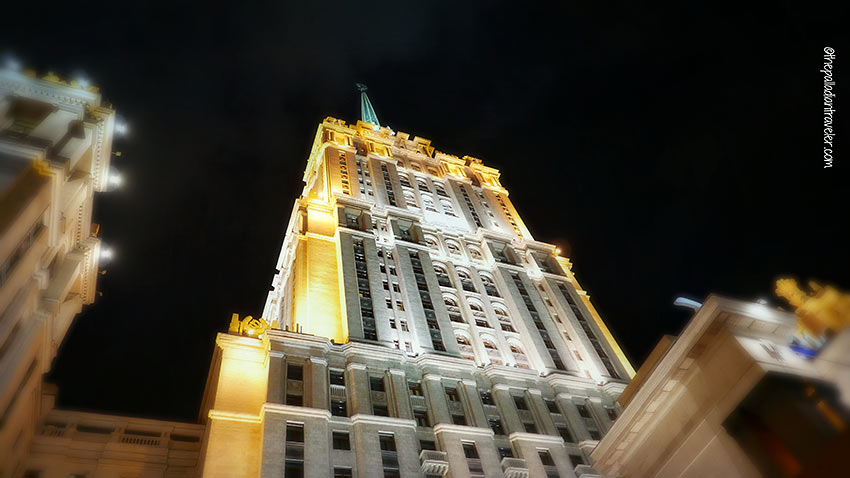 It's been a long, long day as the motor coach finally brings us back to the Radisson Royal, one of Stalin's magnificent "Seven Sisters" that towers above the cityscape, shining brightly from wherever you look when you tour Moscow after dark with Insight.
Spokoynoy nochi!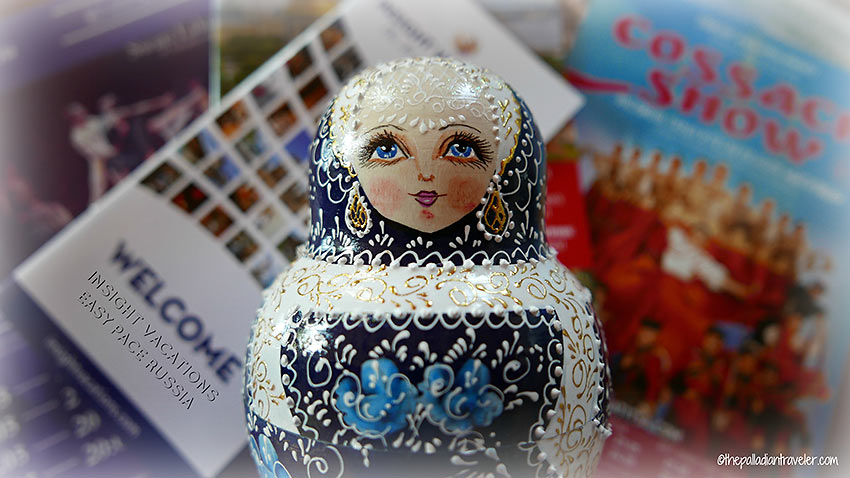 Go here for detailed information on Insight's six journeys to Russia, as well as more than 100 other premium and luxury-escorted itineraries around Europe, or call toll free (888) 680-1241, or contact your travel agent.