6,000+ Evacuate Spanish Island of La Palma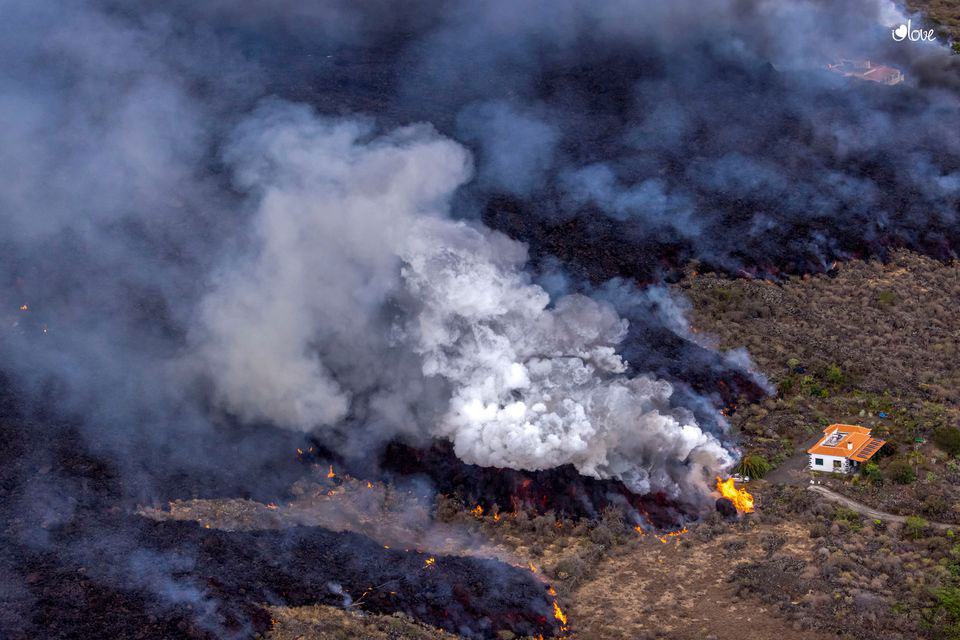 Officials on the Spanish Island of La Palma, which is part of the Canary Islands archipelago, ordered more evacuations on Friday in response to intensifying activity from the Cumbre Vieja volcano. More than 6,000 people have evacuated as lava engulfed several communities. About 593 acres, with a 9.8-mile perimeter, have been affected by the flow, and 390 buildings have been destroyed, BBC reports. There are also concerns that when the lava reaches the sea, it could create dangerous plumes of gas that could cause eye, lung, and skin irritations. Meanwhile, the eruptions, which have occurred for six straight days, have created a large ash cloud, which has forced flight cancellations and is now drifting toward the Spanish mainland. [BBC, CNN]
World's Historical Landmarks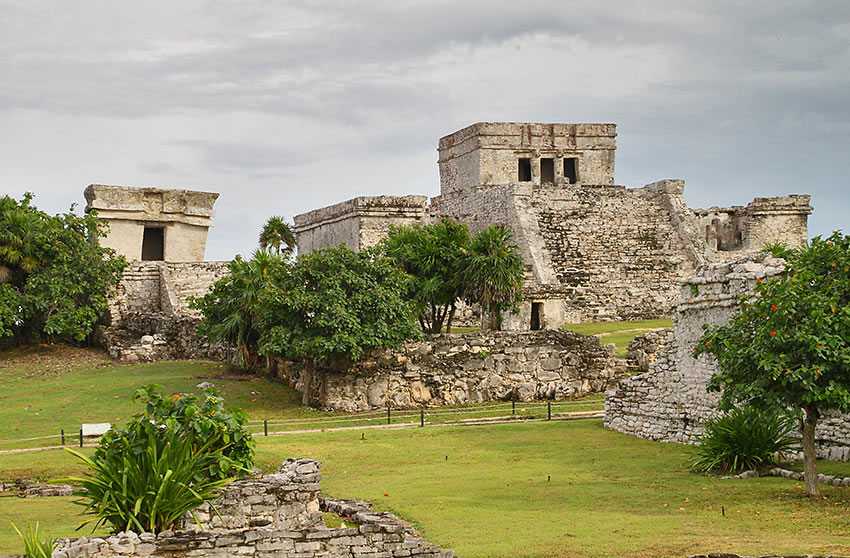 With the prospects of travelling again at the tips of our fingers, all of us are eager to visit monuments in a different country so magnificent we just can't resist sharing on our social accounts. With this in mind, TheKnowledgeAcademy.com sought to find out which of the world's historical landmarks is the most popular on social media by combining the total social shares across Instagram, TikTok, and Pinterest.
Key Findings:
Tulum tops the charts as the most popular historical landmark across social media, earning a whopping 1,584,562,637 hashtags and pins. Located along the picturesque coastline of Mexico, it's almost impossible not to share Tulum's idyllic white sand beaches and Mayan ruins while you are there! Winning by a landslide, Tulum also ranks first with the most shares on TikTok (1,576,600,000) compared to the Eiffel Tower which comes in second with (398,895,800).
In second place with more than 400 million social shares is Paris' iconic Eiffel Tower. Nestled in the beautiful grassy Champ de Mars park, the lattice tower figure has dominated social media feeds for many years. This iconic French landmark also earns the title as the most shared site on both Instagram (8,253,820) and Pinterest (312,675).
Taj Mahal in India takes third place with 352,758,040 shares on social media. The beautiful mausoleum hewn from white marble and its elegant lotus dome draws more than 7 million tourists every year.
In fourth is Machu Picchu in Peru with more than 199 million shares. The ruins of the Incan citadel are set atop Cordillera de Vilcabamba of the Andes Mountains and overlooks the majestic Urubamba River which makes it a must-post on socials.
In fifth place with 146,482,664 shares is the Statue of Liberty Monument in the United States. Holding up the torch of enlightenment on New York's Liberty Harbour, the green-tinted statue is an unmissable share on socials for visitors from all over the globe.
The Mayan city Teotihuacán places tenth with 38,406,867 shares across social media. Located just outside Mexico City, Teotihuacán is home to ruins of a major central road, the Street of the Dead, as well as the Pyramid of the Sun. The perfect collision of scenic views and culture has made Teotihuacán a popular addition to social feeds.
Mexico dominates the top 10 charts, with three landmarks making the ranks (Tulum, Chichén Itzá, and Teotihuacán).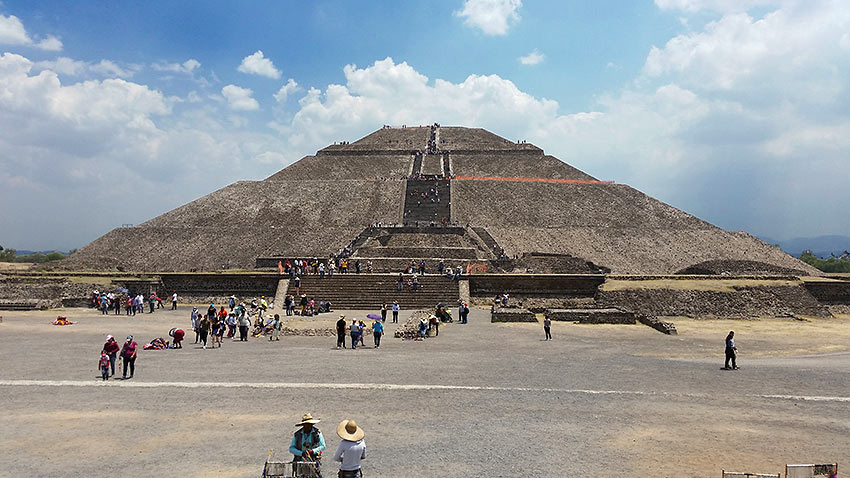 EU Set to Add United States to Safe Travel List
European Union governments agreed on Wednesday to add the United States to their list of countries from which they will allow non-essential travel, EU diplomats said. Ambassadors from the EU's 27 countries approved the addition of the United States and five other countries at a meeting on Wednesday, with the change to take effect in the coming days.
Albania, Lebanon, North Macedonia, Serbia and Taiwan will be added, while Chinese administrative regions Hong Kong and Macau will be included with a requirement for reciprocity removed.
EU countries are recommended gradually to lift travel restrictions for the current eight countries on the list – Australia, Israel, Japan, New Zealand, Rwanda, Singapore, South Korea and Thailand.
Individual EU countries can still opt to demand a negative COVID-19 test or a period of quarantine.
Courtesy Aine Givens, ARCAMAX
Travel to many top destinations around the world was severely curtailed or even stalled for much of 2020 as the world grappled with the coronavirus pandemic. A year later, these locations are beginning to welcome the return of visitors.
Countries Most Dependent on Tourism
Courtesy World Trade Council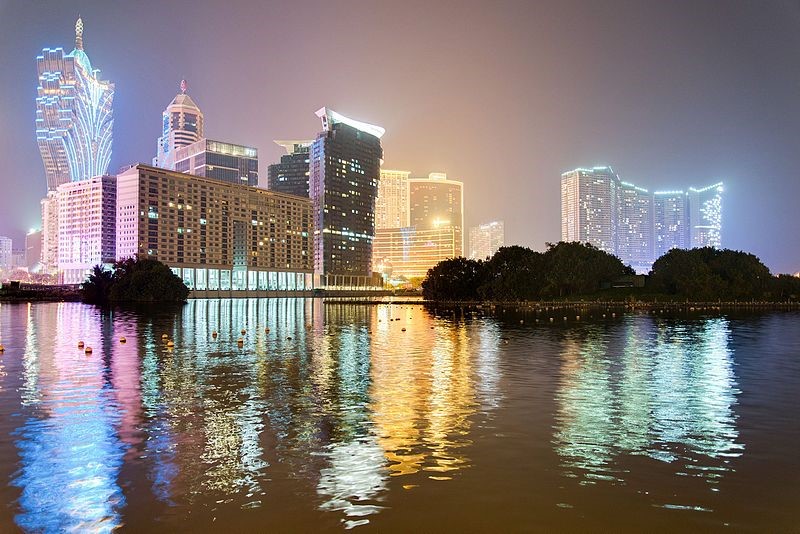 Here are the top 30 locations globally that will need an influx of big-spending visitors as soon as it is safe to welcome them. Data is from the World Travel and Tourism Council. It includes direct, indirect and induced impacts of travel and tourism.
Destinations and total travel and tourism contribution to GDP as percentage of total GDP to that economy:
Macau SAR, China 91.3
Aruba 73.6
UK Virgin Islands 57
Maldives 56.6
US Virgin Islands 55.5
Bahamas 43.3
Antigua and Barbuda 42.7
St Lucia 40.7
Grenada 40.5
Seychelles 40.5
Cape Verde 37.2
Belize 37.2
Anguilla 37.1
Dominica 36.9
Vanuatu 34.7
Fiji 34
Montenegro 32.1
Jamaica 31.1
Barbados 30.9
Other Oceania* 28.6
St. Vincent and the Grenadines 28.6
St. Kitts and Nevis 28.2
Cambodia 26.4
Georgia 26.3
Cayman Islands 25.2
Philippines 25.3
Croatia 25
Former Netherlands Antilles 23.5
Iceland 22.8
Albania 21.2
*Other Oceania includes American Samoa, Cook Islands, French Polynesia, Guam, Marshall Islands, Micronesia (Federated States of), Nauru, New Caledonia, Niue, Northern Mariana Islands, Palau, Samoa and Tuvalu.
The Most Luxurious All-inclusive Resorts Around the World
COURTESY LINDSAY TIGAR , MAYA KACHROO-LEVINE & ELIZABETH RHODES; T+L Daily Transporter
(Each property has been reviewed and inspected by T+L Daily Transporter editorial team.
Pikaia Lodge, Galapagos Islands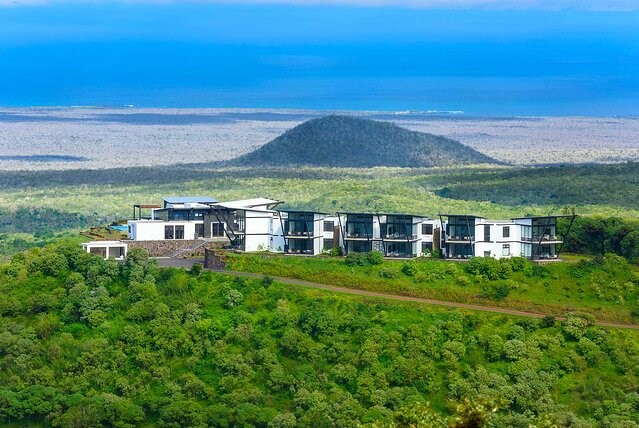 Off the coast of Ecuador in the Galapagos Islands, travelers will find Pikaia Lodge, a luxury all-inclusive catering to active and adventurous types. Built entirely from recycled materials, the property is 100 percent carbon neutral and sits between two inactive volcano craters on Santa Cruz Island. It features 14 gorgeous suites set on a private giant tortoise reserve. As for activities here, guests can participate in small group, guided marine programs, which explore neighboring islands and notable wildlife sites in Galapagos National Park while on board the lodge's 105-foot luxury yacht.
Luxury Galapagos adventure | Pikaia Lodge
Hurawalhi Island Resort, Maldives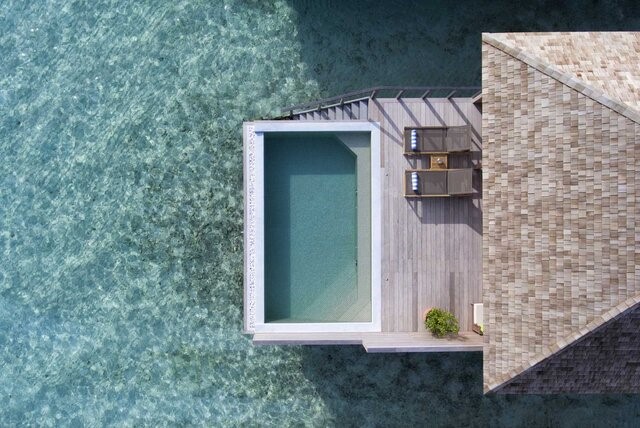 When you imagine the Maldives, a beautiful bungalow oasis in the middle of the Indian Ocean is likely what filters through your mind. A 40-minute seaplane flight from Male Airport, guests at Hurawalhi Island Resort are tucked away from the rest of the world, surrounded by the kind of blue you can't create, even with an Instagram filter. Here, you can choose from ocean villas or beach villas, each of which include king-sized beds, private terraces, and for those over water, access to the waves. Meals and alcoholic beverages are included within the nightly rate, with the option to upgrade to more fine-dining options (like a visit to the Champagne Pavilion), if your getaway calls for a celebration. Each villa also has access to sunset dolphin cruises, kayaks, snorkeling equipment, yoga classes, and more.
Maldives Luxury All Inclusive Resort – Adults Only Luxury Maldives Resort (hurawalhi.com)
andBeyond Sandibe Okavango Safari Lodge, Botswana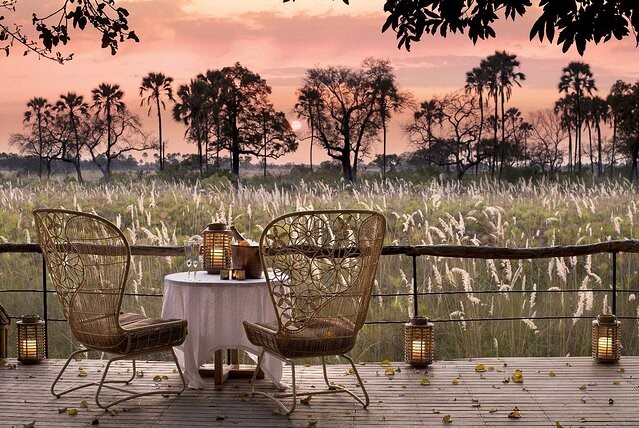 As one of the top safari destinations on nearly every traveler's bucket list, Botswana offers an incomparable glimpse into the heart of Africa. This luxury all-inclusive is located on the renowned Okavango Delta in the northern region of the country. When it rains over these massive, grassy plains, animals flock to the area, creating the opportunity to see rhinos, giraffes, lions, and more. To elevate your experience, andBeyond doesn't disappoint with included safari and river boat tours, as well as meals, drinks, and round-trip airport transfers. andBeyond Sandibe Okavango Safari Lodge | Botswana Luxury Safari
The Singular Patagonia, Puerto Bories, Chile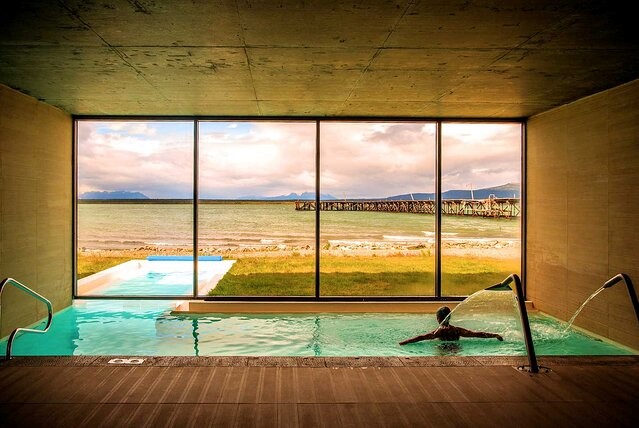 After successfully completing any of the strenuous hikes of Patagonia, it's worth splurging on a luxury resort to recuperate. And if you'd like to go big, book a stay at The Singular Patagonia, which lies deep in southern Chile, overlooking the iconic Fjord of Last Hope. Set on 30 acres, the site was once the Bories cold storage plant in the early 1900s, serving as a focal point for the sheep farming industry. Today, though, it features 57 meticulously designed rooms that'll have you at ease from the moment you enter. The nightly "Complete Experience" rate includes all food and alcohol, as well as daily excursions such as horseback riding, kayaking, and more local activities. And if you need to soak away the soreness from travel and hiking, every guest has access to the spa facilities for the duration of their stay as well.
www.thesingular.com
Tongabezi Lodge, Simonga, Zambia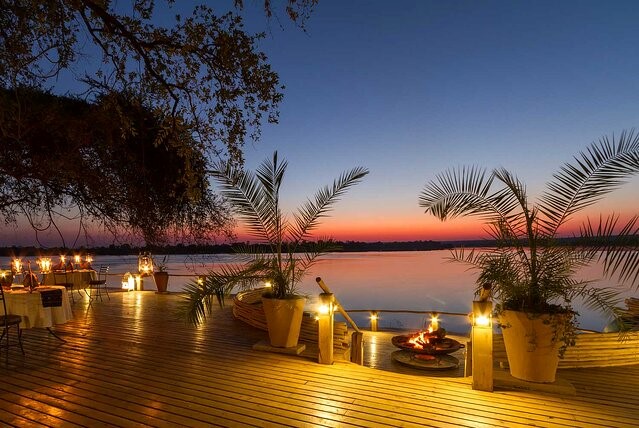 The border between Zambia and Zimbabwe is home to the legendary Victoria Falls, which is twice as high as Niagara Falls and often considered among the most powerful – and jaw-dropping – natural wonders in the world. Though this beautiful work of Mother Nature is enough of an attraction for many travelers, when you stay at this five-star property in southern Africa, you have many other unique experiences to choose from, too. Think: an early morning game drive to see lions, hyenas, or elephants, a sunset cruise on the Zambezi River, or a guided tour of the falls – these are just a few of the experiences Tongabezi offers. No matter how you'd like to spend your African vacation, when you stay at this property, home to over-the-top houses and cottages, your private valet can arrange it all.
Tongabezi Lodge (greensafaris.com)
El Dorado Maroma, A Spa Resort by Karisma, Riviera Maya, Mexico
As overwater bungalows become more and more Instagram famous, oceanside resorts around the world are finding ways to recreate the virality generated in the Maldives. For a much shorter flight, but an equally luxe experience, El Dorado Maroma's Palafitos – Overwater Bungalows were the first oversea chalets on the Riviera Maya. Far from the party in Cancun, 30 modern and pristine suites are perched over the green waters of Maroma Beach, a private stretch of powder-white sand that's often considered a hidden gem of Mexico. Each of these suites include glass-bottom floors, outdoor showers, private infinity pools, indoor Jacuzzis, and direct ladder access to the water. With the nightly rate, you'll also enjoy a gourmet dining experience.
El Dorado Maroma (karismahotels.com)
Four Seasons Tented Camp Golden Triangle, Thailand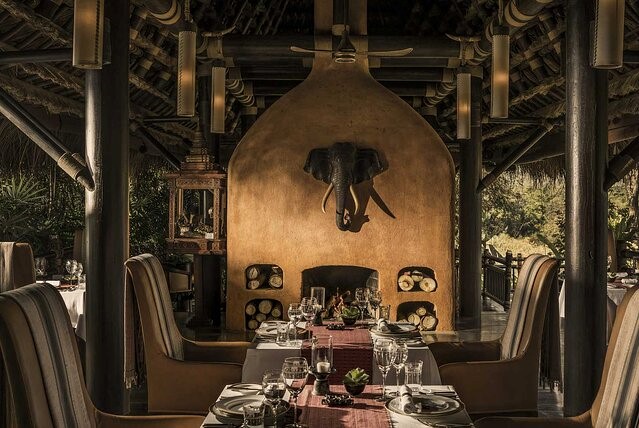 Where Laos, Myanmar, and Thailand meet, golden memories are made, allowing ambitious travelers to cross off three countries simultaneously. For those who want the star-studded experience on the Thailand corner of the triangle, a stay at this beloved Four Seasons property is a must. Depending on what you seek out of your vacation, there are various all-inclusive packages to choose from. Each inclusive option offers guests meals and alcohol, as well as one spa treatment per person, elephant encounters, and round-trip transfers to the nearby airport. Because of its proximity to other Southeast Asian countries, some excursions could include trips to Myanmar or Laos, giving you more time to immerse yourself in the local culture.
Luxury Camping in Thailand | Four Seasons Golden Triangle
Lizard Island, Great Barrier Reef, Australia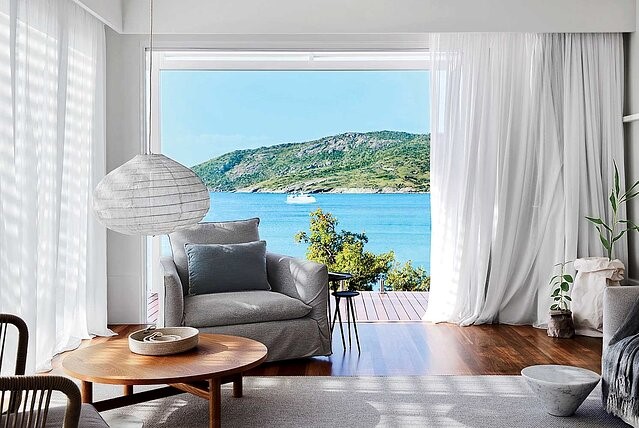 For certified scuba divers or those who prioritize seclusion during vacation, why not stay away from the mainland on an island all to yourself? Actually, make that an all-inclusive resort on the storied Great Barrier Reef. With 24 beaches and 40 luxury suites, you can enjoy practically endless options for exploring some of the most stunning natural wonders on the planet. Seafood lovers, take note: Nearly all of your meals include creative culinary takes on the catch of the day. Many activities – from snorkeling to stand-up paddle boarding – offer a unique perspective of this tropical oasis, all for no additional fee.
Great Barrier Reef Luxury Accommodation | Lizard Island
Fairmont Mayakoba, Mexico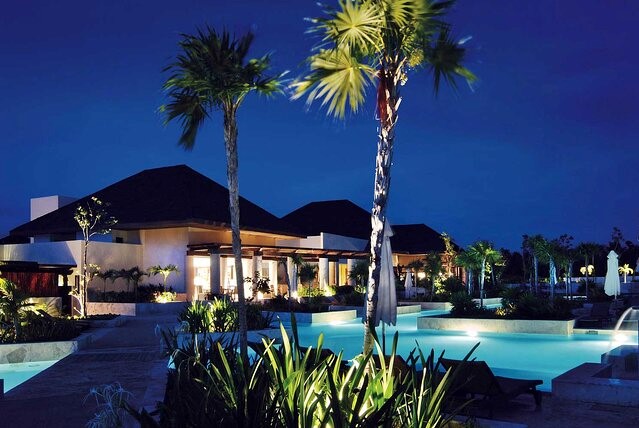 Though it's not an all-inclusive in the traditional sense, the Fairmont Mayakoba offers an all-inclusive package that gives you access to all of the restaurants and most alcoholic beverages at the resort. Unlike many more crowded parts of Mexico, Mayakoba provides a private and serene getaway in the Riviera Maya region. As the largest resort of this eco-luxury destination, Fairmont gives its guests the chance to not only explore the fine-dining options, but also an ecological immersion, too. When you're not pool-hopping or riding bikes through the winding paths of the property, you can take a boat tour to learn about the local wildlife and brush up on your botany knowledge.
Bluefields Bay Villas, Jamaica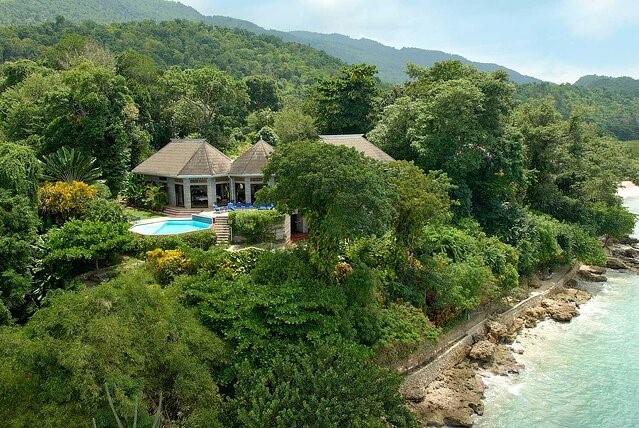 Bluefields Bay Villas is home to a collection of six all-inclusive luxury villas with all the bells and whistles built in. On the southern coast of Jamaica, where the vibrant countryside meets the Caribbean Sea, you can choose from two- to six-bedroom homes, all featuring private pools, a butler, maid service, a chef, and access to the beach nearby. You can work with your personal chef to create delectable meals suited to your palette and preferences. Also included: paddle boarding, kayaking, snorkeling, tennis, hiking, and other activities. If you want to make your vacation even fancier, Bluefields Bay can arrange for luxurious add-ons like private helicopter transfers.
Jamaica All-Inclusive Luxury Resort | Villa Rentals | Bluefields Bay (bluefieldsvillas.com)
Twin Farms, Barnard, Vermont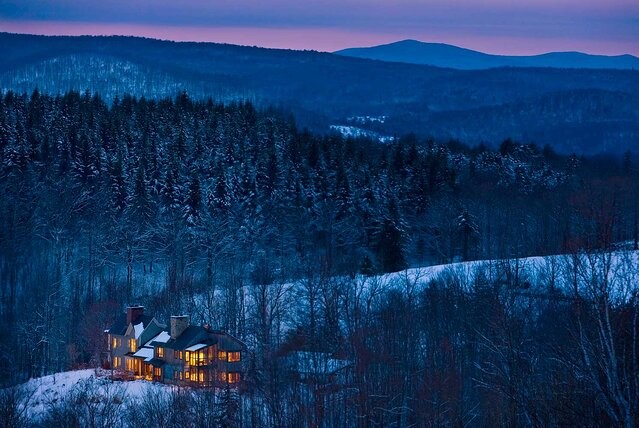 A luxurious retreat nestled in the Vermont mountains, Twin Farms is an adults-only culinary destination. At Vermont's only five-star, all-inclusive Relais & Châteaux resort, guests enjoy meals by chefs who create innovative daily menus with the state's best produce – sourced from the property and top local and regional vendors. Make sure to pamper yourself during your stay, with a facial, massage, or seasonal treatment at The Bridge House Spa. And while you can't choose incorrectly when selecting your lodging at Twin Farms, we're partial to their 950-square-foot cottages, which come with a fireplace and stone hot tub.
Inclusive Vermont Resort and Spa | Twin Farms
Kokomo Private Island, Fiji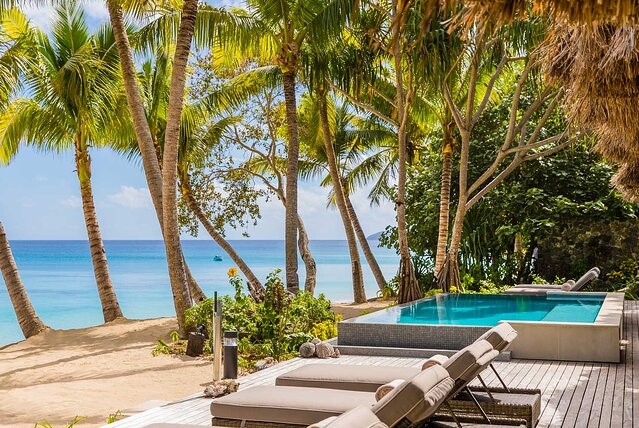 Fiji's most exclusive resort, Kokomo Private Island, is set on the otherworldly Great Astrolabe Reef. The inclusive offerings range from water-based activities and tennis court access to restaurants serving island-grown and locally-sourced produce. A 45-minute seaplane or helicopter ride from Nadi, Kokomo sits within the Kadavu Island Group. The five-star, 140-acre property is a haven for couples and families, and is a perfect spot for a multi-generational family retreat. Guests can sign on for shark diving, waterfall hikes, manta ray swims, and even coral reef restoration with Kokomo's on-site marine biologist.
www.kokomoislandfiji.com-
Acupuncture for Organizations
By Dr. Kathleen Allen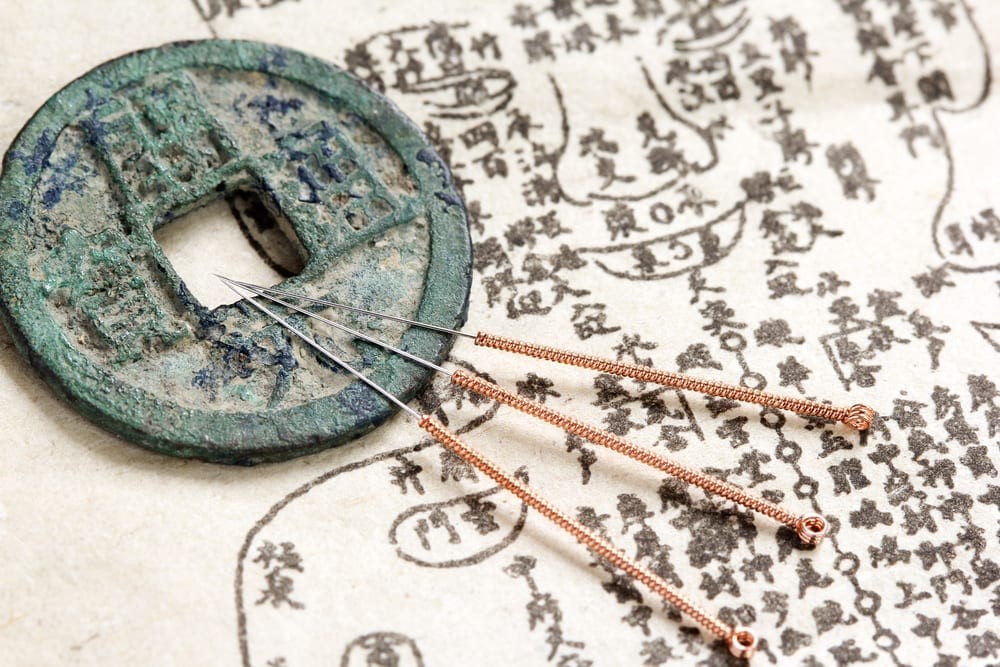 I've been reading Stuck?: Dealing With Organizational Trauma by Phillipe Bailleur, an organizational consultant who works with a living systems mindset. In Bailleur's words, organizational trauma can't be fixed, like a car going in for repair. Instead, as leaders, we need to learn how to heal our organization. Because humans and any other living systems organization can only be healed – not fixed.
Our organizations (and the people in them) have been adapting at an accelerated rate for more than 16 months. It doesn't matter that some of the adaptations we've made were already ideas that existed before the pandemic. These preexisting ideas, like remote work environments, were present but still being met with resistance in many cases. The pandemic made that resistance obsolete, and our organizations had to adapt very quickly.
Even though an idea may be "familiar" rapid adaptation still created some form of trauma, mainly because the new routines were not part of our individual and organizational habits. And this new way of working from home rippled across other aspects of our lives, not the least of which was childcare as our kids were also forced to learn at home, and daycares were closed. Adapting to this new remote workstyle impacted many aspects of our lives, from how we showed up at work, to how we interacted with our teams. The fact that many of us had to wear so many different hats at once, particularly parents, created the need for even more sudden adaptations.
The impact of all this adaptation has to be described as trauma that happened to us as individuals and collectively to our organizations. The question now becomes – how do we begin our own healing?
Truncating our Regenerative Capacity
Just like nature, humans have a natural regenerative capacity. But sometimes we don't nurture this capacity within ourselves. Instead of choosing to listen to our body and respond with an act or space that nourishes us, we outsource our healing to a doctor, a therapist, or perhaps a medication. This practice of seeking solutions elsewhere is sometimes necessary, but the choice doesn't have to be our first response. My colleague Suzanne Koepplinger is the Executive Director of the Catalyst Initiative. The Catalyst Initiative is helping people understand that primary care is self-care! The Initiative focuses on integrated health and healing practices that are culturally specific and acts as an excellent resource for anyone interested in nurturing their own regenerative, healing capacity.
We need to remember when we don't take care of ourselves, we cut ourselves off from integrated healing practices like yoga, meditation, acupuncture, Tai Chi, healing circles, and other activities that build our own resilience and strengthen our health. And that slows down our ability to regenerate.
Organizational Acupuncture
On an organizational level, we aren't particularly good at healing either. Trauma from work experiences (including those caused by the pandemic) is real and occurring in our organizations every day. At a micro level, an action that breaks trust, for example when colleagues or leaders lie to us or when an expected reward is not forthcoming, is a source of trauma. A positional leader who becomes a toxic leader is another example of a trauma that may have far more reaching effects. Suddenly transforming a workplace into a remote or virtual organization causes trauma, even if the adaptation was expected or happening already in some fashion.
What would organizational acupuncture look like to you and your organization?
Johns Hopkins Medicine describes acupuncture as part of the ancient practice of Traditional Chinese medicine. Traditional Chinese medicine practitioners believe the human body has more than 2,000 acupuncture points connected by pathways or meridians. These pathways create an energy flow called Qi (pronounced "chee") through the body that is responsible for overall health. Disruption of the energy flow can cause disease. By applying acupuncture to certain points, it is thought to improve the flow of Qi, thereby improving health.
A living organization also has energy flowing through it, and at times experiences a disruption or disturbance of the energy flow. When this occurs, organizational acupuncture becomes the practice of paying attention to disruption and trauma – instead of ignoring them the way we usually do. If as leaders we commit to noticing disturbances or trauma, we can help our organizations, teams, and individuals heal from trauma and regenerate more quickly. As a result, positive energy should return to the workplace much more rapidly.
We don't usually track energy as a metric for the health of our organizations. Usually, we default to a profit margin or traditional bottom line to determine it's health. But focusing on profit often means we tolerate behaviors that lead to dysfunction in the organization. Frankly, we don't pay attention to what we don't measure. And we need to measure the energy of our organizations if we are truly to lead with a living systems mindset.
I believe that people wake up each morning and decide if they are going to bring positive, negative, or neutral energy to their workplaces. Positive energy and energy flow help improve an individual's health. The same is true for organizations because at the most basic level, what are they other than a collection of individuals?
---
Why These Eight Mexico City Neighborhoods Are Worth Planning Your Next Trip Around
by Michael Snyder
There are few places as dynamic, diverse, or downright enormous as the Mexican capital. In a city layered with history, in which change is an essential part of residents' DNA, where to begin planning a trip? Michael Snyder, a freelance journalist based in Mexico City. gives his breakdown of the key colonias to visit, whether your focus is shopping, food, art, or design.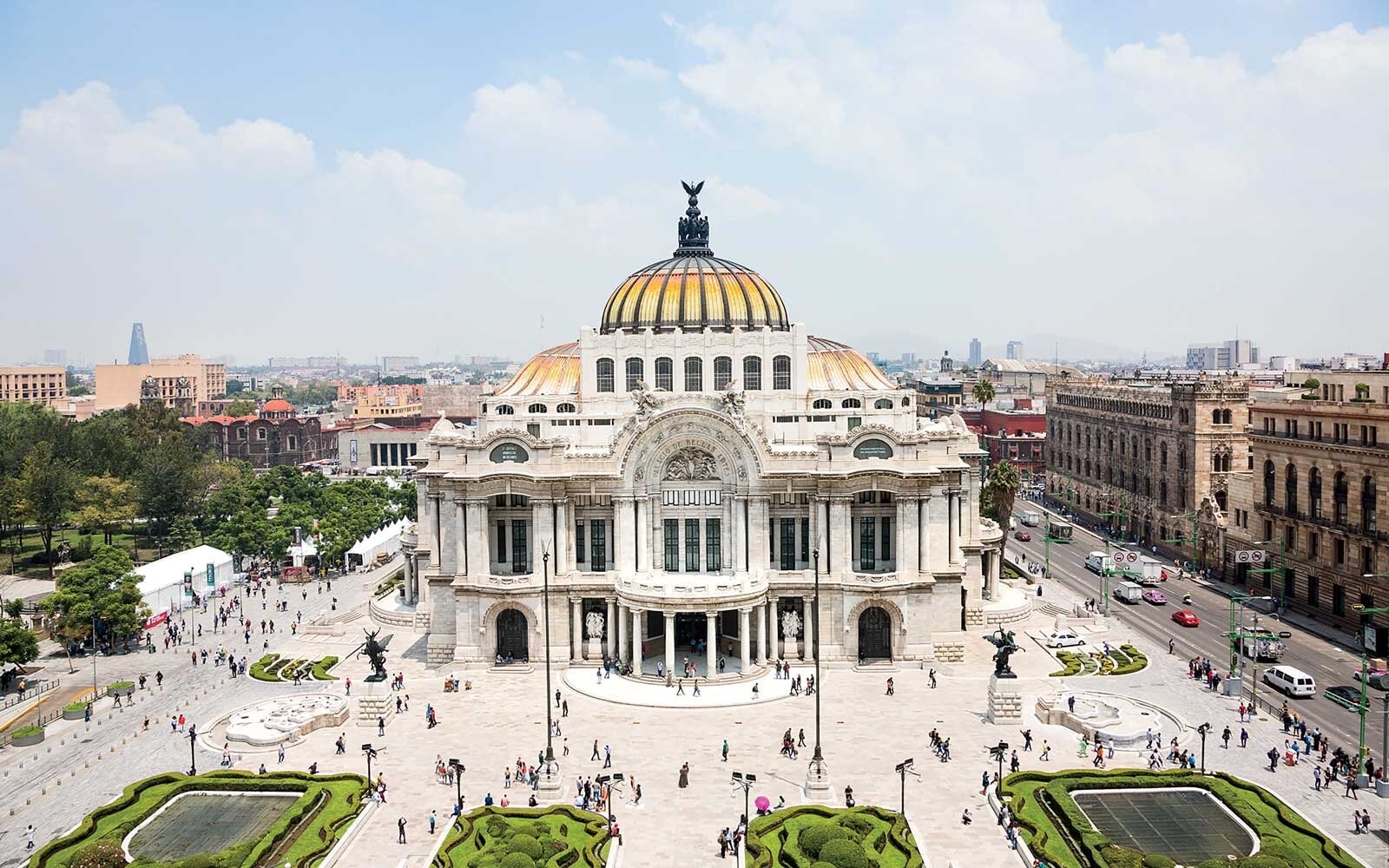 A little more than two years ago, I moved to Mexico City more or less sight unseen, taking it on good faith that this urban giant could find space for one more body among the 21 million that already called its metro area home. I came, like many foreigners before me, with vague ideas about its vibrant food and art scenes; its crooked glamour and effortless cool; its rich colonial and modern architectural landscape. I expected to find moments of enervating chaos and sometimes choking smog. But I was rejuvenated by gracious parks and sublime weather, by crisp autumn mornings and springlike afternoons, by spasms of rain and hail and thunder that gave way, just in time, to marigold sunsets blooming across the horizon. Mexico City, it seems, is able to turn a different face to each and every one of its inhabitants.
That's because, in the past five centuries, Mexico City has become a master of transformation. Flung wide across a seismic, high-altitude plateau, North America's largest city has survived colonial conquest, years-long floods, a bloody war of independence, a bloodier revolution, and, in 1985, a catastrophic earthquake that killed more than 9,000 and decimated much of the historic central borough of Cuauhtémoc. Thirty-two years later to the day, in 2017, another quake shook the city to its core, bringing down over 40 buildings and damaging many more. Within weeks, the city had bounced back from that, too. Chilangos, as residents are known, continue to deal with shoddy governance, shoddy infrastructure, and fluctuating levels of security. Given the choice, many would just as soon return to the villages they left a generation or three before. But many more – myself included – wouldn't live anywhere else.
No one trip is enough to unlock the city's many wonders. For a first-time visitor, sticking to the leafy neighborhoods in and around the Delegación Cuauhtémoc offers an ideal introduction: a walkable, manageable microcosm of the city's wild, sophisticated whole. From the cockeyed grandeur of the Centro Histórico to the discreet galleries of Santa María la Ribera and the glamorous cafés of Condesa, these are the eight districts every visitor should get to know.
Centro Histórico
Late one Sunday morning, I set out from my home on the far side of the Zócalo, Mexico City's spectacular central plaza, to the Mercado San Juan. It wasn't a particularly long walk, but, like most routes through the Centro Histórico, it encompassed many pasts, many presents, and many possible futures. Here you'll find opulent colonial palaces, crooked Baroque churches, murals by Diego Rivera at the Palacio Nacional and the Secretariat of Public Education headquarters, and the magnificent ruins of the Templo Mayor, the axis of the Aztec Empire's religious and political universe.
Until the late 1800s, the Centro was Mexico City. Then, from the turn of the century onward, modernity-obsessed elites began abandoning their ancestral homes and moving to the newly created suburbs in the west and south. After the 1985 earthquake, the Centro was all but abandoned. It remained an important place of protest and celebration, but it was not a place you lingered.
Entering the open doorway of the Mercado San Juan, I passed vendors selling rambutans and mangoes, plastic boxes of microgreens, and giant clams from Baja. But I hadn't come here to shop (for that I go to Mercado la Merced, the bigger, crazier, more beautiful wholesale market on my side of the Centro). Instead, I had come to eat at Don Vergas, an eight-seat market stall that, for the past year, has been turning out some of the best seafood in Mexico City.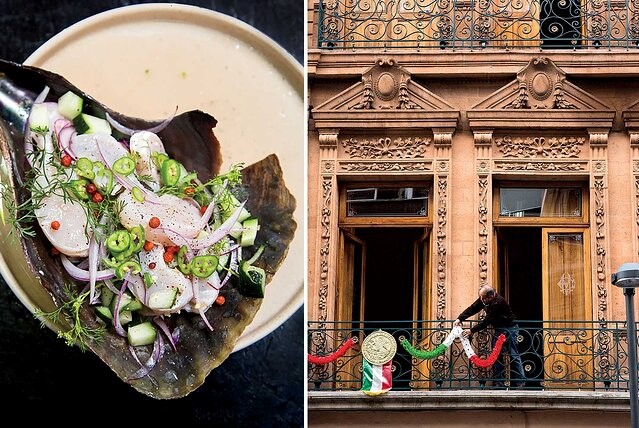 Chef Luis Valle, who hails from the northwestern coastal state of Sinaloa, had opened shop only an hour earlier, but already a rowdy line had filled the aisle, singing along to the banda music playing through a loudspeaker perched precariously over the tiny kitchen. "How many crab tostadas?" Valle shouted over the music. Hands shot up: 15 orders.
I slipped behind the bar to help squeeze a few limes and hang out with Valle, who makes great company, no matter how busy he is. I asked how many people he would cook for today. "About 400," he said. I asked how he coped. "I don't!" he laughed, then turned back to the crowd, shouting: "How many scallops?"
Even a decade ago, you'd have been hard-pressed to find such excitement surrounding a restaurant in this part of town. But in the past year or so, pop-up parties have begun to appear on rooftops, in basements, and at run-down cantinas like the bizarre and beautiful La Faena, decorated with dusty shadow boxes of toreadors' costumes. Edgy art galleries have appeared in former office buildings. Bósforo, still the top place in town for mezcal almost 10 years after it opened, draws crowds on weekends, while the nameless restaurant next door serves impeccable Oaxacan food by flickering candlelight.
But despite the fact that a new, younger generation is now gravitating to the Centro, it's still a place that belongs to everyone. Activists stage regular protests in the Zócalo. Residents from around the city come to shop at stores selling everything from spices to light fixtures and giant handmade candles decorated in lacy wax flowers. Government workers stop in at century-old cantinas for an afternoon beer (try La Ópera for gilded old-world opulence, or Salón España for the city's best tequila list). Even the exorbitantly expensive Mercado San Juan, where Luis Valle slings his seafood, has a raucous weekend party. Nowhere in this immense, stratified city is more democratic or more beautiful.
Roma & Condesa
At the northern edge of Colonia Roma, a trickle of young, stylish people wandered in and out of a heavy glass door that swung open onto Calle Puebla. They followed a bend of stairs past tall white gallery walls and out onto a sunny roof terrace surrounded by treetops. Monserrat Castera, beer in hand, led me from the open patio into a small, glass-walled room at one corner to show me around the latest edition of her pop-up shop, Momo Room – one of a growing number of nomadic retail spaces now at the vanguard of Mexico's fashion scene.
This iteration, she explained, was inspired by Juan Rulfo, the mid-20th-century writer whose works are widely considered to be among the finest ever written in Mexico. Rulfo set two of his most important books in a fictional town in the small coastal state of Colima. Among objects selected from local designers, Castera had scattered photographs of Colima, burlap sacks of the state's famous sea salt, and handwoven straw hats. There were also playful sunglasses from French-Mexican collective Stromboli Associates; handmade box bags in wood and leather by Aurelia, a brand run by three sisters from Guadalajara; and embroidered linen kimonos dyed with indigo and cochineal from local label Korimi Kids. None of these designers had a brick-and-mortar shop. After all, in a city obsessed with collaboration, and replete with spectacular spaces ideal for short-term group exhibitions, what would be the point?
When Mexico City was named the World Design Capital for 2018, many ascribed the distinction to an aesthetic that brings Mexico's disparate creative traditions – from textiles and earthenware to the great Modernist boom of the 1950s – into conversation with one another. Though that sensibility has existed in Mexico for generations, it has become newly fashionable in Roma and Condesa, two of the capital's most design-forward neighborhoods. You can witness it at stores like quirky clothing boutique Hi-Bye, at the shops lining the uneven sidewalks of the beautiful Calle Colima, and at Ven a Mi – an appointment-only showroom selling unusual crafts from around the country.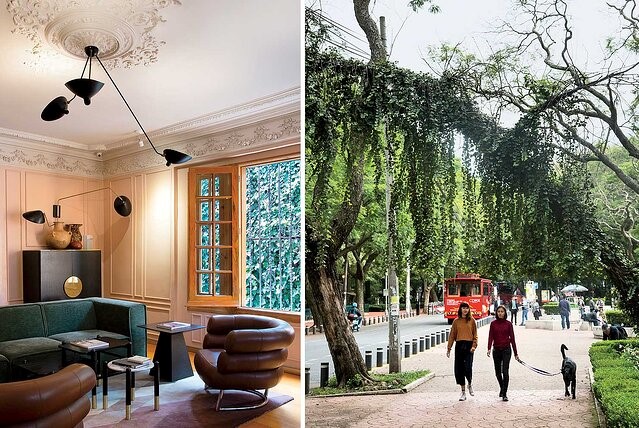 After the 1985 earthquake, many residents fled Roma, and it was well over a decade before artists and designers began moving back into its gracefully dilapidated Beaux-Arts mansions. Condesa, which was the city's most cosmopolitan neighborhood during the 1930s and 40s, experienced a shorter decline, having rebounded by the mid 90s. With its pretty Art Deco and Mission-style apartments and even prettier residents, Condesa is today the grande dame of Mexico City colonias – stylish, elegant, but never trying too hard. Condesa and Roma were also among the areas most heavily damaged in the 2017 earthquake, but this time both returned to life with remarkable speed. Were it not for a handful of empty buildings dotting the area, deep cracks running like vines through their white plaster exteriors, you might not know that anything had happened here at all.
And while the dialogue between tradition and innovation found its way into restaurant kitchens at least a decade ago in places like Enrique Olvera's Pujol, in the swanky Polanco area, Roma and Condesa have taken the lead in translating it into more casual – though no less ambitious – settings. At the year-old restaurant Meroma, wife-and-husband team Mercedes Bernal and Rodney Cusic offer some of the neighborhoods' most refined cooking, taking inspiration from local ingredients, rather than traditional dishes, to create a subtly eclectic menu. And at El Parnita, a family-run taco joint that got hip as the district did, young diners line up for a lunch of fish tacos and craft beer.
And at the chaotic, nameless open kitchen next door, a young chef named Jesús Salas Tornés creates consistently delicious, interesting dishes that bring the flavors, techniques, and oddball informality of the countryside straight to the heart of the city.
Santa María La Ribera & San Rafael
Not long after I moved to Mexico City, I climbed a flight of terrazzo stairs leading to a buzzing, dimly lit terrace in Santa María la Ribera, an otherwise quiet residential neighborhood northwest of the Centro. Glamorous in its turn-of-the-20th-century heyday, Santa María, the first planned suburb of the Centro, was, by the 1950s, overshadowed by neighborhoods like Roma and Condesa. On that chilly evening, however, it was hard to imagine anywhere more elegant.
In the 17 years since Zonamaco, the city's mammoth weeklong art fair, launched, Mexico City has become an essential stop for regulars on the international art circuit and young artists looking to create and show work in a dynamic, affordable environment. A few nights before the gathering on the terrace, Art Week had started – an annual event that includes Zonamaco and its daring younger sibling, the Material Art Fair. Around me was a crowd of local gallerists, artists from Mexico and abroad, and assorted global movers and shakers. They'd come to celebrate the recent opening of the Mexico City outpost of Casa Wabi, the Tadao Ando-designed artists' retreat in Oaxaca, on Mexico's southern coast. Mezcal flowed freely as fairy lights twinkled along with the neon sign for a cheap hotel across the street.
Between them, Santa María and the adjacent area of San Rafael are home to more than a dozen galleries and art spaces. Some represent internationally recognized artists, but most are like Casa Wabi: alternative, informal spaces for young Mexican artists. On a recent morning, I stopped by the gallery to see an exhibition of earthenware pieces by a Swiss resident at the Oaxaca center, displayed alongside Midcentury Modern furniture sold by the design shop Decada. The small space on the ground floor showed work by a photographer from the northern state of Sonora – endless desert horizons punctuated by fragments of industrial architecture. "Mexico City is a nursery for the rest of the country," said Carla Sodi, director of the Casa Wabi Foundation, as we sat one morning on a balcony overlooking an ordinary street that was waking to the working day. "Eventually, these artists will go back home and plant those seeds."
Santa María and San Rafael have always been low-key repositories for Mexican design. Around Santa María's gracious alameda, or central park, families move up and down the marble stairs of the gorgeously old-fashioned Geology Museum, built in 1910, while old couples dance beneath the flamboyant glass dome of the Moorish Kiosk, erected here in the same year. The Art Nouveau towers of the Museo Universitario del Chopo, an important center for contemporary art, soar over a street that, in the early 1980s, was the locus for the city's punk and goth scenes. The ruins of Cine Opera, a now-defunct Art Deco cinema, stand like a sentinel at San Rafael's northern edge. And the abstract minimalism of the Museo Experimental El Eco, built in the 1950s by the celebrated artist and designer Mathias Goeritz, brackets San Rafael's south.
Yet despite all these monuments, both neighborhoods remain typical middle-class barrios. Santa María's neighborhood tamale shop, Cintli, is my favorite in all of Mexico City. Beer and tequila abound at the local cantina Salón París, and La Polar in San Rafael serves steaming bowls of birria, a regional beef stew, accompanied by raucous mariachi bands playing late into the night.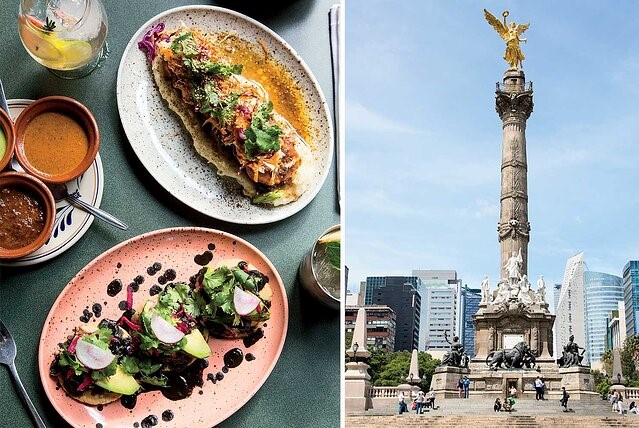 Juarez & Colonia Cuauhtémoc
The glass-and-steel towers lining Mexico City's grand ceremonial avenue, Paseo de la Reforma, burst from the low-slung concrete grid like volcanic peaks, monuments to globalist prosperity erupting from the city's ancient lake bed. Reforma connects the Centro to the Bosque de Chapultepec, the city's biggest park, and the trio of art institutions clustered at its northern end – the Museum of Anthropology, the Museum of Modern Art, and the Tamayo Museum for contemporary art.
For much of the last century, the neighborhoods that flank Reforma – Colonia Cuauhtémoc to the north and Juarez to the south – were the center of the city's international population. Wealthy Mexican families, foreigners, and diplomats were drawn here by embassies and banks and streets named for the great rivers and cities of the world they once called home: Ganges, Danubio, and Rhin; Londres, Hamburgo, and Berlín. From their development in the early 20th century onward, these areas have expressed Mexico's global ambitions. They still do.
Ryo Kan, a guesthouse that opened in April in Cuauhtémoc, takes its neighborhood's global spirit to heart, bringing the intimate calm of the traditional Japanese inns it's named after to the heart of the Mexican capital. While other new boutique hotels in the city revel in Mexico's mid-century elegance, Ryo Kan is tranquil and subdued, compact and efficient, a meditation in pale oak and terrazzo. "Japan and Mexico have a lot in common – our ceramics, our textiles, our uses of natural materials. We wanted to find those parallels," says Regina Galvanduque, the lead architect on the Ryo Kan project.
Ryo Kan is the most recent of a number of Japanese-inspired businesses to open along Cuauhtémoc's subdued, tree-lined streets. In the past six years, the Edo Kobayashi restaurant group, run by Edo López, has created a small empire there, with an izakaya and ramen spot called Rokai, a tiny bar called Le Tachinomi Desu serving sake and natural wines, and a listening bar inspired by Tokyo's Ginza Music Bar.
Wander a few minutes south into the Zona Rosa, the historic gay neighborhood at the center of Colonia Juarez, and you'll find it hard not to feel transported. Banners for cheap cafés, Korean lunch joints, and neon-lit gay bars obscure the façades of old houses built in an inexplicable (and inexplicably pleasing) hodgepodge of architectural styles from France, Italy, Britain, and Spain.
In the evenings, crowds spill onto the broad pavement of Plaza Washington from the garage-like edifice of Cicatriz, an all-day café run by a sister-brother team of American expats, Scarlett and Jake Lindeman. Most of their customers – who come for coffee and cocktails, natural wines, and fried-chicken sandwiches – wouldn't look out of place in New York, Los Angeles, London, or Paris. That's because many of them hail from just those places: the most recent group of immigrants to call Juarez home.
San Miguel Chapultepec
The long communal table that runs down the center of the restaurant Masala y Maíz had been laid out with bowls of spices – some of them familiar to Mexican palates (cumin, cinnamon, cloves, and black pepper), others (coriander seed, ginger, and star anise) less so. Chefs Norma Listman, originally from the nearby town of Texcoco, and Saqib Keval, born in northern California to an Indian family from East Africa, circulated, greeting guests. Seated at the center of the table, the restaurant's first artist in residence, Sita Kuratomi Bhaumik, began her talk on the origins of Indian chai. The conversation then segued to the spices in front of us and how some made their way into Mexican kitchens.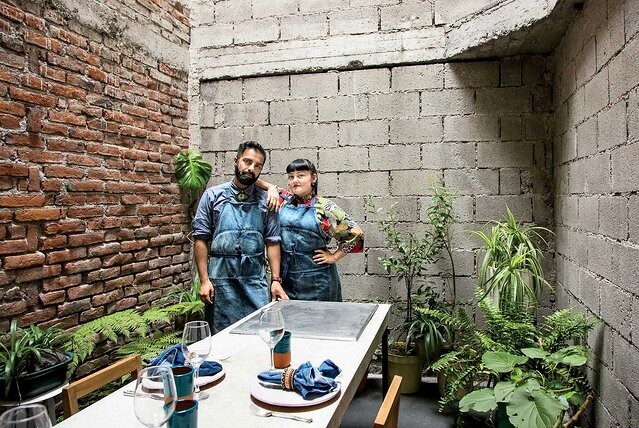 Masala y Maíz had opened a few months earlier in the quietly elegant colonia of San Miguel Chapultepec, a triangle of leafy streets that separates Condesa from the Bosque de Chapultepec. Right away, it was a space obsessed with hybridity: an artists' residency, an ambitious full-service restaurant, and a coffee shop serving house-made doughnuts from a window connecting the kitchen to the street. That evening, it was also a workshop for a handful of curious people, an event that was local in its reach, yet cosmopolitan in its vision.
For Listman and Keval, the menu at Masala y Maíz is a reflection of the mestizaje, or cultural mixing, that has defined Mexican culture since the Spanish conquest. Here, huevos rancheros come with South Indian uttapam flatbreads in place of tortillas. Giant prawns are coated in Ethiopian berbere and served with jicama and rose water. Patra de hoja santa, a riff on an Indian snack of spiced chickpea batter, trades the traditional taro leaf for southern Mexico's emblematic herb, hoja santa.
San Miguel was not an obvious choice for this kind of restaurant. Peaceful and residential, the area is best known for its access to the Bosque de Chapultepec, never more than a few blocks away; for the pretty cobblestoned lanes that line its southern side; and for the beloved white-tablecloth cantina, El Mirador de Chapultepec, that has been a favorite among city politicians for decades. It's also notable for its proximity to several essential design institutions, including the influential gallery Kurimanzutto, which turns 20 this year. Casa Luis Barragán, the former home of Mexico's Pritzker-winning 20th-century architectural master Luis Barragán, lies just beyond the colonia's western edge, and the renowned Archivo de Diseño y Arquitectura exhibition space sits right next door to Barragán's house.
San Miguel is a perfect place for peaceful walks past magnificent private homes secreted away behind humble Neocolonial façades, for whiling away hours in quiet corners of the Bosque de Chapultepec, or for sipping hibiscus mead brewed right here in the city, a specialty at Masala y Maíz. It's also a perfect place to reflect on something Chilangos have known for ages: that Mexico City isn't just the capital of the Spanish-speaking world, or the biggest city in North America. A city of immigrants and innovation, built and rebuilt with a zealous lust for the new, blasted by tragedy, sustained by passion and pragmatism – Ciudad de México is, and always has been, the great city of the Americas.
Plan a Perfect Stay in Mexico City
For a manageable microcosm of this vast metropolis, stick to these parts of the historic Cuauhtémoc borough. Pick one as your base, and spend your days exploring the others.
Getting Around
Despite its size, Mexico City is relatively easy to navigate, particularly if you stay within the central neighborhoods. Comfortable year-round temperatures make it a great city for walking. The Metro is the most efficient way to cover longer distances, though it's best avoided at rush hour. Uber is also a good option here.
Centro Histórico
Hotels
The Downtown Mexico (doubles from $230), set in a 17th-century palace, has an elegant rooftop bar and pool.
Eat & Drink
Arrive early to avoid the crowds at Don Vergas (Calle Motolinia 32; entrées $7-$32), which serves some of the city's best seafood. Since time of reporting, the restaurant has moved from the Mercado San Juan to this new location, also in the Centro Histórico. Dip into a historic cantina like Salón España (25 Avda. República de Argentina), La Ópera (10 Cinco de Mayo), or La Faena (49 Venustiano Carranza) to break up a day of sightseeing. For dinner, stop at the beloved mezcal bar Bósforo (31 Luis Moya), then try the chic, nameless restaurant next door (entrées $8-$12).
Activities
Shop for whimsical fashion at Hi-Bye, and pick up a bottle of mezcal at Sabrá Diós (15 Avda. Veracruz), in Condesa. If you're interested in local crafts, make an appointment to visit the showroom at Ven a Mi and keep an eye out for retail pop-ups like Momo Room.
Santa María la Ribera & San Rafael
Hotels
The boutique hotel El Patio 77 (doubles from $125) makes for a peaceful base in a central but relatively unexplored area.
Eat & Drink
Find the best tamales in the city at Cintli (174 Calle Sabino), a no-frills storefront in Santa María la Ribera. Salón París (152 Jaime Torres Bodet) is a great traditional cantina, while La Polar (birria $7) makes superb birria (beef stew).
Activities
The magnificent Geology Museum, in Santa María's main plaza, has a beautifully displayed collection. For contemporary art, don't miss Casa Wabi (casawabi.org) and the Museo Experimental El Eco, a masterpiece of mid-century Mexican design.
Juarez & Colonia Cuauhtémoc
Hotels
The newly opened Ryo Kan (doubles from $150) brings Japanese tranquility to the city's business district.
Eat & Drink
You'll find some of Mexico City's best international restaurants in these neighborhoods, from small plates at natural-wine bar Le Tachinomi Desu (small plates $5-$8) to a remarkable omakase at Sushi Kyo (set menus from $75). Salón Ríos (218 Río Lerma; entrées $8-$30) is a great place for updated Mexican classics, while Cicatriz (entrées $3-$6) is ideal for a salad or an evening cocktail.
Activities
The Anthropology Museum has an extraordinary collection of Mesoamerican artifacts. Next door, Museo Tamayo shows modern, contemporary, and folk art, while the Museo de Arte Moderno focuses, as its name suggests, on modern art.
San Miguel Chapultepec
Eat & Drink
The menu at Masala y Maíz (small plates $5-$9) explores the commonalities among the cuisines of Mexico, India, and East Africa, while El Mirador de Chapultepec (sharing plates $7-$10) is one of the city's classic cantinas.
Activities
Book well in advance for a tour of Casa Luis Barragán, former home of the Pritzker-winning architect. Nearby, Casa Gilardi, the last house Barragán built before his death, also offers tours by appointment. Next door to the Barragán house is the Archivo de Diseño y Arquitectura, a small exhibition space and reading room devoted to Mexican design with a beautiful garden in back. Twenty years after opening, Kurimanzutto, in the neighborhood's peaceful heart, is still among the most influential galleries in North America.
Michael Snyder is a freelance journalist based in Mexico City, specializing in food, architecture, travel and culture. He is a regular contributor to T Magazine and has written for a range of publications including the New York Times, the LA Times, The Believer, The Nation, Scientific American, The Caravan, Lucky Peach, Travel + Leisure, Saveur, Food & Wine, Punch, Eater and Roads & Kingdoms, among others.)
Best Time to Use a Plane Lavatory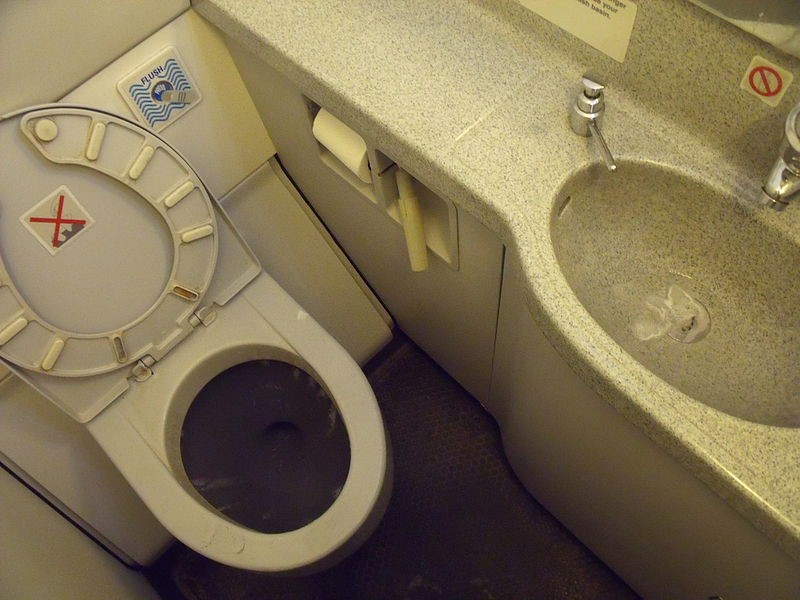 Expert: Erika Roth, former flight attendant
Time Limit: Five minutes, 10 max. Twenty minutes will get you a knock on the door
The Best Time to Go: As soon as the seatbelt sign is off, before drink service begins.
The Method: According to Roth, who encountered numerous splashdowns in her eight years on the job, unless you're on a long-haul flight with multiple lavatory options, your best bet is to hold it, as odor is a problem in the cramped cabin of an airplane. "Close quarters, poor ventilation and a lack of efficient plumbing — to be blunt, the stench can fill a cabin quickly," she explains.
If you have to go, Roth suggests an old flight-attendant trick: "Ask an attendant for packets of coffee grounds, then hang them up in the lavatory. The grounds will soak up the odor." Of course, the flight attendants will know exactly what you're doing in there, but your fellow passengers will be none the wiser.