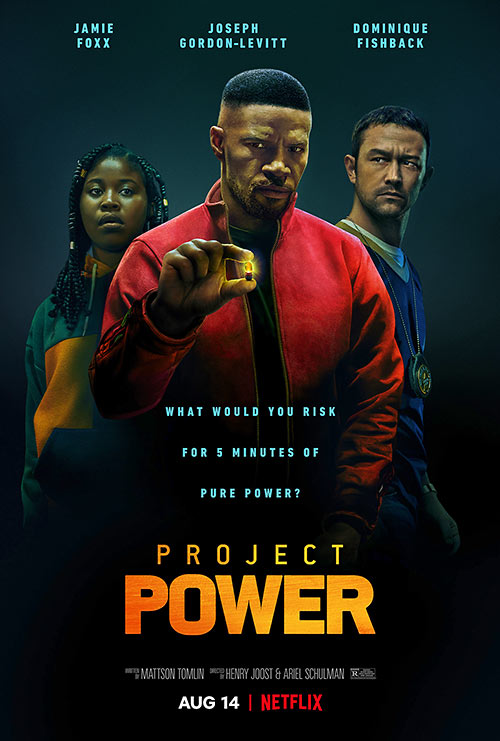 With Joseph Gordon-Levitt and Jamie Foxx in lead roles, how could anything go wrong in this action, sci-fi thriller written by first-time screenwriter ​Mattson Tomlin and directed by Ariel Schulman and Henry Joost?  In a word – plenty.
It's 3:00 am in New Orleans, nicely captured by cinematographer Michael Simmonds. The drug dealers are hard at work selling a shiny new pill which, when taken, endows the recipient with super powers. At $500 a pop, this magic bullet is not stable and while it could gift you with superhuman strength allowing you to lift a car up over your head, or turn you into a super hero where bullets bounce off your cheeks, or render you invisible, or enable you to sprint at almost 50 miles per hour, the pill is unstable and, as Colson Baker, a.k.a. ​Rapper Machine Gun Kelly, demonstrates, after taking the pill he turns into a flaming torch.  I guess you could say you pays the price and you takes your chances.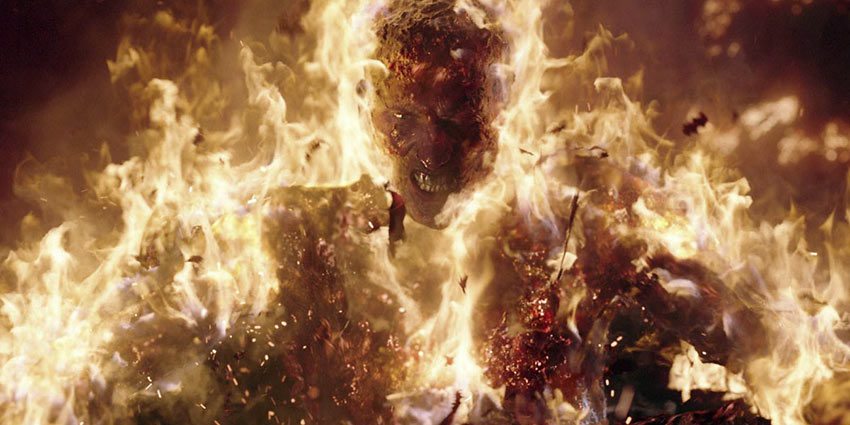 Frank, a LAPD officer played by Gordon-Levitt, arrives on the scene and busts a young girl named Robin, who is a drug pusher/wannabe Rapper, played by Dominique Fishback.  They then become partners in the pursuit of the major supplier.  Every once in a while throughout the film, she breaks out in a Rap riff germane to a particular situation and becomes a pivotal character in the ensuing silly action.  In order to level the playing field with the bad guys, Frank takes a pill and taps into his hidden strength.  Yes, there are shades of Bradley Cooper's starring role in the well-done Limitless, which also involved taking a pill – giving new meaning to "on the pill." Sorry.  Couldn't resist that. There are also vague, superficial similarities to Marvel and DC Comics super heroes.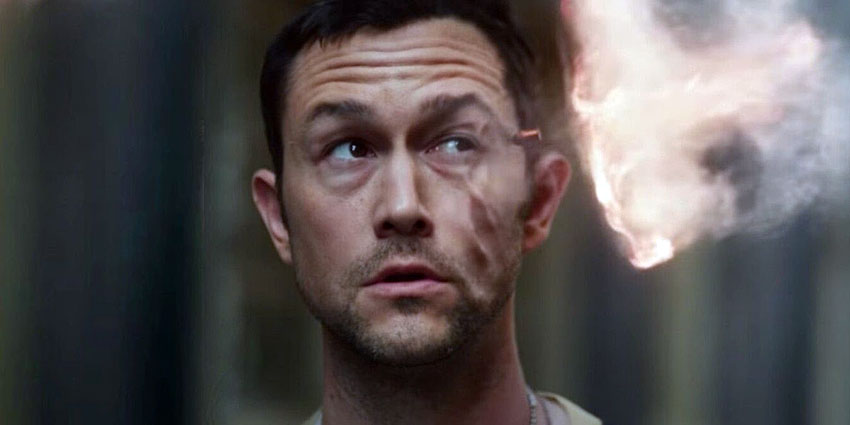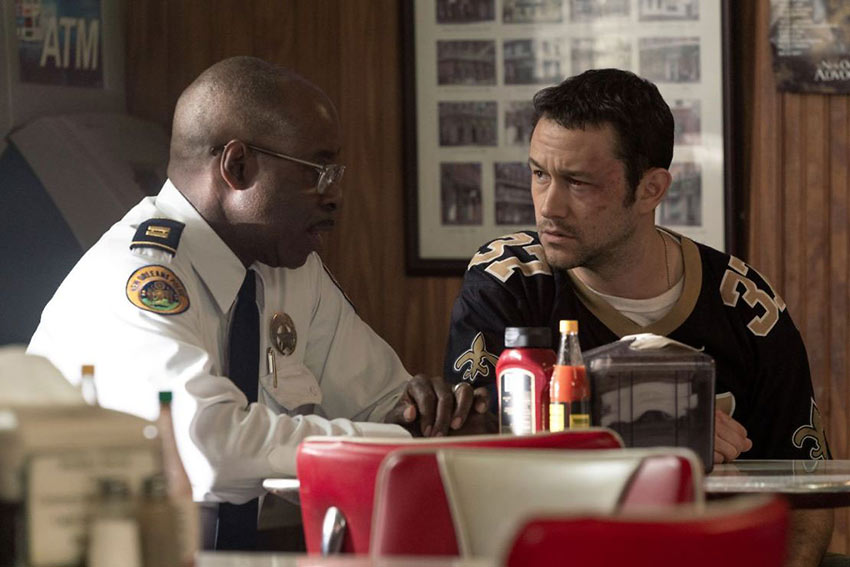 Enter now Jamie Foxx as Art, a former army major whose daughter has been kidnapped by the sinister, cartoonish bad guys played by  Rodrigo Santoro and Amy Landecker, leaders in Teleios, the outfit peddling Power. Their creepy plan is to mass produce the Power Pill and create an indestructible militia that could take over the world.  It seems that Art's daughter Tracy, played by Kyanna Simone Simpson, has special antibodies in her blood that allows her to achieve the same effects of the Power pill without actually taking it.  She is currently being held captive on a cavernous cargo ship turned into a massive floating laboratory with endless winding corridors and secret hatches controlled by a highly intricate set of computers, let's say on the scale of NASA or the CIA.  Art is determined to rescue his daughter and in a flashback remembers the two of them in a car when his daughter is dragged away by the bad guys thus beginning his unrelenting determination to rescue her.  So, the three of them – Frank, Art, and Robin make their way to the ship and lo and behold, she figures out how to work the unbelievably intricate computer system controlling the doors and hatches, giving Frank and Art blow-by-blow instructions on how to retrieve Tracy without getting caught.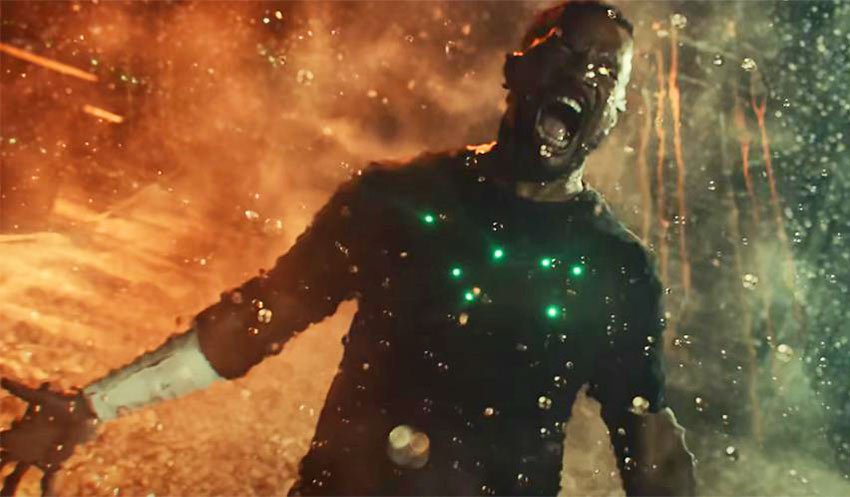 Having rescued her, now the four of them have to get off the ship alive and thus, popping a pill, Art becomes a version of the Hulk and a big punch-out ensues.   And, like any good fairytale, the good guys win, the bad guys are dead, and Robin, the former drug dealer, gets to cut her first rap single.  Other members of the supporting cast include, Allen Maldonado, Casey Neistat, Tait Fletcher, Colson Baker, Michael Thomas, Andrene Ward-Hammond, Yoshi Sudarso, and a cameo guest performance by Courtney B. Vance, who delivers one of the most believable moments in the film.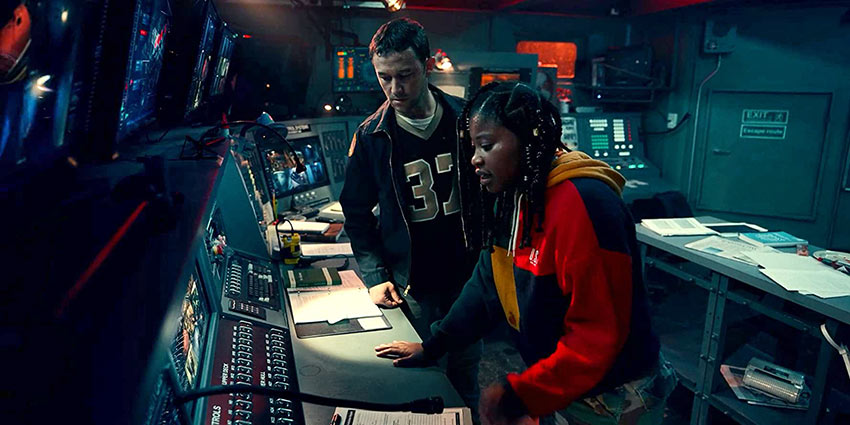 While it might sound good on paper, the film is weighted down by predictable clichés, and rather absurd plot points.  It's a wonder that despite the poor script, and intermittent unfocused direction, that the three principal characters gave creditable performances – especially Fox and Fishback.  Gordon-Levitt, who is usually solid in creating characters, did have a bit of a challenge in maintaining consistency throughout the R Rated, 1 hour and 51 minutes of an action film that ultimately falls flat.