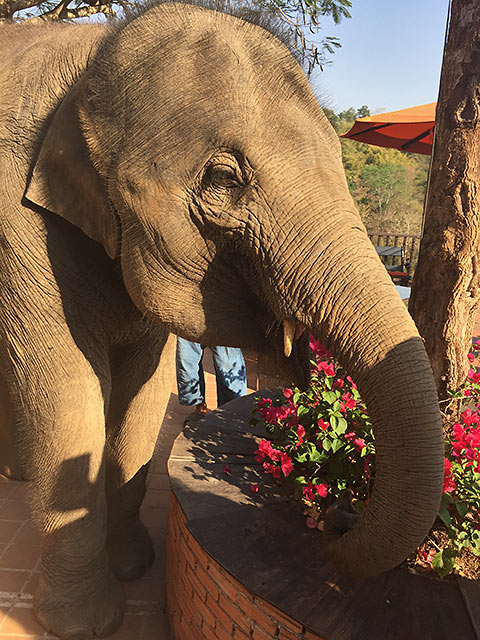 Ying Luck was hungry.  She knew that when she arrived at the dining room terrace at the Anantara Golden Triangle Elephant Camp & Resort her cuteness alone would be rewarded with a scrumptious snack.  Every morning at around 8 a.m., this youthful, diminutive five-year-old, along with her ever-watchful and devoted mahout, lumbers to the restaurant patio where the staff has put out an elephant-size basket of bananas and eager hotel guests vie to pose for pictures with this charming and accommodating pachyderm and vie to feed her.
Ying Luck is but one of some 20 elephants here (along with 26 mahouts and their families), who reside in the elephant camp, having been rescued from other parts of the country, or having been retired from "work." (In 1989, the Thai government banned logging in protected areas and a side effect of that ban was that many elephants who had worked for years in the logging industry—whether judged right or wrong by Western standards—found themselves "unemployed" and in need of rescue.  Their mahouts now must provide for both the elephants and their own families.  (Elephants can easily live 50 to 70 years, so it is vital that they have a safe sanctuary where they can spend those years.)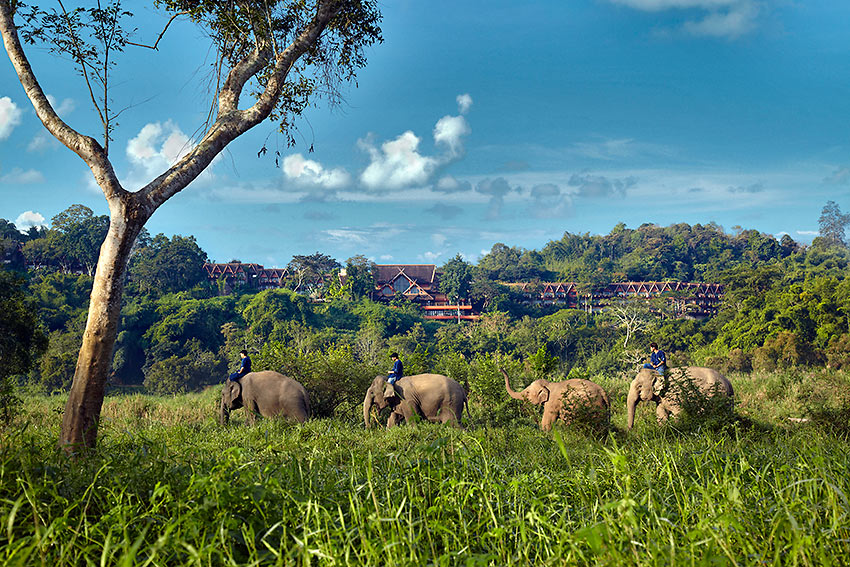 Thus it is that Ying Luck and some of her sisters — Pohmpoey, Mina, and Lakh An, to name but three of the "girls" — all find themselves in Camp Dara, designed as a traditional mahout village. They are the star attraction and visitors to this Anantara property can interact with them daily. Elephant-related activities are only one category of experience offered at this property; there are many things to do both on- and off-campus, despite the fact that the resort feels as if it is in the middle of an ever-verdant forest.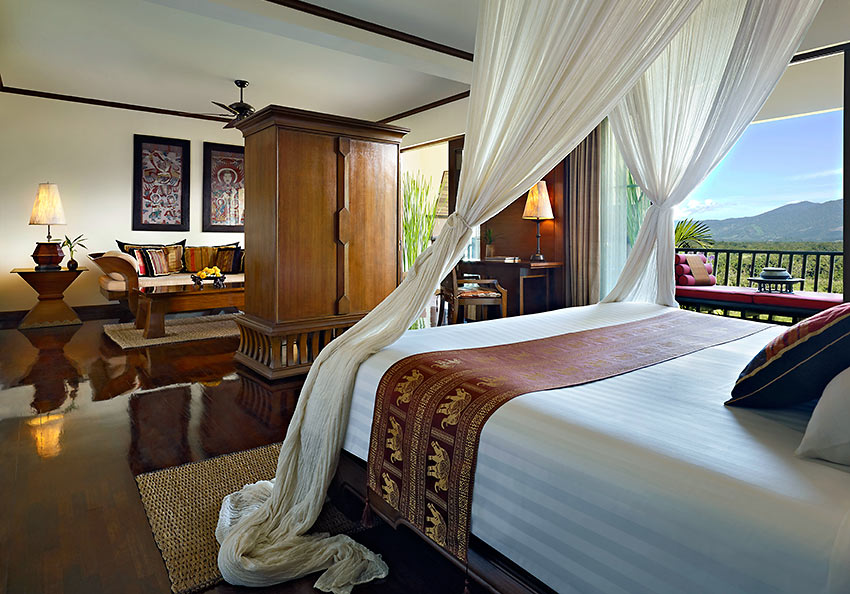 Perched on a ridge overlooking the hills of Thailand, Myanmar, and Laos, and at the convergence of the Ruak and the Mekong Rivers, the 160-acre property provides a window to the breathtaking panorama of verdant, wild, and untamed nature — bamboo forest, rice paddies, and the jungles on the hillside.  And that "window" is not necessarily a glass window — the resort is, as are so many in the tropics, open-air — and thusly offers a picture-postcard, up-close vista no matter what direction you face.  The rich, burnished-wooden floors and furniture along with the rattan and wicker accessories, accented by native-print textiles, reinforce the Eastern mood. The staff's warmth and graciousness will quickly envelop you, another Eastern hallmark. It is no wonder that in 2016's Condé Nast Traveler's Readers' Choice Awards, this resort was ranked sixth out of 40 in the Top Resorts in Asia category.
The cossetting hands of the Anantara employees are ever-present at all of the company's nearly 40 hotels, known for superlative service and exquisite settings.  On staff, also, are gurus who can attend to specific needs, even down to what kind of soap you might want to use — to be blissed out or energized, you can choose from vetiver, cedar wood, ginger flower, or patchouli — or what kind of pillow you require to fall lazily into the arms of Morpheus.
Anantara is the five-star hotel group of the Thailand-based Minor Corporation, which also has four other hotel brands, with properties on five continents.  Founder William Heinecke, the son of a US foreign service official, is Wisconsin-born and Thai-bred; he left home at 17 and started a business in Bangkok, and because he was too young to sign legal documents, he dubbed his fledgling operation the Minor Corporation. Today it is one of the largest hospitality and food conglomerates in Asia, boasting a network of some 2,000 eateries and hundreds of retail stores, in addition to its 150-plus hotels.  Anantara knows how to put a capital "H" in hospitality and dot the "i" in service.
This property offers a Discovery Experience package that provides for, in addition to three daily meals (as well as in-room dining and mini-bar), WiFi, nearby museum admission, and best of all, a major activity each day.  The latter might include a spa package for an unparalleled half-day, sybaritic experience; a Spice Spoons cooking class, which might also include a morning trip to the market, to purchase ingredients, and then preparation/cooking at your own station, under the watchful eye of the chef; an "elephant experience," which might be the E.L.E. Elephant Learning Program, or the Mahout Training Class, or Walking with the Giants; and, lastly, an outing into Myanmar and Laos, on the Golden Triangle Discovery Excursion.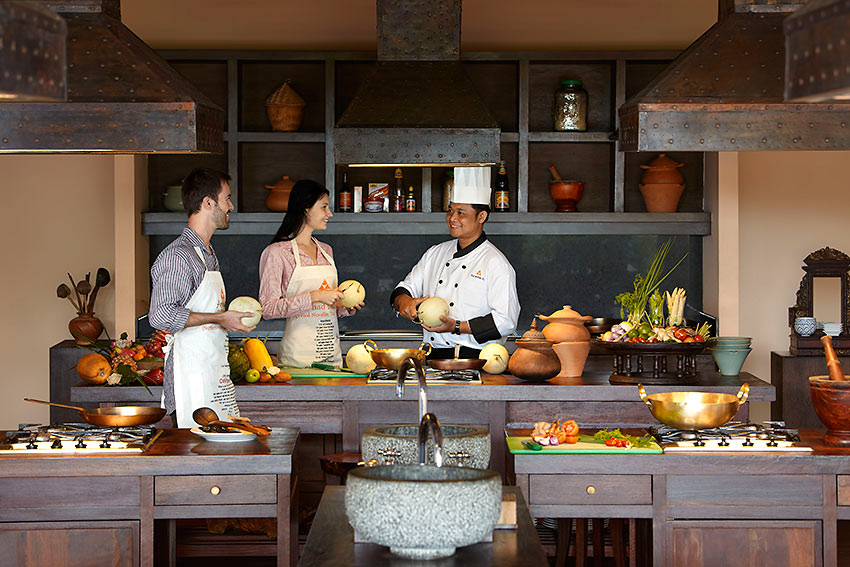 The Discovery Excursions provide for a car, driver, and an experienced guide, as needed.  Some of the excursions are "do-it-yourself," and might include a car hop across the road to the intriguing and educational Hall of Opium Museum, which should not be missed.  The story of opium is recounted through a native lens, not Western opprobrium, and highlights how this area became ground zero for the poppy's treacherous lure and the nexus for its spread. Built to instruct, museum's entertaining and educational exhibitions trace opium's history through 5,000 years.
An outing worth taking is the day trip that includes dipping a toe into Laos and Myanmar; the former is accessible via longtail boat (no visa required) to Don Sao Island in the Mekong, and the latter is reached by crossing a colorful bridge by foot, connecting Mae Sai in Thailand with Myawaddy in Myanmar with. You'll want to spend more time in Myanmar, as you no sooner cross the bridge and fall into the Shan Market (exotic fruits and vegetables) and then navigate the overwhelming shopping market of stalls and shops, carrying everything and anything you might ever want.  My "gal pals" and I did major retail damage here and came back to Anantara giddy with the exhilaration of the high resulting from scoring well-bargained-for treasures.  We rewarded ourselves with intriguing cocktails, nursed indolently on the Anantara terrace, overlooking lush bamboo woodlands.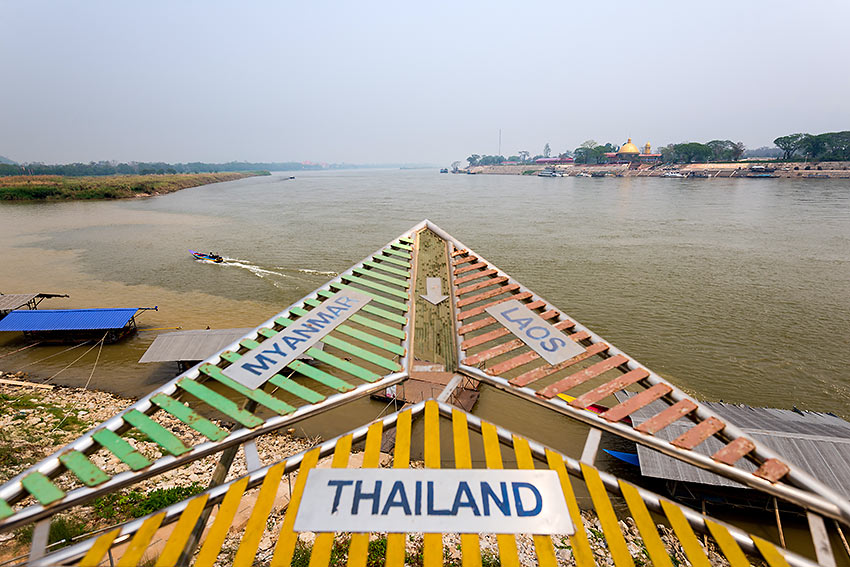 There are also other outings that are fascinating in different ways:  It is a ten-minute trip to Chiang Saen, the former capital of Thailand's ancient Lanna Kingdom, where ancient city walls, dating back to the twelfth century, as well as many temple ruins and relics remain.  Farther afield is a trip to Wat Rong Khun, known as the White Temple, the work of artist Chaloemchai Khositphiphat, who has created this ornate, bleached-looking structure, that appears as if it were a dripping gingerbread cake, swathed in snow, rising from the earth.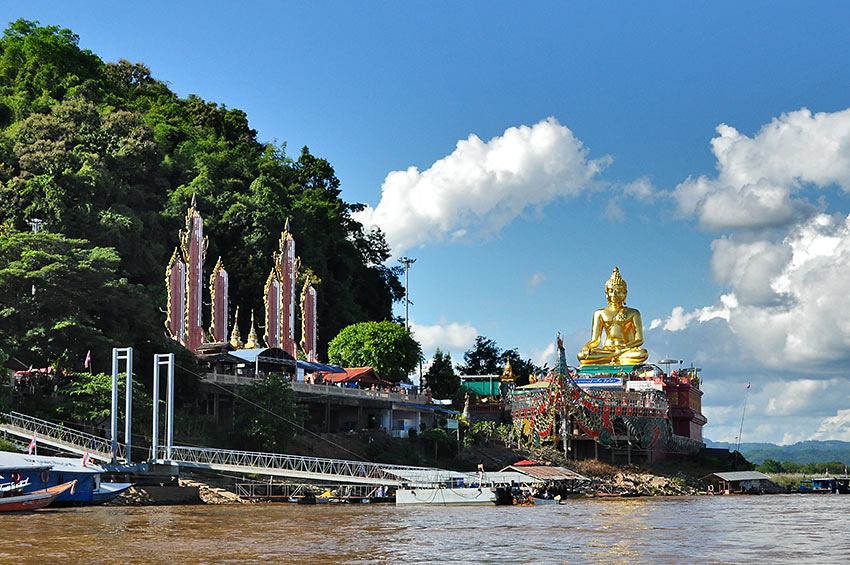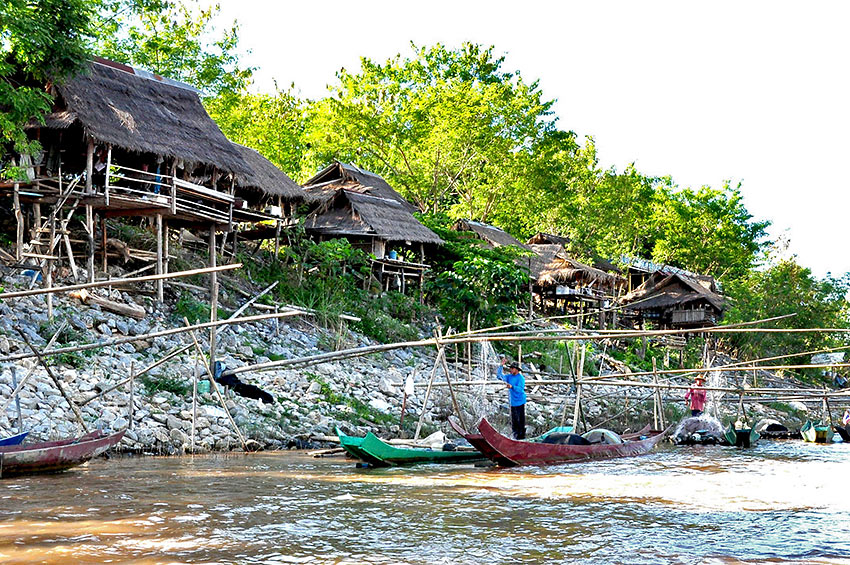 When you visit the Doi Tung Royal Villa, dress with your arms covered and don't come clad in short shorts, or you'll be given a giant denim skirt and oversize jacket to swathe around your flesh. The villa was built in the Lanna and Swiss architectural styles—this Swiss-chalet-looking edifice appears rather incongruous in the middle of Thailand.  It was the residence of Her (late) Royal Highness Princess Srinakarindra, the Princess Mother, and her daughter and granddaughter.  The walls of the great hall are covered in stunning Thai silk which is embroidered lavishly and the ceiling is awash with the night sky, replete with the constellations, as they were on the night of her birth in 1900.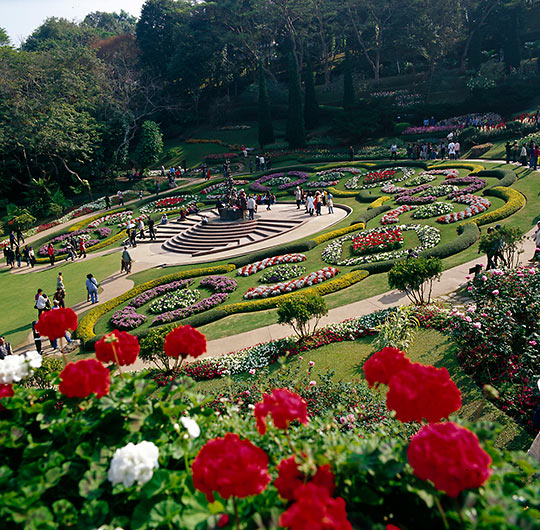 Another must-see is the Mae Fah Luang Garden, which, along with the palace, are among the most visited attractions in the Chiang Rai province. The gardens, ten acres of riots of color, are spectacular.  Our guide told us that the grounds — featuring everything from dahlia, magnolia, petunia, azalea, geranium, pansy, morning glory to a rock garden, a water garden, an orchid house, and a palm garden — are replanted every few months, guaranteeing that they are always in full bloom. Wherever you are, look for a Doi Tung Cottage Industry shop, a pet project of the Princess Mother, which encourages the production of native crafts of the highest quality, ensuring income for many villages.  The handmade mulberry papers, exquisitely woven shawls and home furnishings, along with pottery and other crafts, will be treasured souvenirs when you bring them home.
Back at the Anantara campus, consider trying to take all three elephant activities if you are there long enough; they are included in the Discovery Experience. Walking with the Giants will get you up at the crack of dawn to stroll in the forest with the elephants and their mahouts, as the gentle giants splash in the river, cavort in the mud, and snack on plums and leaves, while you learn about elephants from the resident veterinarian or the property's biologist. The Mahout Experience is a hands-on learning session, observing and practicing, as a mahout trainee, the 70 commands and touches the mahouts use to guide their charges to respond. The E.L.E. Learning Experience focuses on elephant biology, behavior, and conservation.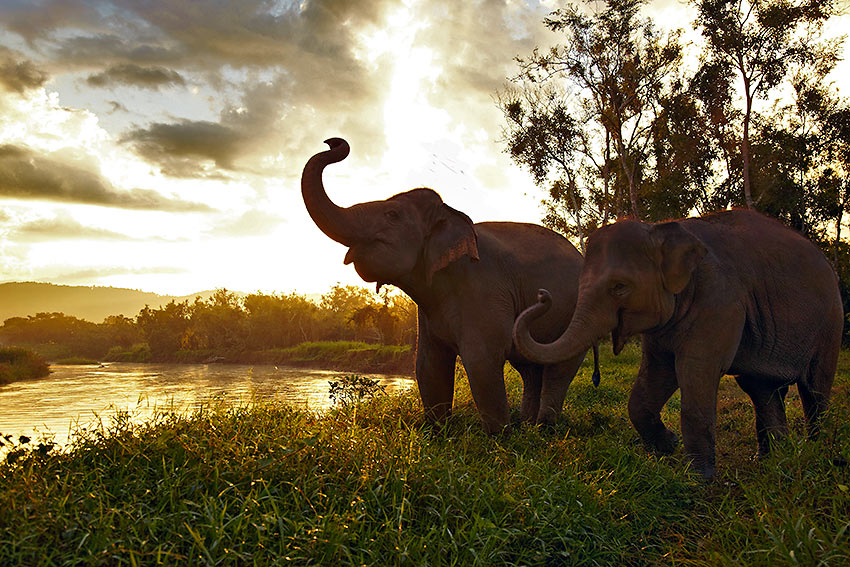 One other wonderful experience, unique to Anantara and yet different in every property is the Dining by Design option.  At the Golden Triangle, it might include a sit-down dinner in a rice paddy, with a few visiting elephants, and savoring a banquet of local specialties, as two chefs cook in the open-air kitchen.  It is a night to remember, as are all the experiences at this very magical, special slice of heaven.
The Details:
For information on this resort and other Anantara properties, call 844-646-6724
To read about the Anantara Riverside Hotel in Bangkok, click here and here.
EVA Air has several beautiful, comfortable lounges in the Taipei, Taiwan (your stopover), all with flavorsome Eastern and Western cuisine and gracious amenities geared to a sleepy traveler. Cabin service includes five classes — Royal Laurel, Premium Laurel, Business Class, Elite Class, and Economy Class.  800-695-1188
© Ruth J. Katz 2017 All Rights Reserved