Raoul's 2 Cents
If you have been a subscriber of my TGIF email for several seasons, you know that today (Good Friday) is the one Friday in the year when I do not share any jokes in deference to the Christian faith … for it is on this day that Jesus was crucified on the cross because of His love for mankind.  If spiritual topics offend you, just move on and we'll see each other again next week.
Ambassadors to the Nomads
I met two truly fascinating people last Monday. Jack & Jill are camel-riding missionaries on furlough from their adopted land in Africa. Both are College grado but rather than choose a lucrative profession in America, they go to one of the poorest places in the world.
When you think of missionaries, you think of people who plant themselves in some far away island in order to spread their Christian faith. Yes, Jack & Jill do all that but what complicates the logistics is their "island" is a "floating island." They minister to desert nomads who have no permanent address. Not only is their "island" in constant flux but the people they come in contact with also change. It's only the Nomads' annual journey that brings them to the area. You can imagine how many years it has taken them to build any kind of relationship.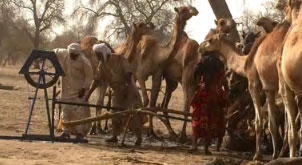 Another big impasse is the Nomads use a language unique to that area. The "Nomadic Translation Book for Dummies" is yet to be published. During their first year, they used pictures and finger pointing to communicate. It's been almost 10 years now and they have yet to figure out how to engage in philosophical concepts. How does one even approach the concept of God to these illiterate camel-riding Muslims?
Thankfully, the Nomads think Jack and Jill are mere oddities and not dangerous. The nomadic aspiration in life is to be considered a noble and generous person. There is a story of a rich man who owned many cattle and he was so generous that he would kill (not a goat but) a cow for every stranger he would meet. So many strangers later and he ran out of cattle. He became a street beggar. Today people would point at this beggar as a noble man. It is the Nomad's ambition to be like this street beggar.
Life is hard for all of them. They live a life of daily labor for survival. Of course women are properties. The dominant male owns several wives. Ideally, the wife is a first cousin. Surprisingly there are no reports of abnormality. They are Muslims because they do not know any other religion. They ostracize anyone who defects from their faith. To do so is akin to a death warrant. Despite the language barrier, one woman accepted Christ. God works in mysterious ways. This pregnant woman survived a miracle. Her water broke but her baby didn't come out until 10 weeks later. They prayed for her. The baby is healthy. No complications. She keeps her growing faith a secret from everyone otherwise she will be disowned, divorced and anyone who would take her in would also share her demise.
The nomadic culture is not very far from the culture of their ancestors in the 1st century. On this Good Friday, 1,986 years ago, a man of love and peace was beaten, tortured, ridiculed and condemned to die by hanging on a wooden cross. His crime? Proclaiming that He was the son of God. Solid historical testimonies and writings give evidence that three days later, this man rose from the dead. Since that day, his followers have shared this amazing, incredible Good News. God is a god of love for He gave his one and only son so that whoever believes in him will have eternal life. "Spread the word," Christ said. Millions of martyrs later and his followers are still spreading the good news. Do you think people would give up their lives for a false narrative?
You wonder why Jack & Jill chose to raise their children to grow up in that miserable hell hole. But when you see Jill's welcoming wide-brimming smile and Jack's calm demeanor, you know there is a genuineness in them that big city folk like us lack. I can only imagine the world in America as seen from their eyes. It must be a land of wasteful plenty with ungrateful irresponsible people. Luxury does that to us. In their faces, I see rest from the harsh desert conditions but I also see joy in their loving hearts. I see Jesus Christ. He is alive. He is risen.
TGFGF (Thank God For Good Friday) people!
p.s.
Please let me know if you would like to support them. I will pass along your email.
"For I am not ashamed of the gospel, for it is the power of God for salvation to everyone who believes."
— Romans 1:16