So yes, of course, the highlights of our Blue Danube River Cruise with Grand Circle Tour Company were the four European capitals we were visiting: Prague, Czech Republic, Vienna, Austria, Bratislava, Slovakia and Budapest, Hungary — all worth writing about. And I promise to do so.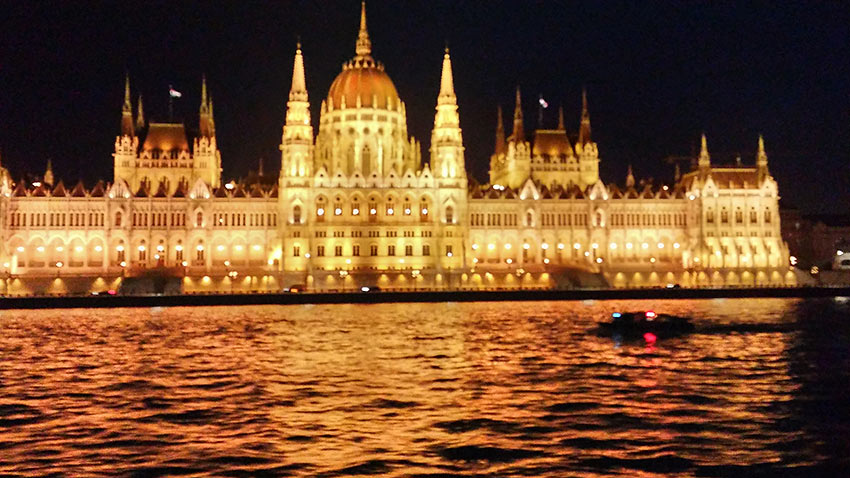 But it was the many surprises surrounding the experiences on the ship that truly enhanced the trip. Because this was our first river cruise, my husband and I had many apprehensions ahead of time. The tiny stateroom? Check. But somehow it had more drawers, shelves and hangers than I have at home and was surprisingly comfortable.
Too sedentary? Check. Being a particularly active person — the have-every-minute-programmed kind of active — although at a senior citizen level — I feared the shortish daily tour would not be sufficient. After all, the 182-passenger MS River Aria Is not one of those cruise ships boasting round the clock activities. However, opportunities abounded to explore every city as much — or as little — as you want.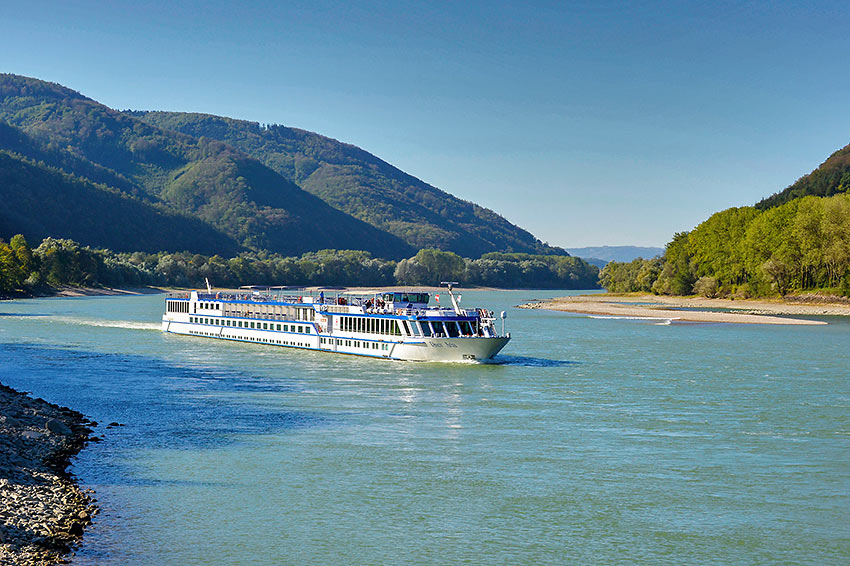 Having primarily traveled with Overseas Adventure Travel, the much smaller, younger tour group under the auspices of Grand Circle, we also worried about traveling in a large group of older folk. And yes, GC caters to those needs. There is a slower paced tour option available for those who feel they cannot keep up with the group. Portable light-weight seats are available for those unable to stand in one spot during long explanations. An electric chair is attached to the stairs on the ship. Electric bikes are available on board for very easy peddling along some of the most beautiful bike paths in Europe.
There is little that Grand Circle hasn't thought of to accommodate a somewhat older clientele.  But for the most part, that older clientele is a feisty group of fun-loving, adventurous travelers who are loathe to slow down.
Worried about needing to swarm around our guide in order to hear what was being said? Check. Each person, however, has his own individual listening device so that you can hear the tour guide as you walk through the cities, even if you're a block away. At this point, we stopped worrying.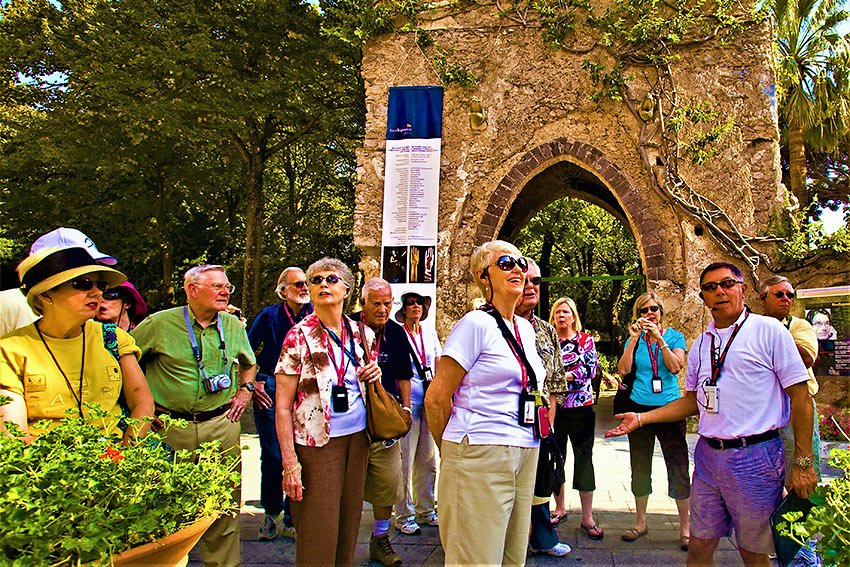 The boat passengers are divided into four color-coded groups each led by a program director. Stefan was ours, but all four participate in the ongoing upkeep of the troops. Everyone associated with Grand Circle and the ship is, well, friendly doesn't do them justice: funny, accommodating, out-sized personalities all eager to please — and despite my husband's cynicism, I don't think it's just because of the tip…
Most mornings we're out and about by 9 — but one sailing day, we instead were on a deck chaise, Bloody Mary in hand, listening to commentary about the surrounding topography — wooded treetops, rolling green countryside, rural villages, terraced vineyards and an occasional abbey or castle. Life doesn't get much better than that! My concern about filling every hour with activity dissipated.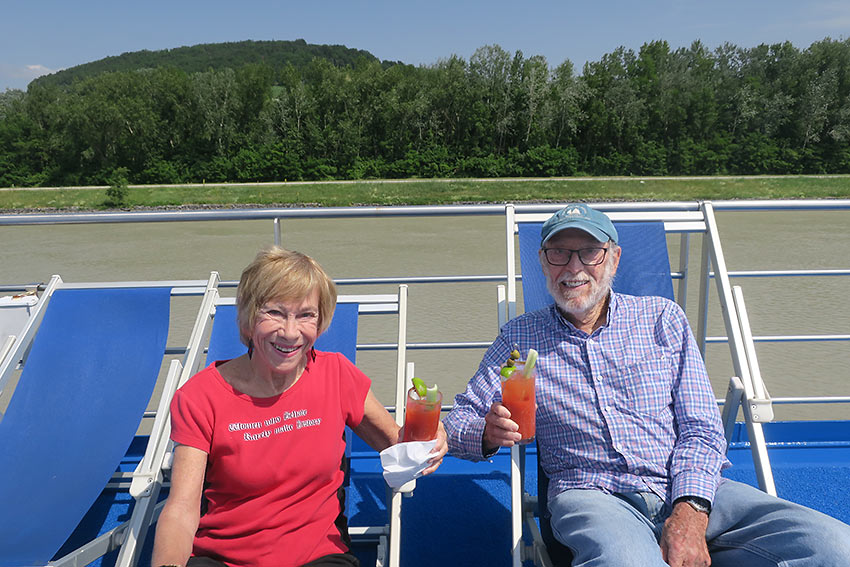 I was pried from my reading revelry as my fellow passengers hustled to the sides of the ship as we went through our first of nine locks, a feat that if you haven't experienced is worth the effort of rising from the comfort of your chaise lounge. The ship narrowly goes between barriers on both sides and is then lowered so as to access the water level on the other side. By the time we hit lock #6, no one moved. Another Bloody Mary anyone?
Because it's lunchtime, I should pause here to talk a bit about the meals — which deserve an article of their own. From creativity to inventiveness to presentation and oh, yes — deliciousness, the food merits its own Michelin star.  I looked forward to every meal knowing it was going to be surprising, lovely and scrumptious. And the service? Suffice it to say, not only are the waiters attentive and accommodating, most of them are stand-up comedians.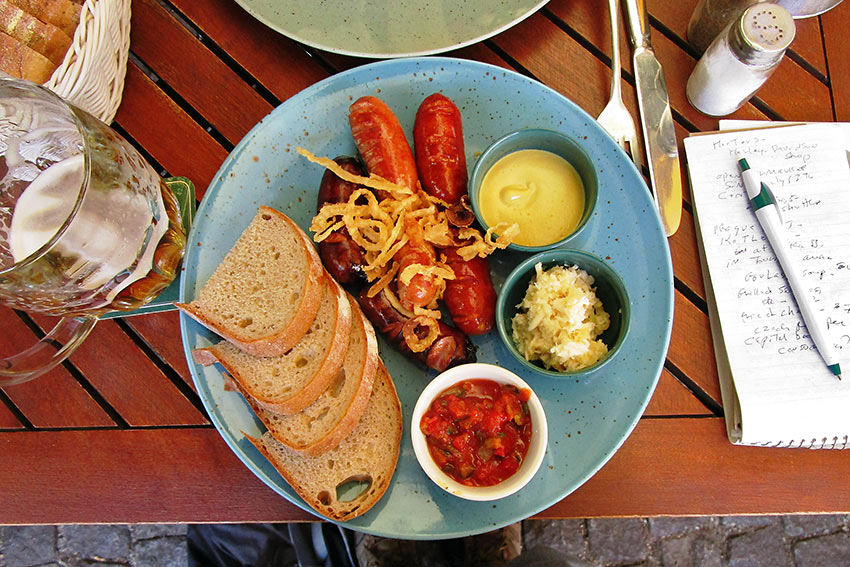 I was finishing my soup when Vladimer walked by with a bottle of Amaretto, obviously requested by another table. "Where are you going with that?" I lustily inquired. Without skipping a beat, he poured some into my soup bowl and moved on. How can you not love that?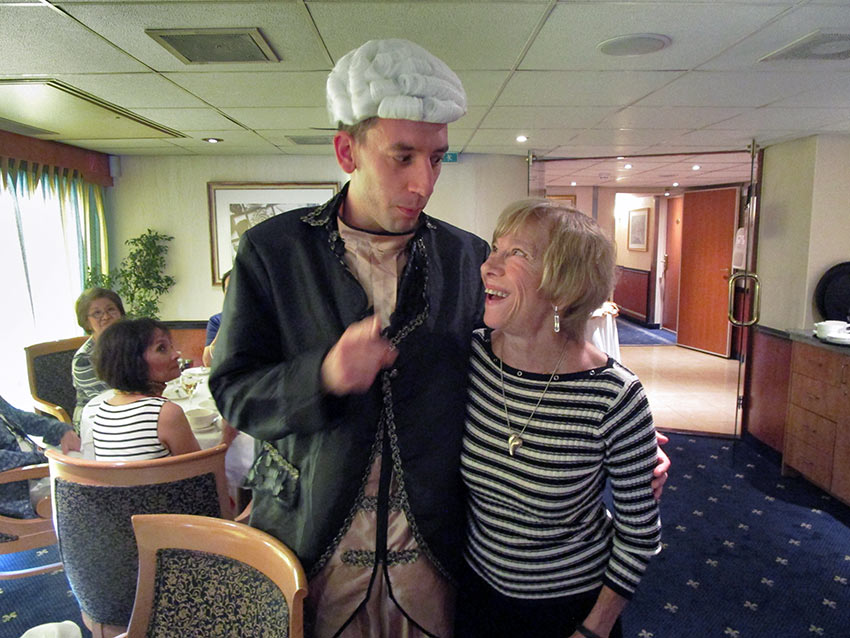 Afternoon option? Go back to town — or have a massage. Okay. A massage. And then some Learning and Discovery onboard, a philosophy Grand Circle takes very seriously.  A discussion of Eastern European traditions and cultures from our four Program Directors, all of who hail from neighboring countries — Stefan — Romania; Igor — Slovakia; Jirka — Czech Republic and Milan, Serbia. The Four Musketeers, or court jesters depending upon your loving point of view, explained their local costumes and then proceeded to present their own holidays, wedding or religious celebrations in their own very entertaining styles.  Not much is taken seriously on board.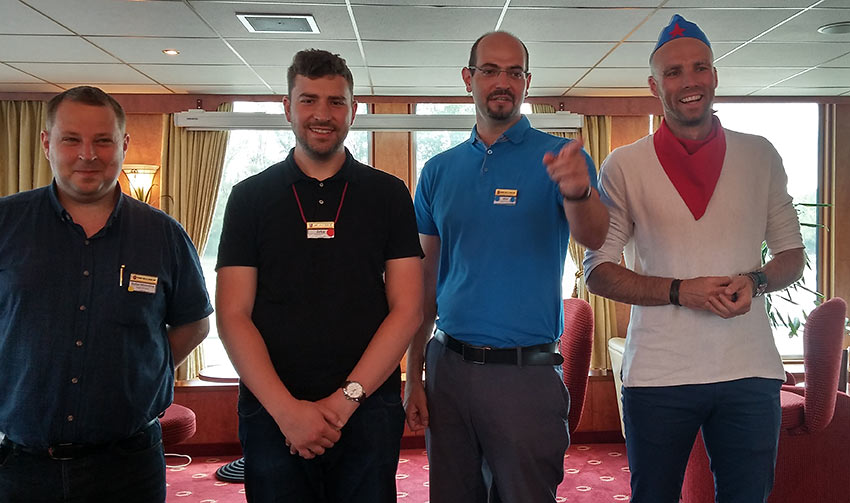 Ah, the night-time entertainment — corny, yes; fun, more so. I usually avoid karaoke but here, it's just another excuse to laugh yourself silly. Rather than a contest to judge the best singers, it instead — intended or not — became an exercise in which group sounded the most hilariously awful. And the crew talent show?  Okay, so maybe it looked like a bunch of 10-year-olds in their first school production. Suffice it to say that when the kitchen staff did Swan Lake, it was downhill from there, prompting the ship's captain to implore, "Whatever happens on board, stays on board!" And then there were the horse races. Don't even ask. Let's just say that it involved a lot of shots. So another boring night.
And when we weren't laughing, we were learning something. "Growing Up Behind the Iron Curtain," conducted by our Four Musketeers, revealed personal experiences from their teen-age years: how their families were impacted by the Soviet domination of their countries until the end of Communism there in 1989. Homes confiscated, fortunes lost, food rationed, travel prohibited, spies in communities, labor camps. Their schoolbooks were the same as had been used for generations, and they didn't discover until later how much misinformation they contained. Again — eye-opening.
A talk from an everyday Budapest accountant regaled us with a tale of how he once saw a needy family on the sidewalk, stopped to help and ended up saving 6000 refugees, with an organization of volunteers he compiled, over the next two years. Until stopped by the very hostile Hungarian government. I doubt there was a dry eye in the house. Grand Circle does not shy away from controversy.
When at trip's end, we were told we had to be out of our stateroom by 8 a.m. because another tour was coming aboard, the communal reaction seemed to be: WHAT? Other people in OUR cabins? With OUR crew? It seemed so wrong — but it sure says a lot about how Grand Circle makes its clients feel.
Yes, I know, I promised to tell you all about the magnificent cities we visited. Immersive history, architectural grandeur, every city an open-air museum of stunning edifices spanning multiple centuries. But I lied.
For more information, visit https://www.gct.com/trips/river-cruises/europe/romantic-blue-danube-budapest-to-prague/2021/itineraries?icid=global:itineraries:europe-by-river-cruise:edr