While most of the world considers Corned Beef and Cabbage synonymous with St. Patrick's Day, this popular meal has its origins in America, and is not a traditional Irish recipe. Beef was an expensive food item that was unavailable to most Irish citizens, and was generally exported to France, England and the Americas. As we all know, corned beef is a salt-cured brisket, traditionally packed in barrels with coarse grains, aka "corns" of salt. In the 17th century, salting beef become a major industry in the Irish port cities of Cork and Dublin for exportation. The most similar traditional Irish dish is Bacon and Cabbage, with the bacon akin to Canadian-style bacon or ham. Corned Beef and Cabbage became popular in the U.S. after Irish immigrants used corned beef instead of pork, due to the low cost of corned beef in the U.S.
It's still a great dish, and Corned Beef and Cabbage always graces my St. Patrick's Day table, though I prefer the hard-to-find Savoy cabbage over the popular Dutch cabbage, found in U.S. markets.
We all have our favorite Corned Beef and Cabbage recipes, so here are a few fun side dishes for your St. Patrick's Day celebration: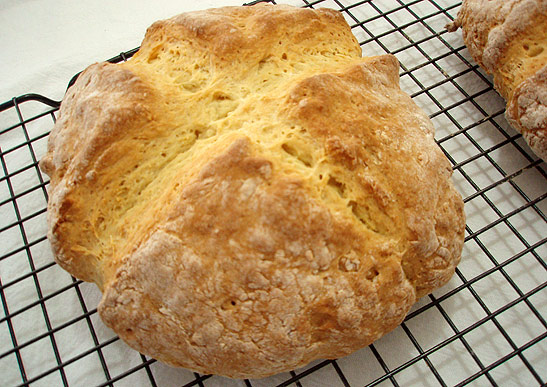 Irish Soda Bread
3 ½ cups all purpose flour
1 teaspoon baking soda
¾ teaspoon salt
1 ½ cups buttermilk
Preheat oven to 425°F. Mix flour, baking soda and salt in large bowl. Mix in just enough buttermilk to form moist clumps. Form dough into ball. Turn out onto lightly flour surfaced and knead just until dough holds together for about 1 minute. Shape dough into a 6-inch-diameter by 2-inch-high circle. Place on lightly floured baking sheet. Cut 1-inch-deep X across top of bread, extending almost to edges. Bake until bread is golden brown and sounds hollow when tapped on bottom. Baking time is about 35 minutes. Transfer bread to rack and cool completely.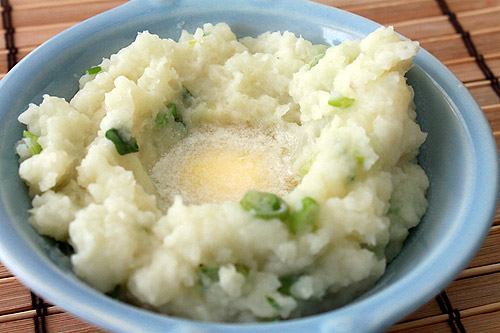 Champ or Poundies – Origin: Northern Ireland
2 pounds standard white potatoes, peeled and halved
1 cup whole milk
1 bunch spring green onions (scallions), thinly sliced
½ teaspoon salt, or to taste
¼ cup Irish butter
1 pinch freshly ground black pepper to taste
Place potatoes into large pot, and fill with enough water to cover. Bring to a boil, and cook until tender, about 20 minutes. Drain well. Return to very low heat and allow the potatoes to dry out for a few minutes. (You can place a clean dish towel over the potatoes to absorb any remaining moisture.) Gently heat the milk and green onions in a saucepan until warm. Mash the potatoes, salt and butter together until smooth. Stir in the milk and green onion until evenly mixed. Season with freshly ground black pepper. Serve hot in bowls. Calories be damned; set out some extra butter to add to their servings.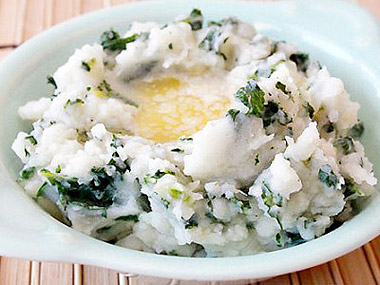 Colcannon
(Irish: cál ceannann, meaning "white-headed cabbage")
3 cups finely shredded green cabbage
1 onion, finely chopped
¼ cup water
6 cooked white potatoes, mashed
¼ cup whole milk
¼ cup Irish butter
salt and freshly ground pepper to taste
Place cabbage, onion, and water in a saucepan or Dutch oven and quickly bring to a boil. Reduce heat, cover, and simmer about 8 minutes until tender. Add mashed potatoes, milk, butter, salt, and pepper. Mix well, stirring often until heated through.