Raoul's 2 Cents
Thankful Day
This will be short. I need to get back to our movie.
Like many of you I wasn't able to meet many of my loved ones. In fact, it was just me, my wife, our 3 cats and our dog. We sang praise songs read passages from Psalm. Our Thanksgiving day was already full by mid morning. We planned to go to the beach but instead we went around our beautiful neighborhood. That was enough exercise for us. Instead of turkey we had friend chicken. Thanksgiving was simple but nice and restful. I hope you had a good holiday
An interesting cartoon kept coming up in my social network. You might have gotten it yourself.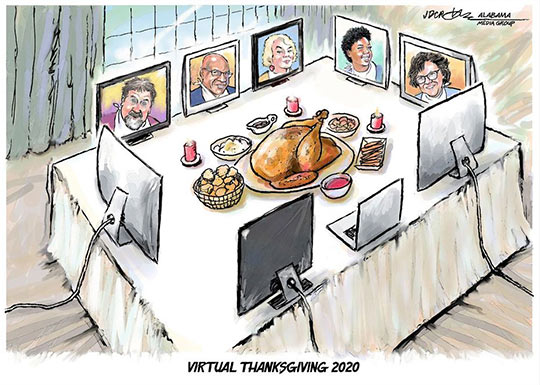 Be safe, be healthy, and remember: even when you're down, look up and see that there are many more reasons to be thankful for. TGIF people!
Raoul
"Let them give thanks to the Lord for his unfailing love and his wonderful deeds for mankind, for he satisfies the thirsty and fills the hungry with good things."
— Psalm 107:8-9