Elsewhere I wrote about a more formal Monterosola red wine tasting but their whites simply lent themselves to an informal late summer brunch . . .
Monterosola Winery is a 25 hectare hillside estate in the heart of Tuscany, Italy, between the world-famous wine-growing regions of Chianti and Bolgheri. It is a family owned and run vineyard with a brand-new architect-designed state-of-the-art cantina. Monterosola makes award-winning organic wines by combining old traditions with modern technology. Besides the reds they sent me, I received two bottles of white wine to taste. Here's how they are described: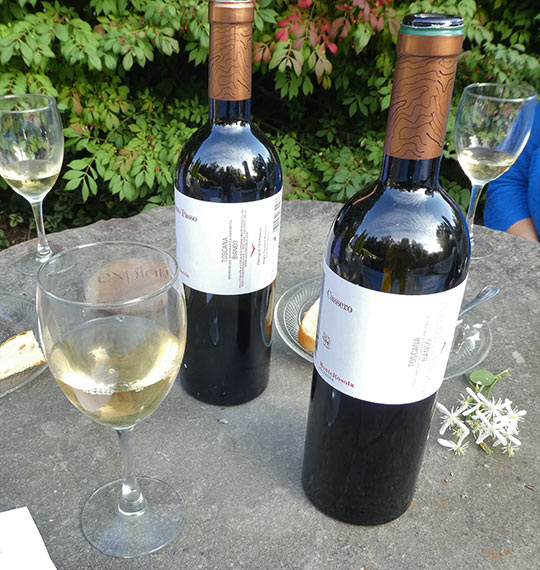 They Say: Cassero 2018 – "A sophisticated single variety Vermentino, straw yellow colored with youthful green highlights. Enjoys an elegant and consistent aroma with hints of white flowers, grapefruit, pear, white peach and a pleasing minerality. Fresh and well balanced on the palate with a lingering light finish."
I Say: Cassero is a dry white wine made with the Italian Vermentino grape, which I first tasted (and loved) in Sardinia. It has 14% alcohol, is light and drinkable with a floral bouquet, tree fruit and citrus notes, and a medium acidity – ready to drink now. $15
They Say: Primo Passo 2018 – "A warm light golden color. Intense and elegant aromas come to the fore, ripe apricot, peach, citrus zest and minerality evolve into a hint of sweet spice. A generous, silky and balanced wine with an authentic personality. Remarkable aftertaste."
I Say: Primo Passo is a blend of three grapes: Viognier, Grechetto, and Manzoni Bianco, the last two (even though Grechetto is originally Greek) being typical for a Central Italy white blend. Its fruity bouquet only hints at the flavorful and dry goodness this winner brought to the table. $28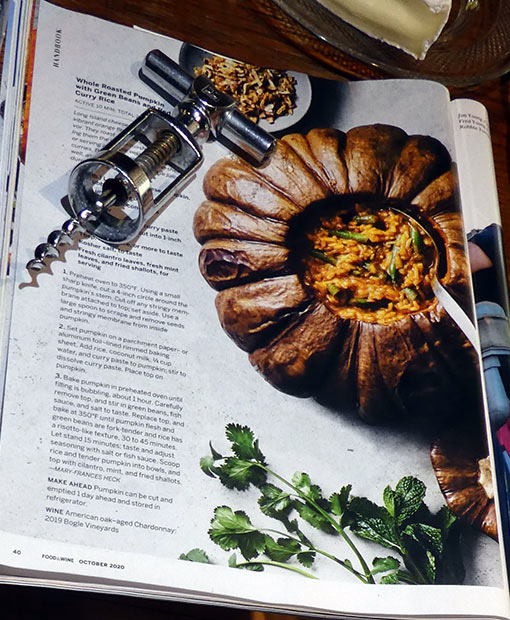 The Meal: I have the ability to read a recipe and know if I want to cook it and who I want to cook it for. Ever since being served the Brazilian fish stew Moqueca in a whole pumpkin, I wanted to recreate that presentation, just not necessarily with fish. The October issue of Food & Wine magazine has a recipe for rice cooked in a whole pumpkin that I knew would be perfect for two old family friends with discerning taste. Since they also like white wine, they were perfect for this Monterosola Bianco tasting one sunny October Day.
In this age of pandemic dining, a warm early afternoon offered the perfect opportunity for an alfresco meal on the patio. My guests are always game guinea pigs when it comes to my penchant for trying out new recipes on company. Thank goodness, because it did not go as smoothly as planned, although it could have been far worse . . .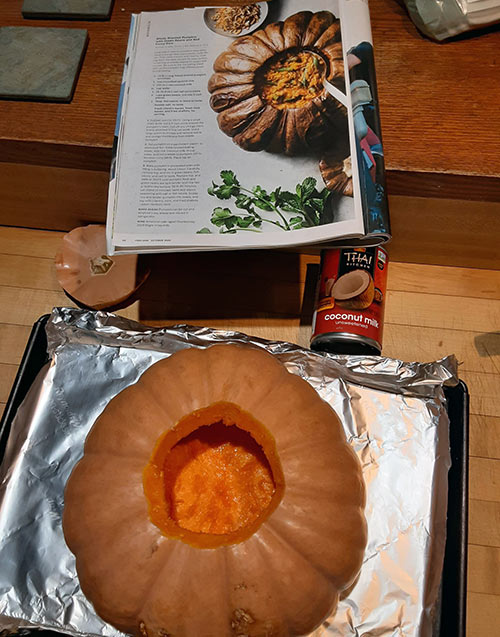 Prepping the pumpkin was easy enough, and the simplicity of the recipe had me thinking it would be a breeze. Rice, curry paste, coconut milk, and water are mixed and poured into the hollow pumpkin. Then it gets baked with the top on for one hour at 350 degrees. Easy as pie, right? It was in the oven and well on its way through the first phase of cooking when guests arrived.
We opened the lightly chilled Monterosola Cassero and sipped the delicious wine while nibbling snap peas in a hummus dip with toasted baguette slices and a side of brie. There was crunch, green, and my own smooth garbanzo & sesame paste to pair with the light "summer is still here" Cassero. After the first satisfying tastes of wine, I excused myself to finish the next cooking phase.
Once out of the oven with the filling bubbling, I stirred in fresh green beans, fish sauce and salt, replaced the top and popped the pumpkin back into the oven for another 45 minutes. Then it was back outside for more good conversation and wine. Part way through, I took the pumpkin out of the oven to come together. I opened the Monterosola Primo Passo then, so we could taste the two whites side-by-side. It was touch-and-go which was preferred as we finished the cocktail hour, but the Primo Passo definitely got to shine later.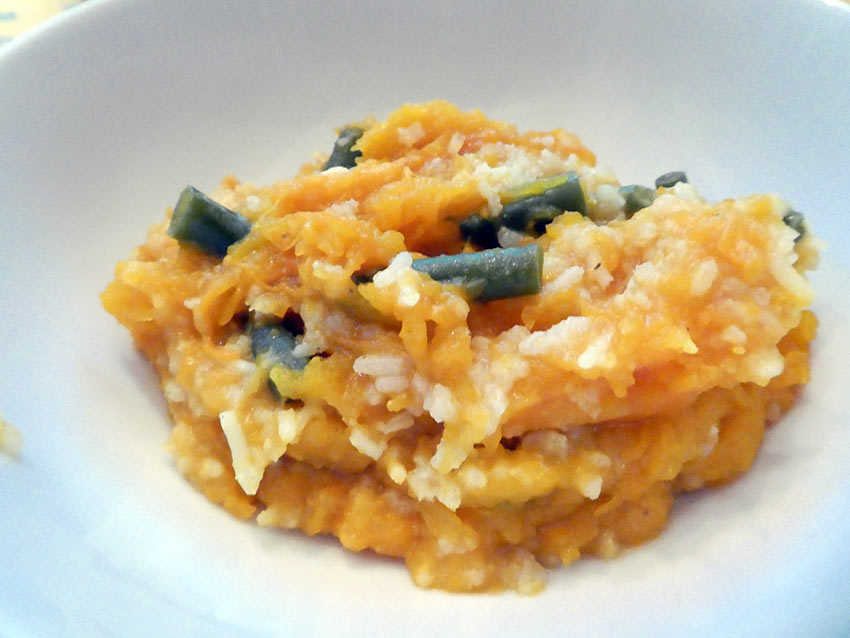 The main course was beautiful straight out of the oven, and the fragrance filling the kitchen had everyone eager for a taste. I should have quit while I was ahead. The pumpkin split open moving it to a serving platter, so there was no photo op. Saving face, I scooped the insides into a bowl and we took that and a salad to the table. Unlike the wines we tasted, the meal never lived up to the fragrance. It was bland and so undramatic looking out of the pumpkin. The kindest remark was that at least I'd used fresh green beans, not canned or frozen. But they only knew that because the beans were very much al dente! I'll know better if there is a next time.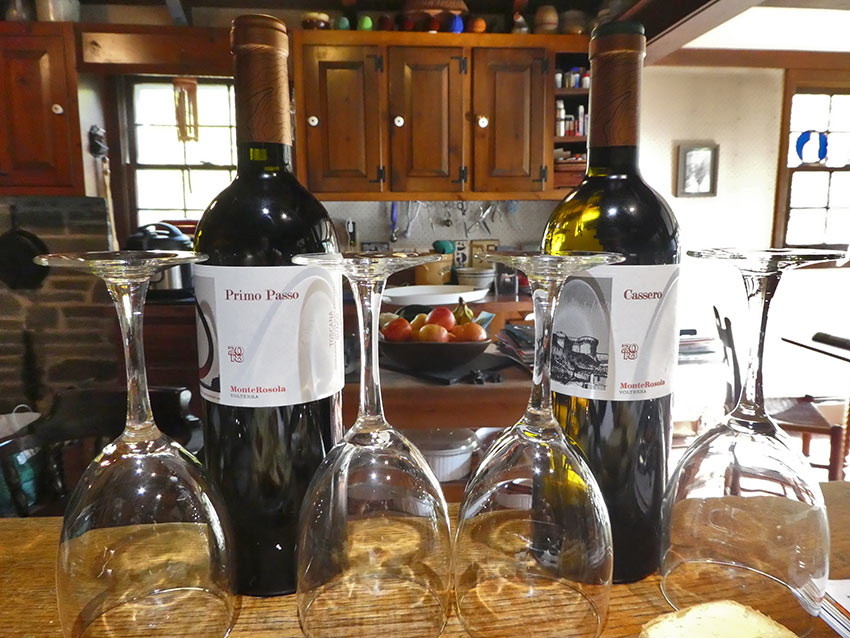 Not every meal can be a success, and not every bottle of wine approach perfection. But the Monterosola whites delivered what they promised, a flavorful and delicious addendum to an otherwise unremarkable meal. They were the hit of the afternoon!
The Monterosola winery offers concerts and events in its various performance spaces, with fine dining to accompany their superior organic wines. I can't wait until it is safe to travel again. After the pumpkin near-failure, I think I want my next wine tasting with their superb Italian food. Tastings and tours can be arranged through the Monterosola website.