During my second trip to Hamburg (a city, I should parenthetically add, that has captured my heart), I had occasion to drive with a friend into the countryside, skirting decorated, half-timbered homes with elaborate thatched roofs in charming neighborhoods.  A highlight of this road trip was our drive through Altes Land, the largest fruit-producing region in Northern Europe, with over 55 square miles committed to fruit; of that vastness, over 75% of the land is devoted to cultivating apple trees alone, and another 12-plus per cent to cherries.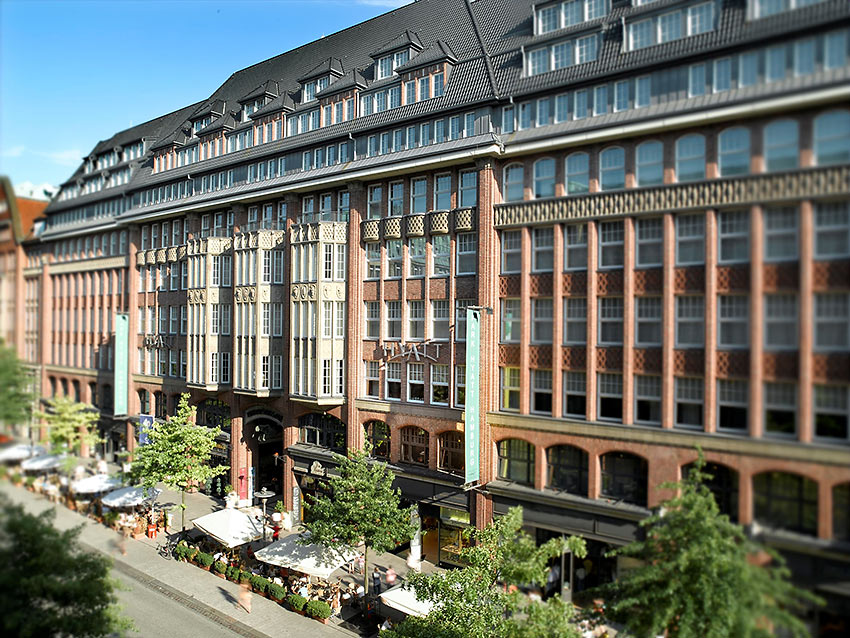 It's no wonder that the hospitable Park Hyatt Hamburg, tucked away on a slender ribbon of a paved and cobbled lane — the tree-lined Bugenhagenstrasse — has dubbed its fine dining venue Apples. Dedicated to serving seasonal dishes, the menu boasts all manner of fruit worked into the savory and sweet fare.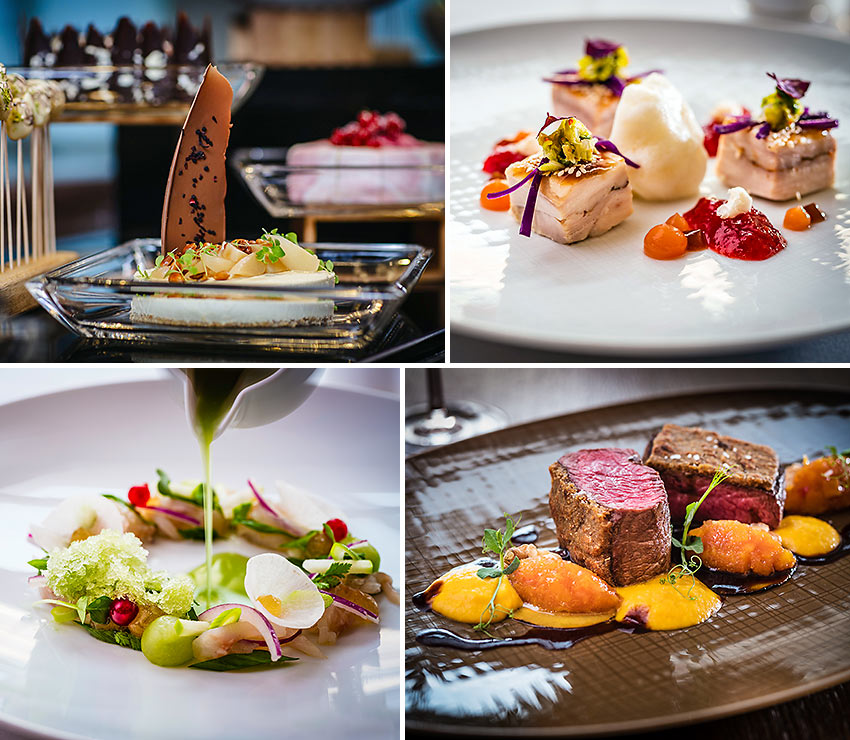 And, a bonus for me:  I was there during white asparagus season, so the carte was a delight for a vegetarian (I am not) and a beef-guzzler, alike. Under the guidance of chef de cuisine, Max Hohlfeld, the menu reflects local specialties tweaked with the chef's flare as well as his own original gustatory creations. In the immaculate open kitchen, you are just as likely to watch the preparation of meat from Halligen (an island group in the North Frisan Wadden Sea), as you are to see fish from a family-owned trout farm near Hamburg, being prepared in the wood-burning oven or on the char grill. If you'd rather not have your vision fixated on the show in the kitchen, then try to snag one of the five tables on the raised "stage" along the windowed wall, overlooking Mönckebergstrasse.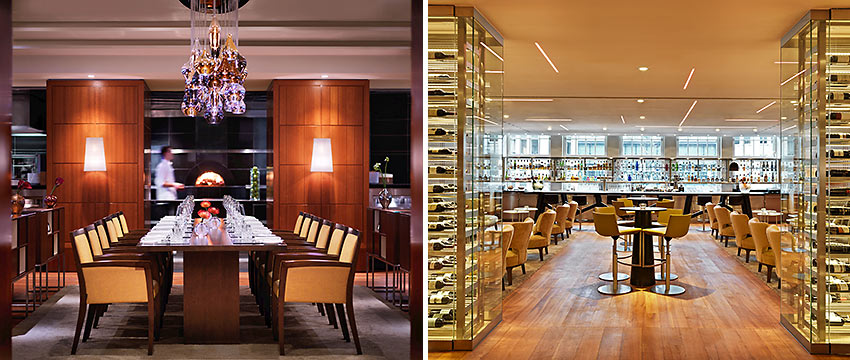 If you have time to spare, savor the five- or seven-course dinner menu, which can be paired with wines; at lunch, there are both two- and three-course specials.  The centerpiece of the restaurant is the 13-foot-long chef's table, under a glamorous burnished-bronze and polished-silvery chandelier that looks like a cacophony of upside-down wine glasses and goblets. The dining room is comfortably modern, cloaked in the patina of polished cherry wood, and accented by sandstone and black granite. Additionally, there is a private dining room that can seat 24, a bucolic outdoor courtyard for drinks and light fare, a stunning bar with noteworthy Champagnes and over 40 vodkas, the library-like Park Lounge, and even a smokers' suite.
The hotel is located in the Lavantehaus, a classic 1912 warehouse built by architects Franz Bach and Carl Bensel, and after an extensive, two-year renovation, the building's shopping arcade opened, followed by the April, 1998, opening of the hotel itself. Occupying the top seven floors of the building, the hotel boasts 283 rooms, including 31 apartments, and a presidential suite (the largest in Hamburg, with nearly 2,500 square feet).
All rooms feature muted, soothing décor and all the amenities one would expect in a five-star property.  The bathrooms answer a sybarite's siren call, with two hand-held showers and a rain-head fixture, as well.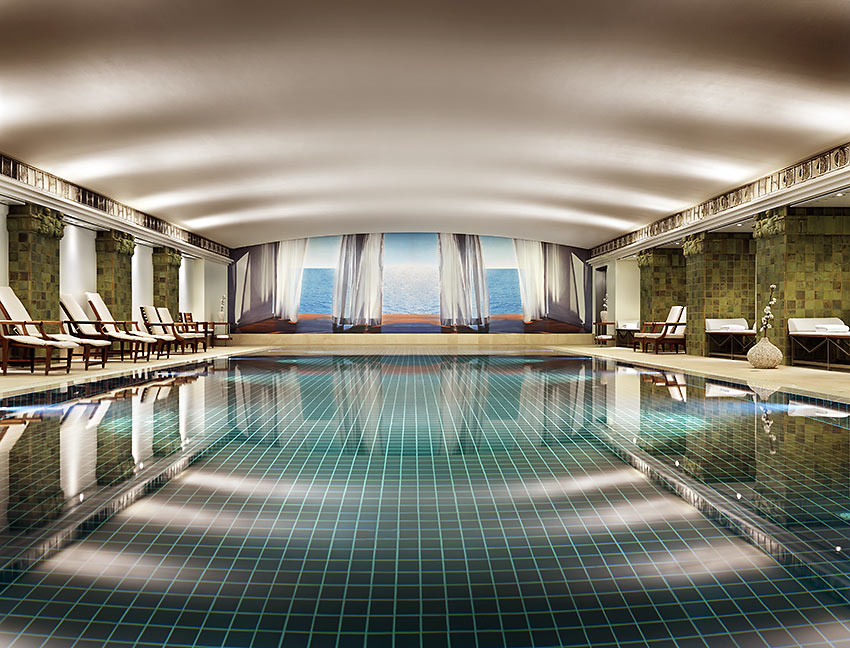 The spa, Club Olympus, features a 65-foot-long pool, a sauna, a sanarium (a cross between a sauna and a steam room), whirlpool and plunge pools, solarium, gym, workout studios, massage-treatments chambers, and a beauty salon.
What more could a soul weary from "the work" of being a tourist want at the end of the day?  Under the watchful eye and artful hand of general manager, Tashi Takang, a seasoned veteran of wide-ranging properties in Serbia, Istanbul, Dubai, and other far-flung destinations, the Park Hyatt Hamburg will unsparingly pamper you — spoiling you, setting the bar quite high for any other hotel. And, so, this will be a haven you'll want to return to.  I know I want to…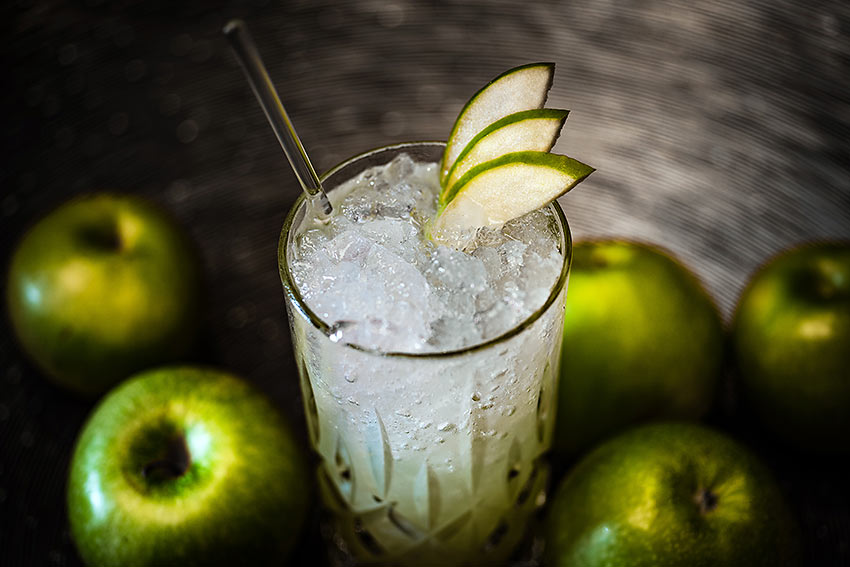 Icing on the cake: On Sunday, October 14 (2018), chef de cuisine, Max Hohlfeld, is teaming up with Michelin-starred celebrity chef Achim Schwekendiek to offer an evening of extraordinary dining.  The two dear friends will prepare a seven-course meal for a limited number of guests.
© 2018 Ruth J. Katz   All Rights Reserved