How Cruise Lines Innovate When They Keep Building the Same Type of Ship
Courtesy Hannah Sampson, Skift
Royal Caribbean International's Oasis of the Seas inspired awe — and many headlines — when it launched in 2009 as the world's largest cruise ship with 2,742 staterooms, nearly two dozen restaurants, seven neighborhoods, and a Central Park.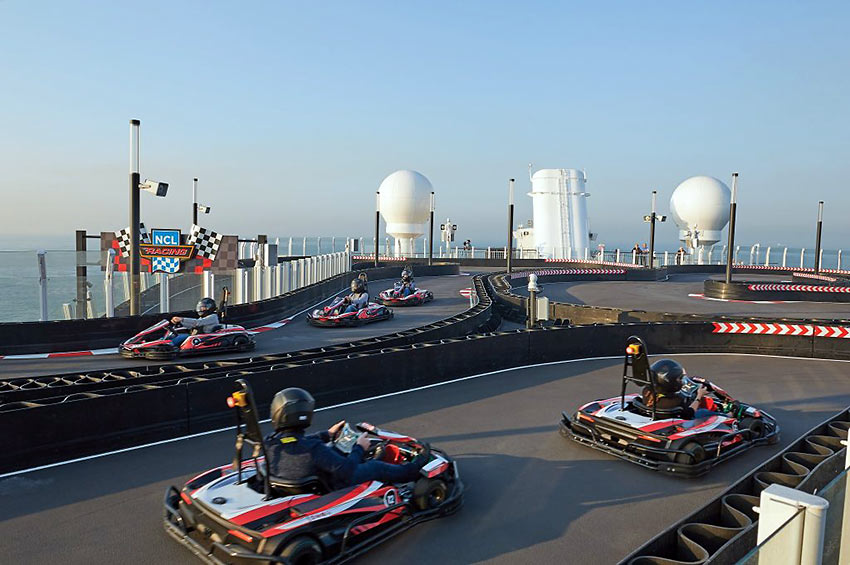 More than eight years later, Royal Caribbean is still launching Oasis-class ships, and still commanding headlines for the latest "world's largest cruise ship." That would be Symphony of the Seas, the fourth and slightly larger version of Oasis, which started sailing earlier this year.
"The public reaction to Symphony of the Seas was surprising, even to us," Royal Caribbean Cruises CEO Richard Fain said during an earnings call last month. "Even though she's the fourth in the amazing Oasis class series of ships, she has so many new amenities and attractions that our guests and the media were simply blown away. Rarely has a sister ship received such press and rarely has it been so deserving of it."
In the cruise world, the brightest lights shine on the groundbreakers, the first of a new prototype of ship that introduces new concepts, layouts, approaches, and technology. But as operators seek to maximize their investment and build multiple vessels in a class, the pressure is on to make each new ship more special — and profitable. That's especially true for mass-market lines that cater to first-timers, younger travelers, and families.
"It's very important that we continue to innovate and stay relevant," said Andy Stuart, president and CEO of Norwegian Cruise Line. "We're being pushed by competitors at sea and we're being pushed by competitors on land."
For consumers, that competition results in plenty of options.
"People want new," said travel agent Ralph Santisteban, owner of Dream Vacations, a Cruise One franchise. "They want to go on the new ship. And they want to experience the two or three different venues that the ship has that the last one didn't."
New Ships as Demand Drivers
That's how Norwegian Bliss, the just-introduced ship from Norwegian Cruise Line, ended up with a new barbecue restaurant, a longer and wider race track than the previous ship had, and the biggest Haven — a high-end, top-priced enclave — on any ship in the fleet so far.
Bliss is the third of four in its class, called Breakaway Plus. Its most recent predecessor, Norwegian Joy, is sailing in China.
"New ships are such an engine to drive demand for the brand that it really is important, as we bring every new ship out, that we generate excitement, we drive interest, and really get a lot of eyeballs to the brand," Stuart said. "Every time, you have to really drive disproportionate interest."
He added: "We work really, really hard each time we launch a new ship to find a way to meaningfully change the experience."
Colleen McDaniel, senior executive editor of the website Cruise Critic, said even lines that have quick delivery schedules run the risk that their product will become outdated.
"Say you've announced that you're going to do a four-ship class and you have a very accelerated schedule," she said. "There's still so much that can change in four years when it comes to technology and consumer demand, so you have to be flexible enough to add that to your new ships."
For Symphony of the Seas, Royal Caribbean went back to past guests who had sailed on the previous ship, Harmony of the Seas, and asked what else they would like to see. A sports bar and arcade and seafood restaurant emerged from the answers.
And then there were some other ideas, which led to the Ultimate Family Suite, a two-story room with a slide, air hockey, table tennis, and climbing apparatus that, according to reports, commanded $85,000 for Christmas week.
"The Ultimate Family Suite came because we were talking about how we could add a feature that really clearly communicated our sweet spots, in terms of summer vacations, how we think about families," said Royal Caribbean International President and CEO Michael Bayley.
Bayley said the company has always made changes to ships within a class, but that mostly happened to tweak areas that didn't work like the width of a corridor, shape of an entrance, or style of a lounge. These days, the changes are much more intentional.
"We've kind of accelerated the changing out and adding of fun features or new restaurant concepts," he said. In part, that's simply because the company can.
"We have a higher degree of competency, capability, and resources," he said. "We want to stimulate as much interest as we can and one of the ways of doing that is creating buzz or being able to tell a story that's exciting and new."
Even as they make tweaks for new ships, cruise lines go back and change older ones with the features that have proven popular. Royal Caribbean has a $900 million renovation program going on now that will upgrade 10 ships, including the first two in the Oasis class.
"Is it easier to sell and market a new product when you're evolving that product? Yes," Bayley said. "If you don't do it, your customer is going to be disappointed. They expect you to be innovating and evolving."
Evolution With a Mission
When Carnival Cruise Line builds new ships, executives add features with older vessels in mind.
For its newest ship, Carnival Horizon, there are some changes from the first in the class, Carnival Vista. The water park has become part of the line's Dr. Seuss children's programming. There's a teppanyaki restaurant, a first for the line. The piano bar has been relocated so it's next to the steakhouse. A barbecue restaurant has been mixed with an onboard brewery for a smokehouse-brewhouse mashup. And the onboard retail offerings have been changed up.
Terry Thornton, the line's senior vice president of port operations, guest care, and Carnival International, called the changes "evolutionary," and said the next ship in the class will have its own new offerings.
"What we are focusing on right now is to give these new features a try," he said. "We're pretty confident they'll work. As they do, we'll get them integrated into the existing fleet as best we can."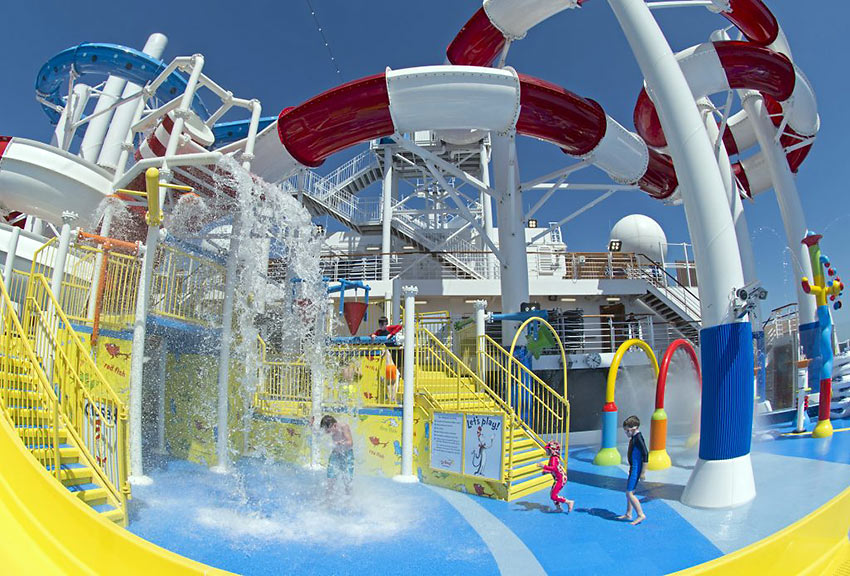 Carnival rolled out a fleetwide refresh in 2011, adding Guy Fieri burger restaurants, live-action Hasbro games, George Lopez comedy clubs and several new bars. Its name was Fun Ship 2.0, referring to the line's reputation as the "fun ship" brand.
"It's more like 3.7 now," said Thornton.
McDaniel was recently on the new Carnival Horizon, and expected the experience to be pretty much the same as the previous ship. While it was similar, she called the changes "really smart."
"These little differences made it feel different and special," she said.
McDaniel said many of the Cruise Critic community members are devoted to a specific class. But even ardent fans want to be wowed.
"No one wants to sail the same ship over and over again," she said.
And for all the tweaks being made to generate excitement for sister ships, Santisteban of Dream Vacations said he's seeing the most enthusiasm for ships that are entirely new. Those include MSC Seaside, a first-of-its-class ship that launched last year, and Celebrity Edge, which comes out near the end of the year. Royal Caribbean, Norwegian, and Carnival are all working on new classes of ships, but those are still between two and four years away.
"It's a brand new class of innovative design and when you bring out something that's totally new, it's a game changer," he said. "These cruise lines, they can't bring out a game changer every year because they bring out a new class and now they've got to get all the bang for their buck out of the new class. Designing these ships is not cheap."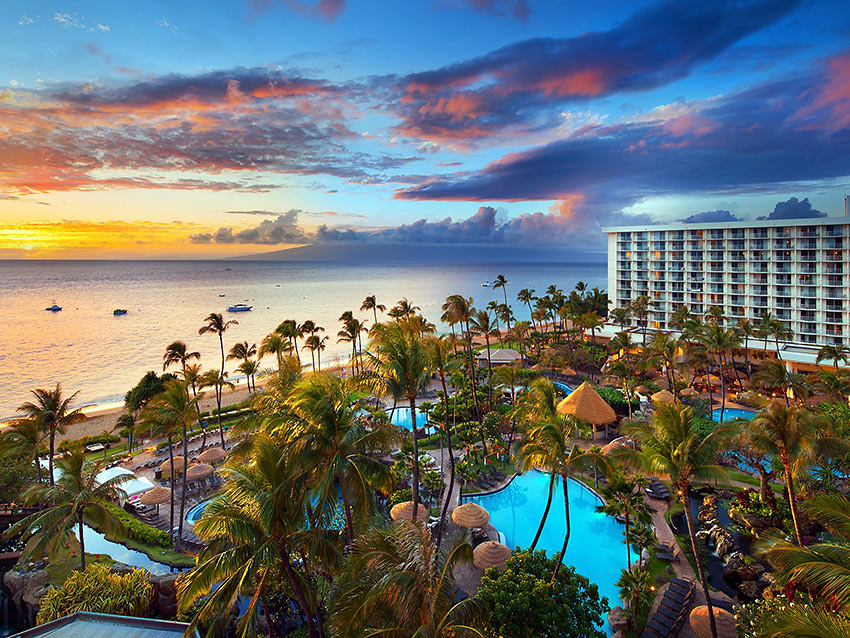 Report: 73% of Beachgoers Travel with their Spouse or Partner
TurnKey Vacation Rentals recently surveyed travelers, revealing insights about consumer travel preferences, and by focusing on those who specifically reported taking beach vacations, TurnKey determined who the average beach traveler is and how they prefer to plan their vacations.
Based on the results – and just in time for summer – the beach tourism industry should consider that their target consumer profile is a millennial woman, with high-income, who prefers to travel with her spouse or partner. She typically travels during June and July and books her housing accommodations at least 2-3 months ahead.
Beach Traveler Demographic
52% female
51% of beachgoers have an income of $75,000 or higher
50% of beachgoers are under 35 years old
Beach Traveler Behavior
57% of beachgoers prefer vacation rentals over hotels
44% of beachgoers book housing accommodations 2-3 months ahead
Beachgoers prefer to travel during June and July
Flights Are Getting More Uncomfortable — and That Might Be Your Fault
Courtesy: Andrea Romano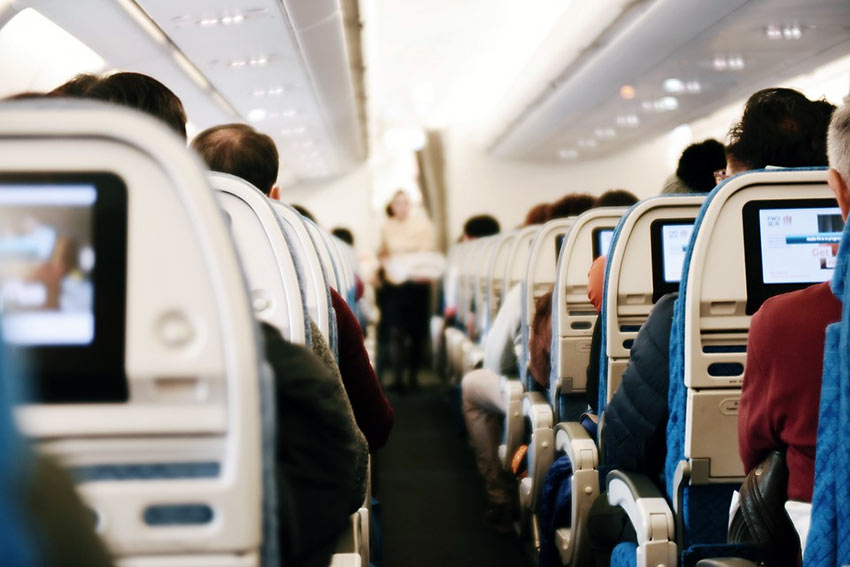 Flying has become cheaper in the last few decades, but it's also become more stripped down. Passengers often forego previously complimentary perks — like in-flight meals, carry-on bags, and seat selection — in order to get the cheapest fare. Business Insider reported that 51% of respondents in a recent poll chose price as their top priority when selecting an airline. In some ways, this has been good by creating competition between airlines, resulting in cheaper fares — but it has also had negative consequences.
Airlines now have incentive to cut costs in order to boost profits. For passengers, that means more crowded flights, fewer amenities, and "basic economy" fares.
Airlines know that travelers prefer the cheapest ticket, regardless of how stripped down the service is or how many extra fees there may be.
"The low-cost carrier always won because people either don't care or aren't sophisticated enough to differentiate between a bundled and unbundled fare," Vinay Bhaskara, a senior business analyst with industry publication Airways, told Business Insider.
It's not unreasonable to choose the cheapest options, but when it comes to airfare, you get what you pay for.
Hotel Butler Service Is Really Nice. Is It Worth the Price?
The St. Regis New York has butlers as an amenity for guests. We arrived ready with requests, from coffee to ironing to cupcakes.
Courtesy Shivani Vora, NY Times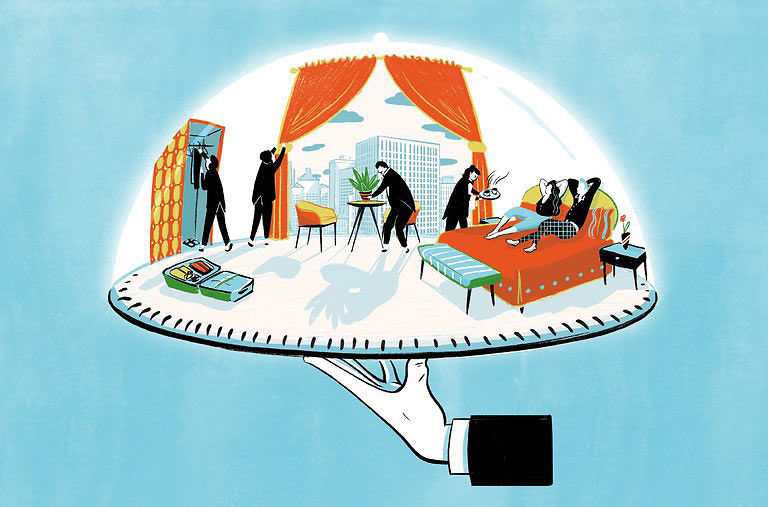 Can a butler really make a hotel stay that much more extraordinary?
For a growing number of luxury properties that have butlers as an amenity for their guests, the answer is a resounding yes.
According to Reneta McCarthy, a senior lecturer at the School of Hotel Administration at Cornell University, the concept of butlers dates at least as far back as the 18th century in Europe, when a butler was a male who was in charge of the dining and entertainment in wealthy households. "Eventually, the idea of butlers seeped into the hotel space in Europe," she said. "And more recently, in an effort to differentiate themselves in a competitive market, more and more top-end hotels are touting that they have butlers to pamper their guests."
Many of the properties with butlers offer them only to guests staying in suites. Casa Angelina in Italy's Amalfi Coast, for example, has butler service for those staying in its six suites, and Faena Miami Beach has butlers for guests who have booked multi-bedroom or specialty suites. Other hotels, such as the St. Regis New York and the Connaught, in London, provide butlers for all rooms.
Being a travel writer, I've gotten my fair share of news releases in the last year about hotel butlers. They've always made my eyes roll but have also piqued my curiosity about whether butlers actually have value or are nothing more than a marketing gimmick. I decided to find out firsthand. My husband, Mahir, and I recently tested the butlers at the St. Regis New York, a 238-room property in Midtown Manhattan that had butlers long before they became more mainstream. Over the course of 36 hours, we put three different butlers through the paces with our numerous requests.
The Basics
John Jacob Astor IV, the founder of the St. Regis New York, introduced butler service at the property in 1904, and it has been a hallmark for the company ever since. "His idea was to bring the butlers found at the grand hotels of Europe to the United States," said Lisa Holladay, the global brand leader for St. Regis Hotels & Resorts.
St. Regis has its own weeklong training program for butlers where they're taught how to assist guests with a variety of tasks including unpacking and packing their luggage, getting their clothes ironed (the butlers don't actually do the ironing themselves, but they facilitate the service) and serving them nonalcoholic beverages; they're also taught how to read guests' cues and anticipate their needs.
Most St. Regis properties offer butlers for all guest rooms, but in select locations, such as the ones in San Francisco and Majorca, they're only for those staying in suites. Traditionally, the brand had only male butlers, but Ms. Holladay said that 40 percent of the company's butlers today are women.
The New York property employs 38 butlers, and typically, each butler is in charge of about 20 rooms.
The Price
Although nightly rates at the St. Regis New York officially start at $995, it's possible to find lower prices online and through travel agents. My agent, for example, was able to secure a nightly rate of $525 for my stay, along with a room upgrade, breakfast and a $100 food and beverage credit. Butler service is an amenity for all rooms at the hotel.
My Experience
When I checked into The St. Regis, I was skeptical that a butler could make my stay exceptional, but I was wrong.
Our butler, Adalberto Macedo, was waiting to greet Mahir and I as soon as we stepped off the elevator on the 12th floor, where our room was. "Good afternoon," he said, nodding.
After leading us to our temporary abode and showing us its various features like the touch button lighting, Mr. Macedo asked if he could unpack our bags. The idea of a stranger handling my personal belongings had me more than little uncomfortable, but Ms. McCarthy, the Cornell lecturer, had told me that butlers take pride in the task of unpacking and packing. So I obliged but asked if he could do so when we planned on stepping out later that afternoon.
We could reach Mr. Macedo or another butler on duty by pushing the "Butler" button on our room's phone, and when we weren't at the hotel, we could email our requests. Mr. Macedo told us that we would get an almost instant response.
As soon as he left, Mahir and I started with our requests. I called to ask for a standing fan, and Adalberto delivered one within five minutes. Shortly after, Mahir asked for a coffee. It, too, appeared promptly, in a French press and piping hot. The shirt Mahir needed ironed? A professional dry cleaner couldn't have done a better job, and Mr. Macedo certainly made sure it was finished faster. A shoe shine? But of course. The dental kit I wanted because I had forgotten my toothbrush? He brought me two kits, along with a half-dozen mini bottles of mouthwash.
Now would come the true test for me: when we left the property for an excursion out, I sent an email asking for two gluten-free red velvet cupcakes. Surely, our butler, who at that point was Dafa Lascu (Mr. Macedo's shift had ended), wouldn't be able to procure this hard to find treat. She emailed me back within three minutes to say that she was working on my request. A half-hour later, she called and told me that she hadn't found the cupcakes at any bakeries near the hotel but would be happy to search for them downtown. But she also forewarned me that the courier fee to have them delivered to the property would likely be pricey. I wasn't that desperate for a sugar fix so I told her not to bother.
Back at the hotel, we found our clothes and shoes immaculately organized in our closet and our toiletries spread out on the bathroom counter. Then it was time for another round of requests. I had a tear in my shirt that I needed sewn, and Mahir wanted a resistance band and exercise mat in our room. Oh, and could we get suggestions for buzzy gluten-free restaurants to dine at that evening? Check, check and check.
Advertisement
We returned after dinner to a surprise: four gluten-free red velvet cupcakes. They were from Sprinkles, a bakery with three locations in Manhattan, and alongside the box, Ms. Lascu had left us a note. "Please enjoy this small treat from us, and if there anything that you need, allow me to assist," she wrote.
The test continued the next morning. Dainty teacups are common at high-end hotels. I happen to love sipping my coffee from an oversized mug, but I have yet to stay at a luxury property that offered me one I like. I explained my preference to Luz Carasquillo, the butler on duty. Ten minutes later, she arrived with not one but two different kinds of large mugs, both ideal. "I didn't know which one you would like better so I brought both," she said.
We called Ms. Carasquillo when it was time to pack, and she did the job efficiently and impeccably. As she folded our clothes and gathered our toiletries, I chatted with her about her family and mine, and by the time she was finished, she felt like a friend.
Naturally, we wanted to leave our butlers a tip. Unsure about the right amount to give, I asked our concierge staff for help but was told that there was no need to leave one because butlers receive a full salary and do not rely on gratuities for compensation. We ended up leaving $50 anyway. Ms. McCarthy, of Cornell University, said that even though the butlers at the St. Regis don't expect tips, those at other hotels likely do. "Either way, leaving a tip for great service is always a good idea," she said.
The Verdict
Thanks to our butlers, our stay at the St. Regis New York was flawless and personalized. The three who looked after us were obliging but also warm, and not overly formal. The cupcakes that I wasn't charged for were particularly thoughtful. Granted, only a rarefied set of travelers can afford to stay at luxury hotels with butlers, but I can say that based on my experience, splurging on such a stay, at least once, may be worth it.

New Guidebook to Promote Animal-Friendly Tourism
Animal-loving travellers are now able to enjoy their holidays better equipped to avoid accidentally harming wildlife, with a new guidebook published by Horizon Guides in consultation with international wildlife charity Born Free.
The guide, called Compassionate Travel, gives holidaymakers an introduction to common animal welfare and conservation issues encountered abroad and helps them to make informed decisions about the wildlife activities they choose to book.
Published in May 2018, Compassionate Travel is available to download for free from the Horizon Guides website, and in Kindle and paperback format on the Amazon bookstore.
The guide covers tourism activities ranging from the familiar, such as zoos and circuses, to more exotic pursuits like riding elephants. It was written by a team of experts from Born Free, the Global Federation of Animal Sanctuaries, Wildlife SOS and the Animal Welfare Institute.
Dr Chris Draper, Born Free's Head of Animal Welfare and Captivity, said: "Animals are hugely important to tourists, and by extension to the travel companies that supply their holidays. The ways in which tourists can interact with wild animals, whether in captivity or living free, is vast and the effect this can have on these animals varies enormously. For example, a quick selfie with a chained monkey can be a momentary diversion for a traveller, but represents a lifetime of restriction and poor welfare for the monkey; while truly responsible and well-managed viewing of free-living wildlife can bring genuine benefits to conservation. There is a rapidly emerging acknowledgement of the need to raise the profile of wild animals and their protection within the context of travel and tourism."
From its work investigating exploitation of wild animals in captivity and, where possible, rescuing captive animals in need, Born Free experiences first-hand the chilling reality of the exploitation of wild animals in tourism. In 2010, Born Free rescued bottlenose dolphins Tom and Misha from a cramped swimming pool in Turkey. They were being used for 'swim-with' activities with tourists. After a two-year rehabilitation, Tom and Misha were successfully released into the Aegean Sea in 2012.
Will Travers OBE, Born Free's President and Co-Founder, said: "Wild animals and tourism have a long, not always positive, relationship. A distressingly large part of the travel industry views wildlife as little more than money-making property, with scant regard for the welfare of individual animals or the conservation of entire species. 
"It's not always easy for travellers to know if they're supporting harmful practices while on holiday. This guide helps people see the full picture of the most common wildlife activities encountered abroad. We're not interested in telling people what to do or what not to do, but we do want travellers to think about the impact their experiences can have on welfare and conservation. I hope this guide will contribute to a change in the way the travel industry treats animals and wildlife," he added.
About Born Free
Born Free's mission is to ensure that all wild animals, whether living in captivity or in the wild, are treated with compassion and respect and are able to live their lives according to their needs. Born Free opposes the exploitation of wild animals in captivity and campaigns to keep wildlife in the wild.
Born Free promotes Compassionate Conservation to enhance the survival of threatened species in the wild and protect natural habitats while respecting the needs of and safeguarding the welfare of individual animals. Born Free seeks to have a positive impact on animals in the wild and protect their ecosystems in perpetuity, for their own intrinsic value and for the critical roles they play within the natural world. For more information about Born Free please visit: www.bornfree.org.uk
Shanghai to Los Angeles in 5 Hours? Why Supersonic Air Travel Could Boom in Asia
Courtesy CNN Travel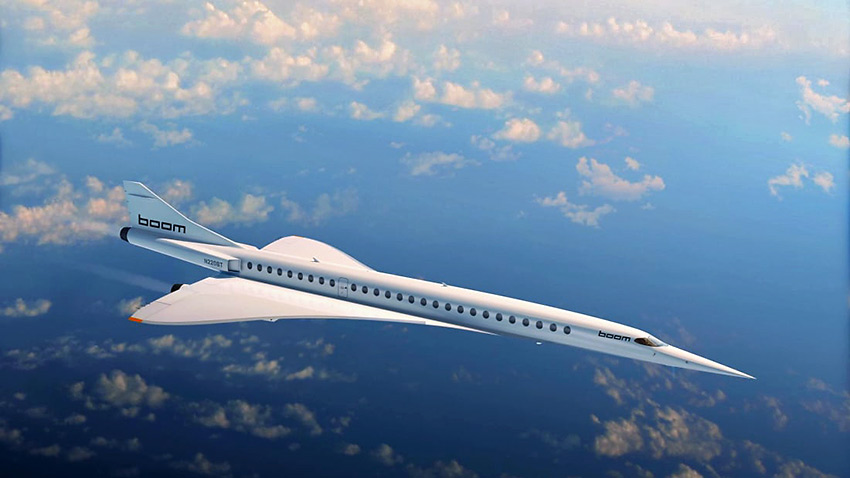 Shanghai to Los Angeles in about five hours, Tokyo to San Francisco in 5.5, Sydney to Los Angeles in 6.75: The next wave of supersonic flight could make traveling between destinations in the United States and Asia a breeze.
In recent years, a clutch of aeronautics startups has sparked renewed interest in supersonic travel, which stalled after the Concorde's retirement in 2003.
Among the major players, Boom Technology has raised $85 million in funding from seed investors and strategic partners, such as Virgin Atlantic Airways. Support for the Denver-based startup has expanded to Asia as well. In December, Japan Airlines reportedly invested $10 million to pre-order 20 of the 55-seat airliners, which are slated for a 2023 debut.
This spring, Ctrip — Asia's largest travel services provider, with 300 million registered users — became Boom's first strategic partner from China. "China promises to be one of the largest markets for supersonic air travel. The demand for air travel is incredibly strong," Victor Tseng, chief commercial officer of Ctrip, tells CNN Travel.
"Apart from a growing middle class and having more disposable income, the Chinese are now increasingly interested in spending money on experiences. Travel has become an important form of seeking happiness."