The great ship designed for transatlantic crossings is negotiating a heavy Atlantic sea with white caps appearing like melting snow flickering atop curling 20-foot waves. There is muscle in the wind as an enormous stream of strength converges on the ship twisting the light in tight Picasso-like curls. The Queen Mary 2 coolly casts aside the pulsating mountainous waves with absolute assurance, the vast apron of water a respected but fickle companion to the ship.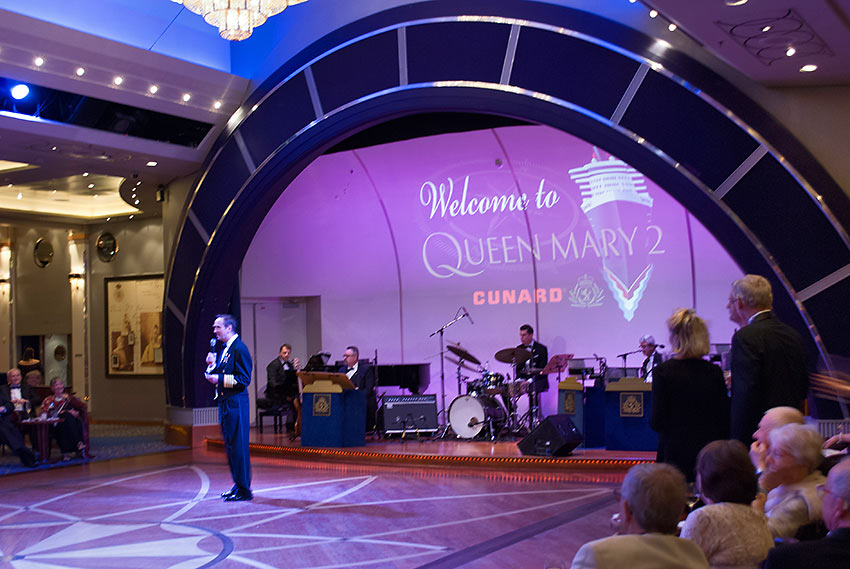 Large floor to ceiling windows render an eerie dream quality to the stormy sea, creating an otherworld intensity of nature's unsettled grandeur as the immense low-slung clouds drop out of the sky nearly covering the white-capped waves that are sinking and rising in an uneven rhythm as if gasping for breath.
The Cunarder unmarked by the grumble of weather compiling more than 300 transatlantic crossing is an elite ocean liner positioned high above the cruise ship throng of today with 40 percent more steel than the typical cruise ship, and specifically designed for the trials of the open seas. The Flagship of the historic Cunard fleet dating to 1840 is maintaining the grace and elegance of a previous era with a dress code that highlights a sensation of occasion with festive gala balls, the largest library and dance floor afloat, and with a notable collection of creative chefs and cooks.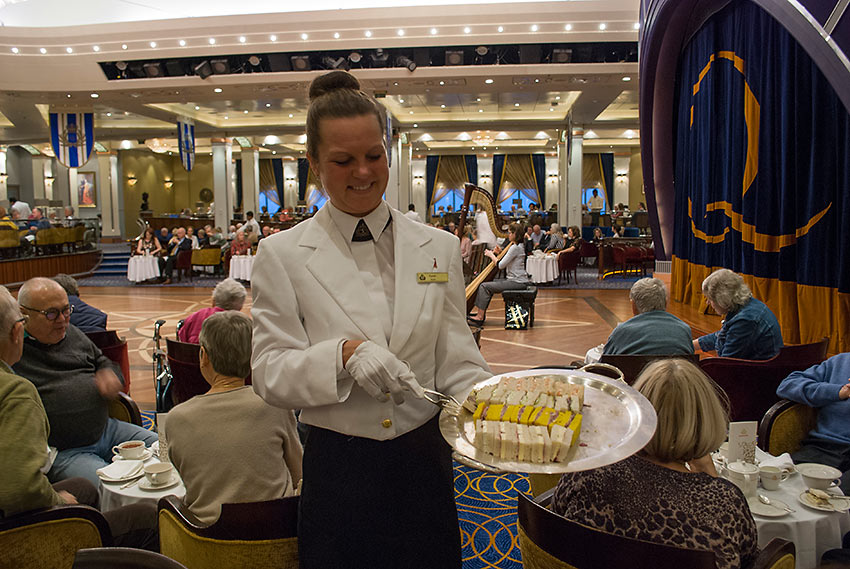 Cunard Traditional Afternoon Tea – A Broad Aesthetic Sophistication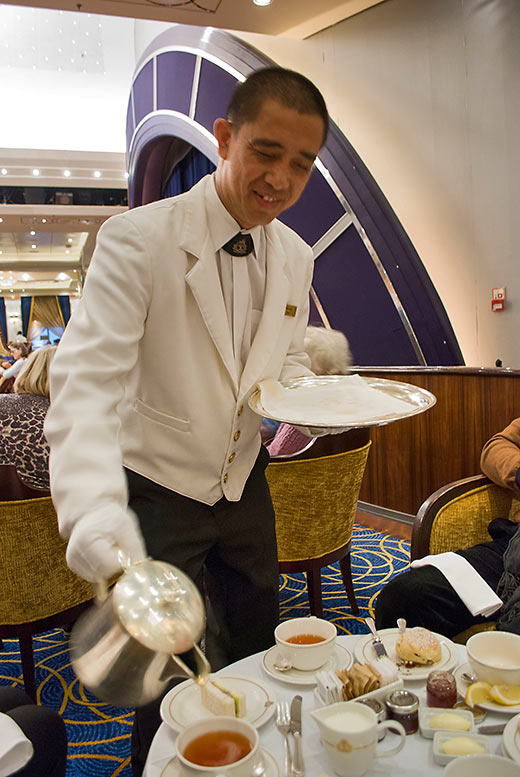 Ignoring the sigh of the open seas, the Queen Mary 2 is sailing west bound from Southampton to New York City celebrating the 100th anniversary of Cunard's Southampton connection, while hosting their traditional Afternoon Tea in the Queens Room, the dress code elevated in respect to the celebrated cruise line, Captain Christopher Wells and his staff. An attractive musician, her eyes closed, is passionately playing a harp while formally dressed servers march into the room greeted by a hearty applause.
The elegant setting in absolute disparity to a tempestuous sea feels as if we are in the middle of the world sheathed in a wayward cloud skimming across the Atlantic while enjoying a festive afternoon party sharing the moment with strangers from throughout the world.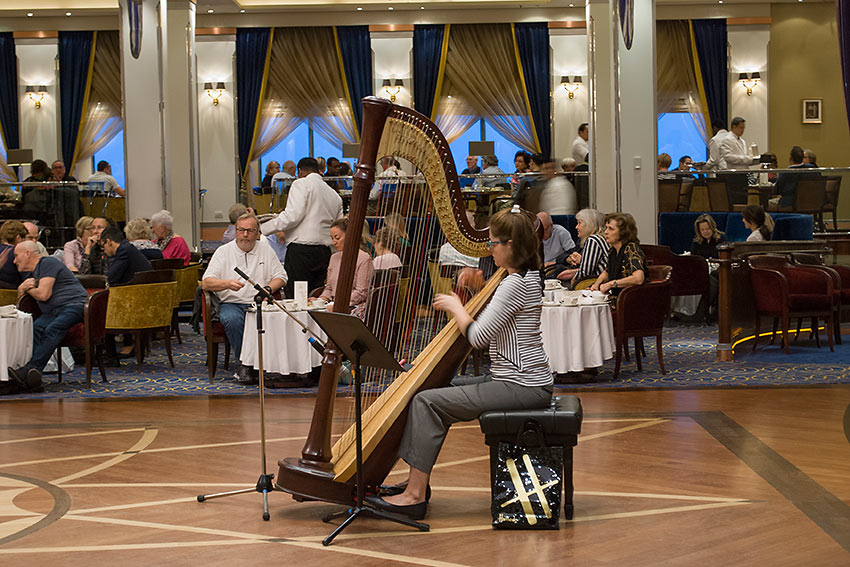 The mood is established with the aid of a sparkling chandelier, the strings of the harp, a tantalizing aroma, and the movement of the ship. A classic Cunard tradition for more than 150 years, Afternoon Tea is a show of staff members who gracefully move about the tables with carefully prepared sandwiches, tasty scones and cakes, and a selection of specially blended Assam, Kenyan and Ceylon, Twining Teas. London based since 1706, Twining is the perfect liaison for Cunard with history to match.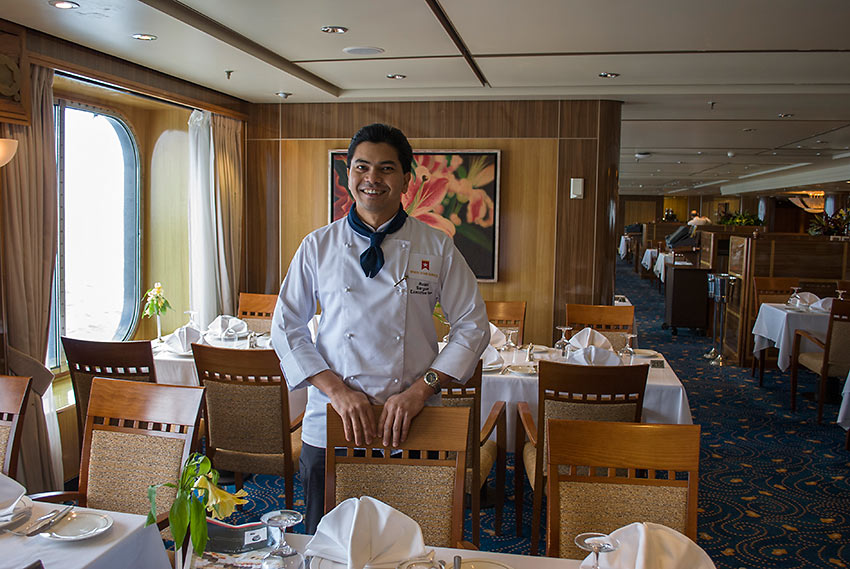 Executive Chef Roland Sargunan – The Power of the Palate
Gregarious like a long-lasting pal, Chef Sargunan emanates the passion, creativity and challenge of managing a hard-working galley. Smiling, "Malaysia is my country. I began cooking at home with my mother who was a wonderful cook and she understood the beauty of vegetables and fruit. I've been cooking with Cunard for 22 years and have a wonderful assembly of talented cooks. We present multi-national options as well as vegetarian, low sugar, gluten and lactose free choices, and Canyon Ranch Spa selections, a carb gratification."  Exceptionally striking is the chef's  Prime Darragh O'Shea beef, an eighth generation Yorkshire establishment noted for grass-fed Black Angus and renowned as providing the finest meat, game and poultry to the city of London. Chef's Tip: For those sailing with food allergies pre-ordering is an asset.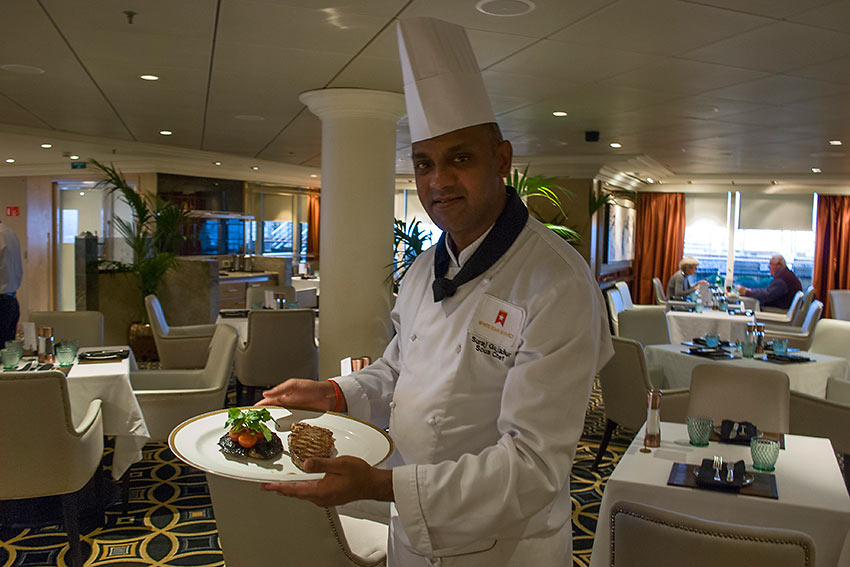 Steakhouse at the Verandah Deck Two
Sous Chef Surat Gujadhur, born and raised in Mauritius, cooking for Cunard 16 years, creates a carefully orchestrated grilled lemon sole with strands of asparagus and a green bean fricassee, a popular vegetarian burger with crispy onions, and a 28-Day Aged Prime Angus Sirloin Steak prepared to order. Sides of Clam Chowder and Cured and Salt-baked Baby Beets with a touch of goat's cheese arrive at table in small copper containers with a handle.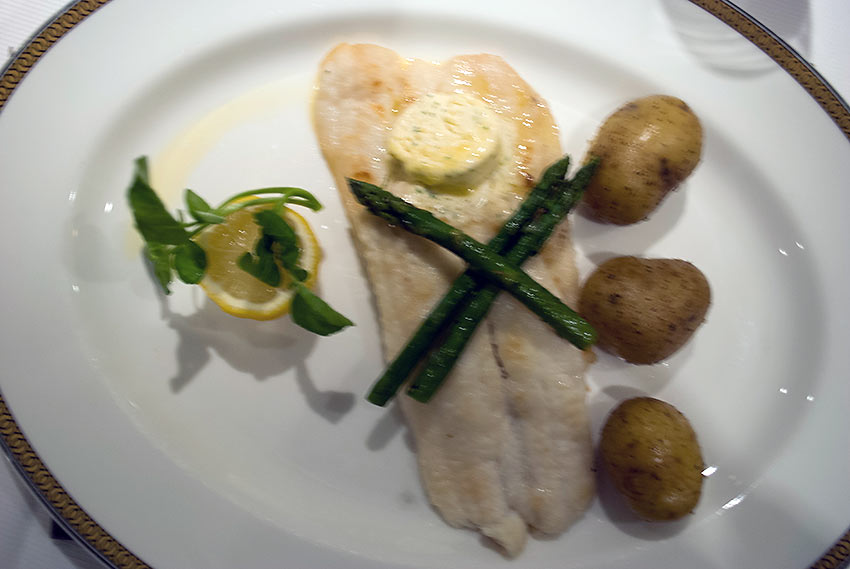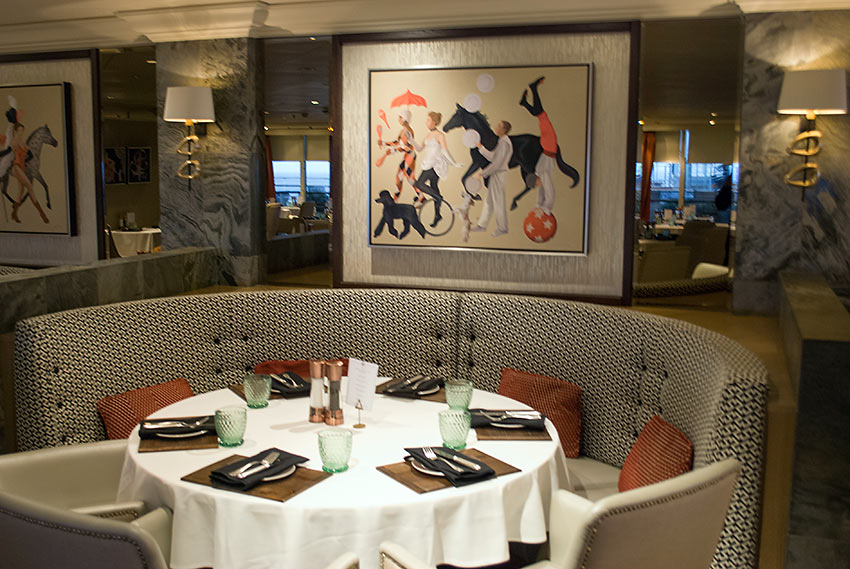 A relaxing and comfy Alternative Dining room with small wall lamps adjacent to vibrant Toulouse-Lautrec art, circular booths and draped windows that overlook the sea, set an ideal atmosphere for a sip of 1995 Central Washington State Merlo.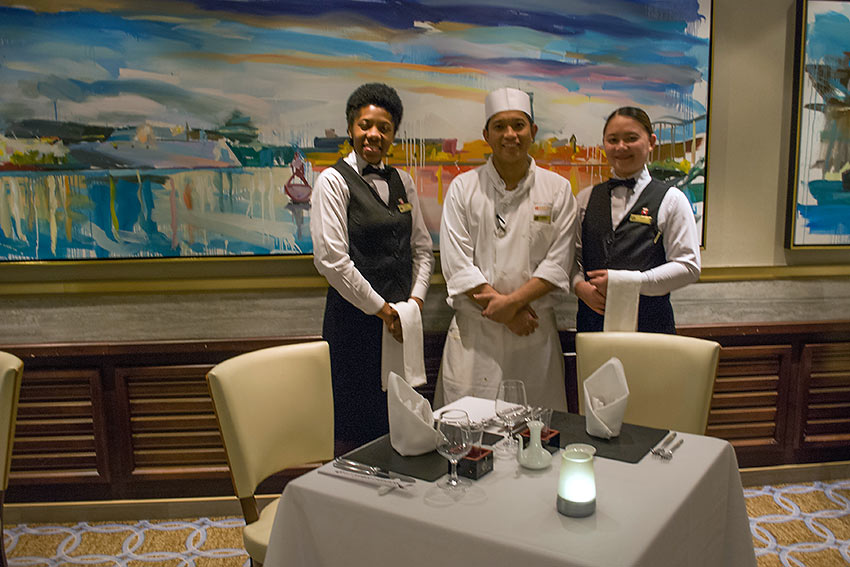 Kings Court Alternative Dining (Stairway C) Bamboo Pan Asian Cuisine
Ronard Cortez, Chef de Partie from the north of the Philippines, another intricate team member of Executive Chef Sargunan's staff, has clocked 14 years with Cunard and feels at home serving golden brown and crisp kataifi shrimp in a tangy and light tamarind sauce tucked into a Bento Box.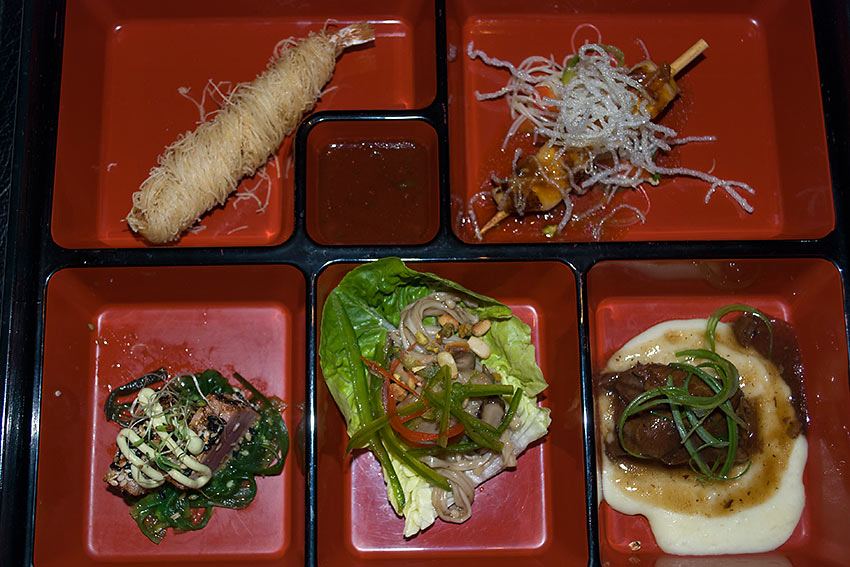 A long-stemmed fresh-cut rose for Chef Cortez and his team, for their lush steamed king scallops with a zesty spiced seafood sauce, long slender enokitake mushrooms, and a soft shell crab creation with a pleasing Thai taste, crowned with a sweet chili sauce, and a dash of Szechuan pepper with slight lemony overtones.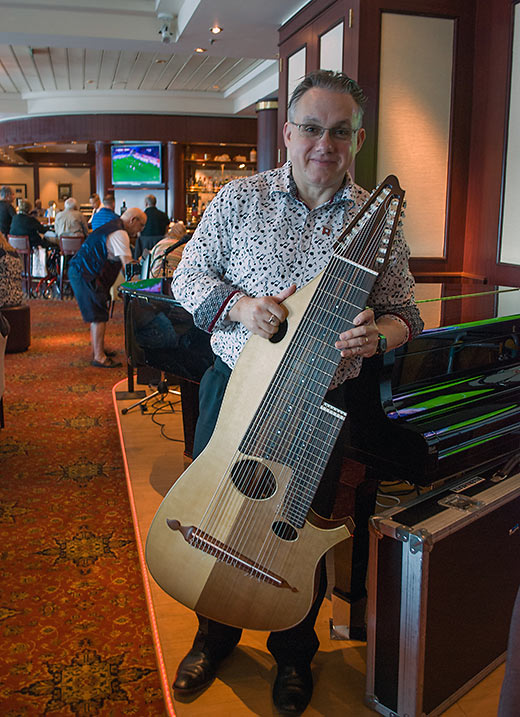 Golden Lion Pub Feast with Live Music
Passages from a unique 22 string guitar resonate throughout the crowded pub as servers hustle from table-to-table brushing past British born Paul Garthwaite performing Liquor and Poker on his unique 22 string guitar. The ambience is that of a London Pub, chatter at a high level, and the opportunity to enjoy a steaming plate of Fish and Chips with their galley-made ketchup.
Britannia Restaurant Dining Stylish and Chic
Elaborate and distinguished in the timeless Cunard style, upon entering the two level dining complex it seems as if Bogart and Bacall should be dancing down the steps in gala dress while at another entrance Lady Ga Ga and Leonardo DiCapiro are gracefully strolling to a table of friends carrying the poise and mode of the future. While dining on corn chowder adorned with flakes of red bell pepper, a crispy goat cheese with mushrooms and walnut pesto, passengers are informed the Queen Mary 2 is passing 200 miles north of where the Titanic lies.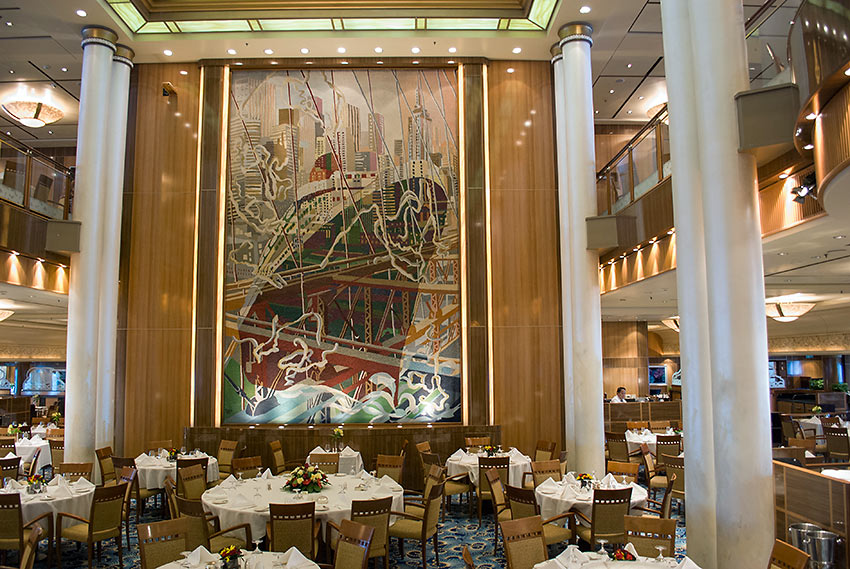 Later that night after dancing to a big band that knows how to swing we stopped at the Champagne Bar for a Titanic remembrance toast and the rich sense of sea-going culinary imagination.