When the couple, there for their 20th visit, commented that it was the first time they had taken the house tour – one of the staples of the Mohonk Mountain House experience – I asked what they had been doing all those years. Liz and Dan Gleason from Haddon Heights, NJ replied:  "There's just so much to do all the time, you just can't fit it all in. Every year, there's a new surprise. This year, it's the Smiley family parlor."
And therein lie two of the greatest pleasures at this glorious old resort in New Paltz, NY – activities to keep you busy all day (but only if desired) and the connection to the Smiley family, who has owned and operated the resort for over 140 years.
That connection reverberates throughout the property, which has been dragged kicking and screaming into the 21st century.  First bought in 1869 by twins Albert and Alfred Smiley, the 10-room tavern that sat on 300 acres of lake and farm area has been expanded to encompass 266 rooms in connected buildings spanning a sixth of a mile, while the property now extends to 2200 acres, all of which has been treated to accommodate the uninvited virus so that their more welcome guests can feel safe and comfortable.
Their most recent nod to architectural modernity came in 2005 when they added an ecologically sensitive, geothermally heated spa wing and the first and only – and long overdue (at least to my way of thinking…) – cocktail lounge. The structural expansion prior to that? 1910, when they added the rounded window section in the main dining room.
Which leaves you very unprepared for the grandiose creation greeting you as you drive up. The mammoth building sitting atop a hill more resembles a haunted house than a mountain resort. All jutting angles and balustrades, widows peaks and turrets, circular, angular and pointed wood, stone and rock cliffs result in a hodge-podge of architectural styles for which eclectic is an understatement. It's an imposing mish-mosh of disparate styles, all tacked one upon the other, without thought to form or aesthetic. You don't know whether you've arrived at a world-class hotel (which it is), Rapunzel's castle or the Addams Family abode; you do know that it's wonderful.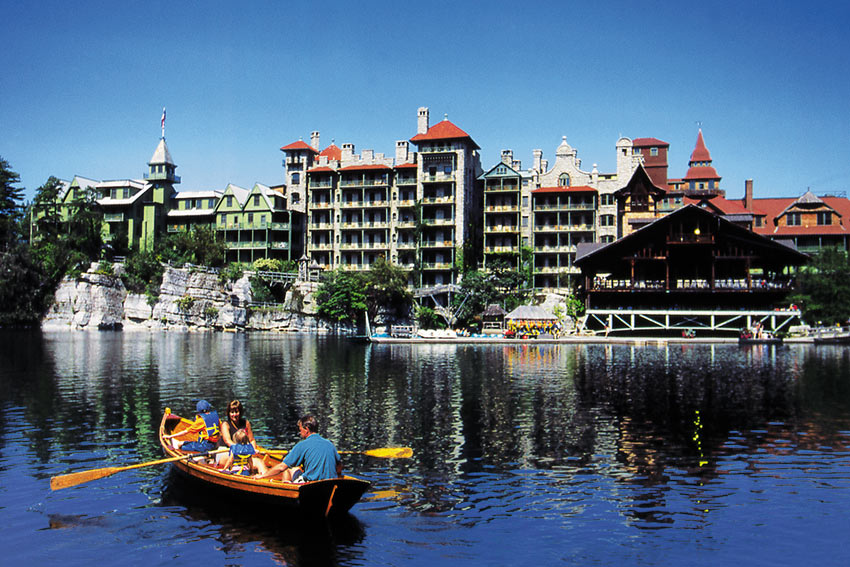 A walk through its many halls presents a similar adventure. A labyrinth of hallways, stairways, cubicles and cubby halls features a surprise at every turn: an aquarium, library, billiard room, activity center. The life-size stuffed Basset Hound and Russell Terrier in front of the gift shop were so real I was sure I heard them bark.
A Rogue's Gallery of famous people and family members who contributed to the long history of Mohonk features pictures of Rockefellers, Vanderbilts and Carnegies who vacationed here along with several presidents and other heads of state. Around every corner, a rocking chair, lounge chair, or settee looking out on yet another beautiful view. Long porches and outdoor alcoves everywhere lined with more rocking chairs, many facing the lake caressed by canoes, rowboats, kayaks and paddle boats beckoning for attention. The whole idea is to get guests to look at, get out in and enjoy the surrounding nature. Or not. Sitting also is good.
Some resorts boast multiple restaurants and swimming pools – at Mohonk, it's rocking chairs and gazebos.  Thus many a guest can be found sitting in any one of 125 gazebos spread throughout the property – the Smileys put them in areas they identified as beautiful locations, which accounts for their large number – either reading a book or just staring out at the lake or mountain before them. Or equally entranced by flower-laden, canopied pathways interconnected by wooden bridges, trellised walkways, green bushes and rock outcroppings. The connection with nature is all-encompassing. Be prepared: there are so many places – gazebos, benches, chairs, hidden nooks, alcoves, both indoors and out – enticing you to just sit and read that you should carry a book with you at all times (or, if you're under 18, your iPad).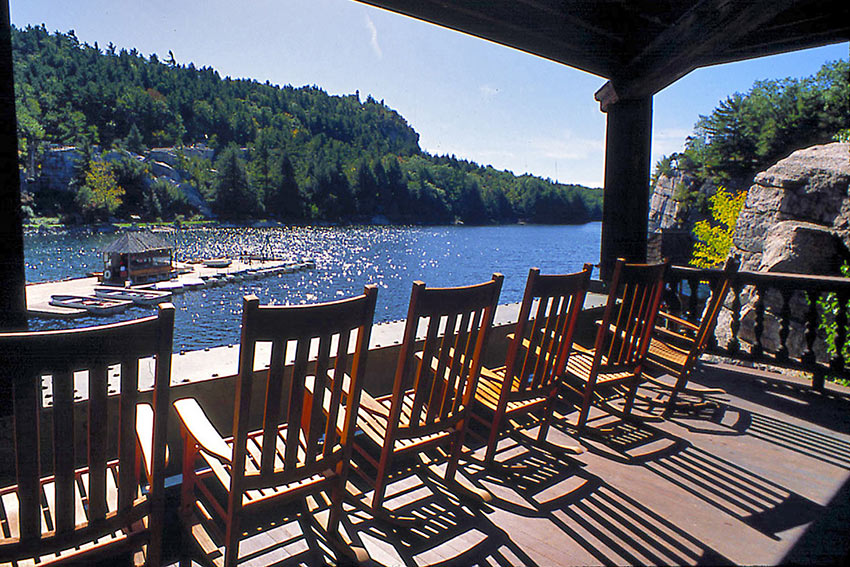 Sitting on our balcony – there we had to make due with yet another rocking chair, which are the only things that outnumber the gazebos – overlooking the views was so peaceful we had to force ourselves to get up and start undertaking the myriad of activities awaiting us. As an incentive to get moving, the map of the building lists 58 different destinations – and those are just indoors! We'll talk about the outdoor options later.
Just as the current structure is essentially unchanged since 1902, the same goes for the initial mission of the resort, as first espoused by Albert Smiley: it remains dedicated to a renewal of the mind, body and spirit in a beautiful natural setting. That vision still permeates the property, embodying an old-world ambience that adds charm and character that no modern-day hotel complex can come close to matching.
You want to do some hiking, rock-climbing or mountain biking? You're in the right place. Want to ride a snowmobile, a Jet Ski or watch TV – you're not. Mohonk is all about tranquility. And simplicity. This is not the kind of place where they bring you umbrella drinks by the pool. That same Quaker philosophy also limits any raucous nightlife options. In lieu of the usual resort band and dancing, there may be a lecture on the Geology and Paleontology of the Hudson Valley. Seems like a fair trade-off…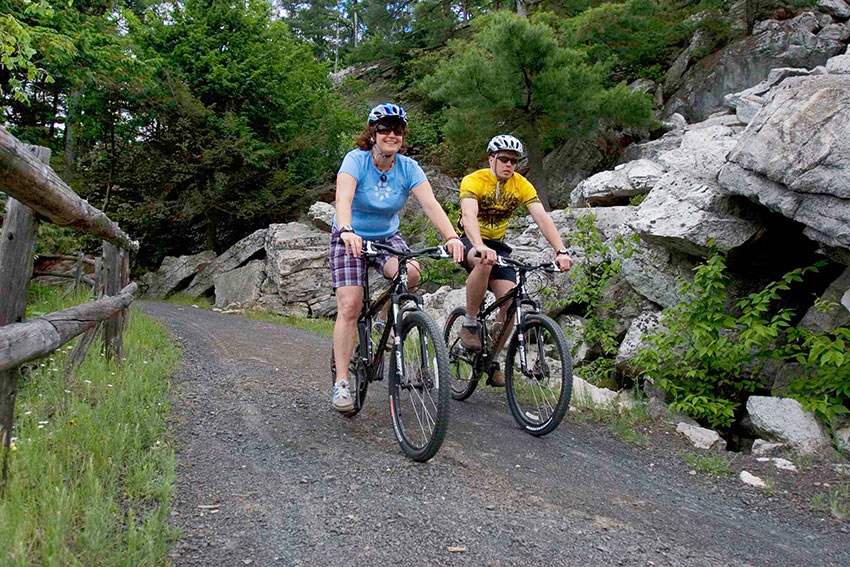 Okay, there actually is a TV located in one of the meeting rooms but a guest survey taken five years ago in which 97% of respondents said they didn't want them in the rooms probably assures that there won't be many more making an appearance. And the 15-20 local Smileys still involved in day-to-day operations probably also guaranty that the same ideal will continue. But make no mistake: this is no out-dated, out-of-touch, old-fashioned resort experience; I predict an exciting, activity-laden, fun-filled time to which, like the Gleasons, you'll want to return to year-after-year.
Now, about those other activities? There's swimming, inside and out, fitness center and spa, boating, fishing, yoga, guided nature tours, croquet, golf, tennis and, in winter, ice skating, snowshoeing and tubing. Eighty-five miles of carriage roads and trails are available for hiking, running, biking, horseback riding and cross-country skiing.  And most recently – to especially accommodate social distancing – they're offering outdoor concerts on the Boat Dock every night, have transformed one of its parking lots into a drive-in movie theater and launched a series of live campfire performances.
Strolling the grounds is an activity in itself, past fish ponds, a putting green, stables, a Barn Museum chock-full of fascinating antiques and historic memorabilia, and extensive award-winning gardens. Some are laid out in a well-marked precisely structured design, an interesting antidote to the resort's chaotic architectural structure; other less manicured foliage spill out over more trellised walkways and, yes, more gazebos, leading around, through, between, beneath and beyond an intricate maze – literally – of evergreen trees.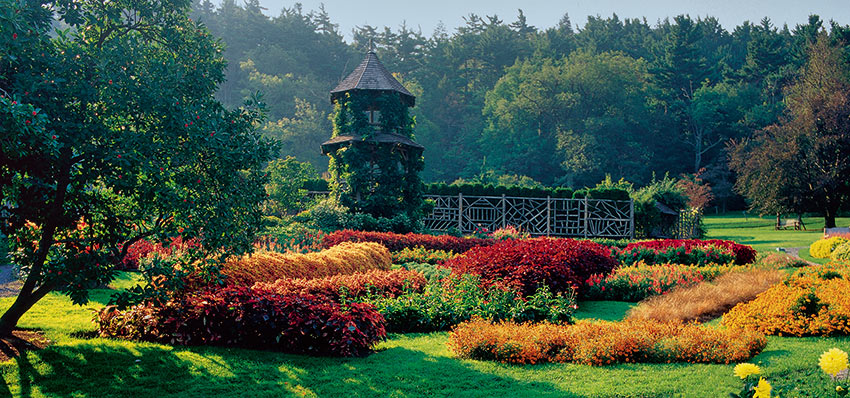 Rates start at $820 per room, double occupancy. Three meals daily plus afternoon tea and cookies are also included in the room rates, as is a Kids' Club providing as many hour-by-hour activities for children ages 2-12 as for adults. Although there's an additional charge for some of the usual suspects (horseback riding, carriage rides, spa treatments), all those other activities are complimentary.
Mohonk is also well-known for its more than 40 theme weekends throughout the year from Mystery Weekends to Rock 'n Roll to Culinary to Hiking to Yoga and so much more. If you have an interest, they probably have a weekend.
For more information, call 1/855-883-3798 or visit the Mohonk Mountain House website.