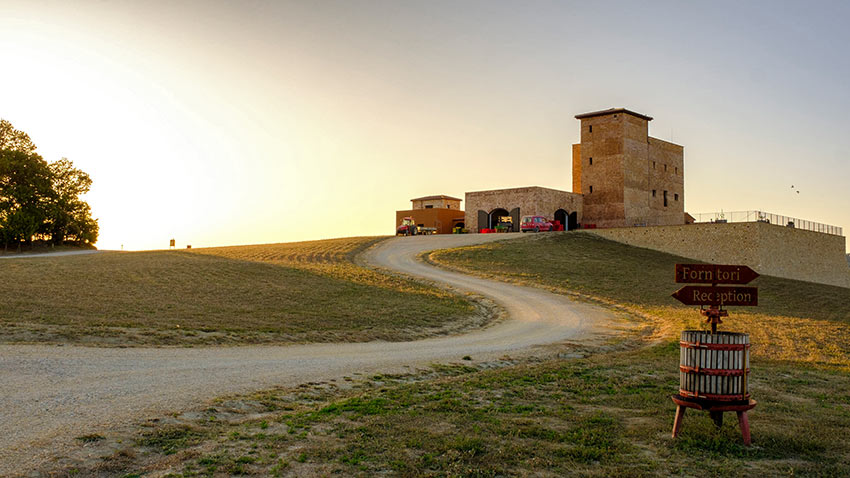 At a time when COVID-19 keeps us from traveling overseas, I enjoyed some travel vicariously by reading about a vineyard in Tuscany while tasting some of their organic wines. While it was a poor substitute for actually walking the rows, smelling the breeze blowing over the 25 hectare hillside estate, and touring the cantina, the experience was improved by tasting the wines. Their local cheeses, extra virgin olive oil and fresh baked bread normally served with the tasting will have to wait until it is safe to travel again. Until then…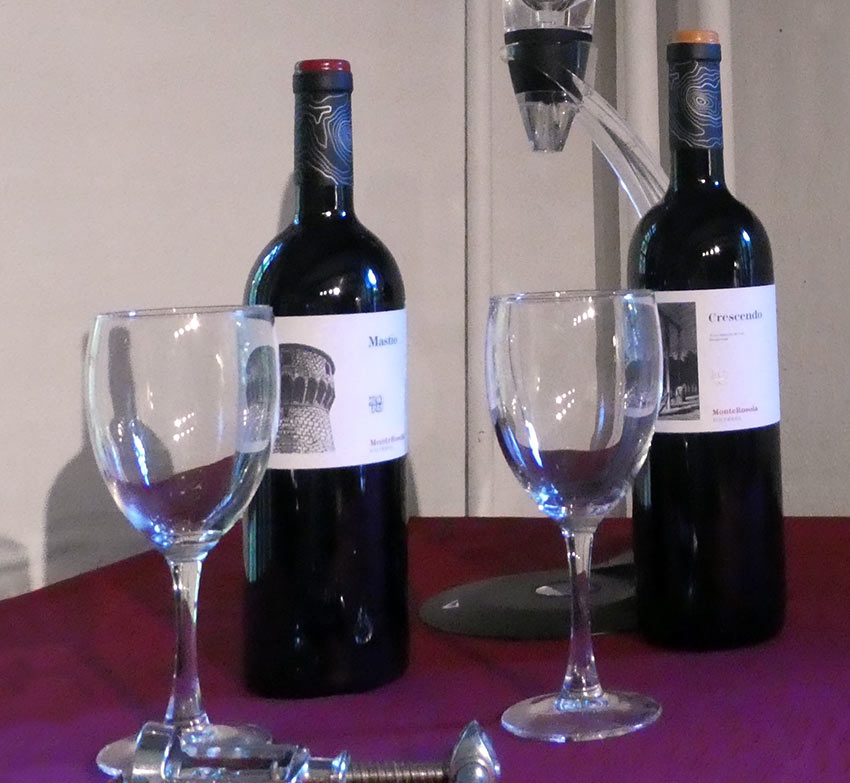 How the tasting for three people was done:
I briefly chilled the wines, then uncorked them and poured some into wine glasses, and we immediately took a sip. Then, we let them sit for an hour before we tasted again. While waiting that hour, I poured the wine through a Vinturi Tower wine aerator into different glasses. For each red, the sip was the worst, the aerator was second, and the open for an hour and poured was the fullest flavor – especially after swirling it in the glass for a bit. So if you don't have time to let your wine breathe, use an aerator.
The two red wines according to Monterosola:
Mastio 2018 – "A beautiful rich ruby in color with elements of ripe fruits on the nose with a hint of red cherry, strawberries almonds and green herbs. A well-balanced combination of elegance and intensity on the palate with soft tannins and a generous aftertaste."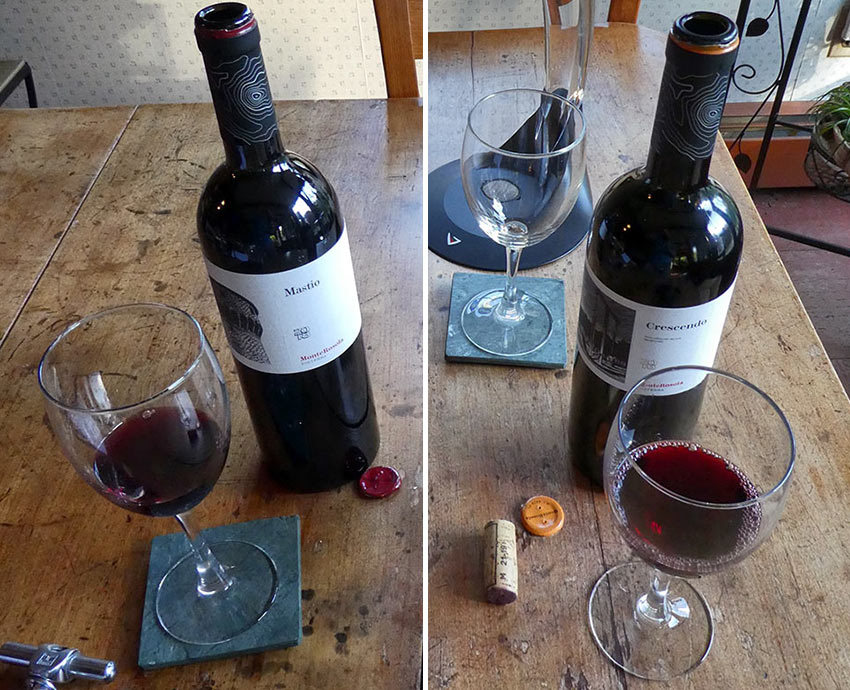 Cresendo 2016 – "Deep garnet color with flavors of rich cherries, dried herbs, sweet oak, spices, black tea and toasted almonds. Both intense and complex on the palate it is powerful yet refined with a lengthy finish. Crescendo has great aging potential."
What the tasting revealed:
Color, bouquet, and legs – both similarly red, the Mastio's bouquet initially more inviting, but it didn't have legs until it breathed. The Cresendo's legs were walking from the first pour (see video), and the bouquet blossomed as the wine opened. Both are good quality for the price.
Finally, the taste:
Mastio's medium bold and very drinkable flavor has red and black fruit notes and a smoothish tannic finish. Tuscany's popular Sangiovese grape serves this wine well. There's an herb taste I can't place, surprising in a red, that adds to the complexity. One fellow taster preferred this imminently drinkable wine over the Cresendo, and went back to it after the tasting. Mastio is a great value and a perfect everyday wine that could be served for special occasions too. $15
Cresendo presents a stronger taste and smoother mouthfeel, with tobacco and oak notes beside the typical Sangiovese cherry that creates a full and complex flavor profile. If I had another bottle I might set it aside for tasting in a year or two, but it's a lovely drink now if allowed to breathe. The other taster and I preferred this over the Mastio, and after the tasting had no trouble finishing it. Truthfully, if I'd had another bottle I'd probably have opened it right then. $28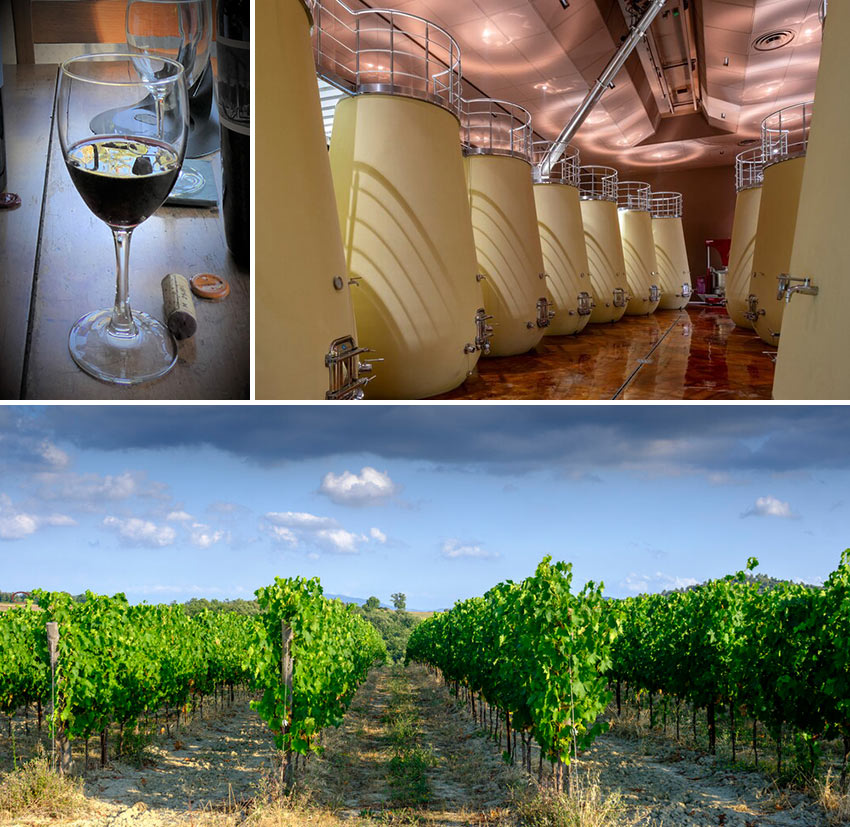 Meanwhile… located in the heart of Tuscany, Italy, between the world-famous wine-growing regions of Chianti and Bolgheri, the Monterosola estate commands a hillside overlooking the medieval city of Volterra. Monterosola is one of the newest of the modern breed of estate vineyards that have become destinations in their own right. But what exactly is Monterosola?
Monterosola is a family owned and run vineyard with a brand-new architect-designed state-of-the-art cantina. They make award-winning organic wines by combining old traditions with modern technology. The family, Thomaeus, is a Swedish couple and their three grown children, each a sommelier in their own right, with the vision to buy an estate making good wines and turn it into a world-class producer of some of the finest organic wines in the world.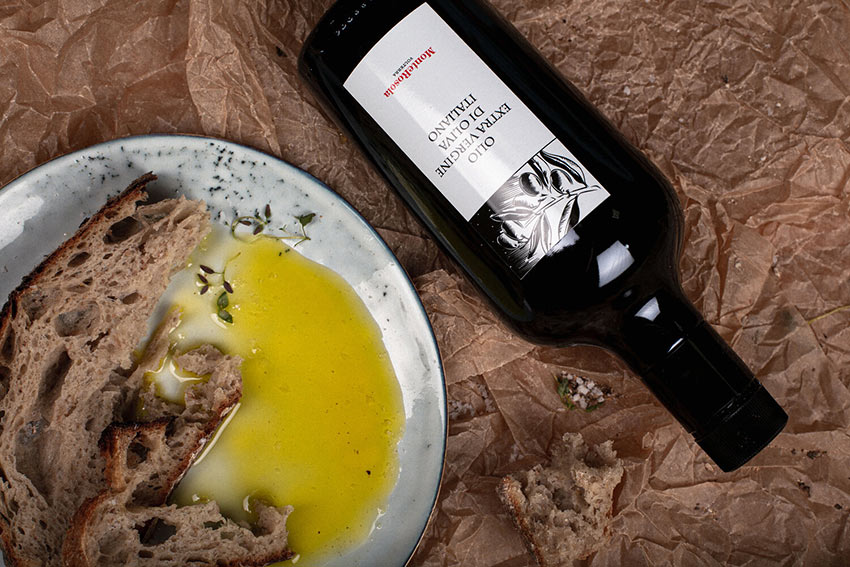 The new cantina was designed to use geothermal energy with heat pumps and a rain water collection system to generate sustainable energy and water consumption. It is naturally cooled and heated, and offers concerts and events in its various performance spaces, with fine dining to accompany their superior organic wines. I think it would be fun to visit and see their impressively located and designed facility. I'm used to seeing stainless steel fermenting vats, so a look at their concrete fermenting tanks (tulipes) and an explanation of their use would be educational. But mostly I want to taste their wines with their superb Italian food.
Tastings and tours can be arranged through the Monterosola website.