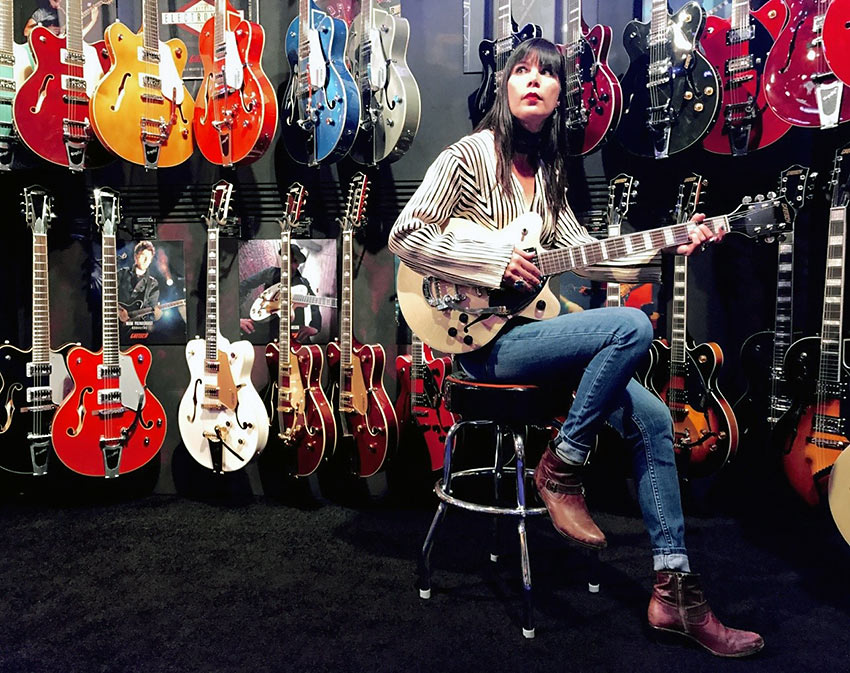 Nena Anderson is in constant motion. She has to be. She has a garden and confesses "I like to cook out of it." There are also two dogs, three chickens, teen-agers, a husband and five on-going, musical projects. Six, if you count her collaboration on Alex Woodard's, For the Sender. "I always have something to do!" Anderson laughs. "I'm doing something constantly until I'm literally falling into bed. That's just how I am. It's exhausting!" (laughing)
Exhausting maybe, but extremely productive. The Anderson music catalog added two new discs last year with the release of the 'live' EP 'Lonesome Nights' and just before the holidays, 'Christmas with Nena.' Both projects co-produced with guitarist-husband, Deane Cote. 'Lonesome Nights' Nena says was a "completely live" learning process recorded in "one shot" and "really fun!" As for the Christmas album, she says. "It's a throwback to a simple jazz combo with an Ella Fitzgerald, Julie London feel."
The artistry of this composer, gardener, mom, foodie, graphic designer, writer, painter and chicken farmer, seriously has no boundaries. Her creativity and inspiration comes from others; family, friends and the people that mean the most to her. The songs she writes and the music she performs, reflect that. So our conversation started with her diversity in both style and presentation. How do you describe the music of Nena Anderson? "I don't really." She says. "It's all music, it's all music. I grew up listening to and being influenced by any and all styles. And I'm lucky enough to be able to sing most styles. I try not to worry about what style it is but our society needs a place to put it, you need a category for ITunes. Unfortunately, you have to pick a category and I struggle with it every day, still.
My second or third band was blues and I loved it so much, it was so easy and natural for me. But I felt that the genre and the people within it were so insular and so unwilling to accept things outside of that and it really turned me off. I'm one of those people that don't want to be told what to do. I don't want to feel confined. Now you're a blues artist and now I'm stuck being a blues artist my whole life. And I was in my early 20's! No, I don't want to do that! I mean, I love it and I was very deep into it, why would I only want to do that? I think my solo band is the best thing for me right now, I feel like I can do all the genre's and not worry about it fitting into Rock or Blues or anything, I can just do whatever I want."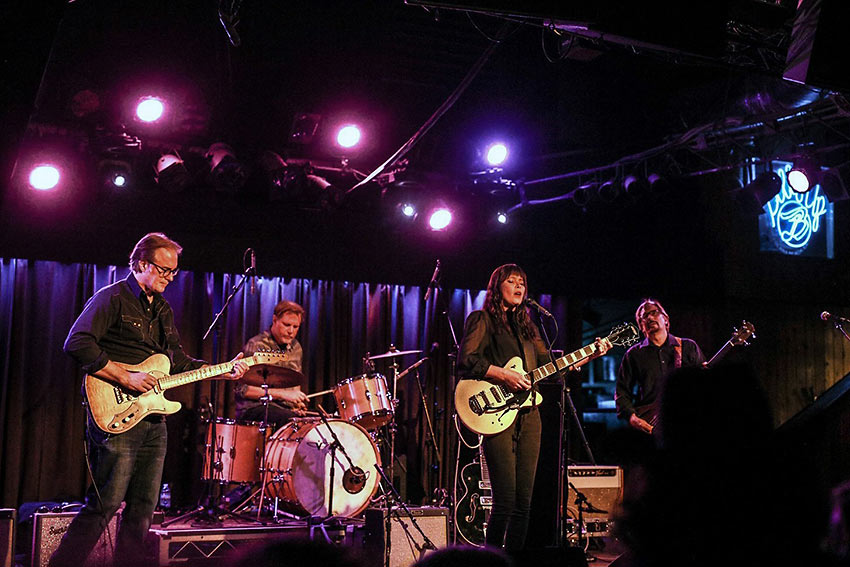 Speaking of multiple genres, how many different projects are you currently involved in? "So, I have my solo band – Nena Anderson." She says. "It's a four-piece band, with Deane Cote on guitar, Jefrey Kmak on bass and Tim Petersen on drums and we play about everything; we say it's Americana, Americana rock, maybe even folk rock. The solo/duo thing is kind of an evil necessity. I actually don't like playing solo, ever. I do occasionally but it kicks my butt, I can't lie. I just don't enjoy it. I can do it and its fine but it has to be a short set. I'm not a person who will play for three-hours by myself…I get sick of me. I hope everyone else does. But I've always played music to play with other people, to interact with other musicians. I've never, ever played it to play by myself or to play my songs. It's always to have that collaboration. To me, playing solo is just not fun."
Is it a social thing for you? "It's not even social, though. When you interact with artists and you collaborate to create a bigger whole…it's Magic! You can't explain it and it doesn't always work. But when it does and you can work with artists that understand that language, it's fantastic. Deane and I have been doing some duo shows and it's forcing me to stretch a bit as far as being a better guitar player. And it's fun in a different way because it's still interacting with another musician and not a whole band."
Okay, that's three. "Then I have Brawley which is the honky-tonk band and at this point we only play a few times a year. And have a great time, so much fun."
You have a regular thing called Jetset out in Palm Springs. "So Palm Springs is jazz and a little Western swing and it's Adrian Demain, myself and Jim Austin from Brawley and then we have a fiddle player, Bobby Furgo and he is fantastic. He was Leonard Cohen's main guy for like 15 years or so. He lives in Yucca Valley and does a lot of session work in L.A. It's a fun combo for sure!
So solo, duo with Deane, Brawley, Jetset and the Nena Anderson band, that's five different projects? "And all of those we play originals as well as covers. My solo bands…it's mostly originals with a sprinkling of covers, the other two are standards with a few originals. Adrian and I both write for Brawley and Jetset."
When do you sleep? "I'm still doing other projects, too." She laughs.
************************
"I used to sneak into clubs to see the Beat Farmers!"
– Nena Anderson on influences
 ************************
Tell us about the For the Sender project. "About 2011 a local songwriter, Alex Woodard, put together a group of songwriters in a collaborative project. He had asked his fans to send him letters to write songs about. And he got all these letters that were so fantastic, mostly stories of tragedy, hope overcoming hardship…and he picked a handful. So happens, he was living with Sean Watkins at the time and they wrote a song together based on one of these letters. He came up with the idea, why don't I bring all my friends…and we had these family dinners where we'd all meet at his house and eat! The question was posed, 'Why don't we all collaborate and write songs about these letters?' It came together very organically and I was lucky to be a part of that in the beginning. We ended up making an album and doing some shows. Alex ended up writing a book! It started out as liner notes and it became a book!" (laughing) "And then it got picked up and so we did two more. All of the (submission) letters picked a charity, so when we do these concerts all the money would go to these chosen charities. Now every Christmas we do this For the Sender show and we do some of these songs. For any audience to experience somebody's story, like a letter being read and then the three songs that were written inspired by it and that immediate connection of music to a story is so powerful… and healing. The idea being that we all feel the same things. We all share it and you don't feel so all alone."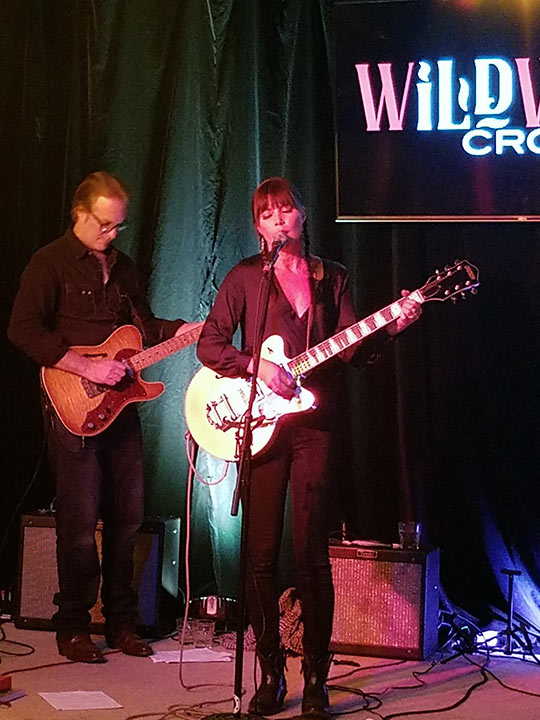 Did you have a musical family? "No!" (laughing) "My parents loved music. I took my mom to a concert once; I took her to see K.D. Lang. She said, 'this is kind of cool. I've only been to three concerts, ever.' I was like, really? So, I asked her what they were. 'Oh, the Beatles at the Hollywood Bowl!'" (laughing) Turns out the three shows were "…the Beatles, the Rolling Stones and Janis Joplin! And I'm taking her to see K.D. Lang, whatever, sorry." (laughing) "Excuse Me!" (laughing) "My mom was into pop music and we always had a lot of music around the house. My dad, and it tortured me as a child, my dad loved 'old-timey' music. It was PBS radio, which I thought was the bane of the earth. It was banjo's, bluegrass, Carter family and later a little bit more of Hoyt Axton, Merle Haggard and all that stuff. It's so funny because it's almost like osmosis, I hated that so much growing up and now it's some of my most favorite. And we did have music around all the time, but neither of them were musical, and I grew up wanting to be the opposite of that and I grew up in the era of punk and ska and new wave and I was into all of that. I did take some lessons when I was a kid and they were horrible." (laughing) "I had guitar lessons and that was awful and I hated it. I didn't last very long."
How about other influences or training; vocal, theater? "No vocal lessons but in high school and in school at UCLA, I was a DJ. I was really into music and records and putting things together. And I did some musical theater when I was a kid, and I think that's where the jazz thing comes from, my dad loved old movies and I STILL love old movies. Constantly, I watched old movies, musicals, noirs, Hitchcock films, science fiction, dramas, murder…everything! I loved all old movies and I particularly loved the musicals and the music from it. As I got older I realized, oh, that's because they're all the old standards. I get it! (laughing)
Your roots, it was ingrained in you. "When I first started singing blues…I sang in a rock band in college and did some session work with some people singing Electronica and dance music stuff. But none of it really fit. But when I started singing blues and jazz, it was just natural, there was just zero effort involved. I remember people asking me, 'How long you been doing that?' I just started last week, you know?" (laughing) "Well, maybe you should do more of it!"
I first discovered you through your blues roots. "You'll love this; I started singing blues with Billy Watson and Joe Jazdzewski and Nathan James and a group of guys playing at a little coffee shop in Carlsbad called the Art House. I think Nathan may have been touring, but he was in and out."
Billy Watson says he remembers those days. "The Art House was a coffee shop that had monthly art exhibits." Billy says. "I hosted a Tuesday night open mic for two years around 93'and 94′. Nena had great talent right outta' the gate. She's also a great graphic designer. She was kind enough to do the art on my first and second CDs. She worked for a hip company called Red Sand. They were all friends with the Paladins and she did one of their covers too. She worked with all the guys we know like Eric Lieberman. She knew everyone and grew up a native here in San Diego. Her Dad is an old-school surfboard builder…before that term was even invented. He had a shop in Encinitas called Agua. He is still at it to this day. I am hugely honored to know Nena, she's a pal."
************************
Tell me about Lucky Scandal and some of your early bands… "It started out," Nena says. "As 'Lucky Scandal and the Many Shades of Sin' and I can't lie, we were pretty awful." (laughing) "But we were good enough to play some local gigs. It was rock-a-billy and blues and at some point I met Eric (Lieberman) and I was looking for a guitar player. I sang and had been sitting in with the Juke Stompers and it was great. He and I ended up putting together a different band and doing a lot more of what I was interested in…jump blues, early R&B, and blues. We did that for about seven or eight years. It was still called 'Lucky Scandal' and I used to do the whole pinup girl look, high heels, big hair, the dresses and the whole thing. And we did really well, and at one point I had an eight-piece band, a horn section with Jonny Viau and we played big shows at the Catamaran Hotel, Humphrey's and the Belly Up. It happened to be right in the middle of the big swing dance craze and we were already established. It was nice; we had lots of great gigs and a lot of people would come out and dance to our band. We were playing once or twice a month at the Derby in Los Angeles. About four or five years in, I changed the name to '47 Combo' because 1947 was a good year for music of that style. We were mostly playing as a five-piece at that time, sometimes a six-piece. And I was working full time as a graphic and product designer and playing four or five nights a week and when I finally stopped, I nearly had a mental breakdown. I didn't even know how exhausted I was and when I finally stopped I had about three months of complete… I was brain-dead. I was a mess."
What about the Never Out and the Mules? "The Never Out was a rock band that I had for a few years around 2010, that had my friend O (Otis Barthoulameu) who had a band 'Fluf' and Bill Driscoll who's actually April West's son. He plays trumpet, drums and guitar, he's a fantastic musician, and Mike Butler on guitar. We played my songs in a more rocked out way. It was super fun and I just wanted to play loud, I've been playing quiet, I want to play loud. And 'the Mules' which was a predecessor to my solo band, now. It was Nena Anderson and the Mules and that was the band I recorded the album 'Beyond the Lights' with."
We talked about influences, but who else do you think made an impact on your direction? "I used to sneak into clubs to see the Beat Farmers!" (laughing) "I was going to the Belly Up when I was 15!" (laughing) "Because my parents had so many varied influences, I grew up with an open mind. I can honestly say the only thing I'm not a real fan of is Pop Country, New Country. I can listen to Heavy Metal; I can listen to Jazz and Country Rock. I love it all, but for me it's about honesty, so regardless what the genre is I gravitate toward artists that are honest and who bring that to the show. And I love the song writers…Bob Dylan, Merle Haggard and John Prine."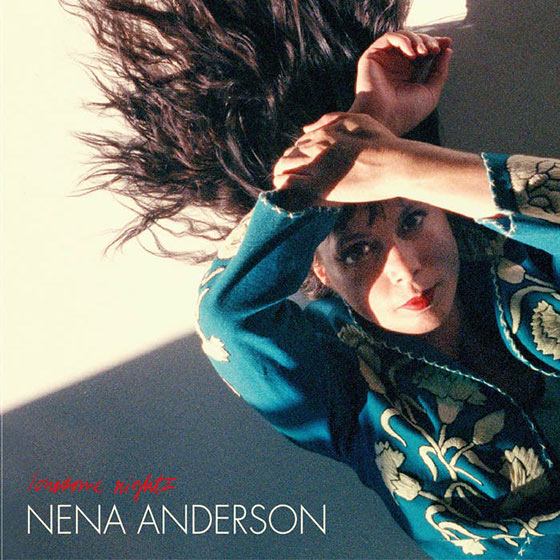 Would you call yourself a singer-songwriter? "No!" (laughing) "In the standard definition of it, yes, I am. Growing up in the San Diego music scene I always felt like singer-songwriter meant mediocrity and I didn't like it. It was the coffee shop, open-miker who had a fifteen minute song and held every note out as long as they could. From day one, that was never my thing. Although I wrote my first song when I was 19, I never considered myself in that world. The first three bands I was in, I just started bands. I didn't really play that much but I put together players and I had a band. I wanted that interaction of people so I bypassed that whole singer-songwriter thing that a lot of people start with. I did my first open mike, I think I was 34. I didn't learn to play guitar until my early 30s. I went to East County and started doing an open mike thing out there on a weeknight. I have to kick my own ass, basically. If I don't play out…like a show in front of people, I need the pressure of having to do it; that's my motivation. So I started doing these open-mikes, solo with a guitar to learn something new."
Is Southern California home? "Oh yeah! My parents moved here in 1971, my mom was from Indio and my dad was from Huntington. My mom used to ditch school and drive to the beach where she met my dad. They moved down here and my dad wanted to be a surfboard shaper, so in the early 70s he started doing it. I haven't always been here; I went to college in L.A. but always Southern California-based, I lived in LaJolla and moved around. I've toured, I've travelled, and I love to go places, I'm actually not a static person but growing up here, I'm really spoiled and I hate the cold."
You've been involved in Art and Music, you Blog about food…"I love food!" She giggles. "I'm half Chinese and I grew up in a family where everything is about food, everything. There was food to heal you, food for social gatherings, food because you're too skinny and food…because you need more!" (laughing) "Everything was about food, all the time! I love food because it's delicious; I love flavors, but also because food brings people together, you can share a meal with someone, you can cook for people and it makes them feel good. I have a garden and I like to cook out of it and a friend of mine, a native American man who works in Palm Springs, he's always telling me, 'food is special when you grow it yourself and you cook it for someone and you share it, there is power in that.' Power in a happy, healing connection and I believe that."
What inspires you? "Everything inspires me." She says. "I went to school to be an industrial designer. I've been doing graphic design and building things, coloring and painting things since I was 14. Part of that world, and it's the same for music to me, I cannot shut off my brain. And people will go, 'oh, you're not working on that now, or let's work on this song, right now.' I'm not that kind of person. I'm working on it for weeks, months; I'm stewing on things for a year and then it comes out. Inspiration comes to me through the people I'm around and I try to surround myself with people that are doers. People that have something to say, and opinions, whether I agree with them or not that's irrelevant, but people with opinions and ideas and outgoing interests."
You worked with Jack Tempchin. "I love Jack!" She smiles. "Jack loves lasagna!" (laughing) "He loves home-made lasagna! (laughing)
Everything IS about food with you, isn't it? (laughing) "I'm telling you, food is the great connector." She grins. "I got to work with Jack on the For the Sender project and people don't understand. He is such a fantastic writer but he's just the most regular dude on the planet. You can go down to Swami's on any Friday night and he's playing with the hippy drum circle. He's awesome and every once in a while he'll send me something and say, 'I wrote this song, you wanna' sing it?' or I'll poke him a bit and say, 'what are you doin'? Come over and eat some food and hang out' and he loves the way Deane plays guitar and we just get together and kick around songs. He's such a great guy and so talented."
Let's talk about your catalog of music, it seems to be growing? "I actually have a lot of projects that I'm on but that aren't necessarily MY projects. There are all these jazz compilations that have been distributed all through Europe and Asia that I'm on. They're available online. They are all jazz compilations and it's so cool because I'm on there with you know, Quincy Jones and Michael Buble and Cesaria Evora and all these famous people…and Nena Anderson. (laughing) "And it's real funny. But those are cool because that's how I met pianist, Danny Green. He's a monster, he's so great. A composer, jazz pianist, does Latin, everything. I worked with him on some jazz stuff way back in the day and he said, 'Hey, I've got this publisher that wants some songs. Do you want to come in and sing some vocals on a few of these tracks?' And I get there and he says, 'Do you have any original songs?' Yeah, I've got a couple. I played one for him and he says, 'We're just going to record that now.' So we recorded one and the publisher loved it and I sold my first song. I was like, 'people buy songs? I can sell a song? I get a check for that?'" (laughing) "Oh, maybe I should write more songs."
You've spent a little time in the recording studio over the years, for Nena Anderson projects and for others. "My own records, I have 'Beyond the Lights' released in 2011. I'm on the For the Sender CD and an EP I put out early in 2019 called 'Lonesome Nights.'
'Lonesome Nights' was an experiment for us because I wanted to record completely live. To decide if that's the way I wanted to record the entire album. So we did the EP completely live all in one shot in the studio. Considering that, I think it's really fun and really good. But I think I learned from it that I don't want to do that for my full album…maybe do a combination. And then at the end of 2019, I released the 'Christmas with Nena' album."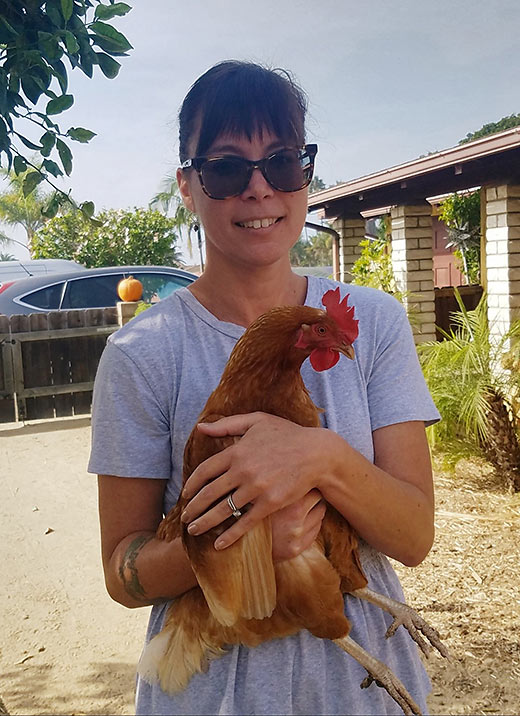 Something I've long admired about the Southern California music scene is the support musicians give other musicians. I know I've seen you both out in support of other players. "We love it. Sometimes I need a night to recover and rest my ears, but we go often. A lot of it is, we believe in supporting the scene as much as possible. I've worked really hard, and still work really hard in our music community to try to support and bring people together. I'm the connector to people; you can ask anyone. I get calls from booking agents around town as well as musicians. Emails 'can you recommend somebody for this? Do you know if so-and-so can do this?'" (laughing) "I'm free with information, too. I believe it helps us all. Deane and I have started mentoring younger artists and I'm very opinionated. I'm not mean about it, it's supposed to be constructive and there's the thing about pushing the community to grow a little bit. Even with the young artist, 'No, you don't play that gig for free. Ask for money. It affects all of us. It doesn't have to be a lot of money.' Just those basic kind of things that are so important."
Your life is pretty full, with family, animals, gardens, art and your vast assortment of musical projects… "I always have something to do!" (laughing) "I don't like to sit around. I don't watch TV, I go all day long. I'm cleaning the house or working in the garden. I'm doing something constantly until I'm literally falling into bed and passing out at night. That's just how I am. It's exhausting!" (laughing) "I admire my husband because if he needs a brain break during the day, he'll read for an hour or something, and I'm like, Oh, I wish I could do that! I can't do it."