Dear readers,
After reading this thoughtful article by Malia Frey of Verywell.com, it occurred to me that most of my global recipes are based on authenticity and, well,  if they taste good. For example I fear that my recipe from Bologna (AKA: The Fat One) hit a new level of caloric indulgence. I was reminded by Ms. Frey that obesity is a major health concern in the US, particularly with the holidays around the corner. So I suggest you take a read on this one. I learned a few things myself. Btw,  Alabama is the fattest US State per capita, with 35.7%  of adults dangerously obese. The Republic of Nauruto tops the world list with an obesity rate of 61%, while Japan has the lowest at 3.6%. So look for more Japanese dishes in my upcoming columns, with moderate portions of noodles, curry dishes, even tempura and delicious okonomiyaki, all healthy when  eaten every few days. Using greens, protein and carbs (in that order) are also  tantamount in making Japanese eating healthy. I might as well throw in walking. Epidemiological data shows that, among high-income countries, obesity prevalence is highest in the United States and Mexico.
– Audrey
The Worst Salad Ingredients for Weight Loss
Courtesy Malia Frey of Verywell.com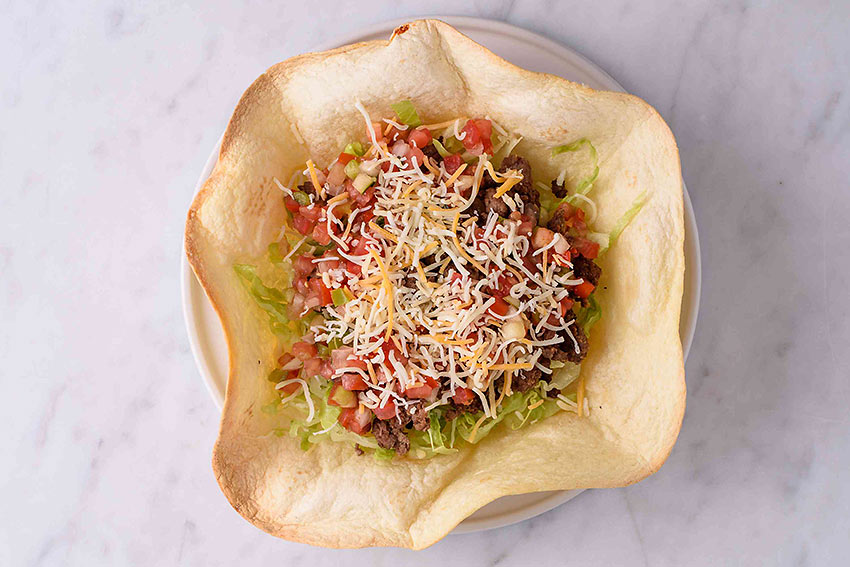 People who are trying to eat healthier often choose salad as a meal option because they think it will help them to lose weight. But many times the salad that they make at home or that they order in a restaurant is full of fat and calories. The result is that they gain weight instead.
Exactly how many calories are in a salad? Numbers vary greatly, but here are a few numbers to give you an idea.
Salad Calories
Basic iceberg lettuce salad with tomatoes, cucumber, carrots, red pepper and low or zero-calorie dressing (such as lemon juice or vinegar): 125 calories
Oriental chicken salad with crispy chicken: 1440 calories
Grilled chicken caesar salad: 770 calories
Taco salad: 830 calories
Cobb salad: 1130 calories
Greek salad: 500 calories
Of course, the ingredients and the dressing you choose will change your salad calories. Serving size matters, as well.
If you want to slim down faster, avoid these ten unhealthy salad ingredients. While they are popular ingredients in many salads, they add very little nutritional value to your meal. Instead, they fill your salad bowl full of needless fat grams and useless calories.
1. BACON loaded on top of your favorite weight loss salad might add a whopping 400 calories and 30 grams of fat to the total nutrition. Of course, the number will depend on how much bacon is added. But bacon on any salad is bound to boost the fat and calorie count through the roof.
So are bacon-style toppings any better? Not really. Many processed bacon (flavored) bits aren't really made out of meat, so they provide no nutritional benefit. In fact, some contain a mixture of trans fat, salt and, believe it or not, sugar!  So skip the salty, fatty toppings and add crunch and flavor with savory vegetables like radishes or peppers.
2. CROUTONS aren't the worst offenders when it comes to diet-disasters, but they add calories from processed grains without providing any nutritional benefit. And many times the croutons are fried so they add unnecessary fat to your otherwise healthy meal.
If you're making your own salad, be wary of crouton brands that look healthy or low in calories. The serving size listed on most crouton nutritional facts labels is just two tablespoons. That's about two croutons! If you add the number of croutons that most people add, you'll probably add 100 or more calories in bread and oil.If you absolutely love to have a bit of crunch on your salad, try adding a tablespoon or two of Grape-Nuts cereal. You get all the texture with the benefit of whole grain fiber.
3. CRISPY ANYTHING: Chicken is a healthy salad ingredient. Shrimp is a healthy salad ingredient. Fish is a healthy salad ingredient. But when you fry these foods in oil, they aren't healthy anymore. Fried foods are full of fat and calories — even when they are fried in oils that are healthy.
The best way to avoid fried foods in your salad is to get smart when you read the menu. Foods that are "crispy," "battered," "breaded," "crunchy," or "crusted" are almost always fried. If you're not sure, ask your server. Ask to substitute a grilled item instead.
4. CREAMY SALAD DRESSING: Even if you fill your salad bowl with healthy, nutritious ingredients you can easily ruin it with a creamy dressing. Check out the calorie counts of these popular flavors.
Blue Cheese: 146 calories, 15 grams fat
Ranch Dressing: 126 calories, 14 grams fat
Thousand Island: 114 calories, 11 grams fat
Green Goddess: 128 calories, 13 grams fat
And if you think that fat-free dressings are better, think again!  Many brands add sugar to compensate for the fat that was removed. And the calorie count isn't always very low. Some run as high as 60-80 calories per 2 tablespoon serving.
If you love dressing, stick to a single serving of a healthy, homemade vinaigrette. Or make your own creamy dressing at home. Or better yet, fill your salad bowl with tasty ingredients and skip the dressing altogether.
5. PROCESSED DELI MEATS: It's a great idea to add protein to your salad, but processed deli meats aren't the best choice. Salami, for example, is a popular meat that is added to many restaurant salads. A single thin slice of salami adds 43 calories and 3 grams of fat to your waistline. While those numbers don't seem very high, a typical meal-sized salad can easily have 4-5 slices worth of salami on top.
If you like deli-meat on your salad, stick to chicken, turkey or even ham. But keep in mind that almost all deli meats are relatively high in salt, so dieters who are trying to cut their sodium intake might want to stick to grilled meats instead.
6. WONTONS: Many restaurants offer Asian-style salads that are full of healthy vegetables and lean meat. But others fill the salad bowl with fried ingredients like crispy wontons. They might add wonton strips to your salad or wrap veggies in wonton wrappers and fry them. Either way, the fat and calorie count of your salad goes up and your meal is no longer diet-friendly.
So should you skip the Asian salad altogether? No. But ask your server to serve the salad without the wontons. You'll save yourself 100-200 calories and 7-13 grams of fat by leaving wontons out.
7. TACO BOWL: It's hard to find a taco salad that is healthy. But the easiest way to make a taco salad healthier is to skip the fried taco bowl. Not only is it messy and unnecessary, but an 8-inch fried taco shell adds 220 calories and 11 grams of fat to your meal.
If you want to build a healthier taco salad at home, use a regular bowl and fill it with healthier taco meat. Use marinated chicken breast or lean ground turkey. Limit your serving of cheese to just one ounce and your serving of avocado to 1-2 tablespoons. Flavor your salad with spicy peppers, fresh tomatoes, corn and crunchy greens for a diet-friendly tex-mex meal.
8. HONEY GLAZED FOODS: What's a great way to take a healthy salad ingredient and make it unhealthy? Coat it in honey. You might see honey-glazed chicken or honey-glazed ham on some salad menus, but more often, you'll see honey-crusted nuts.
These are good foods to avoid if you're trying to keep your sugar intake under control and limit the number of calories in your salad. You'll often see honey-crusted walnuts or honey-coated almonds added to southern-style salads. They add flavor to your meal, but they also add unnecessary calories.
If you like nuts on your salad, add a small serving of almonds or walnuts. You'll still get all of the taste and the healthy benefits that nuts provide, but without all of the extra calories and sugar.
9. CHEESE isn't necessarily a bad addition to your salad. A popular cheese variety, like cheddar, provides protein and calcium. But it is also a source of saturated fat. So if you add cheese to your salad, you need to be careful about the amount that you add. And since most of us aren't very good at estimating or measuring portion sizes, sometimes it's better to skip the cheese.
If you do add cheese to your salad, follow a few guidelines.  First, make sure it's real cheese. There are several cheese "foods" available in your grocery store that provide a cheesy flavor (and all of the fat) without providing any nutritional benefits. Second, measure the cheese before you add it to your salad. A single serving of cheese is just one ounce. Use a digital scale to make sure you aren't adding more than you need.
10: BEEF: Even though beef can be part of a healthy weight loss diet, the beef that is added to many salads is often not very lean. The taco salad that you order at a fast-food restaurant, for example, may contain beef that is very high in saturated fat and calories.
If you're making your own salad and want to add beef, try adding lean, grilled steak. If you like the meaty taste of ground beef in your salad you can also try using lean ground bison or lean ground turkey.