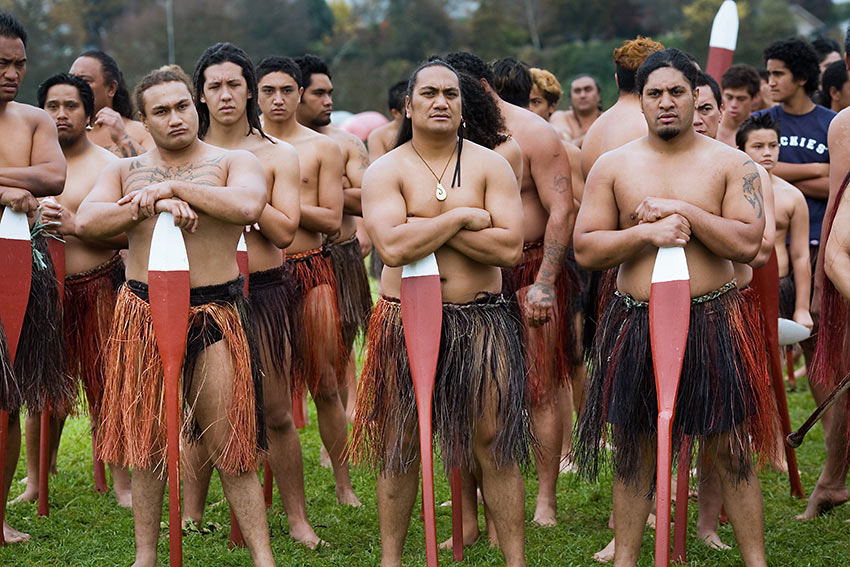 Often on a group press trip, civilians will address our team with, What is your favorite place to travel? It is a question that I would ask. Many fellow journalists would enthusiastically reply, New Zealand! Then followed by descriptions of its diversity: sweeping mountains and breathtaking fjords, temperate rainforests and golden-sand beaches, gigantic glaciers and boiling hot springs and unique Māori culture all packed into an accessible 103,798 square miles. And that is why this small island nation of 4.84 million people is on my Bucket List. Plus, I'd like to shake hands with PM Jacinda Ardern.
But as the C-19 virus remains clear and present danger, I have little choice but to wait and wait and wait for my voyage to New Zealand to commence.
So, to temporarily satisfy my NZ fix, I traversed a few cooking books, recipes online, and a few friends' words of remembrance, and transitioned them into my own, well, rather 'unique' hand. Certain vestiges of traditional Kiwiana dishes (another phrase for "uniquely New Zealand food") remain popular throughout the country, such as fish and chips, meat pies, custard squares, pavlova, and others.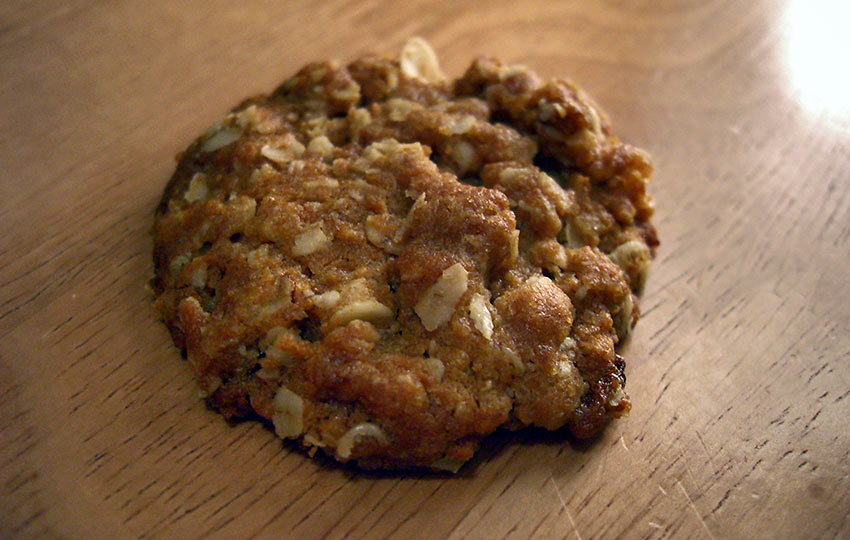 ANZAC Biscuits
These egg-free, oaty biscuits keep for extended periods and are still a sentimental Kiwi staple. They were created during the rationing of World War I to ship to soldiers serving far from home. Perhaps the most important public holiday in New Zealand — Australia and many surrounding islands also commemorate it — April 25th is ANZAC Day, honoring the bravery and sacrifice of the proud members of the Australian and New Zealand Army Corps (ANZAC).
INGREDIENTS:
1 cup rolled oats
1 cup flour
1 cup sugar
3/4 cup dried coconut
4 oz. butter
2 Tablespoons Lyles Golden Syrup
2 Tablespoons boiling water
1 slightly rounded teaspoon baking soda
INSTRUCTIONS:
Combine oats, coconut, flour & sugar with whisk. Add melted butter and syrup. Stir soda into boiling water and add to oat mixture. Place one and a quarter inch balls of dough spaced 2 inches apart onto silicone-lined baking tray and bake at 325 degrees for 15-18 minutes. Carefully transfer to wire rack. Cool completely and store in airtight container.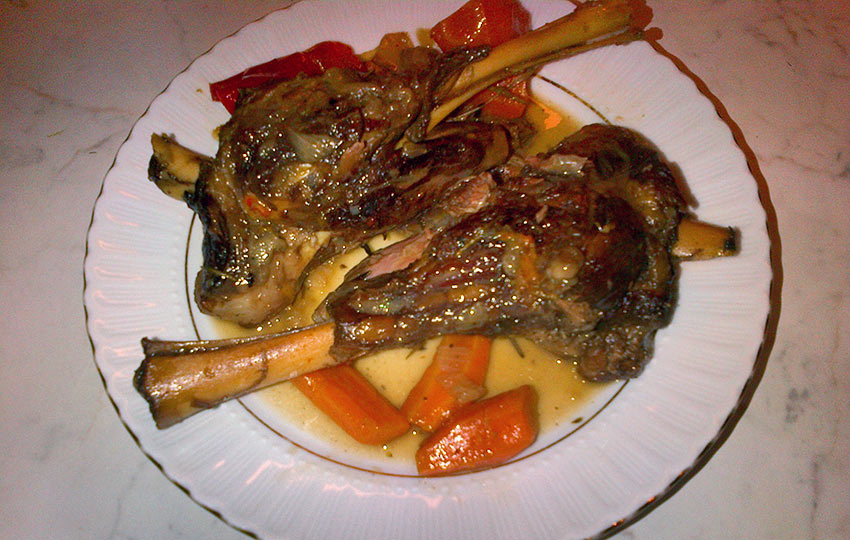 Lamb Shanks with Garnish
INGREDIENTS
Lamb:
6 (six) 1-to 1 1/4-pound New Zealand lamb shanks
flour for dredging
Extra-virgin olive oil, about 2 Tablespoons
3 cups finely chopped onion
2 cups finely chopped carrots
1 heaping cup finely chopped celery
3 garlic cloves, minced
1 rounded tablespoon tomato paste
3 cups chicken broth (preferably low sodium)
1 1/2 cups dry New Zealand white wine
2 tablespoons minced flat leaf parsley
2 tablespoons chopped fresh thyme
2 bay leaves
Garnish:
2-3 tablespoons chopped fresh mint
1 tablespoon lemon zest
1 small garlic clove, pressed
1 green onion (green part only) minced
Potatoes and Carrots:
1 1/2 pounds whole baby potatoes (approx. 1 1/2 inch diameter)
8 ounces slender baby carrots, trimmed & peeled
2 tablespoons butter
Minced parsley for garnish
PREPARATION
Lamb Shanks:
Salt and pepper lamb shanks, lightly dredge with flour and add lamb to hot oil in large pot and cook on medium high heat until browned on all sides, turning often. Remove lamb and add onions, carrots, and celery to same pot, saute until soft. Stir in garlic and tomato paste. Once incorporated, add broth, wine, parsley, thyme, bay leaves and browned lamb. Bring to a boil, then cover and reduce heat to a simmer. Cook until lamb is very tender and begins to fall off bones, about 3 hours.
Discard bay leaves. Skim off fat and puree pan juices until almost smooth. Correct seasoning to taste.
Potatoes and Carrots:
Bring large pot of salted water to boil. Cook potatoes until tender, approximately 15 minutes. Remove with slotted spoon. Next cook carrots in same pot until tender, about 5 minutes, and remove. Cover and hold cooked vegetables at room temperature. When lamb is ready to serve, combine vegetables in large saucepan with butter and minced parsley and saute with salt and pepper until hot.
Mint Garnish:
Mix all ingredients in small bowl. (Can be made an hour ahead and chilled.)
To Serve:
Transfer lamb and pan juices to large deep platter surrounded by potatoes and carrots. Sprinkle garnish over lamb and serve.
Simply Delicious Kiwi Lime Sorbet
INGREDIENTS:
1 cup water
1/2 cup granulated white sugar
1/3 cup Lyles Golden syrup
4 ripe kiwifruits, peeled and quartered
1/3 cup lime juice
1 1/2 teaspoons grated lime zest
PREPARATION:
Place water, sugar, and Lyles syrup in a heavy saucepan. Bring to a simmer over medium heat, stirring constantly for about 2 minutes, until all sugar granules are gone and the liquid is clear. Remove from heat and set aside to cool.
Process the kiwi and lime juice in a food processor until pureed. Pour into a bowl and stir in syrup and lime zest.
Transfer to ice cream maker or if one is not available, into a shallow metal (non-aluminum) pan, cover and freeze along with an empty bowl and your electric mixer beater attachments. After about an hour, scoop out the sorbet into the chilled bowl and whip with the chilled beaters until light and fluffy. Then place the bowl, covered, back in the freezer for another 2 hours or until firm enough to scoop and serve.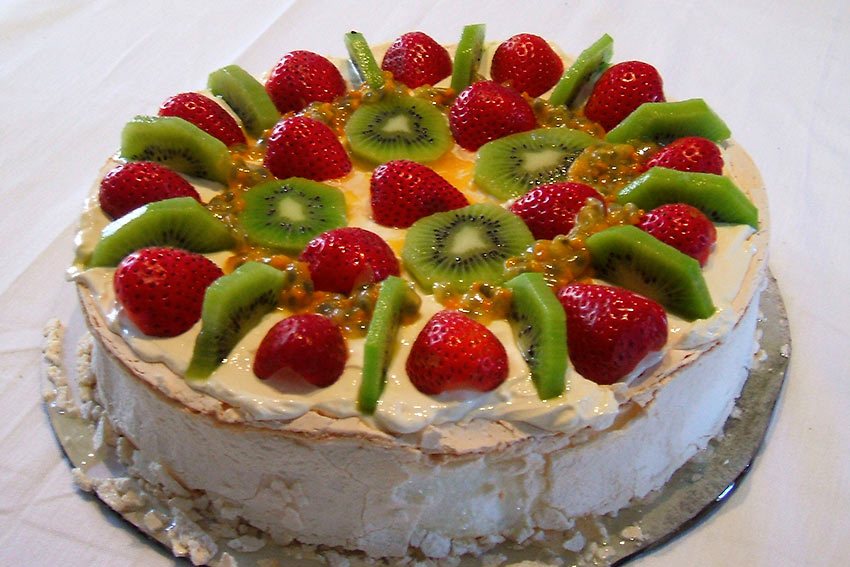 Pavlova with Lemon Curd and Berries
Pavlova is unquestionably the most popular (and S-W-E-E-T-E-S-T !!!) dessert in New Zealand, appearing on almost every dessert menu in every restaurant regardless of its ethnicity. I actually like this version because it's paired with some tart counterparts — lemon curd and fresh fruit.
INGREDIENTS
Meringue:
1 cup superfine granulated sugar
1 tablespoon cornstarch
3 large egg whites at room temperature
2 1/2 tablespoons cold water
1 1/2 teaspoons vanilla
1 teaspoon distilled white vinegar
Lemon Curd:
2/3 cup granulated sugar
1 tablespoon cornstarch
Pinch of salt
1/3 cup fresh lemon juice
1/2 stick unsalted butter
3 large egg yolks
1 Tablespoon lemon zest
Topping:
1 cup heavy cream, whipped
1 teaspoon vanilla
4 cups mixed berries
PREPARATION
Meringue:
Preheat oven to 300F with shelf in center position. Trace a 7-inch diameter circle on a sheet of parchment paper and place upside down on a baking sheet.
Whisk together superfine sugar and cornstarch in a small bowl. Beat whites with a pinch of salt using an electric mixer at medium speed until they hold soft peaks. Add water and beat again until whites hold soft peaks. Beat in sugar mixture very gradually (1 tblsp. at a time) on medium high speed and then continue to beat a minute or two once all mixed in. Add vinegar and vanilla and beat at high speed until meringue is glossy and stiff, at least 5 minutes.
Gently turn mixture out onto parchment, shape into 7 inch circle. Make edges slightly higher than center. Bake until an outer crust forms and meringue is pale golden, about 45 minutes. Inside will be soft. Turn oven off and prop door open slightly. Cool meringue in oven 1 hour.
Lemon curd:
While the meringue bakes, start the lemon curd by lightly beating yolks in a small bowl, set aside. In a heavy saucepan, stir together sugar, cornstarch and salt, then add lemon juice and butter. Bring to a simmer over medium-high heat, and cook, whisking constantly for 1 minute. Next whisk about 1/4 cup of the hot lemon mixture quickly into the small bowl of egg yolks, then whisk the entire egg mixture into contents of saucepan, stirring constantly to prevent curdling. Reduce to lowest possible heat and cook, whisking constantly, until curd is thickened, about 2 minutes. Do not allow mixture to boil. Transfer to a non-metallic bowl and stir in zest. Cover with plastic wrap and refrigerate.
Assembly:
Beat heavy cream until stiff, add vanilla. Fold 1/4 cup of whipped cream into curd and gently incorporate. Spoon lemon curd onto cooled meringue and mound unsweetened berries on top. Serve remaining whipped cream on the side.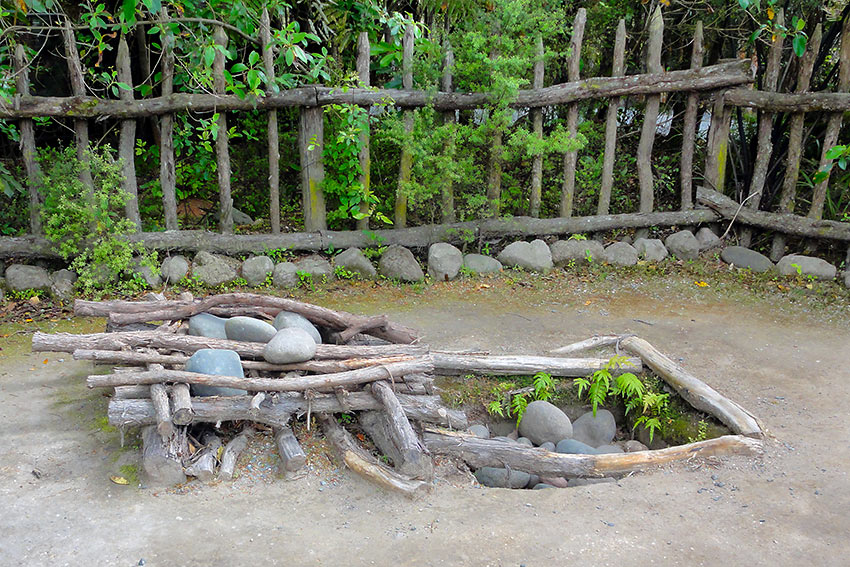 And How Could I Not Mention: Hangi
A traditional Māori hangi is a culinary experience that's often prepared for large gatherings. Cooked in a deep underground hole with red-hot stones as its fuel, a hangi feast typically includes kumara (a sweet potato Māori had brought from Polynesia), pumpkin, chicken, pork, lamb, and seafood. The hangi's smoky flavour (sorry, flavor) is an essential New Zealand culinary experience, and apparently a number of Māori tourist destinations, such as Te Puia and Mitai, offer a hangi meal for groups of visitors.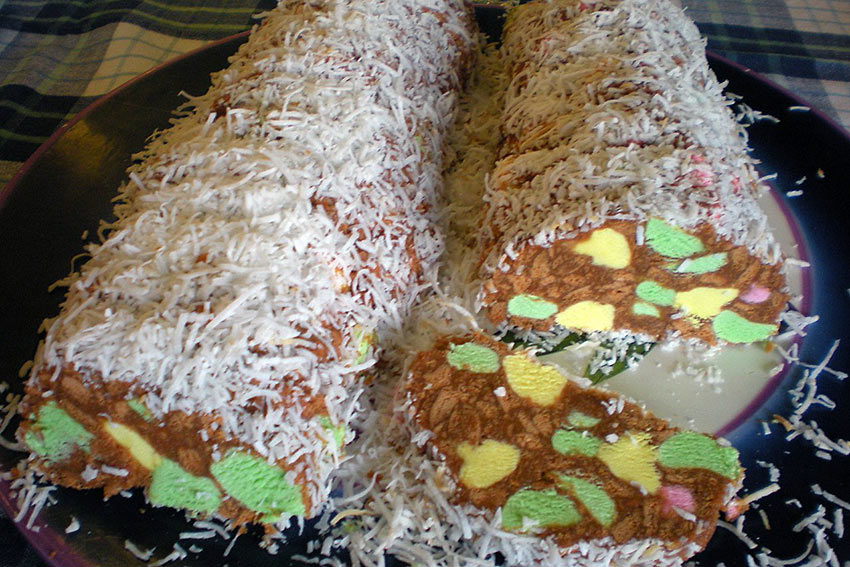 Lolly Cake
According to my friend, Ginny Boggs, every New Zealander has a lolly cake or lolly log on their birthday. It's a traditional New Zealand sweet cake or confectionery which consists of lollies or fruit puffs (similar to soft, chewy marshmallows) that are added to a base mixture of malt biscuits with melted butter and condensed milk. The log is then rolled in coconut or powdered sugar and refrigerated. Ginny added that as a traditional dessert, lolly cake recipes are often altered and passed down through generations. They're similar to fifteens, a type of tray bake confection, that's popular in Northern Ireland. Yes, she's been there, too.