Raoul's 2 Cents
Hope After the Battle
The U.S. mid-term elections are finally over. As with recent past elections, this one lived up to the hype of being "the most important" one. Like a championship sport, every election seems to have it's own unpredictable finish. There was a bloodbath of the seemingly unbeatable party champions. What's comedic is the way the media from both sides claim victory.
It was disheartening to listen to the childish party leaders taunt their enemies just hours after the election — the wedding trial had just ended and now the two hurting bratty spouses are facing off again. No honeymoon to cool off… just a new marriage and a soon-to-be divorce.
Many of the winners won by the narrowest of margins. It could have gone either way. What does that tell you? America is indeed a divided country. Neither side can blame a lackluster turnout (like they did the last election) because each side showed up at the polls in full battle regalia. Think about it — when comedians and commentators make fun of the "other side," they only appeal to half of the population. The fact that they continue their divisive rhetoric tells me they are clueless of their appeal. To be honest, I think this divided result is a gift from above. If either side had won, that winning party could have had so much muscle they would have disregarded the other. But with this balance of power perhaps now they will be forced to respect and to discuss the issues.
Don't the two parties get it? This is the best opportunity and the best reason for peace. If they slug it out, we all lose. Let's pray for maturity and wisdom from both sides instead of 2 years of stalemates and insults.
Let's pray especially for the leaders because It'll be a challenge to focus on the issues and silence their own party loyalists in the newsroom and social media who feed (ca-ching!) on intrigues and dissatisfaction. They are the source of our dissatisfaction. We should be better than this. Our goal is not for either side to win it all but to accept some hurt and injustice … give a little … take a little … negotiate!
When our forefathers wrote the Constitution, they knew this 2018 political impasse was going to happen. They asked for level heads to preside over their temperamental underlings whose hatred blinded them of the greater possibilities. Our forefathers also asked for one more ingredient … one very important ingredient — they asked for the help of God.
But this is just me.
"Love your enemies. Be kind to those who hate you. Bless those who curse you. Pray for those who insult you. If someone strikes you on the cheek, offer the other cheek as well. If someone takes your coat, don't stop him from taking your shirt. Give to everyone who asks you for something. If someone takes what is yours, don't insist on getting it back. Do for other people everything you want them to do for you. If you love those who love you, do you deserve any thanks for that? Even sinners love those who love them."
— Luke 6: 27-32
TGIF people!
Another Oldie But Goodie
Shared by Don of Kelowna, B.C.

Videos of the Week

The Oldest Man in the World
Sent by Art of Sierra Madre, CA
A Carol Burnett classic. Need I say more?

Adorable Music Video to Start the Holiday Season
Sent by Terry of Santa Monica, CA
This is a clever visualization of Tchaikovsky's "Dance of the Sugar Plum Fairy." I love how the perfectly timed musical themes interact. Whoever made this video must read music and appreciate its nuances. This is clever … brilliant.
I guess the holiday season has started. If you get any good jokes or videos, please share!
Don's Puns
From Don's collection of puns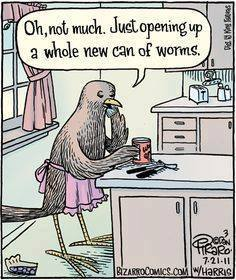 Parting Shot
Thanks to Don of Kelowna, B.C. who shared this photo