Visiting London at any time of the year is a great idea, but perhaps the most magical – and certainly the most colorful – is enjoying it during the Christmas period. It is at THIS specific time in the calendar year that London is ablaze with color as bight and vibrant as any of the brilliant hues of the rainbow. Nowhere is that in more colorful evidence, than along Regent Street and Oxford Street where you'll enjoy a panoply of gaily colored ribbons, streamers and Christmas decorations of almost every hue and shade known to mankind. And here you probably thought the Brits were reserved! Not so at this extra festive time.

With ever increasing gridlock on the streets of this great city, reaching London central can be a challenge. There are options: by car, taxi or bus. A car or bus (to or from Heathrow) airport takes about 55 minutes. Go by the London Underground and the Piccadilly Line, figure  around 50 minutes – but there are frequent stops, and the possibility of crowds on the train.
The fastest way to reach London (I use it every time I go there) is the incomparable Heathrow Express. When you return to Heathrow it leaves (and arrives) at Paddington station at Platform 6 or 7. It was opened on June 23rd 1998 by then Prime Minister Tony Blair, and the operation has a trains leaving every 15 minutes in each direction, from 5.10 in the morning to 11.25 at night. Best of all, it's nonstop and speeds you either to or from Heathrow in the stress free time of 15 short minutes! It covers Terminals 1, 2 and 3, as well as the gigantic British Airways Terminal 5 where just about every arriving and departing BA flights are located.
As an additional time and money saver, get an OYSTER CARD. I've no idea how "Transport for London" (that's the generic term for what used to be called London Transport) came up with the name Oyster, but it's certainly memorable. The Oyster (it's like a regular sized credit card) includes travel on buses, the tube (Underground) trams, Docklands Light Railways (this is a superb, wonderful, nifty way to travel) and what's called "London Over ground," as well as National Rail Services from London. Indeed, it even includes the River Thames when you travel on Thames River Clippers. Multiple options and fares for getting an OYSTER card and/or Thames Clippers can be found here. For a fascinating look at a "Water Bus on the Thames" just type in "Thames Clippers.com" for fares, discounts and "travel options and itineraries."
For countless decades the River Thames was just a majestic river that ran through London and was "somewhat historic." But then tourism experts got to thinking about new, fun ways to enjoy London. Enter Sean Collins and Alan Woods in 1999. They decided that there was a significant opportunity to build a fleet of hi-speed passenger boats, many of them sleek looking Catamarans, for a passenger river service on the Thames, that they called Thames Clippers. I've loved it every time I was in London – check it out as it's a fun, offbeat and a unique (NEW!) way to see London from a totally different perspective.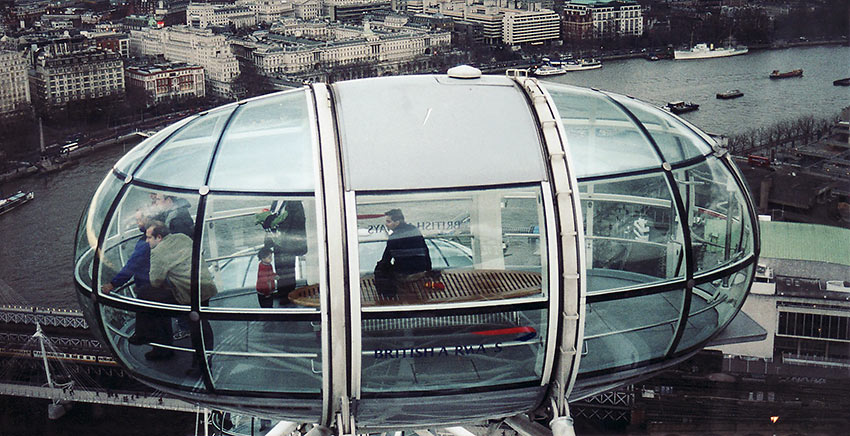 Some cities around the world are lucky enough to have some sort of symbol, or building that, as soon as you see it, you know what the city is – the Eiffel tower represents Paris; the Coliseum signifies Rome and the Brandenburg Gate indicates Berlin. London, of course, has Big Ben and the Houses of Parliament, and many years ago a new symbol appeared: the London Eye.
I've ridden it five times, and it is always a one of its kind thrill. There are 32 huge capsules, each weighs in at 10 tons, and to complete a full rotation takes exactly 30 minutes, it is located just across the River Thames opposite Big Ben, and in one year it rotates 7,668 times – or the equivalent distance of 2,300 miles. On a clear day you see all the way to Windsor Castle.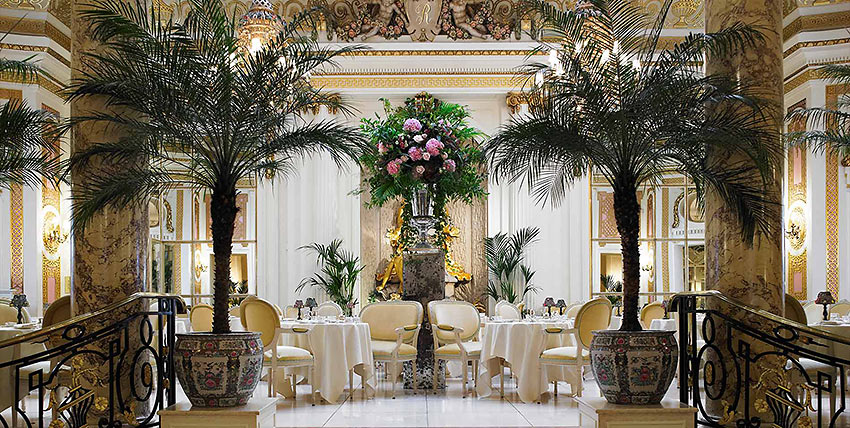 Another recommendation is an event so typically British it makes you feel you're in a classic 1930s British movie. Yes, I urge you to delight in "An Afternoon Tea at the Ritz Hotel." This elegant "happening" is so special there are several different "Seating's," with a reservation required at least one month in advance. This world famous daily event is in the spectacular Palm Court. Men (the Ritz refers to them as "Gentlemen") are required to wear a jacket and tie, and what the Ritz calls "Training Shoes" and jeans are not, absolutely not permitted. The luscious sandwiches (served on a beautiful silver cradle) include – at least on my last "Tea," smoked salmon, egg mayonnaise with cress, ham, cucumber and cream cheese, and best of all, scones with Devonshire Clotted Cream and strawberry jam – and they're all scrumptious. There are a variety  different types of tea, and my favorite is Lapsang Souchong Imperiate – The investment for this RITZ spectacular is 58 pounds or about 76 dollars – and worth every penny!
Finally, another intriguing, offbeat and fascinating "Getting Around London" website is the one concerning the Docklands Light Railway. One of its most spellbinding destinations is the Greenwich Observatory – and I know you too will find it worth the time to visit it.