If someone even mentions Russia in conversations these days I find myself looking for the nearest exit and a way out. But not Sue Palmer. Sue has chosen to look beyond the socio-political posturing in order to find a way IN… keyboard first! Known the world over for her prowess on the 88's, Palmer has long been ordained as royalty in the realm of Boogie Woogie. This summer the artist has been using those same talents to open musical back-channels with the world's largest nation. Not only is she building bridges at a time when few are, but Sue is actively pursuing a more permanent and lasting musical relationship with her Russian counterparts.
I know what you're thinking, how does that even happen?  "I ended up playing in Russia." Sue says.  "Due to my friend, the fabulous guitar player Laura Chavez… Laura was Candye Kane's last musical partner. Laura and Candye met The Jumping Cats (Russian musicians) in one of the Baltic countries and highly recommended that I get in touch. Through the miracle of Facebook, Vladimir Rusinov and I became friends and I eventually ended up with a gig in Moscow at the Roadhouse Blues Club, and one in St. Petersburg at the Port Arthur Jazz Club."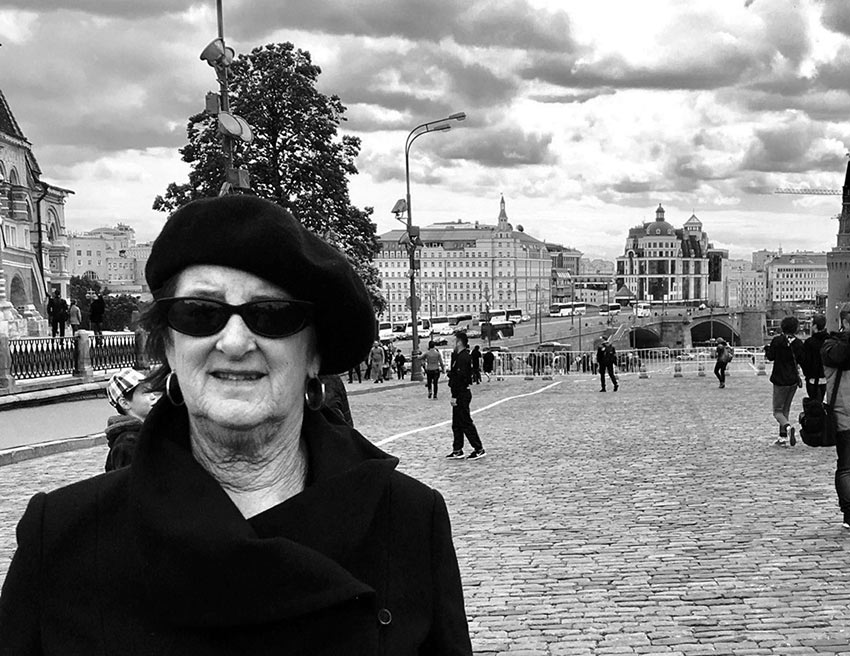 And why Russia? "I was planning on just taking a vacation there, not really playing." She says. "But my tour director Laura Barbanell, who is Russian, managed to connect me with several other groups, including a band called the Hot Engines and a world class vibes player, Alexei Chizhik, both who I sat in with. We also called all the swing dance groups we could think of in Russia and by the end of the trip, we had quite a following. It also helped that I was on the trip with a dozen swing dancers from San Diego."
Tour dates in Moscow and St. Petersburg? That's pretty impressive for a blues woman whose musical roots run so deep through the Texas panhandle. "I was a child of the cold war 'duck and cover' days, and to be in Red Square was mind boggling."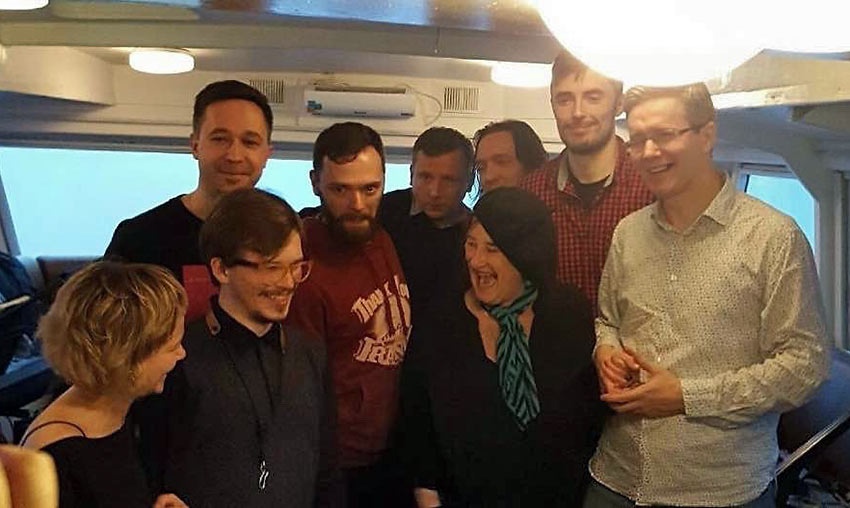 Can you talk a little about your family? "My mother's family was from Texas and they grew up in Chillicothe, Texas." Sue says. "It was the depression and eventually all but one sister moved out West. The older brother went to New Mexico and all the sisters moved to California. So they entertained themselves by playing music. My grandfather played fiddle, like Turkey in the Straw kind of fiddle and was a square dance caller. And all of his children were in the swing dance era. My grandmother taught them all how to play piano, my mother played drums and my uncle played trumpet, and they all played piano."
Sounds like you were destined to play music. "Yeah, you were expected to play or expected to participate, anyway. And that's what the family did."
It was a ten year old Palmer attending Vacation Bible School with a neighborhood friend when she first heard the boogie played on piano. Sue says that chance revelation rapidly became an obsession, "I played all the time, I did it for hours and hours when I was little, that's the key. You have to do it so much that the left hand is mindless."
With so many musical and generational influences Sue ultimately created her own "kind of swingy blues or bluesy swing" that continues to integrate and underscore her undying love of the big band era. "I really didn't start thinking of it as a profession because my mother said it was a hard life. (laughing) And I think it meant you couldn't go to the bathroom when you needed too, when you were on the bus, on the road. I mean, they didn't really know what it was like. My parents didn't understand self-employment. My mother was like Rosie the riveter. She worked at Solar and my father was in the Navy from '41 to '61. He was in Pearl Harbor."
Who were some of your earliest influences outside the family? "Probably Elvis, I listened to his piano player over and over, like a hundred million times a day…and Ray Charles because he was really big in the early 60's. When I was in the 8th grade I started playing by ear. I took piano lessons for about 5 years, like from 7 to 12 or something. But then I started playing by ear and listening to things on the radio. I listened to Duke Ellington, Count Basie and everybody."
************************
        "I'm basically a swing musician. I knew I was going to lose a gig once when she said,
'Can you try not to swing?' I couldn't! So, I lost the gig. I couldn't do it."  
                                                                                                        – Sue Palmer
 ************************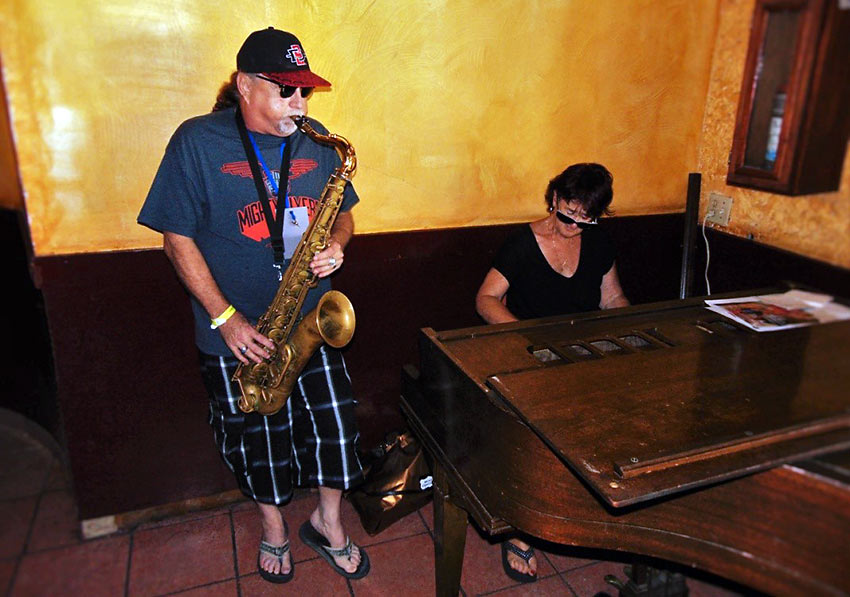 Did you start out in garage bands? "No and that's one of my regrets. And that I didn't join the high school band, I could've picked up sax or something real easily. But they were too dorky. (laughing) I didn't like that. I was stupid. You know, I would play at my friend's houses. But the boys didn't want to play with me. They may have wanted to play with you if you could sing or were real sexy or something but I wasn't really like that. (laughing) I just kept playing; I played all the time, when I was supposed to be studying."
But you did stay in school… "I went to college out here at San Diego State. I was a political science major. (laughing) And it wasn't until I graduated that I started meeting people and continued to go (to school) because the job I got was so… nothing… clerical. I had more status as a student. I started meeting people that were better musicians and because of the time it was, the late '60s early '70s people needed you for benefits. And the women's movement started and I was really interested in that and all the talk of being free and the hippies…and I started doing benefits with this friend I met and that's how I started developing. Then I got a band together called Ms. B. Haven with Sharon (Shufelt) and April (West) and we recorded a 45 in the late '70s.
Was that your first band? "Well, we had a little trio called Pearl Tapioca before Ms. B. Haven. That band was very democratic, there wasn't like one style of music. We were all different; all right it's your turn, okay your turn. It would be like practically disco and then country, it was funny. And then I had a band called Tobacco Road."
Tobacco Road made you a household name, followed by critical acclaim and music awards. "It was a good band… April and Sharon were in it. We met in the late '70s. There was a band called Stones' Throw which was a really popular, fun trio and Sharon started playing drums with them for a while and they did a lot of harmonies and vintage jazz. Molly Stone was in it and Phil Shopoff. And I was in Pearl Tapioca with Molly for a little while and my friend Dayna who lives around the corner… then I was in a band with Candye Kane.
You reach the end of Tobacco Road, what happened? "Well it probably would have still been going, but the real star of Tobacco Road was a guy named Preston Coleman, an African-American who was a hipster in the '40s and when he got with us it gave us total legitimacy. It went away because I went off with Candye and Preston had a stroke. It was a horn band, sax and clarinet, trombone and trumpet and no guitar, piano, bass and drums. We worked all the time, like three gigs a day on the weekend, one time I did four, I played all the time. I quit my day job and got a keyboard in 1987."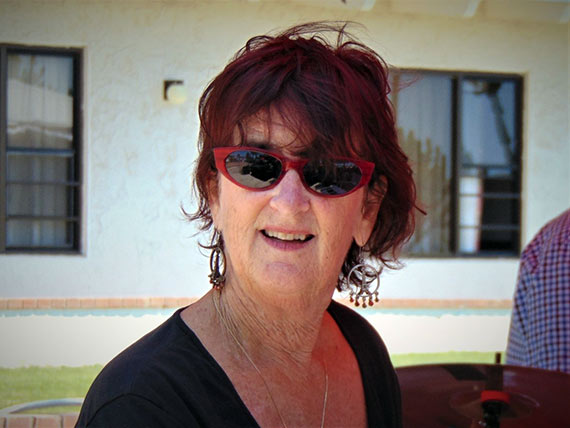 How did you first meet Candye Kane? "I actually knew Tom Yearsley, Candye was married to him then and we all played at the Belly Up. It was a giant scene in the '90s and in the '80s too. He was playing in the Paladins and I was in Tobacco Road and we played every Happy Hour Wednesday for about five years or so and we all knew each other. So he had mentioned to Candye that he thought I would be a good person for her to hook up with. Her youngest son, Tommy was a baby so she was interested in getting a record deal and going on the road and doing the whole thing, but he was too little. When he got to be about three, she thought she could do it, so he (Thomas) suggested she check me out for part of the band. She invited me to play at a NOW benefit because she was a big feminist at Palomar Junior College. So I said yes and that was how we met and started becoming friends. She got a band together and we played at the Belly Up. The Sunday Happy Hour or something and it was like 'boiinng' as soon as we started… crowded! It was special, yeah."
Did you and Candye hit it off personally as well as professionally? "We would have the most interesting conversations because she had come from a way different background than me. She had been a sex worker and I was this little middle-class girl from Point Loma. (laughing) The way we came to our beliefs, some we would disagree on, but some things we were like, 'Oh wow, that's interesting!' We would agree on things, but she had come to it from a whole different place. Assumptions that weren't true… we figured out things, it was really interesting. And we had a good connection on stage. And for almost 10 years, pretty much the whole '90s. And she was a fabulous performer and she brought it out in me. Because I wasn't that much of a performer, I just played, you know?"
But your chemistry on stage literally took you around the world. "Oh God, France loved her, you know? And me too, because of the beehive, they liked all that. They do that; the state subsidizes art, performance art."
Did you realize how special the shows were at the time? "It was huge. (laughing) My relatives always said if you went to Europe that was the big time. I mean one time we played for 20-thousand people, and there was a hill, and then another hill. Full… packed. Often we played for eight or nine thousand, and little tiny dives and everything, so you can keep making money."
Those years must be very special to you? "Oh, fantastic, it made me look like I had a career, a defining moment. One of the stories we liked to tell, we used to play in Lincoln, Nebraska. The Zoo Bar.  This country is so huge and that guy gets so many great acts in this tiny little town, because you have to stop somewhere to sleep. It's a tiny little place and they're really nice people, they treat you well and it's intimate. So we're playing there and we're on the road and she (Candye) would get jealous because I was getting so much attention for my beehive. So she got this little pastiche, a hairpiece, not as big as a beehive. We're performing and she was a total nasty girl and we were doing 'All You Can Eat' or one of the long songs and I had on a short dress and fishnets and I was going to take a solo on the piano. While I was taking the solo she decided to do this thing where she pretended to put her head down between my legs… she wasn't really doing anything she just had her head down in that area. And she's not coming up. (laughing) And I'm going, 'Uh, I'm just tryin' to take a solo, Candye!" And she goes, 'I'm stuck!' (laughing) The pastiche thing got stuck in the fishnets. (laughing) So finally she got out and it was pretty funny." (laughing) You never knew what was going to happen with her and we would all just play along."
Good times. "I had her when she was still in her thirties." Sue remembers. "I was only in my forties. She was fat and full of it. It was the beginning of her journey 'on the road.' We got the Antone's record deal and slept on floors, it was exciting."
How did the record deal come about? "She knew how to do this, I didn't. I knew I could find gigs in San Diego but to get out… that's why I wanted to hang with it because I could see she was driven. We went to SXSW and played and she had some connections because of the Paladins, so that worked, it worked. People come from all over the world (for SXSW) and that's how we got to Europe because a guy from Norway saw us so we toured Norway a few times. And then a guy from France saw us. And that lead to an agent/manager that connected us all over."
You leave Candye and take a break… "Let's see I quit her band in July of '99, I had given notice and she was mad at me, so it kind of came suddenly. It was coming and she knew it too. And then we got back together because I got breast cancer. She couldn't handle that. I knew I had to take care of some personal things and I wanted to make my own album. I wanted to reintroduce myself and get a band together and the album 'Motel Swing and Boogie Woogie' came out in January of 2000. April and Sharon, Jonny Viau, Deejha Marie and Earl Thomas and it eventually morphed into a sound that I wanted. Steve Wilcox and I had played in different configurations even before Candye. After playing with him so much in that band, it's like my left hand we don't even think about it. We do duos even, little party things and stuff."
************************
Guitarist Steve Wilcox concurs. "I've known Sue probably close to 30yrs." Steve says. "In the 80's I was playing with Kats Caravan. We played at Patrick's a lot back then. Sue's band Tobacco Road played at Croce's Top Hat. On breaks we'd step out into the little alley behind Patrick's to get air and watch Tobacco Road and they'd do the same thing. Sue & I really clicked. I was raised on Boogie Woogie. My Dad loved Boogie Woogie piano and we had lots of recordings around our home. Classics like, 'Beat Me Daddy Eight To The Bar,' other recordings from the great Freddie Slack on 78's were played a lot! Boogie Woogie piano has always knocked me out, so getting to play with, hang out, and tour the world with the Queen of Boogie Woogie was great!! We had a blast!!! (STILL do for that matter). We also have very similar tastes when it comes to song selection and stylistically we fit very well together."
************************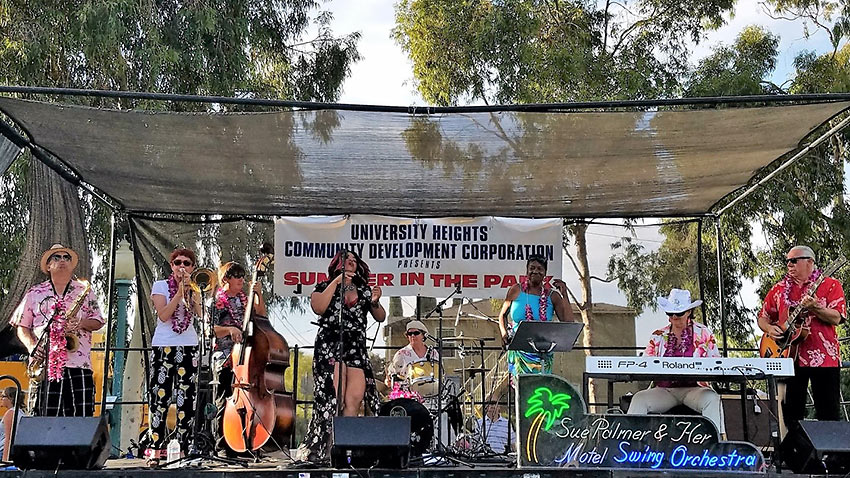 Let's talk a little more about your style of play; can you describe Sue Palmer's music? "Well, it's kind of swingy blues or bluesy swing. I'm basically a swing musician. I knew I was going to lose a gig once when she said, 'can you try not to swing?' (laughing) I couldn't! So I lost the gig. I couldn't do it. (laughing)
You incorporate so many different styles of play in your performances. You do stride, boogie, barrelhouse… "I do twenties and a lot of thirties stuff and someone told me the Speakeasy thing is back in style, it'll probably last five seconds but… I spent the whole '80s playing '20s music. (laughing) Tobacco Road did all that stuff and I love it. It's very pianistic, and April likes it because the trombone was prominent. And we just did it on one of the Hornblower boats and we have a New Years gig doing it."
Swing dancing has become very popular in San Diego as well as around the country, especially to your style of blues and swing music. "Yes, thank God for them because they've kept me in business for years now. It's becoming door gigs. It used to be, we'll pay you this much, now the poor bar owners can't afford to put themselves out there. Like Croce's went out of business, because she said people didn't want to pay for the music."
You said you took swing dancers to Russia with you but not your regular band. How was it working with musicians from Russia? "The Jumping Cats learned all my songs and arrangements and were fantastic." (Authors Note: There are several You Tubes videos available online of Sue Palmer and The Jumping Cats) Sue adds. "I am hoping they will come to San Diego: Vladimir on guitar, Nicolai on bass, Ksenia on drums, and Olga on vocals.  This was the first time a band featured me and learned my material, which is somewhat of a turning point for me. I was there for two weeks."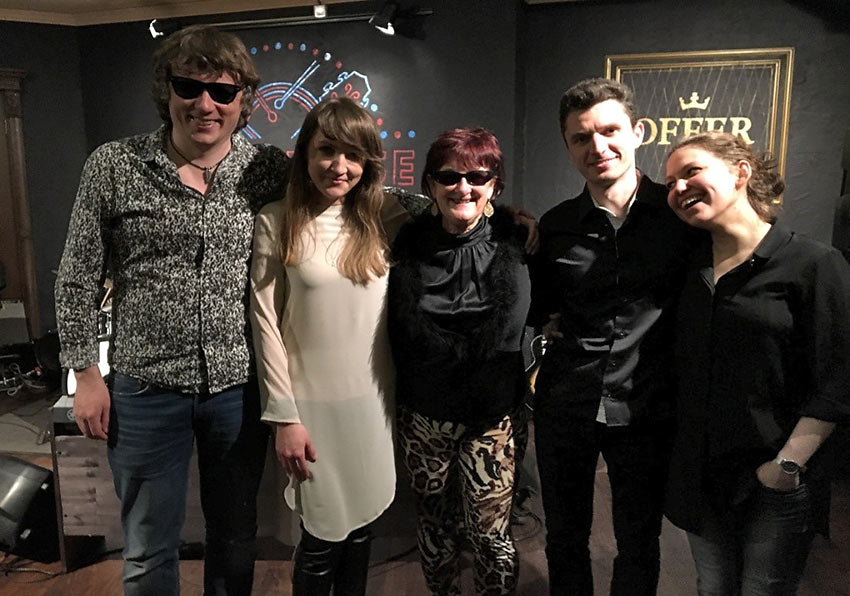 The current political climate between our countries is not really all rainbows and unicorns, what kind of reception did you get from the Russian audiences? "The audiences were fantastic – I have a picture of everyone in the room taking a picture…at the same time! One fan remembered me from the Candye Kane days and had me signing about 15 posters. I had to take pictures with fans afterward at the St Petersburg gig for an hour and a half!!!"
Sounds like you could become our new Boogie Ambassador to Russia; do you think you'll go back? "Music is definitely an international, peaceful language of joy…Yes, I would go back. The music was wonderful and reminded me of our common humanity, not our reasons for being enemies."