The island of Rügen, Germany's largest, just off the Pomeranian coast in the Baltic, was an occasional summer retreat for, among the many, a troika of Teutonic heavy-weights — Albert Einstein, Thomas Mann, and Otto von Bismarck. So, I figured it was good enough for me to take a three-day respite there, after an activity-filled few days in hectic and exciting Berlin.  The gateway to the island is Stralsund on the mainland and after my train chugged across the causeway to the island, I alit in Bergen, the largest town on the island.
My intention was to explore the eastern section of the island; the western section is ideal for more intense hiking, camping, and rugged outdoorsy sports, but I was more interested in the sights and sites. Since no town or village on the island is more than 4.5 miles from the water, I knew I would be spending some quality beach time, as well.  The irregularly shaped island is all of some 600 square miles, measuring about 50 miles long and 26 miles wide, with a substantial coastline of nearly 125 miles, and a year-round population of a mere 63,000.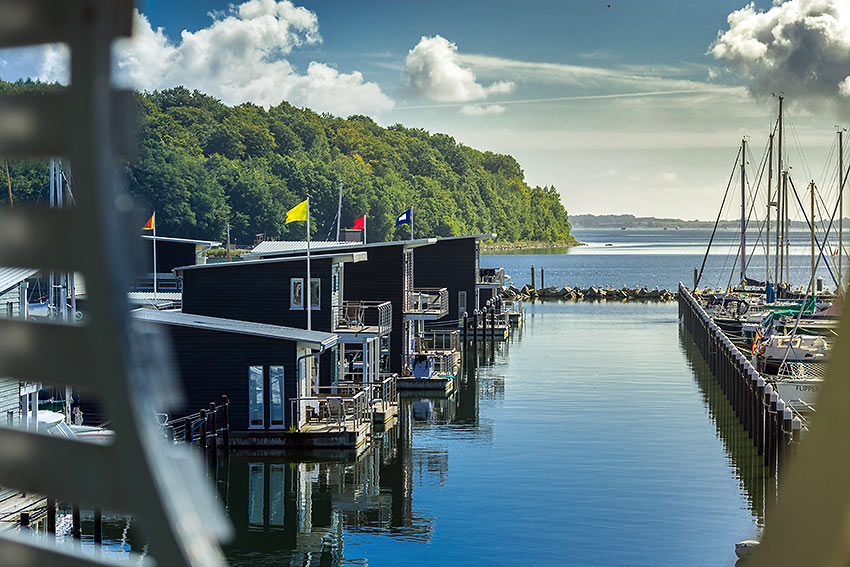 I settled into a lovely self-catering apartment at the Im-Jaich am Yachthafen/Wasserferienwelt, in Putbus. Translating roughly to "Water Vacation World," the holiday complex-cum-marina offers rental apartments (all private bungalows) and seaside activities. The units are all slightly different, but just about all are built on stilts over water, seemingly as incongruous here in the Baltic, as this architecture is in Neuchâtel, Switzerland, where the well-known Hotel Palafitte is constructed over Lake Neuchâtel; one might expect overwater bungalows in the Maldives or in French Polynesia, but here it is a pure, unexpected delight.  My little, well equipped home (with kitchenette) had a deck overlooking the marina with a ladder leading down to the water.  Within the complex, a short walk away, is the Kormoran restaurant, a handy and hearty-fare eatery, serving both locals and tourists; menus are offered in a few languages, which is sensible, as it spared me from ordering some — let's just say — "odd" dishes.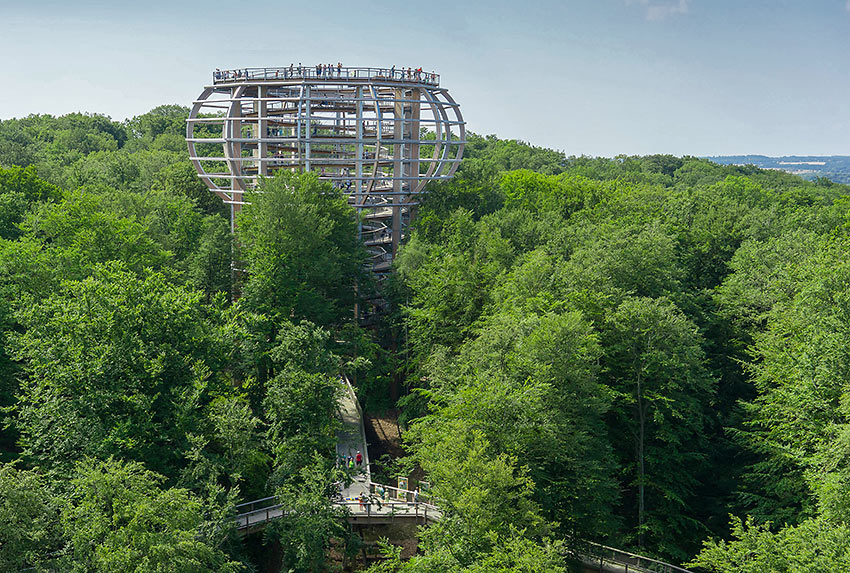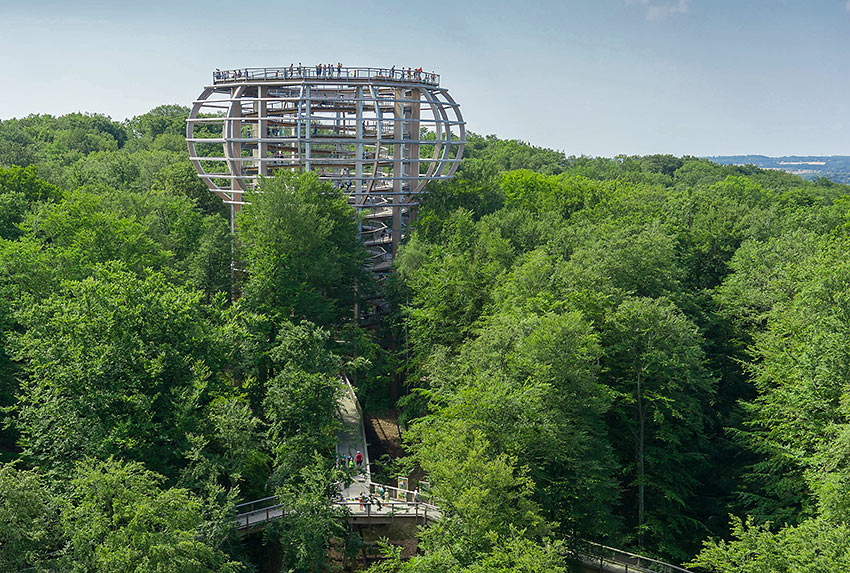 After settling into my home base, I headed to the Naturerbe Zentrum Rügen, a 275-foot-high, circular treetop walk in the wilderness, from which you can even see, on a clear day, the church steeples of Stralsund.  The three-quarter-mile-long climb up is a gentle one, with a mere six per cent grade. Surrounded by copper beech trees, and well above the tree line, you will feel completely at one with nature and you might even catch sight of a swooping hawk, or the Baltic, in the distance. The Center also features a highly educational museum/learning center, which is well worth a visit.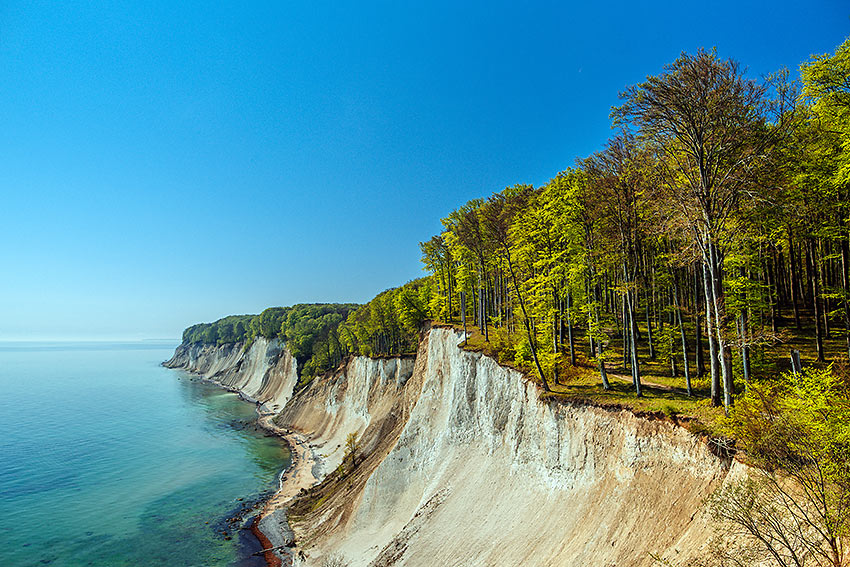 Another worthwhile vista to soak up is on the coast, in the Jasmund National Park, where you'll find massive, sheared chalk cliffs (the largest in Germany), the most famous of which is the Königsstuhl (King's Chair).  Once part of a mammoth chalk plateau, chunks of it were forced into movement by tectonic plates and what is left here is nearly 400 feet high; at sea level, rocky beaches form little scalloped sanctuaries.  The beech forest behind it is now part of a UNESCO World Heritage Site and additionally, there is an educational center in the park area, with instructive exhibits.
After visually experiencing the chalk cliffs, it is an easy mental jump to think about indulging in a chalk-wrap spa treatment. Binz, the largest seaside resort on Rügen, has a plethora of lovely and inviting hotels and spas specializing in chalk treatments.  You might book such a treatment, as I did, at the Hotel Am Meer, a modern auberge with a utilitarian gym, pool, and lovely spa… perfect for my purposes.  My wrap was executed on an undulating, heated waterbed, which was very soothing, and after an initial scrub, I was coated in white, chalky gunk, wrapped up in thermal blankets (or so it seemed), and left to "cook."  Once all the chalk was removed, my skin was velvety smooth and silky.  And, to boot, I had had a peaceful rest and was then ready to walk the town.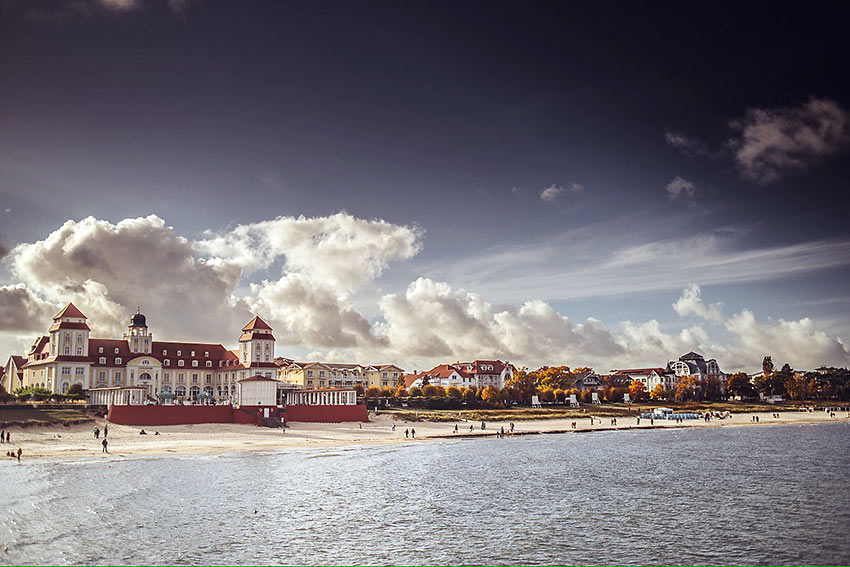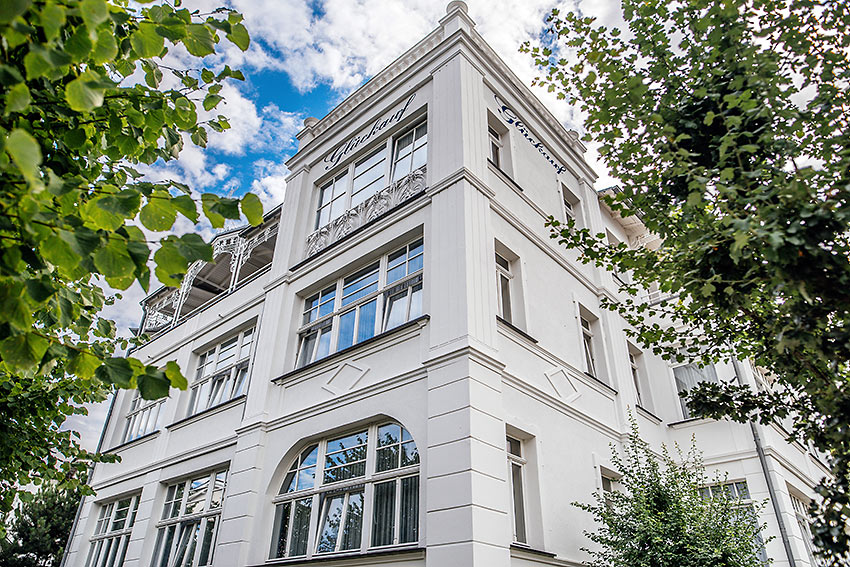 Binz itself is dotted with spa or resort architecture, not so much a particular style, but rather an aggregation of highly ornamented, mostly snow-white (with the occasional lemon-sorbet-hued structure) hotels and former private mansion-size summer homes.  It looks like a bakeshop with dozens of elaborate, wedding-cake-like buildings, all awash in trellised, lacey, white cutwork and railings.  It is just enchanting.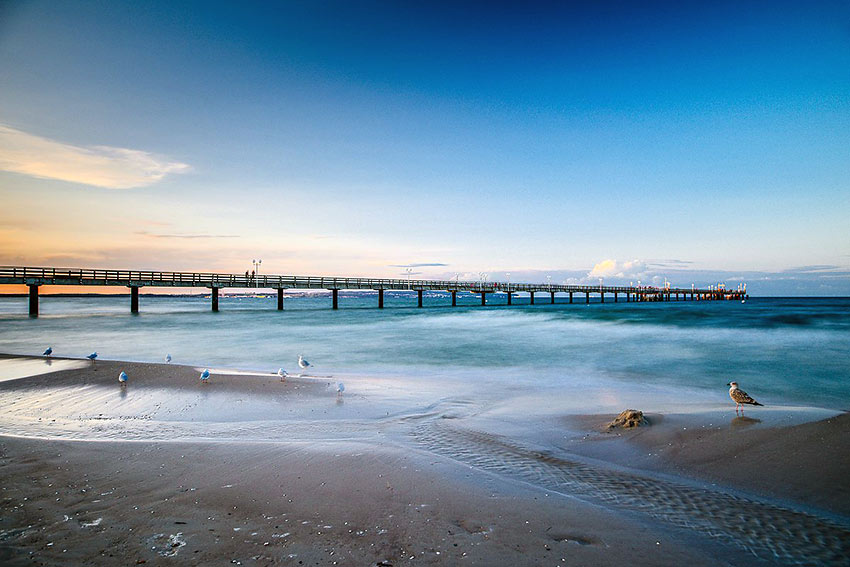 Starting on the beach is a pier that extends out into the sea, and along the boardwalk — really a cobbled street along the perimeter of the beach — are charming shops and boîtes, interspersed with grand and intimate hotels.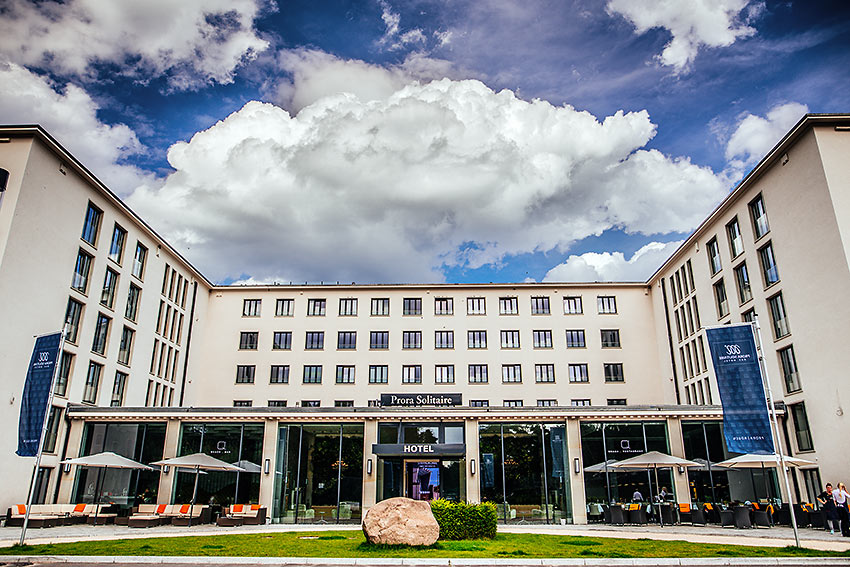 Not too far from here is Prora, what you might liken of a Monument to Cement, a sharp contrast to the magic of Binz.  It is the relic of an unfinished youth resort planned by the Nazi government in its zeal to promote "Strength through Joy," and it featured classic Third Reich architecture. Designed to be Europe's largest resort, it was never completed, and for a while, it was a colossal monstrosity.  The three-mile-long project today, however, has been modernized into apartment buildings, a hotel, a youth hostel, and a museum.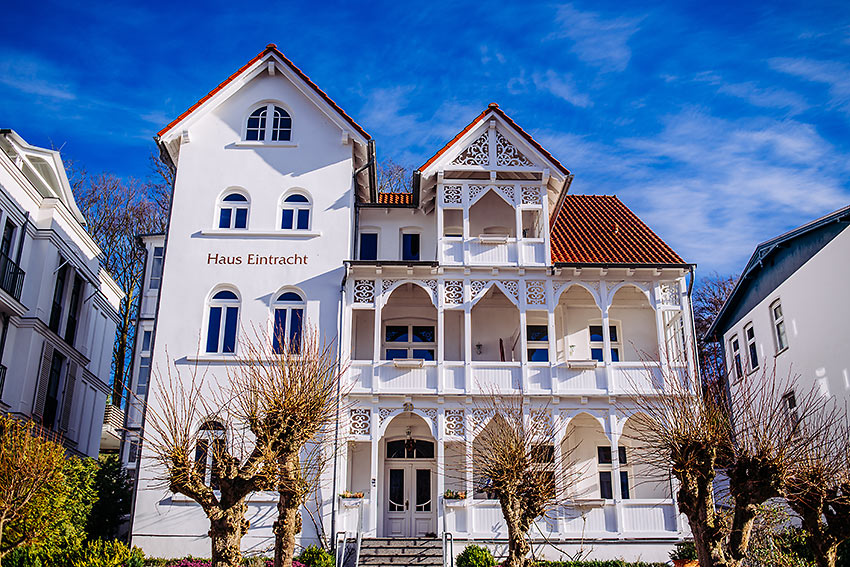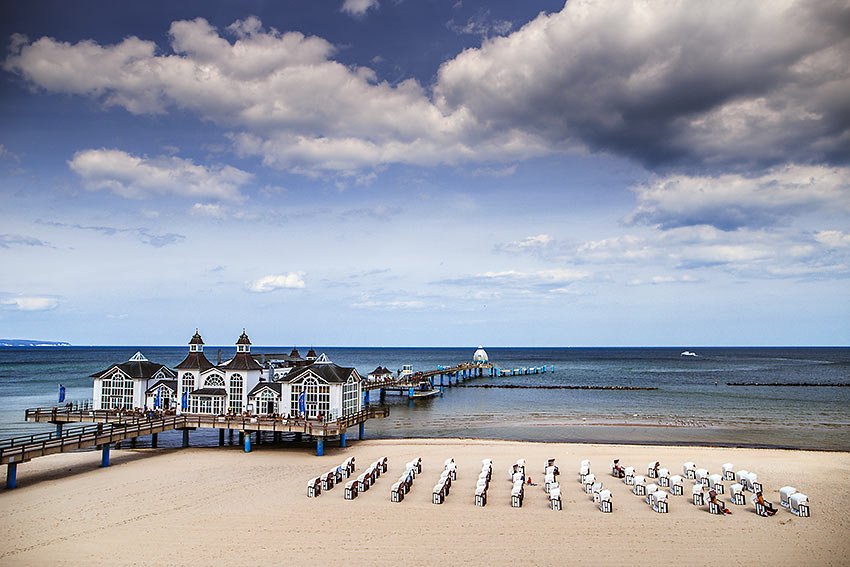 Another spa town definitely worthy of a visit is Sellin, also constructed in resort architecture.  The main thoroughfare, Wilhelmstrasse, about a quarter-mile long, stretches to the sea, punctuated with verdant lime trees and a swath of stunning, white-washed hotels and private homes, bistros, and touristy boutiques.  The snow-white spa-architecture structures are adorned with wooden or wrought iron cutwork railings, verandas, and structural ornamentation — like starched organdy party dress-confections, with poufs of skirts and sleeves.  At the end of this regal boulevard is a steep staircase down to the sea and a quaint pier with a delightfully structured five-section pier house, with two turrets. (Worth noting, Sellin offers some interesting museums, as well — the Amber Museum and the Seafarers' Home Museum.)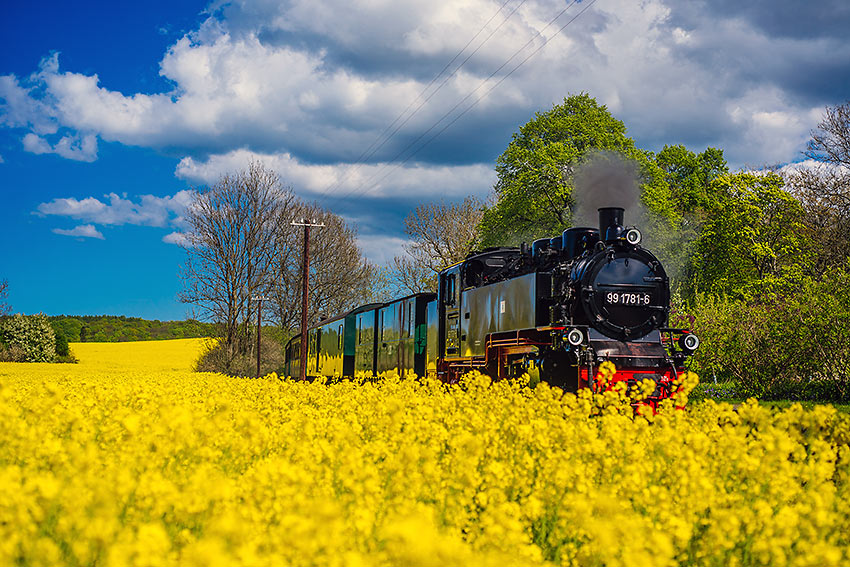 One other attraction that is popular on the island is the "Rasender Roland" Railway, or Rushing (or Racing) Roland.  A steam-powered, narrow-gauge railway, it runs from Putbus to Göhren, by way of Binz and Sellin, so it presents an easy and pleasant means to get to these resorts.  I chose to take it to Sellin East and that enabled me to walk the length of Wilhelmstrasse to the beach. Some of the train's cars are nearly 100 years old and while they certainly do not have the amenities of today's high-speed rails — the train ambles along at less than 20 miles an hour — it presents an unhurried way to check out the scenery.
One other note about the picturesque scenery in the eastern part of Rügen, is the intermittently planted allées along the roadways. They pop up unpredictably and grace the mostly two-lane main arteries with verdant canopies of beech, oak, and lime trees, to name but three of the many types of trees that form these stunning and unexpected leafy awnings. A little research shows that there is a major allée that spans a substantial distance from Rügen to the mainland.  It is as if Rügen's forebears knew that this island would be a popular retreat one day and created an arboreal cathedral for the souls of city-weary refugees.  Sadly, after my lovely sojourn, I was headed right back to another metropolis.  The allées I left behind had to sustain me as I took the (non-Roland) train back to urban environs… with soothing Rügen on the brain and in the soul.
© 2018  Ruth Katz   All Rights Reserved
The Details: