Yes, autumn is in the air. And a good way to keep in touch with different cultures and traditions – without traveling – is to bring new flavors in your own kitchen. My friends at Switzerland Tourism just sent me this delicious and easy to make recipe. In Switzerland it's called Spätzli or Chnöpfli,  and this noodle dish is even better in autumn when you add fresh pumpkin. So, how good of a Swiss Chef are you? Try it out now and find the recipe here.
And as the trees are turning and the weather's getting cooler; it's time to kick back and enjoy a Pumpkin Spice Latte. After all it's fall!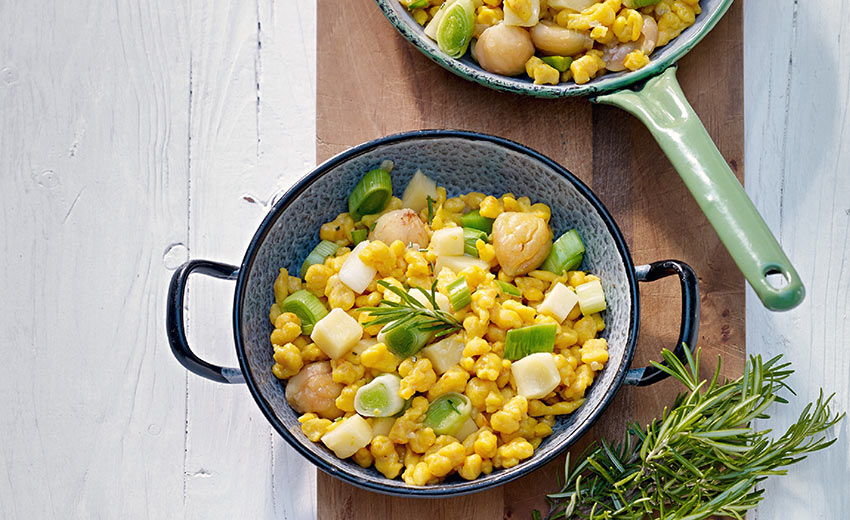 Pumpkin and Button Spätzli Stir-Fry
Cut the pumpkin into cubes, steam until soft for about 20 minutes, puree, leave to cool.
Put the flour, eggs, salt and pumpkin puree in a bowl and beat to a smooth dough, leave to rest for 30 minutes.
Finely chop the onion, cut the leek into rings.
Sweat both together in hot oil, deglaze with cider.
Add the stock and chestnuts, cook for 10 minutes, season with rosemary, salt and pepper.
Cut the Emmentaler AOP in small cubes.
Heat a good amount of salted water.
Push the dough through a button spaetzle sieve in portions directly into the simmering water.
As soon as the button spaetzle rise to the surface of the water remove using a slotted spoon.
Add the button spaetzle to the chestnut mix, heat briefly and mix in the cubes of cheese.
Ingredients
1 pound pumpkin flesh
1.5 pound spelt flour
3 eggs
1 tsp salt
1 small onion
1 leek
1 tbl oil
3.4 ounces cider
5 ounces vegetable stock
12 ounces defrosted frozen chestnuts
Some rosemary
Pepper
4 ounces mild Emmentaler AOP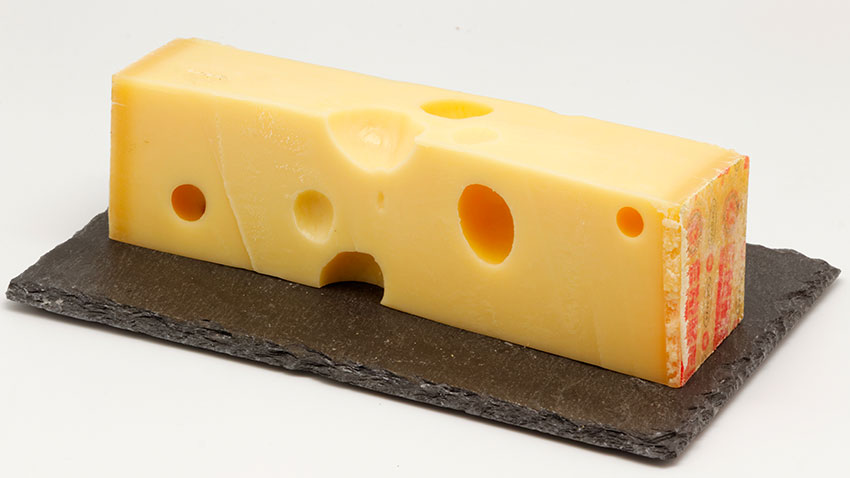 Emmentaler is the original Swiss cheese, world-famous for its distinctive holes and one-of-a-kind flavor. First produced more than eight centuries ago in the canton of Bern in the valley of the Emme River, Emmentaler AOP is still made in 200-pound wheels. This endlessly popular cheese is known as the king of cheese, and plays an essential role in Swiss communities and on American tables everywhere. Emmi cheeses can be found in all major supermarkets throughout the U.S.