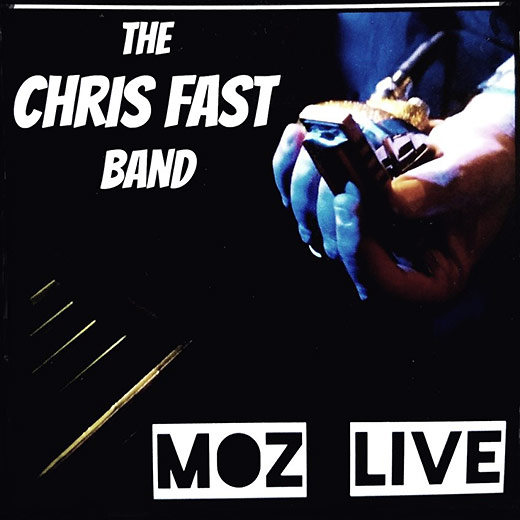 'MOZ LIVE' is the title of a new compact disc from the Chris Fast Band. As the name suggests, the project was captured 'in the moment' at the Mozambique Steakhouse in Laguna Beach. The end result; Fast has produced ten tracks that exemplify a night out with his band along with a couple hundred of his new best friends. "'Moz Live' is simply that." Chris says, "Recordings taken from several nights with a variety of line-ups over several months. Recorded live and just as it really happened with no retakes, punch-ins, or overdubs." So if you've never heard or seen the Chris Fast Band live, this CD gives you a heaping harp full of what you've been missing.
The lineup is a veritable who's who in the Southern California blues community. "The musicians," Fast says. "Include Steve Wilcox and Dana Duplan on guitar; Don Skelton and Troy Sandow on bass; drummers Al Schneider and Marcus Bashore and Jonny Viau on saxophone." And of course, Chris Fast on harp and vocals.
Although the band is widely known for their live shows, when we spoke about the project, I was curious if releasing something 'live' made the recording more…or less stressful? "What was especially nice," Chris told me. "Was that we paid no attention to the fact that we were 'recording', we played with our total focus on the performances and connecting with the audience. In that way, the songs on 'Moz Live' are a completely honest representation of, and a clear snapshot of what the Chris Fast Band was doing at this particular point in time…complete with the mistakes and audience chatter that you hear at a gig. The music is allowed to breathe, and I find it refreshing! You don't get that when you do a studio album."
And of course it's a Chicago style blues "…real Chicago Blues." Chris says. "The songs are all covers with the exception of "Seven Steps to Heaven."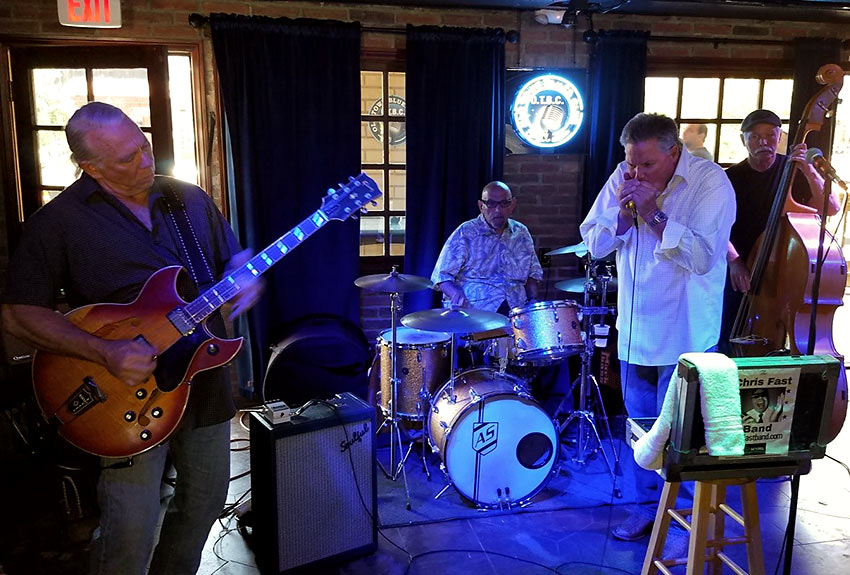 A couple of Little Walter Jacobs tracks stand out… "Chicago blues has always been a love of mine. We're playing a lot of Little Walter material just because it's challenging. When I was younger, everybody was playing Little Walter stuff and it doesn't seem to be that way now. People my age started playing music in the '60s when the blues invasion rolled through. When I was in high school we heard the Stones playing some blues and then we started investigating and found out about the guys that originated the music. There was a huge wave of people that were blues enthusiasts at that time."
Social media has changed some of that… "It's all over YouTube." Chris agrees. "Back in the day when I was starting, I had to borrow records. Rod (Piazza) gave me my first Little Walter record and said, 'Hey, Listen to this!' And I listened to it and it was weird to me, because it was a whole different style of playing. Of course, Rod was totally off into it and then I started learning it."
Growing up near and getting to know Rod Piazza was a very fortunate happenstance in your musical direction, was it not? "Yeah, I was lucky he lived in town and talk about a great model to have, you know, as an aspiring harmonica player. Rod has always welcomed guest players; if he thinks you're halfway decent he doesn't have a problem getting you up there. In fact, he welcomes it because for one thing, he can take a break. And then when you're done he can say, 'Okay, I'll show you how it's really done.'" (laughing) "It's a good little foil for him. Rod, of course has played with everybody. He played with the real guys. We're just trying to get a good sound and all that stuff, but he was really there with all the guys that were out in L.A."
Where did your love of blues originate? "My father gave me a harmonica when I was a young boy. I was a little kid and I'd walk around playing this silly harmonica so I was always oriented toward the harmonica. In Junior High school I think the folk music thing was going pretty good and some of my friends decided to put together a little band and I was going to play the harmonica, we had a couple of folk guitars and we played at a talent assembly and that's where it kind of started.
I got into some rock bands early on, but we'd play some blues tunes as well and it just sort of evolved from there. I remember we had some jam sessions in the summertime and Rod Piazza was involved in those and there was a core group of musicians that would meet every week and I would go down there and play. I started hearing what he was doing and we developed a friendship and as I got older I was playing in blues bands around town. I used to play in a band with Bob Newham and Willie Brinlee and the guys that went on to back Bill Clarke and growing up in Riverside we were always playing Chicago blues. Later, because I knew all the harmonica songs, Rod needed a guitar player and I could play some guitar, I never considered myself a very good guitar player…and I proved it every night." Chris laughs. "I could play okay, just enough to back him. I learned a lot, night after night sitting there behind Rod. He would pick me up at my house and take me into L.A. where he was playing in these black clubs. It was a great education for me."
Who were some of the people you saw and played with in those early days? "We backed up Big Joe Turner and Pee Wee Crayton was playing with us at one time. We opened shows for John Lee Hooker and later on I was able to work with Percy Mayfield and Big Mama Thornton."
Talk a little about Percy Mayfield? "He was just a real sweet guy. Talk about a songwriter, he was the best. Nobody wrote a song like Percy Mayfield. I don't think anybody was better. Nobody!"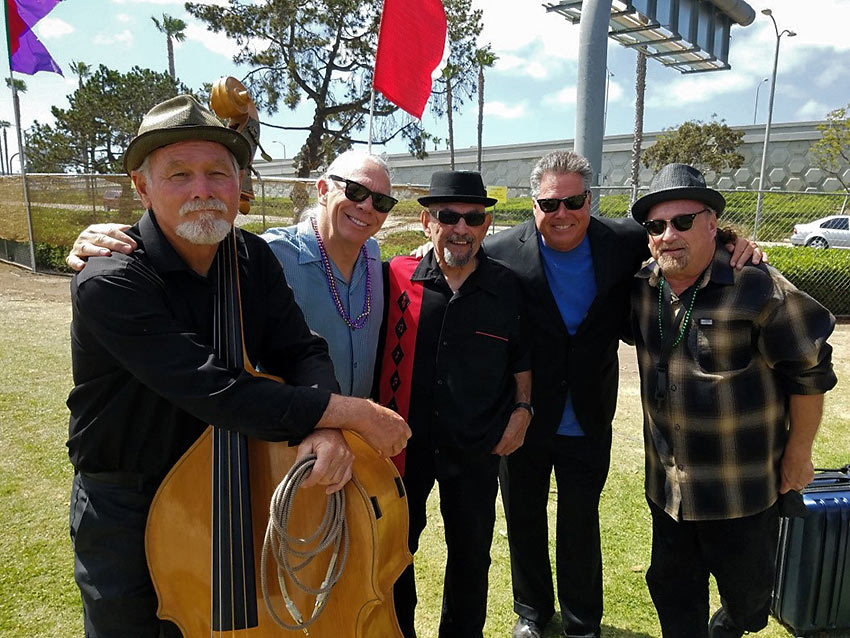 What is it about harp players? Not to frighten you, but most seem to have a very short life span? (laughing) "Little Walter was crazy." Chris laughs. "Rod told me Walter would seek out the worst people he could find, and that's who he would hang with. You've probably known people like that. They just can't resist and that's the people they seek, the lowest common denominator and that's what they enjoy. I don't know, there's a physical quality to the playing, it takes strength to play the harp, it takes a little energy, I think."
Outside of the Chicago sound, or blues in general what other music appeals to you? "I listen to a lot of jazz. If I'm listening to music, I'll be listening to jazz. I appreciate that, I imagine if I was a better musician or more educated in music, maybe I would be a jazz musician perhaps, I don't know. I like the sax players like Coltrane and all those guys."
I've heard people make the comparison with Walter's amplified harp and saxophone lines. "Right, to get the instrument to sound bigger, to sound like a saxophone, Walter was playing…of course swing music was big at that time in the early '50s, Louis Jordan was having a lot of hits as an alto player and people would learn his lines and play it in their music. It really had more of a swing to it."
Now that the new album is out, what's next for the Chris Fast band? "Since they recorded every night that we played (at the Mozambique), there's a lot more material in the can. Can you say, 'Son of Moz Live'?"