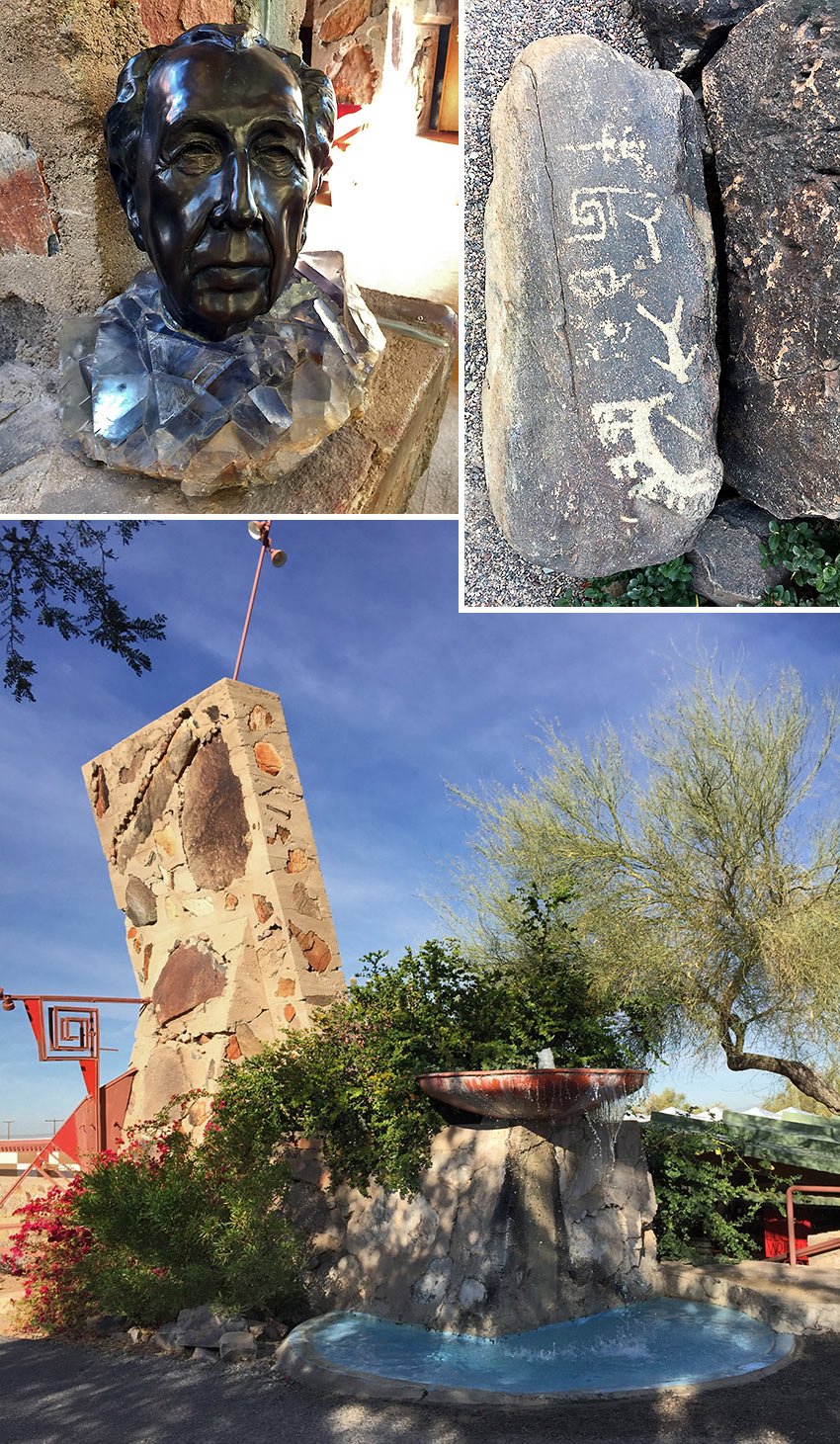 Taliesin West should be an inspiration for everyone who faces another birthday and thinks: I'm too old to follow my dream. Frank Lloyd Wright, who had achieved public acclaim back east for his architectural designs (as well as public disdain for his scandalous affairs), was 70 years old when he arrived with a few apprentices in the foothills of Scottsdale Arizona's McDowell Mountains in 1937.
Today more than 100,000 visitors a year come to see Wright's winter home and laboratory in the desert 25 miles from Phoenix. Guided tours introduce the curious to Wright's private quarters, the drafting studio, the music pavilion, the cabaret and other treasures raised from the sand. Tickets are essential, and reservations should be made in advance. Tours meet beside this tilted landmark. His apprentices crafted the desert masonry by hand using local sand and soil and embedding them with rocks.
Petroglyphs left by ancient Native Americans of the Southwest — the O'odham, Piipaash, Hopi, Yavapai, and Apache — enhance the mystique of the location. The nearly 500-acre expanse is dotted with saguaro cactus, creosote, chain-fruit cholla, ironwood, palo verde trees, and other flora of the Sonoran Desert.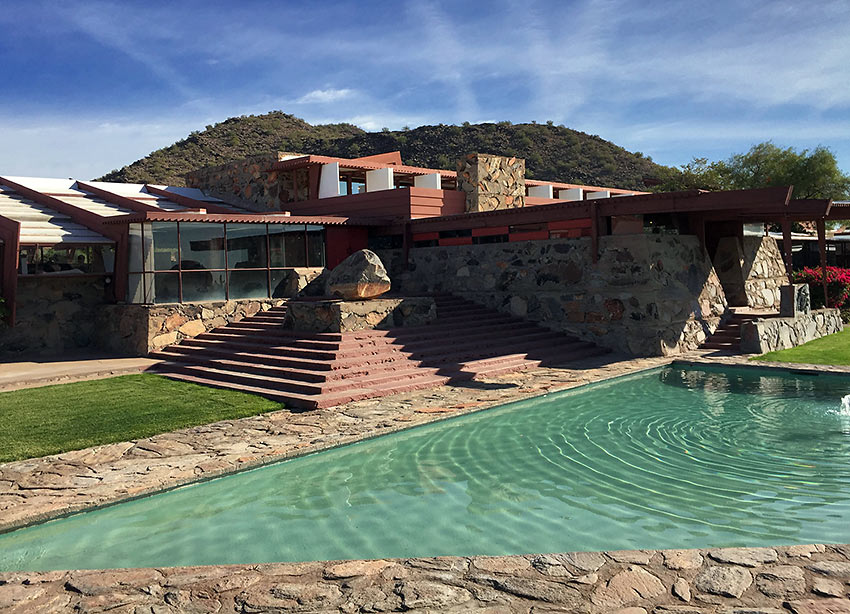 Taliesin West consists of multiple structures, each differently designed yet all organic to the landscape. On the tour, guests are invited into Wright's office and encouraged to take a seat while the guide discusses the surroundings. Angled windows, irregularly shaped doors, spaces that lead visitors from dark and contracted hallways into wide, expansive rooms without right angles are all elements in Wright's original concepts.
The triangular pool wasn't merely for swimming; way up in the hills, it was a dependable source of water in case of fire.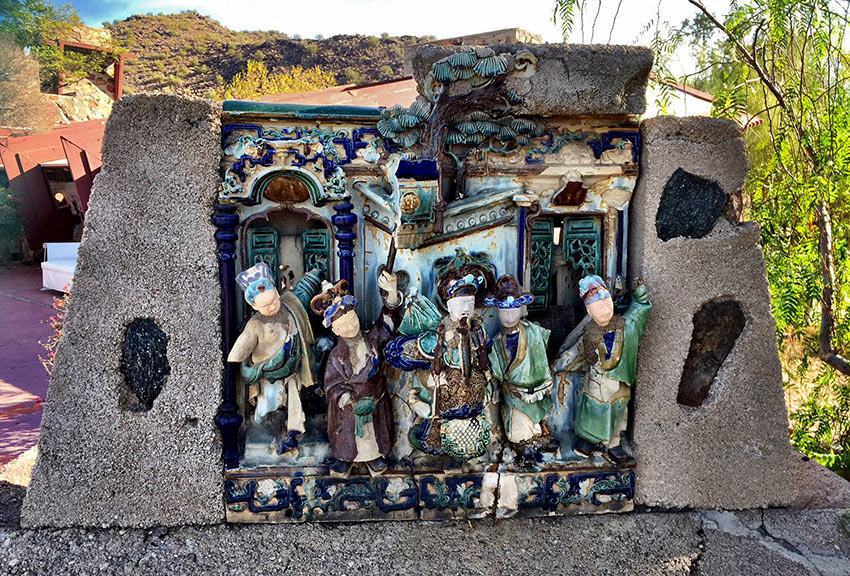 Whether by choice or budget, Wright worked with inexpensive and sometimes free building materials. Learning that Gump's department store in San Francisco was about to discard a shipment of broken Chinese porcelain figurines, he salvaged them. These objects of curiosity were painstakingly reassembled by his apprentices with varying degrees of success and are displayed around the grounds.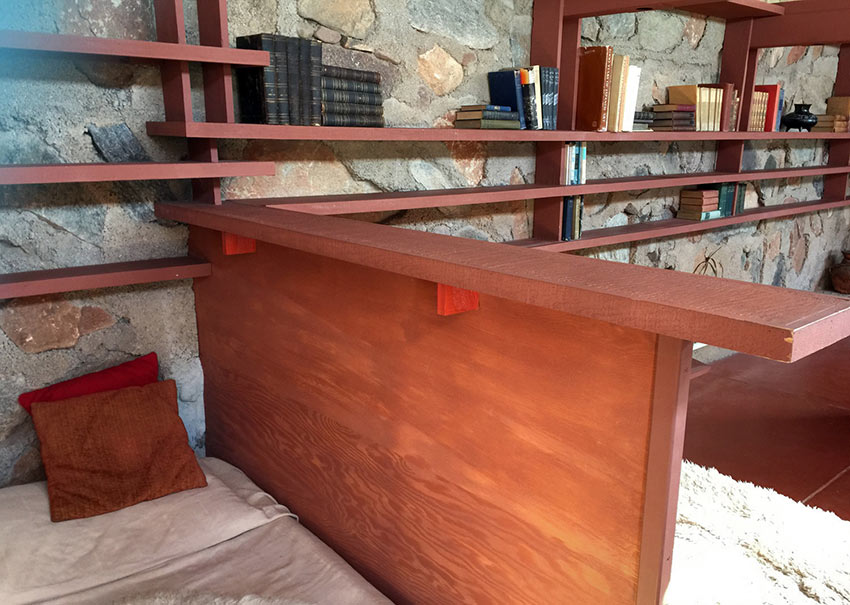 Wright's own bedroom is surprisingly modest; originally it had no roof so that he could observe the stars from his narrow bed. The two beds separated by a thin wooden wall were not his-and-hers; both were his. The one on the left offered more privacy and was used by the septuagenarian for naps.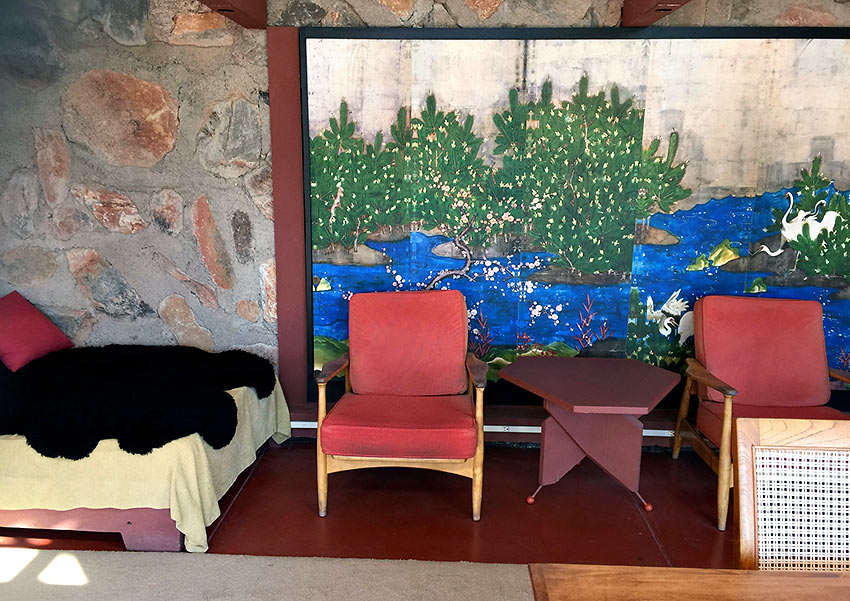 Influential during the architect's life as well as after this death, Olgivanna, Wright's third wife, occupied the bedroom next to his. Both faced a small, enclosed grassy meadow decorated with Wright's sprites, geometric statues of bonneted females with crossed arms.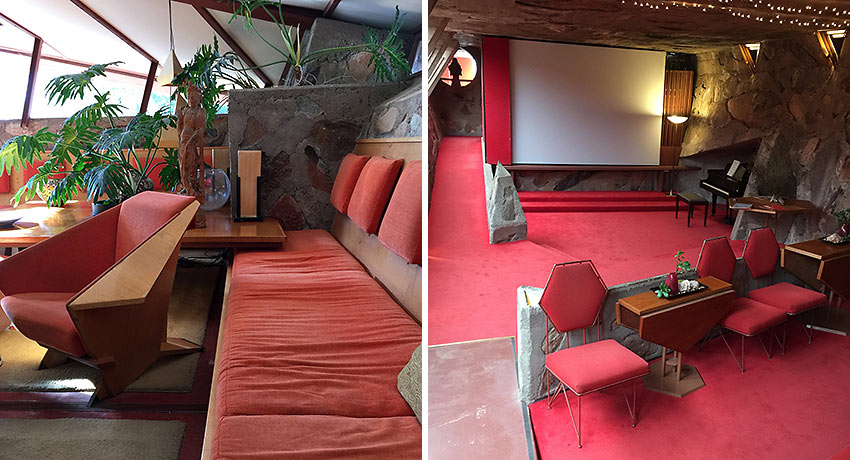 LEFT: Wright had instructed his acolytes to arrive in the desert with two things: a sleeping bag and a tuxedo. Guests at his Saturday night black-tie gatherings included the movers and shakers of the day: Henry and Clare Boothe Luce; Ayn Rand, whose novel The Fountainhead was inspired by Wright; Buckminster Fuller; Walter Cronkite; Mike Todd and Elizabeth Taylor; Margaret Sanger; and a host of other luminaries. The living room where they sipped cocktails was enclosed using repurposed glass from a Phoenix building being demolished.
RIGHT: The cabaret theater, completed in 1950, was one of the last buildings at Taliesin West designed by Wright. The drop-leaf tables folded out, and on Saturday nights dinner was served on them to honored guests. First-run movies followed.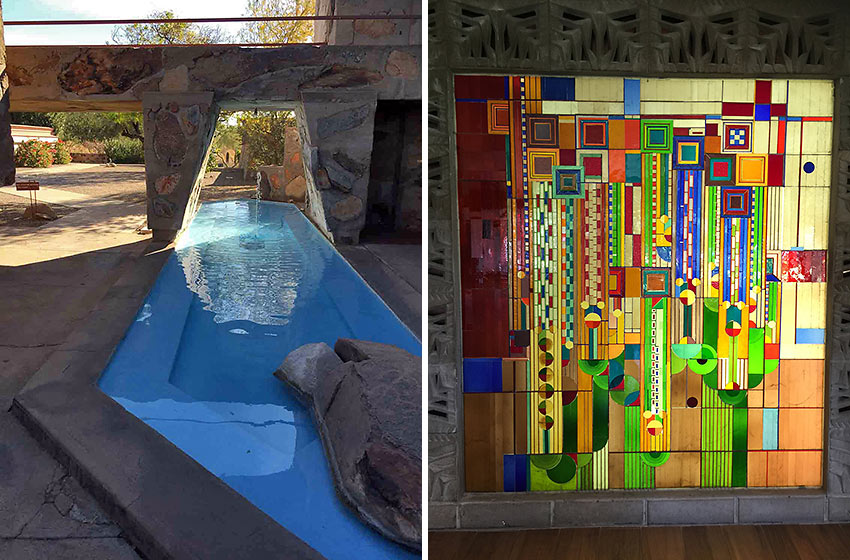 LEFT: Never boring, Wright eschewed right angles in favor of more creative geometry. There's a story that he was asked to identify himself in court and he replied, "I am America's greatest architect." When his wife told him not to be immodest, he protested, "But I am under oath!" Wright died in 1959 at the age of 91. Today Taliesin West is a National Historic Landmark and also the home of the Frank Lloyd Wright Foundation and the School of Architecture. )
RIGHT: Wright's work and influence spread near and far from Taliesin West, from the lobby of the Arizona Biltmore that features a stained glass window he designed to the unique, mollusk-shaped Guggenheim museum in New York City.
All photos by Susan Breslow.