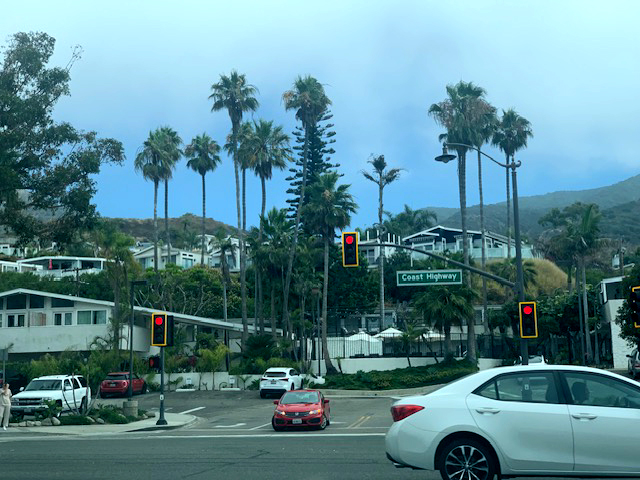 It was a Sunday and we thought we'd bring our out-of-town visitors to one of the beaches here in Southern California. Although I've lived here in Los Angeles county since forever, I rarely go to the beach. The salty west coast beaches are pretty to look at but notoriously cold at about 65 degrees F all through the year. The coin toss of choice was Treasure Island in Laguna Beach. So we packed our tent gear, swim suits and made a quick stop at the grocery store. Leaving at 10 am, the sun was already up but surprisingly, traffic was smooth and we arrived at our destination In less than an hour. All the street parking was already taken but one of our people knew a secret spot near some swanky residential area and we parked without a problem. If you do park in the street, remember to check if there are meters in that area … the old fashioned individual meters have given way to the modern credit card meters — no fun getting a ticket while on vacation, right? Speaking of fees, some routes have unavoidable tolls. Oh California — you and your endless taxes!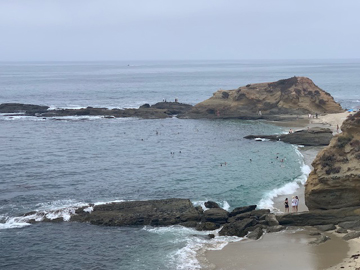 Treasure Island Beach is well maintained because of a partnership between the Montage Resort and the city. I'm sure the Montage resort would have preferred to keep this pristine area just for their guests but most beaches have lateral public access (meaning people can move along the coast). No, don't feel too bad for the hotel guests because they had their own sun bathing deck in case they didn't want to mingle with us mortals.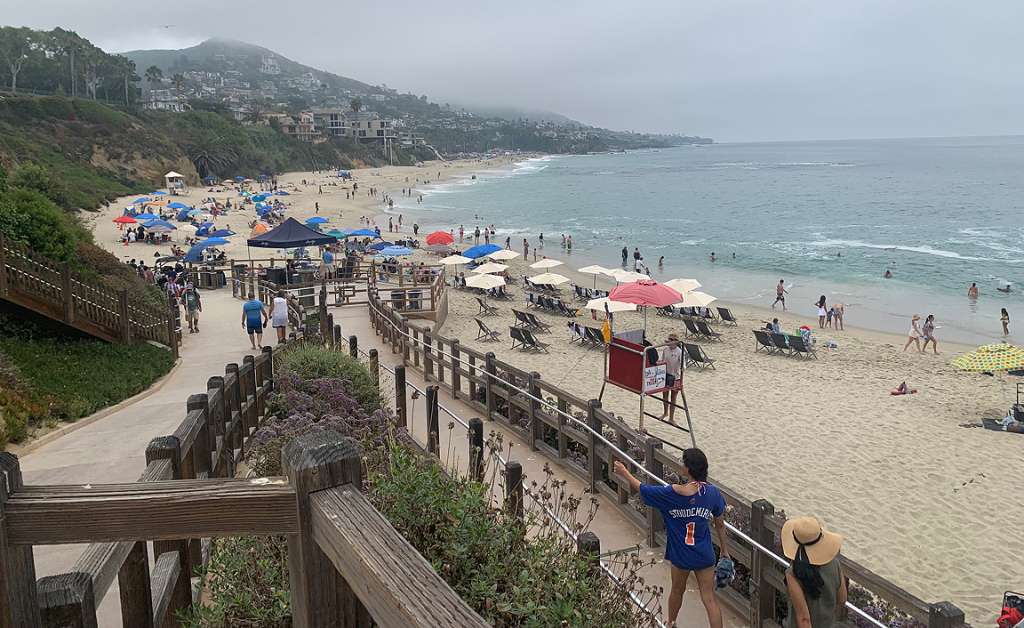 There were no showers available by the sandy beach. In fact, the nearest bathroom was provided by the resort at the top of the hill. The walk downhill from the streets to the beautiful cove wasn't bad. Good exercise for us couch potatoes. Several early birds had already pitched their tents and laid out their beach blankets but there were still enough spots to claim our territory.
The California summer temperature was about 90° fahrenheit inland but there, by the beach, it was much cooler because of the light breeze and overcast sky. But even though we didn't have any direct sunlight the whole day, I still got sunburned from the diffused rays.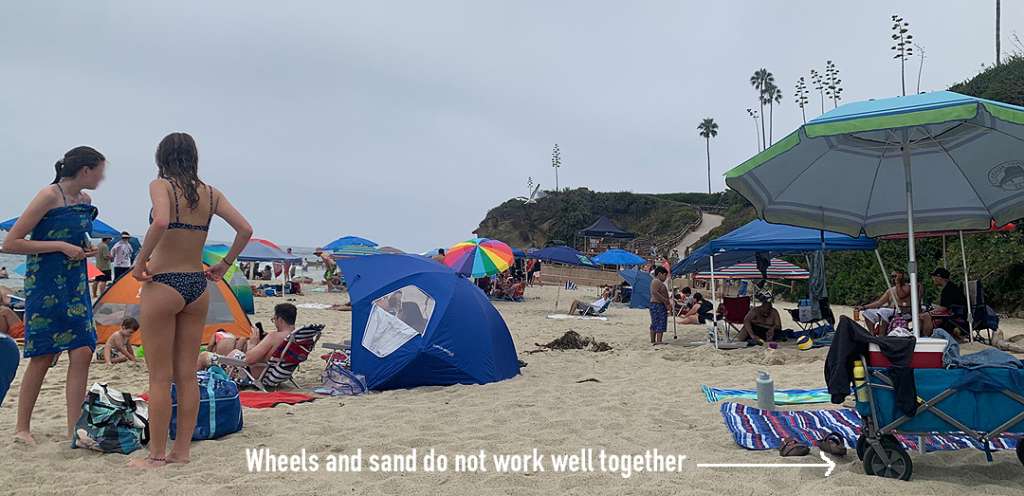 I enjoyed just observing the California beach goers. You know the song — "I wish they all could be California girls" — oh behave! They came in all shapes and sizes — chiseled vs. cellulite. From skins that were smooth and youthful to overcooked and leathery — the vegans mixed with the fast food junkies. It's interesting how most sun bathers started out very demure — self-consciously peeling off each layer of clothing but, as the day progressed, all inhibitions were thrown by the wayside. You know the old saying — "When in Rome …" It was not surprising that phone cameras were out clicking (although there seemed to be an unwritten code not to ogle and stare too much).

Some hand-carried their bags. The others who wheeled them in had a difficulty navigating on the sand. Colorful tents, umbrellas and large beach blankets served as territorial boundaries. Life guards were constantly propping their necks like ostritches. In fact, they did rescue a teenager who got swept under by a freak mid-sized wave. Although a few ventured further out and a few more only went knee deep, the majority just paraded their colorful skimpy attire walking on the shoreline. They said that here was one of the best spots for snorkeling but I didn't see one snorkel … much less scuba suit. What would be the point to bring your gear when the spoilsport lifeguards caution you not to go too deep. Every once in a while a helicopter would come policing the coast for sharks. Come on guys. A little drowning and a little shark attack would add so much to liven up the place. Where's your sense of morbid adventure? Just kidding!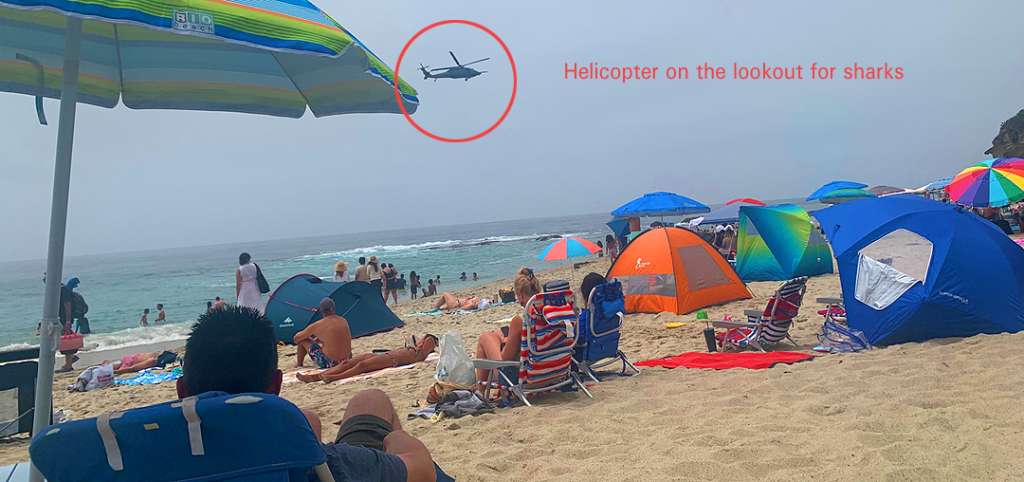 We only stayed for three hours but that was enough to get our fill of surf and sand to last us the rest of the year. Treasure Island is indeed a natural treasure. I guess you can say this is where our tax dollars go.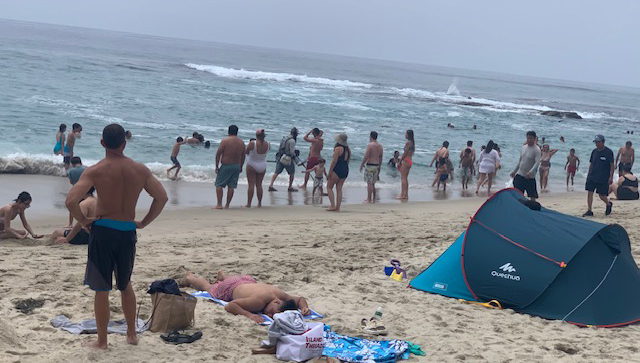 A checklist of things to bring on a short notice beach trip and some tips:
Bring your territorial marker like a tent, umbrella, chair, or towel
Bring succulent fruit (watermelon is a popular choice) and liquids (water, soda, beer, wine) to quench your thirst
Bring sun protection like sun tan lotion, sun glasses, wide brim hats, airy shirts to let the wind in but keep the radiation out
Wear sandals (you'd be crazy to wear shoes where sand can come in)
Big wheeled carts to carry your stuff are good only for the cemented areas and not really designed for sand
Bring toys: Water boards, football, kites, shovels and sand castle tools
The best time to go on a weekend? Any time really. The beach bums come in different waves so prime beach spots will be abandoned and made available for the new wave of people. Do keep in mind that it opens from 6 am to 10 pm the whole year-round.
Half of the year, dogs are only allowed before 9 am and after 6 pm (June 15 to September 10). The rest of the year there are no restrictions. You do need to keep them on a leash though.
Unwritten etiquette: She/He may be HOT but thou shalt NOT stare. Behave!
Watch out for hungry seagulls who poke their bills on your snack food when you go to the water.
Traffic and parking may build up in the late afternoon during the summer months because of the famous Festival of Arts and Pageant of the Masters. If you do plan to go, it may cost you $75 a head.