This delectable soup comes to us by way of Ms. Susanne Servin of Herzerl Tours. (See Ms Servin's past recipes on Traveling Boy.) Her heartwarming Viennese soup is easy to prepare, and proves to be the ideal component for battling a cold winter's day. I know. I just made it. — Audrey
Ms. Susanne Servin Sharing Another Recipe With You
This is now many years ago — I was sitting and watching a cooking show on television with my daughter. And it was about French cuisine. I remember saying to her "I am so sick and tired that Americans only know about Italian and French Cuisine. Nobody knows anything about the great Viennese Cuisine." Where upon my daughter calmly said "So why don't you take them to Vienna and show them how good the Viennese cuisine is."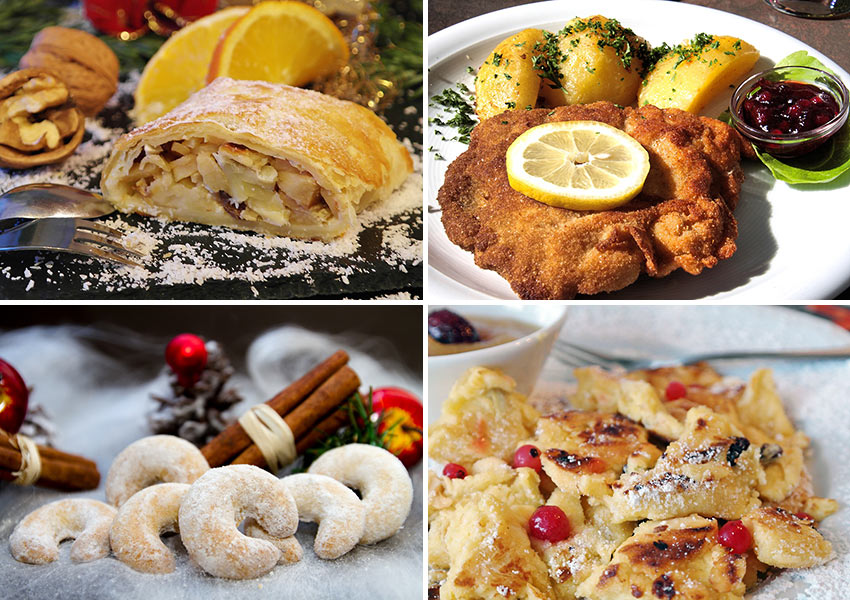 The Viennese Cuisine, which has been around for 1000 years, is a result of the many countries united in the Austrian monarchy; and of the pleasure-loving lifestyle of the Viennese. They take eating very seriously and that is why they cook so well.
I rose to my daughter's challenge — I started a travel company called Herzerl Tours. I created my first tour to Vienna "A Taste Of Vienna" where travelers got a chance to attend a famous Viennese cooking school. There they would learn how to cook Viennese style.
Visit the Herzerl Tours website
I even convinced Robin Leach and the Cooking Channel to come on one of my tours and film it — the result was a show called "Gourmet Getaways with Robin Leach to Vienna" on the Cooking Channel (I still have a video).
So one of the things we cooked — as Viennese like soups — is the recipe I am bringing you here: Viennese Potato Soup.
Viennese Potato Soup (Wiener Erdäpfel Suppe)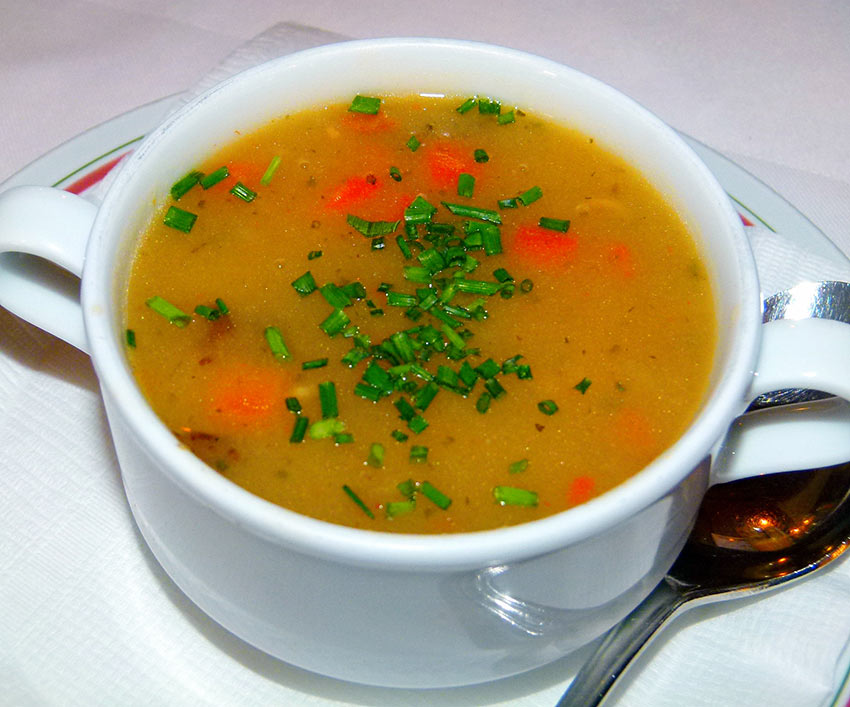 Four portions if served as main course, 8 if served as soup before main dish:
1 lt. chicken stock or 2 cans of chicken stock (add one cup of water)
1 oz = 2 Tbsp butter
1 oz = 2 Tbsp flour
2 oz = 1/4 cup bacon, cubed
2 – 3 cups of root vegetables, cubed — carrots, parsnips, etc.
3 cups potatoes, peeled and cubed
1/2 large onion, chopped
2 Tbsp dried Porcini mushrooms, soaked in lukewarm water
2 tsp salt, pepper
1 tsp dried marjoram
1/2 cup chopped fresh parsley
Instructions:
Cut onion, vegetables and bacon into small cubes
Melt butter and brown the cubed onion, vegetables and bacon in a pot
Add flour, brown it but not too long.
Fill pot with the stock, add spices and drained mushrooms,
Stir until soup starts to boil, reduce heat and let it simmer for about 10 minutes,
Add potato cubes, let soup simmer again for about 15 minutes — potatoes should be soft
Now the soup is ready — if necessary, add more spices
Serve and garnish with chopped parsley
Guten Appetit or as we say in Vienna "Gesegnete Mahlzeit!"
Visit our Culinary Cooking Tour to Vienna, Austria web page